Now that you have started planning your rustic wedding theme with details of mason jars, birch wood, and a barn reception, you'll want to think about the design of your rustic wedding cake and how it will complement your theme. If you are planning a fall wedding, pumpkins and leaves will look perfect or perhaps pine cones and greens for a winter wedding. No matter the season, choose one of these 23 Rustic Wedding Cakes to Complement Your Theme and impress your guests...
---
1

Rustic Tree Wedding Cake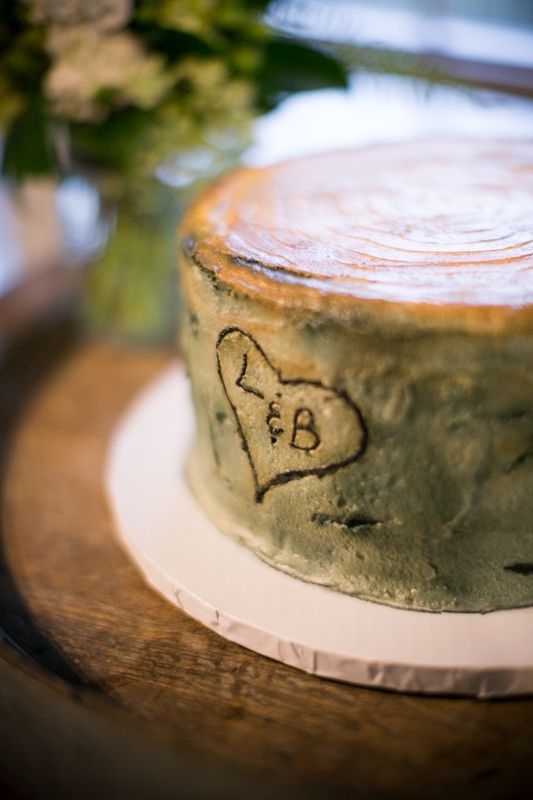 Just because you are planning a rustic wedding theme doesn't mean you have to be in the backwoods or in a barn, this amazing tree bark wedding cake belonged to a couple who were married right outside downtown Seattle at a cool rustic, urban venue called Sodo Park. Their rustic wedding cake helped to pull together and complement their rustic theme by bringing the outdoors inside to a re-purposed factory in the city.
---
2

Birch Wood Rustic Wedding Cake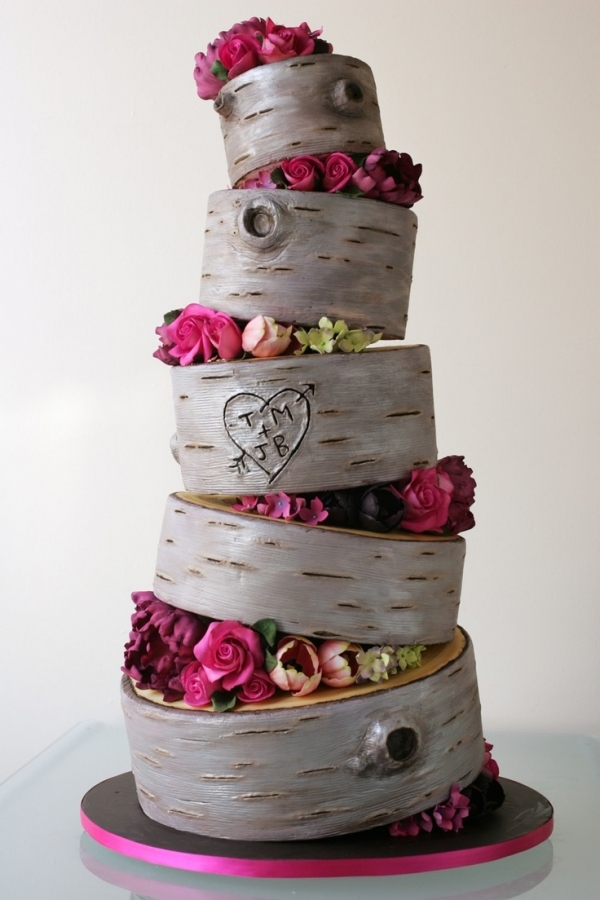 Birch wood is a big trend in many rustic weddings with centerpieces, invitations, ring pillows, and favors centered around this beautiful detail. What I love about birch wood rustic wedding cakes is how simple yet chic they are with intricate details like the "carved" heart on this gorgeous rustic wedding cake.
---
3

Succulent Rustic Wedding Cake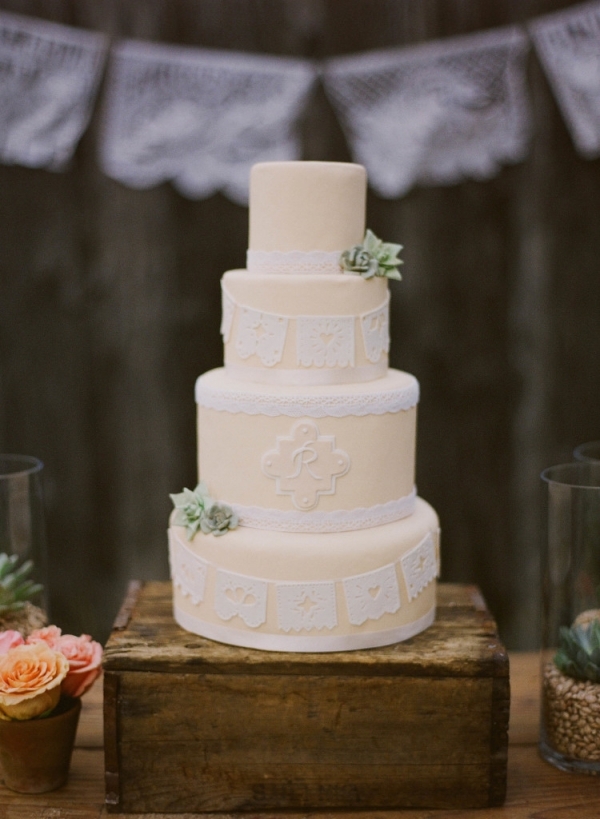 Succulents are one of my favorite rustic wedding details that have shown up every where since this wedding trend kicked off. If you have them in your rustic bouquet why not plant them on your rustic wedding cake as well! Not only is this a cool cake, but how amazing is the tree stump cake stand...love!
---
4

Up in the Trees Rustic Wedding Cake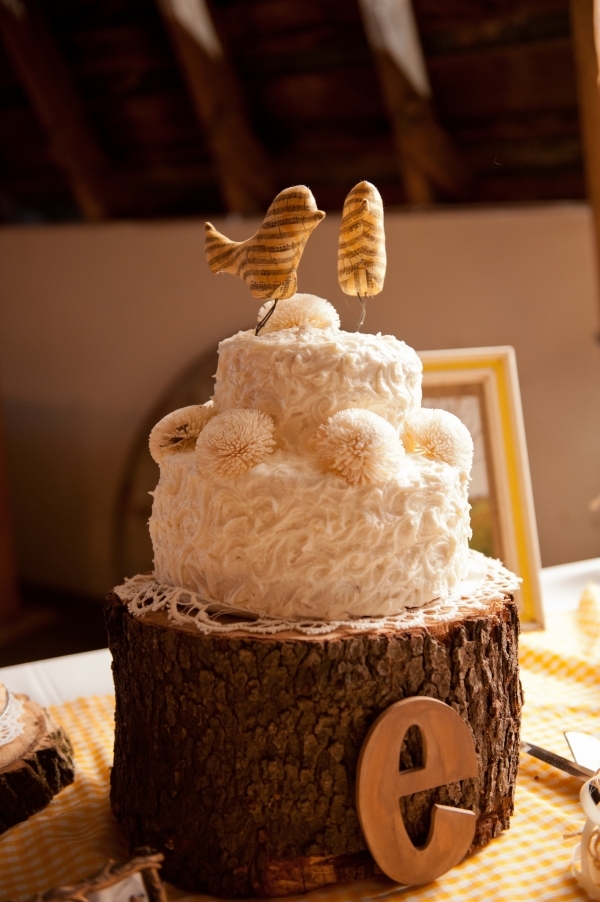 Speaking of rustic cake stands, this wood tree slice is custom made by Etsy shop Postscripts and is perfect for a rustic wedding cake like this one that is covered with tree branches, birds, and pine cones. The details of this darling cake make you feel like you are up in the trees among the birds, dancing and enjoying the beautiful view from the top.
---
5

Bird's Nest Rustic Wedding Cake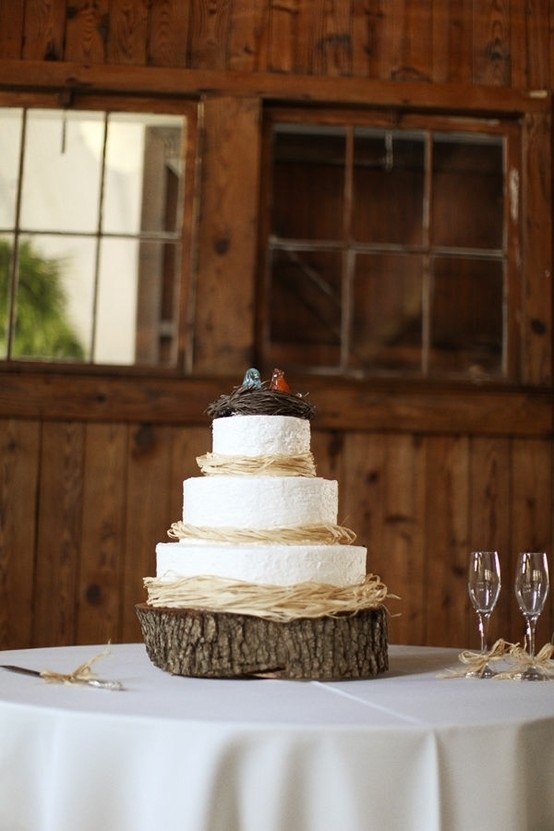 Sometimes less is more on your rustic wedding cake when you have so many other rustic details that make up your wedding theme. This sweet bird's nest cake is classy and simple yet tells a story of two love birds who enjoy nature and the outdoors.
---
6

Pine Cone Rustic Wedding Cake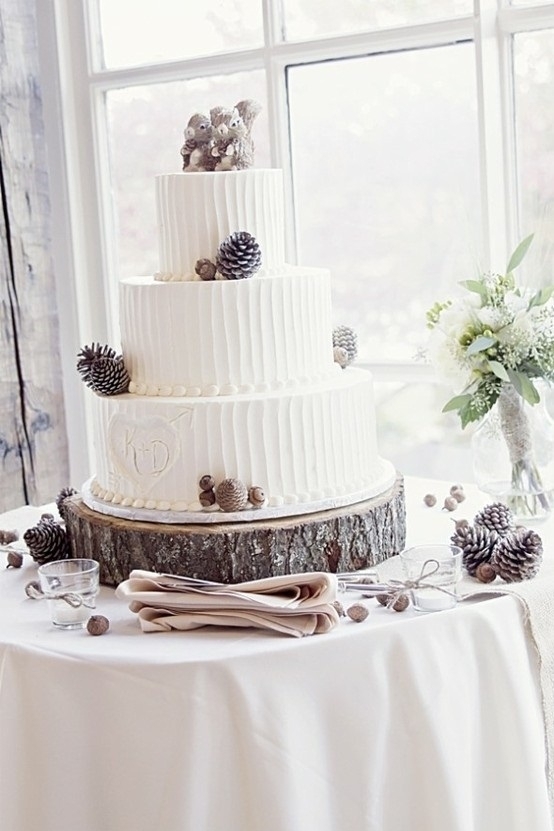 Squirrels! Can a rustic wedding cake get more adorable than this pine cone cake featuring a squirrel cake topper! With just a few pine cones, acorns, and a tree slice cake stand this round white cake became a detail that complemented a rustic chic wedding theme.
7

Growing Tree Rustic Wedding Cake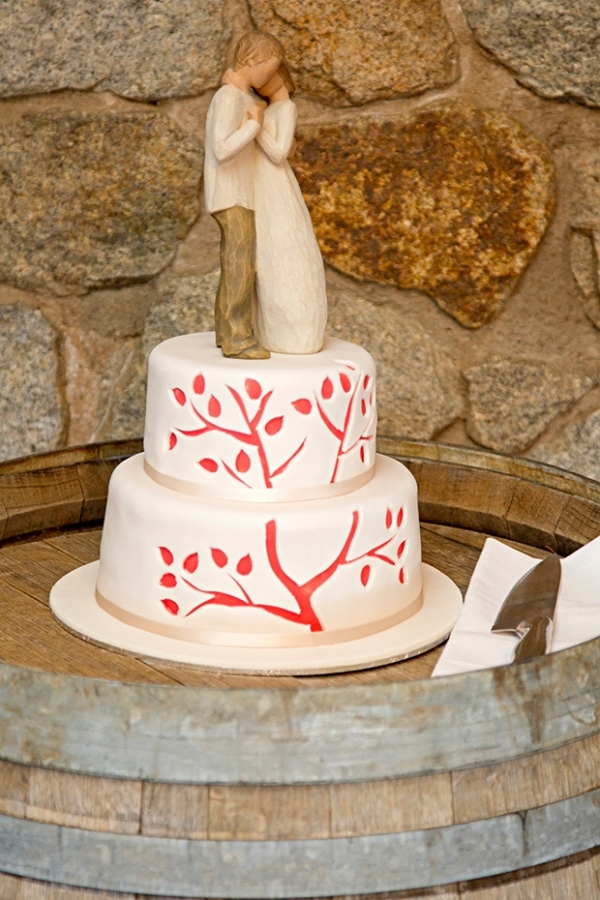 Rustic details may be rusty, old, and rough, but they can also be inspiring and beautiful like this growing tree rustic wedding cake. I love the way a tree wedding cake can be formed and interpreted into many styles and how each cake has it's own unique look that speaks about how unique the bride and groom are.
---
8

Twilight Inspired Rustic Wedding Cake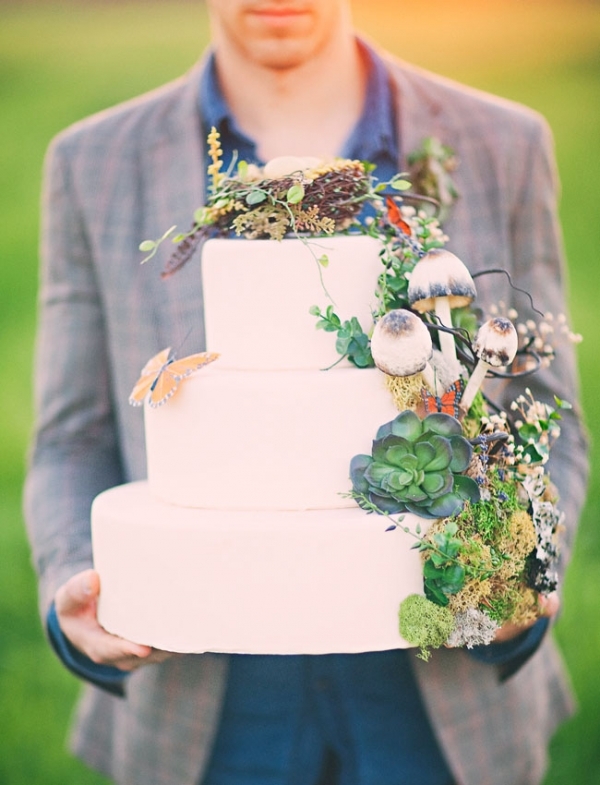 Last year Bella and Edward finally tied the knot in the woods near his house and young women every where dreamed of a wedding just like theirs. Perhaps the rustic nature or the romance of it all will inspire your rustic wedding with apples, branches, candles, rich colors, and a rustic wedding cake like this gorgeous one that was part of a Twilight inspired wedding shoot.
---
9

Birch Wood Forest Rustic Wedding Cake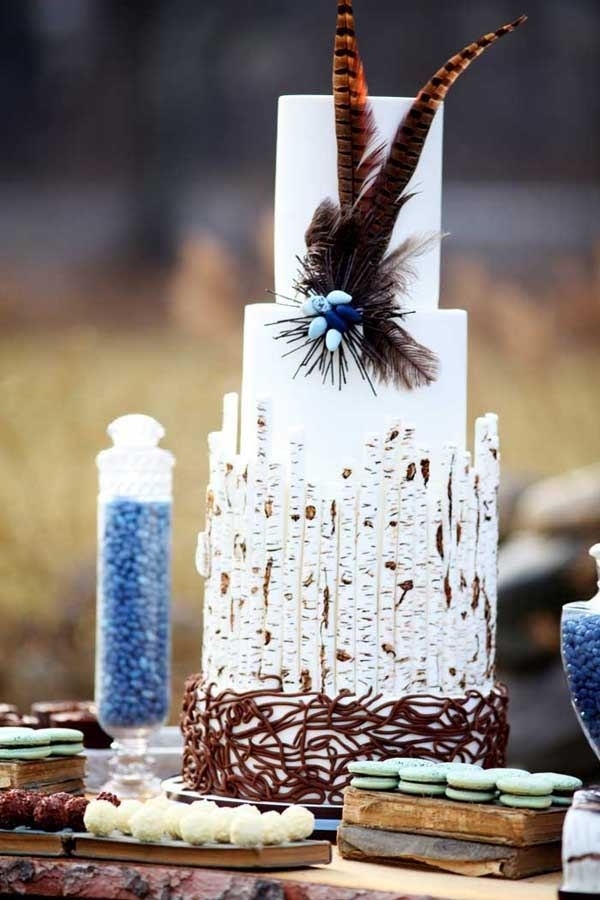 Some rustic wedding cakes look like a single tree, but this incredible fondant cake looks like a forest full of birch wood trees! Why have just one tree for your rustic wedding theme when you can have an entire forest full of them! I love that actual branches were added to give it a 3D effect.
---
10

Feathered Rustic Wedding Cake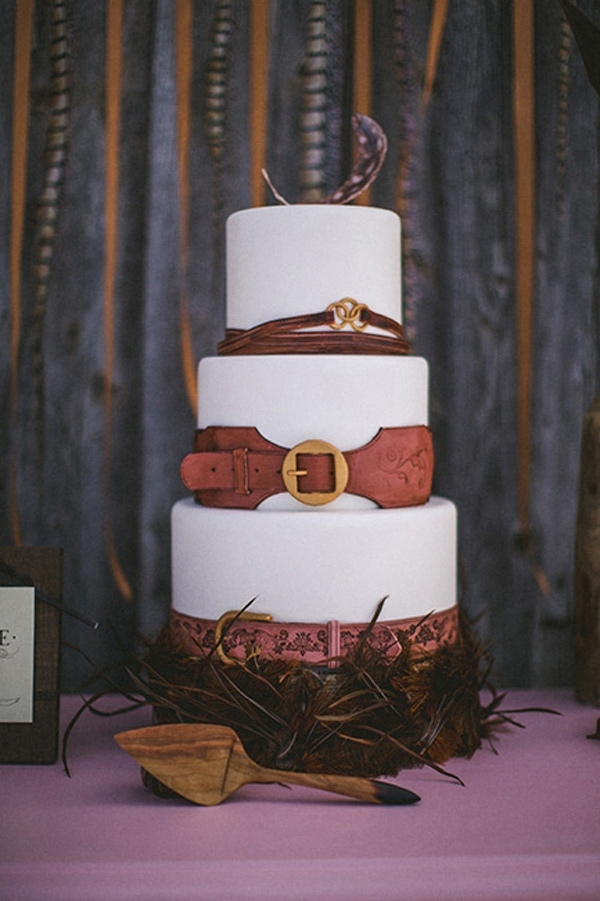 The feathered detail on this rustic wedding cake tops off the theme and just completes the look so well. I love how the inside layer is a clean, white cake, but on the outside it is surrounded by replicated birch wood and a bird's nest at the bottom.
---
11

Mini Rustic Wedding Cakes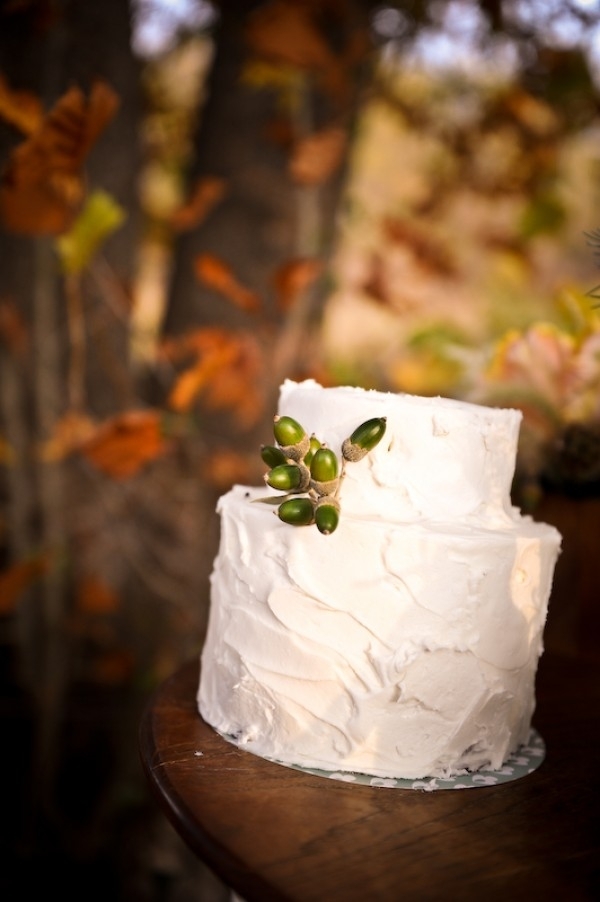 What's better than having a rustic wedding cake other than having mini rustic wedding cakes that are displayed on an awesome birch branch cake stand! I love the creativity of showcasing your rustic cake in a planter with branches, flowers, and dirt! This would also be a fun idea for your rustic centerpieces as well.
---
12

Butterfly Garden Rustic Wedding Cake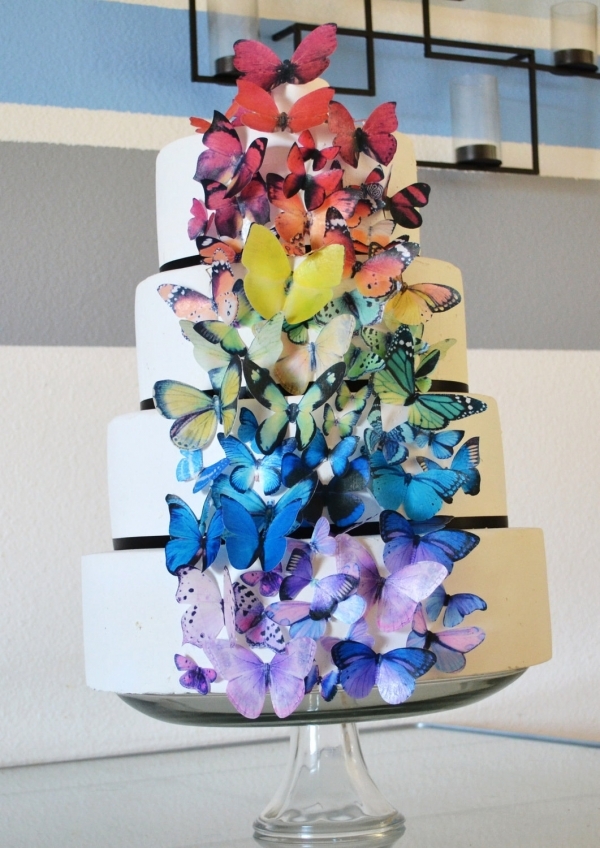 If you love this whimsical butterfly garden rustic wedding cake, it is a must that you check out the entire wedding over at Green Wedding Shoes to see every detail including the bridal party with their colorful ensemble. Every part of this gorgeous, woodland wedding is thoughtful and put together for a reason with an end result that is magical. It will inspire you forever!
---
13

Woodland Rustic Wedding Cake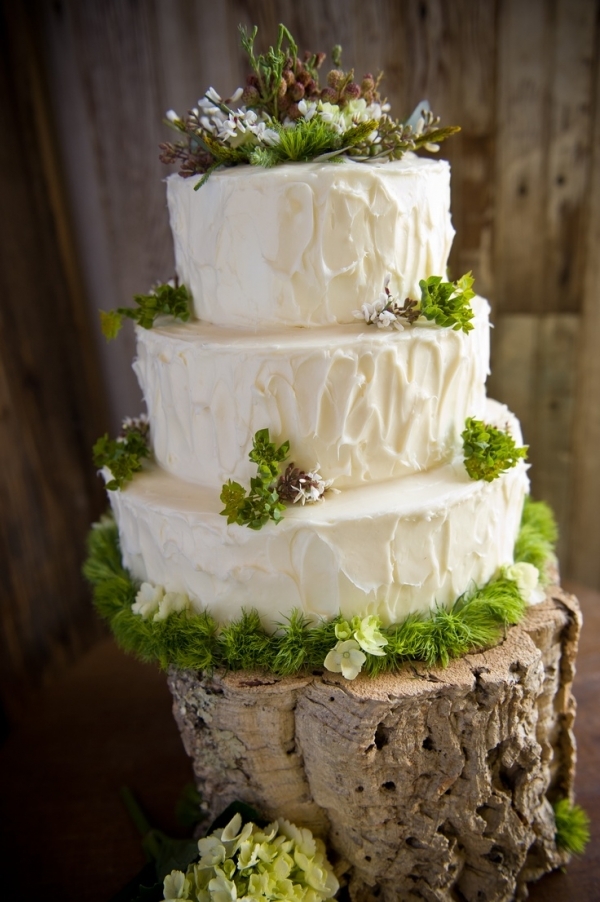 Woodland rustic wedding cakes are some of my favorite designs with their tiny little details of the forest like the adorable mushrooms and acorns on this adorable rustic cake. The bride created the base by covering a ring with live and dried moss along with some twigs. You don't need a cake stand like this but sometimes it does help to complete the look.
---
14

Mushroom Rustic Wedding Cake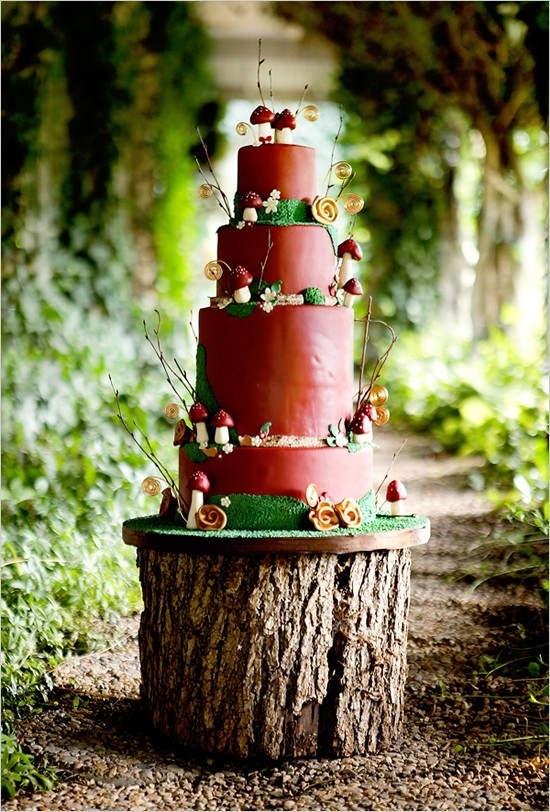 Take your woodland rustic wedding cake to the next level when you use red fondant on your cake to match your woodland mushrooms like they did for this woodland wedding photo shoot that included mushroom stools as chairs and featured snails on the invitations! Head on over to Wedding Chicks to see the amazing details!
---
15

Rustic Leaf Wedding Cake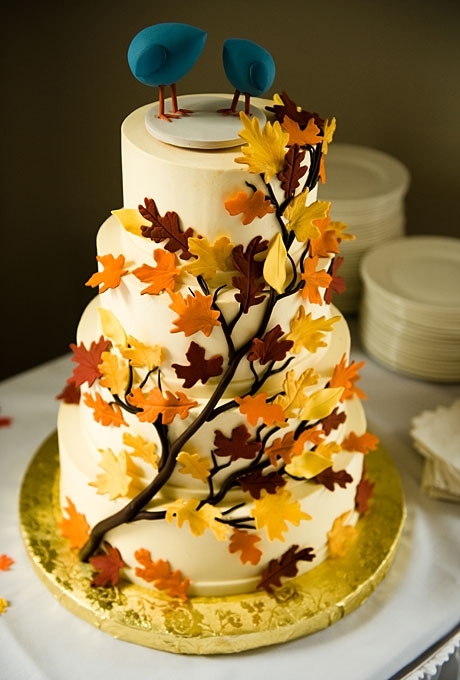 Fall is a great season to inspire and plan your rustic wedding around, especially when you want your rustic wedding cake to be covered with leaves to remind your guests the reason why you love this season so much! The leaves on this cake are actually made out of white chocolate...yum! Do you think this would be nice for a wedding cake or more towards a groom's cake?
---
16

Apple Picking Rustic Wedding Cake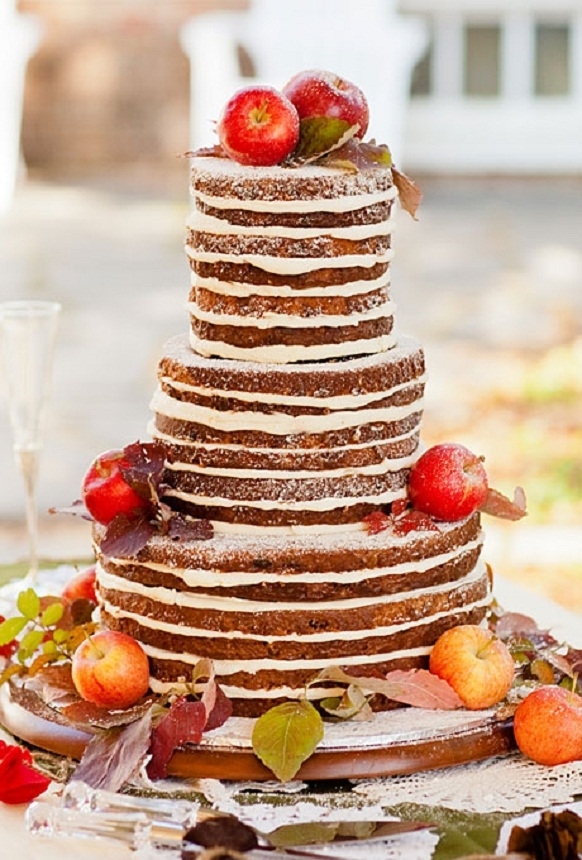 I can see why the designer of this fabulous rustic wedding cake, Tiffany's Baking Co., has been featured on TLC's Fabulous Cakes! Apples are a wonderful part of the fall season and they have been captured perfectly in this breath taking cake. I'm speechless over the incredible details of the apple bushel!
---
17

Unfrosted Rustic Wedding Cake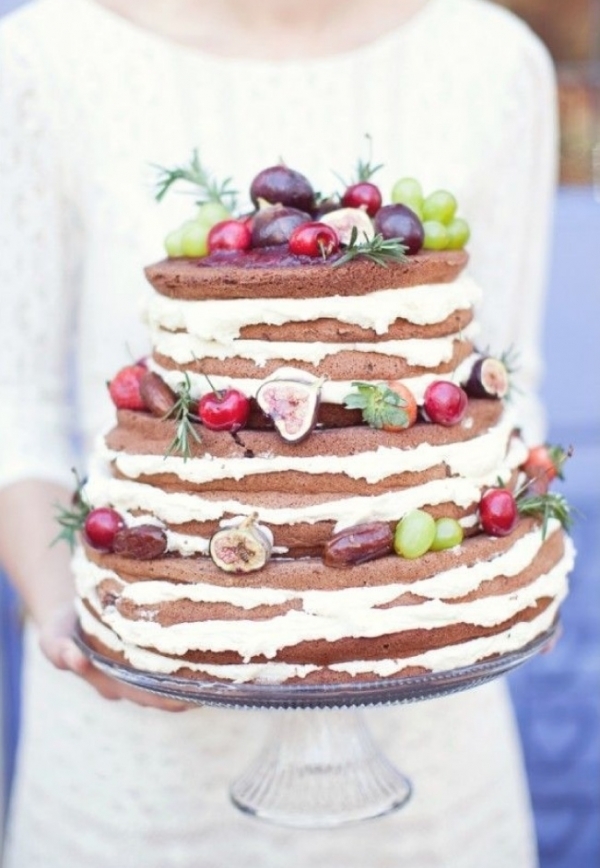 Unfrosted or "Naked" cakes are becoming a big trend and have a rustic look about them that would fit perfectly with your theme. This beautiful rustic wedding cake would be wonderful for a fall wedding with it's apple topper and details.
---
18

Fall Mosaic Rustic Wedding Cake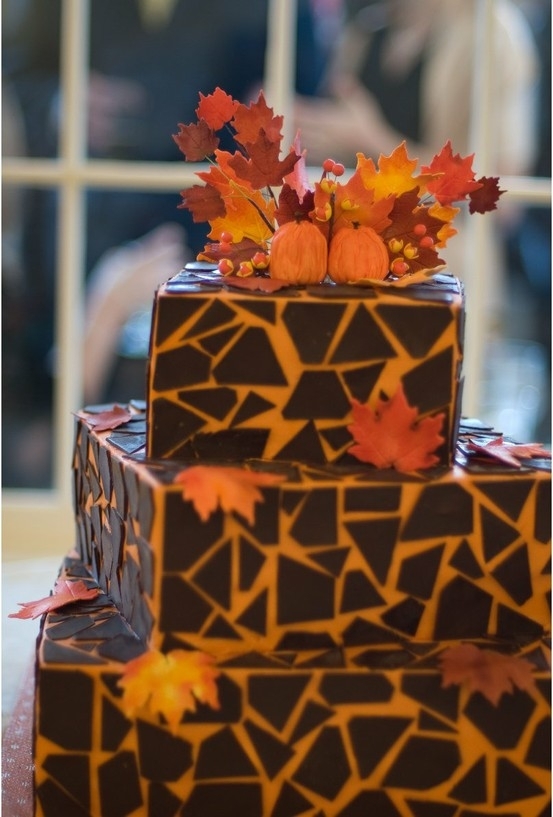 Other than apples, pumpkins are a popular detail for fall weddings as well and a gorgeous rustic wedding cake like this one would be a complement to your theme. I love the mosaic details of the chocolate tiles, I've never seen a cake design quite like this before.
---
19

Rustic Pumpkin Wedding Cake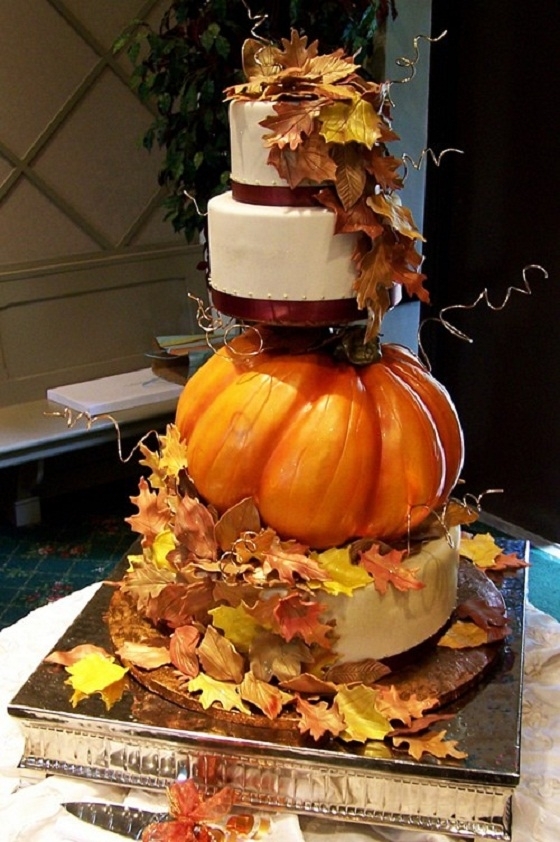 If you want a fall rustic wedding cake that really speaks of your non-traditional personality, put that pumpkin right in the middle of your cake like this spectacular design. Can you believe that it's not a real pumpkin! It's quirky yet delightful and would certainly be a big hit at your rustic wedding reception!
---
20

Rustic Wheat Wedding Cake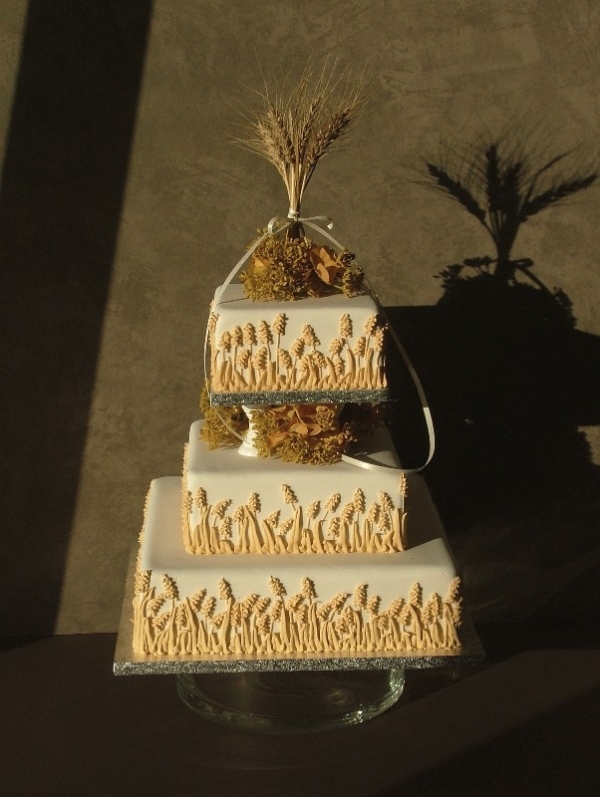 If your rustic wedding is a little bit country a haystack rustic wedding cake will fit right in with your cowboy boots and barn reception. Your wedding cake doesn't have to match your theme exactly, but when there are little details on your cake that surround your theme everything flows and works together to complete your look.
---
21

Rustic Cupcake Tower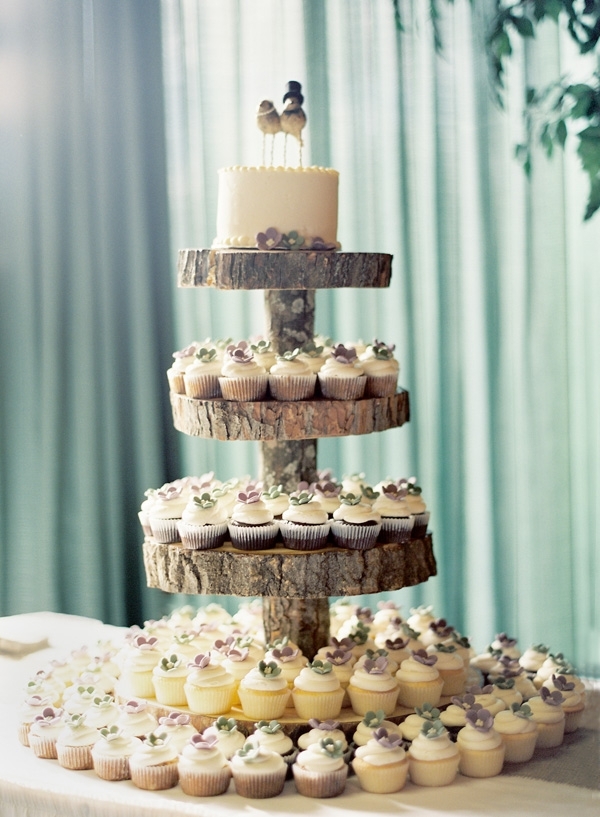 With all of the different cakes out there, why not go with something unique? Cupcakes have exploded into the wedding market and having rustic cupcakes adorn with some beautiful wood notes or even a rustic flower is beautiful!
---
22

Rustic Arrow Cake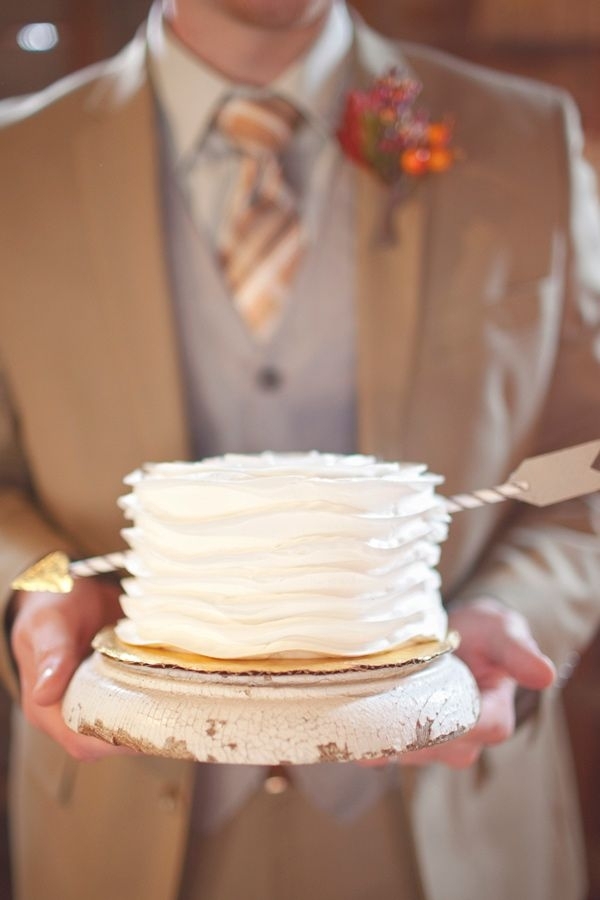 Like The Hunger Games? Why not take the theme to the next level and really go all out with a rustic arrow cake! This is also a great idea for a groom's cake!
---
23

Rustic Grooms Cake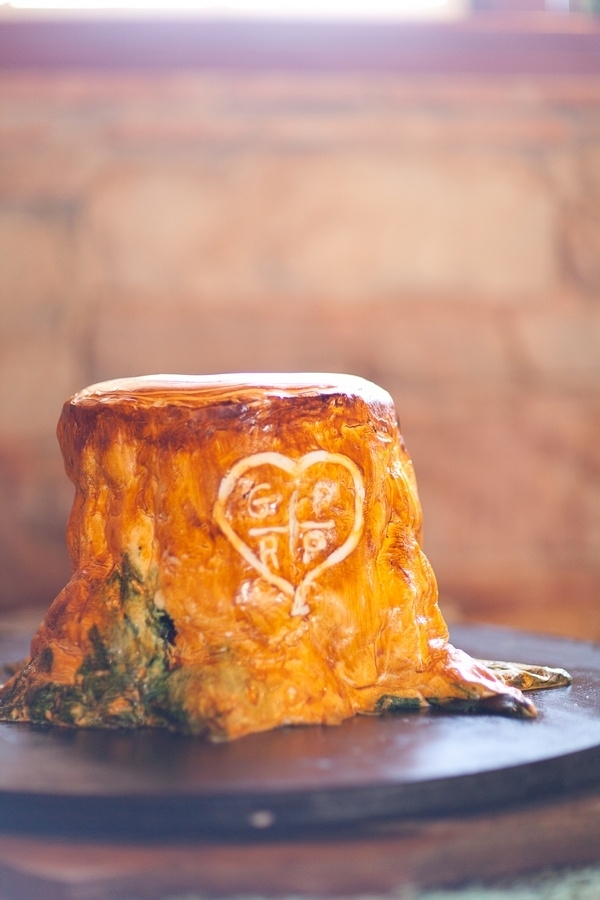 Finally, a rustic grooms cake can be chic and cool -- but manly! If your guy loves fishing, why not do something with a rustic fishing theme? You can go a little crazy with a rustic grooms cake!
There are many different looks you can choose from for your rustic wedding cake, from simple and chic to quirky and extravagant, you can't go wrong when you include little details that complement your theme. If your wedding ceremony and reception are in the middle of the woods why not go all out with a rustic wedding cake that looks like a tree or has a woodland theme to it. Just as your theme matches your personality so should your rustic wedding cake, if you only put a few pine cones or apples on your cake it will still complement your theme and pull your wedding day look together for everyone to enjoy.
---
Comments
Popular
Related
Recent