After two years of it just sitting in the closet, I finally took my wedding dress to the cleaners and posted it on a site where you can sell used wedding dresses. I have been thinking of selling it since the day after our wedding and thought a bride on a budget could really put it to good use. If you want to give your used gown a good home try one of these** 7 Best Sites to Sell Your Used Wedding Dress...**
---
1

Wedding Bee...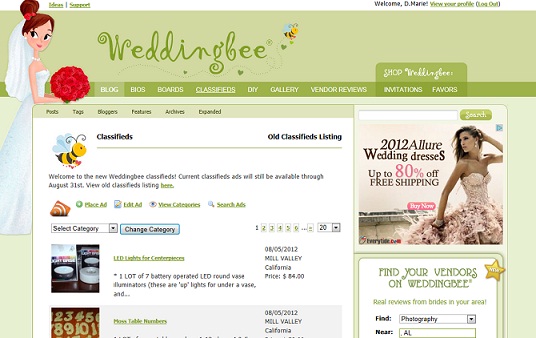 Wedding Beeis a wonderful website where brides blog their own planning experiences and post about their DIY projects. There are message boards where you can talk to the bees and other brides to ask advice, get opinions, etc. and a classified section where you can sell your used wedding dress or even your mason jars you used for centerpieces. It's also a great way for brides on a budget to find used items; you can search for items you are looking for and find a bride close to your location who is selling what you're looking for or sell to a bride who is close to your location as well. There is no cost to use Wedding Bee or to list a used wedding dress.
---
2

Recycled Bride...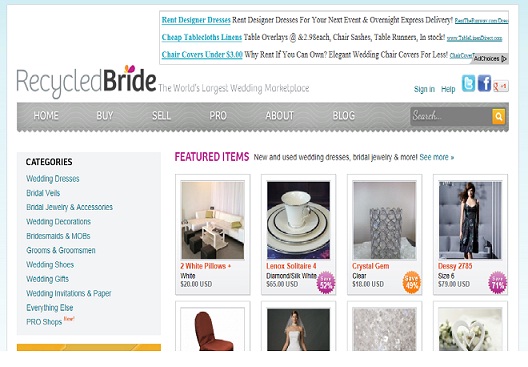 Recycled Brideis a site that is all about selling your used wedding dress, used bridal jewelry and accessories, decor, and even items for your groom. It is a free service to sell one item on Recycled Bride, but if you would like to sell up to six items and be featured on the homepage it will cost you $9.95 a month, and if you would like to sell an unlimited amount of items it will cost you $19.95 a month.
---
3

Once Wed...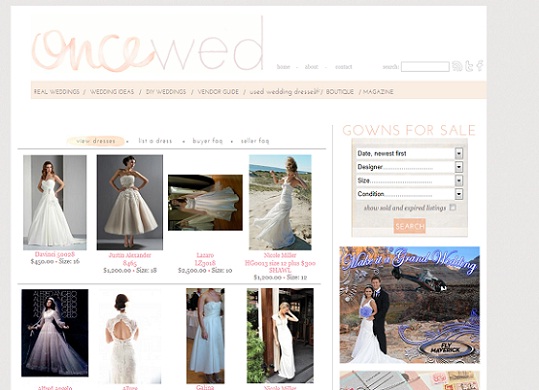 Once Wedis a beautiful wedding blog that features real weddings, ideas, DIY, a vendor guide, and where you can sell your used wedding dress. **Selling your gown on Once Wed is free, they just require that you post a photo of your gown when listing it. After submitting your gown, it usually takes about 48 hours for your **used wedding gown to go live on the site after being approved. They also recommend that you use a site like escrow.com when buying and selling to someone you don't know.
---
4

PreOwned Wedding Dresses...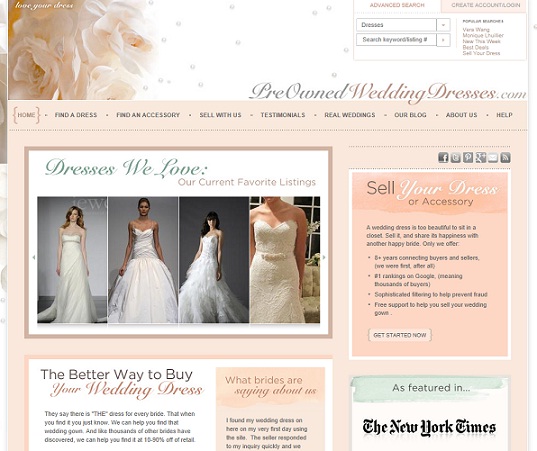 Did you know that PreOwned Wedding Dresseswas founded by a bride in 2004 who was looking for a way to sell her own used wedding dress online! It cost a one time fee of $25.00 to list your used wedding dress on the site until it gets sold and like other sites they also recommend that you use a service like Paypal to safely exchange payment. They suggest that if your used wedding dress is more than two years old you should sell it at 60% off the retail price.
---
5

Nearly Newlywed...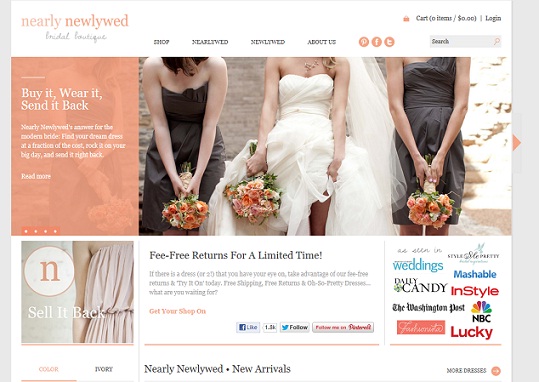 What I love about Nearly Newlywedis that you can buy a used dress, wear it on your big day, and then sell your used wedding dress right back to them! You don't even have to worry about waiting to hear from a bride or about going back and forth on the price. After you have submitted your used dress to the site for approval, you agree on a price to sell it at, sign on the dotted line, and ship your dress to Nearly Newlywed, who takes care of the rest. When your dress sells, Nearly Newlywed makes a profit for taking care of the sale, like a consignment shop, and sends you the remaining amount.
---
6

Wore It Once...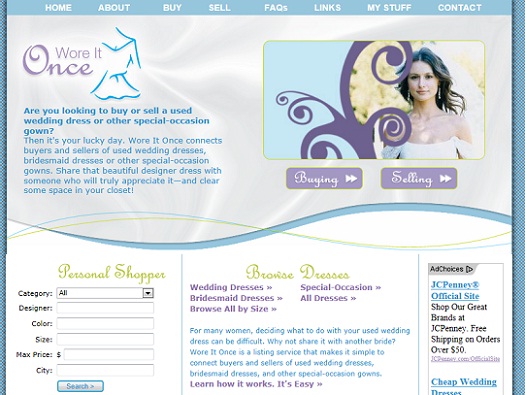 On Wore it Onceyou can post up to five different images of your used wedding dress as well as bridesmaids and special occasion dresses. You may post as many items as you like under your seller name, but it will cost you a one time fee of $25.00 per used dress that you list with Wore it Once.
7

Smart Bride Boutique...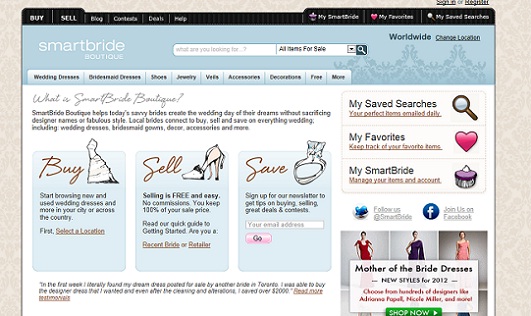 Smart Bride Boutiquehas plenty of options for a bride looking to sell her used wedding dress. There is a free service that includes four photos with your listing, your used dress or wedding item emailed to brides when it matches their search criteria, and a free e-book on how to sell your dress fast. With the premium package at $4.95 a month, your used dress will be featured on the homepage and you will know how many times your dress has been viewed by brides. You can also sign up for the Listing Critique for $14.95 to chat with an expert on what price to sell your used wedding dress at and what photos to list to attract a buyer.
It may be difficult to think about selling your used wedding gown after you have just celebrated one of the most beautiful days of your life with your significant other and loved ones. But think about the budget bride who can't afford a gorgeous gown and would really benefit from one of these used wedding gown sites. You can also donate your used wedding gown to a charity like Brides Against Breast Cancerin memory of a loved one and write the donation off on your taxes. Whatever you decide to do with your used wedding gown, be sure that you are making the right choice for you.
Top Photo: Pictures in a Snap
---
Comments
Popular
Related
Recent