If you aren't set on having a themed wedding and would rather go for more simple details, take a look at these 8 Adorable Mr. & Mrs. Wedding Items to Buy. It's not so much a theme, but a nod to the new couple. You will always be a Mr. & Mrs. and this will never go out of style or trend. It's a classic and simple detail that won't leave you feeling overwhelmed when you see it on your cake topper, favors, and chairs. Continue reading to see more and share with us your favorite Mr. & Mrs. wedding item...
---
1

Mr. & Mrs. Chair Signs...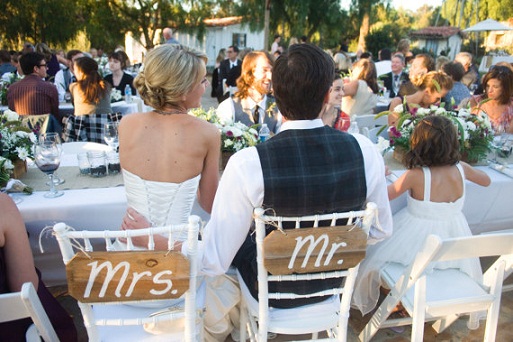 Price: $31.00 @ Mini Baker Shop
One of my favorite Mr. & Mrs. wedding items are adorable signs for your wedding reception chairs. They not only tell guests where you will be sitting, but they make for charming photo opportunities as well. I have seen a variety of signs, but haven't seen wooden ones like these before. These would be the perfect detail to add to your rustic or woodland wedding theme.
---
2

Mr. & Mrs. Cake Topper...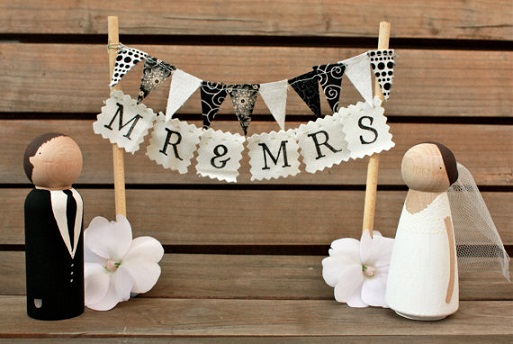 Price: $15.85 @ Proverbial Daisies
Is this cake topper not the cutest Mr. & Mrs. wedding item you've ever seen! What's not to love about a little banner and bunting to put on top of your wedding cake alongside your little bride and groom. When you are planning your wedding, you think about every little detail and sometimes it's the little details that make you smile the most. Check out Proverbial Daisiesetsy shop to personalize your Mr. & Mrs. cake topper.
3

Mr. & Mrs. Candy Labels...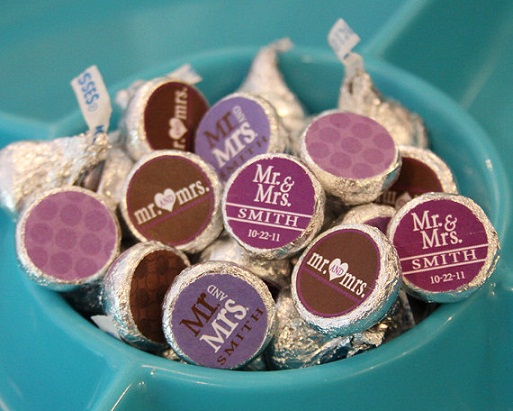 Price: $12.00 @ Four Bugs in a Rug
Add some color and fun to your sweets table with these little Mr. & Mrs. candy labels that can be personalized with your last name and wedding date. I love the idea of adding stickers in your wedding colors to candy wrappers that don't match your theme. Now you won't have to worry that your Hershey kisses don't match your colored lollipops, jellybeans, and gummy bears!
---
4

Mr. & Mrs. Wedding Favors...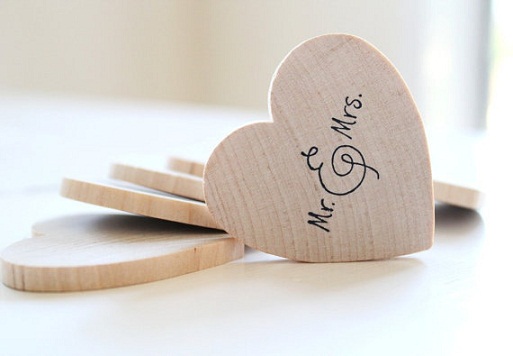 Price: $7.50 @ The Lonely Heart
You are probably thinking, "What am I going to do with a wooden heart that says Mr. & Mrs. on it?". Well you are going to stick it on your fridge or give it to your bridal party! How cute are these Mr. & Mrs. wooden heart magnets! These would make a great bridal shower gift to send your ladies home with or even as favors on your wedding day. You may also be able to personalize it with your wedding date, how sweet would that be!
---
5

Mr. & Mrs. Mug Set...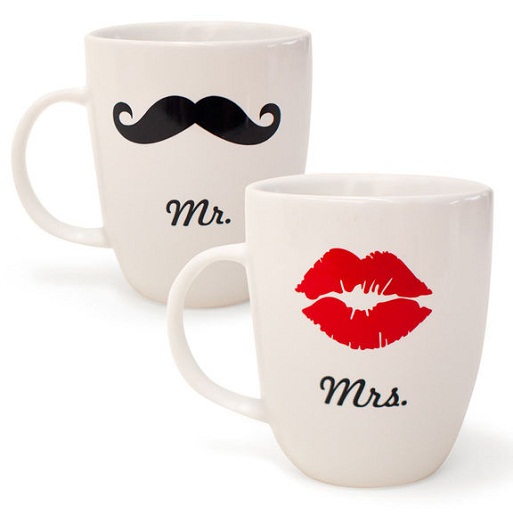 Price: $26.00 @ Joyus
Are these not the coolest coffee mugs! I love how the Mr. has the mustache, which is perfectly on trend right now, and the Mrs. has the lipstick kiss. If you put these on your bridal shower registry you could use these on the morning of your big day or even use them during your big day for funny and quirky photos! I think these are a must on your Mr. & Mrs. wedding items to buy shopping list.
---
6

Mr. & Mrs. Fork Set...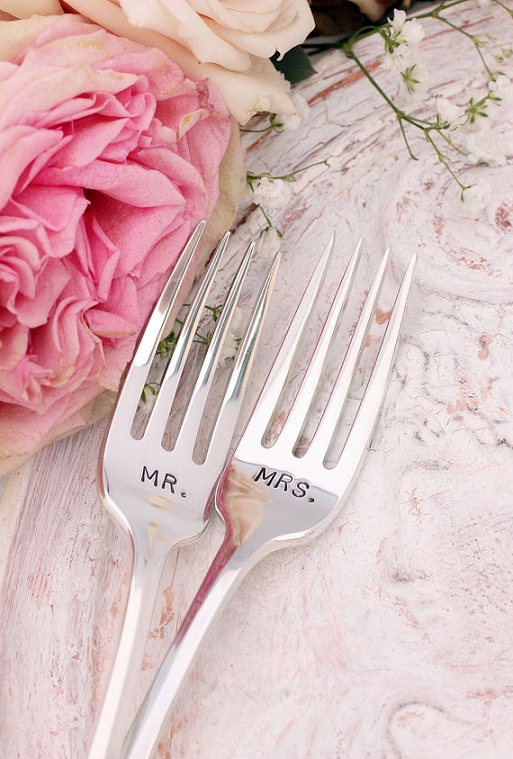 Price: $39.00 @ Beach House Living
I love this etsy shop, Beach House Living, they have everything you can imagine in terms of serving-ware for your big day. Whether you want a set of Mr. & Mrs. forks to eat your wedding cake with or you want a cake server that says, "Just Married", so you can dish out cake to all of your guests, you can find it in this lovely shop.
---
7

Mr. & Mrs. Champagne Flutes...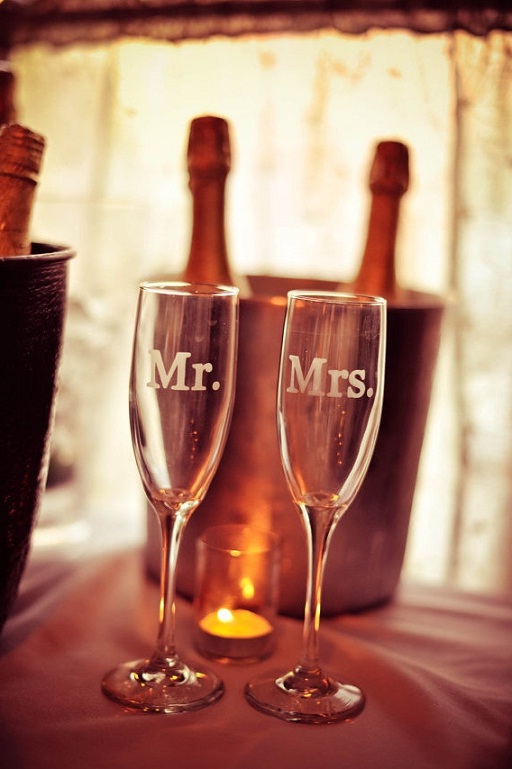 Price: $18.00 @ Etched Expressions
We didn't have any special or personalized champagne flutes to drink out of on our wedding day and now that I see this beautiful Mr. & Mrs. set, I wish we did! What I love about all of these Mr. & Mrs. wedding items is how they make for great photo opportunities throughout your big day. I can just imagine having toasted with these and giving my Mr. a big kiss as our photographer took our photo!
---
8

Mr. & Mrs. Bathrobes...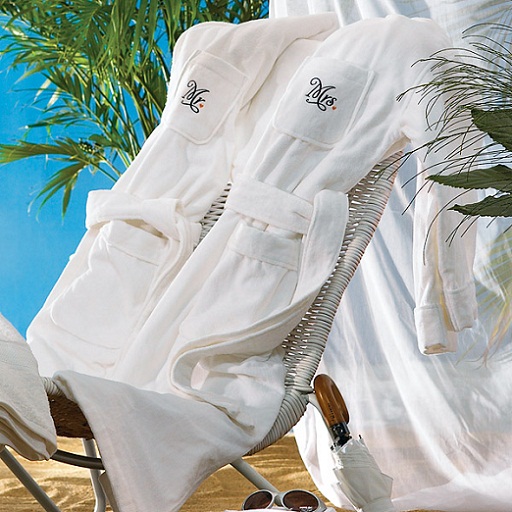 Price: $54.38 @ Wedding Warehouse
At first I thought about how cute these would look as you walk to the pool on your honeymoon, but then I got an even better idea! How fantastic will these Mr. & Mrs. bathrobes be for your "getting ready" photos on your wedding day! Perhaps you can also find cheaper ones for your bridal party and personalize them as well. The price is for one robe only and not the set, but why not splurge when it's an item for your big day!
What I love about these Mr. & Mrs. wedding items is that you don't have to worry about them going out of style after your big day. You can also be sure that you will use these Mr. & Mrs. wedding items long after your wedding day. Whether you have a rocking theme full of colors and decor or you want to go simple and have no theme, these charming Mr. & Mrs. wedding items are the perfect detail to add to your big day.
---
Comments
Popular
Related
Recent