Creative wedding transportation ideas can make for fun photo ops when you are riding a bicycle for two or sitting in the back of an old pick up truck during your country rustic wedding. When you hear the word wedding transportation you may be thinking that your wedding budget won't allow for it, but on my list of** 7 Fun Wedding Transportation Ideas** there is something for every budget...
---
1

Yellow School Bus...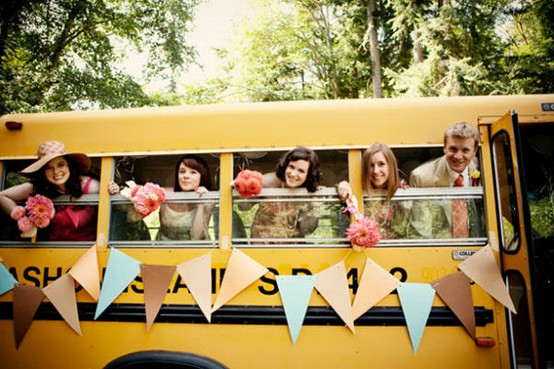 Photo Credit: Brookelyn Photographyvia Once Wed
Whether you're a teacher, work at a school, or just have fond memories of riding on the yellow school bus, this is a great wedding transportation idea for big wedding parties or for driving a small wedding group to and from your reception location. I love the idea of decorating the outside of the bus to make it a little more wedding friendly! Contact your local school district or check out busrates.com for information on renting a yellow school bus for your big day.
2

Tractor & Wagon...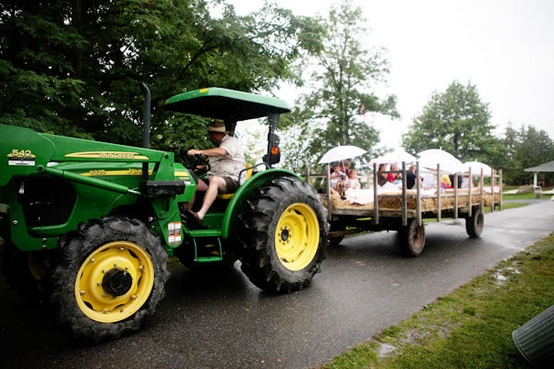 Photo Credit: Orchard Cove Photographyvia Style Me Pretty
You don't have to live on a farm or in the countryside to have your wedding party all gathered together in a wagon being pulled by a green tractor! This wedding in the photo above is in Vermont at the Basin Harbor Club, who would have thought to see a tractor and wagon at a lakeside country club! It looks like this fun wedding transportation idea is part of the venue mentioned, so you may want to contact your reception hall to see if they allow for certain types of transportation like this one.
---
3

Speed Boat...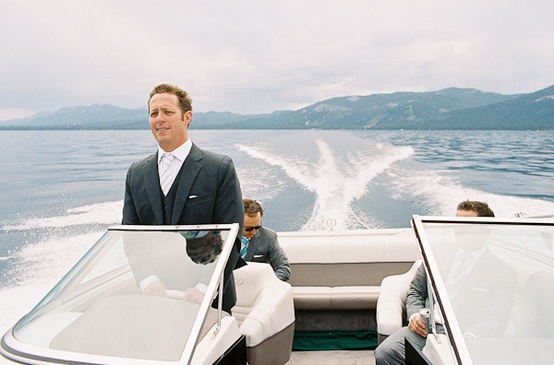 Photo Credit: Cooper Carras Photographyvia Style Me Pretty
Speaking of being lakeside, if your big day is at a venue that has a dock why not let your groom arrive in style as he drives his groomsmen to your ceremony in a speed boat! If he's never been on the water before, he may want to take a few lessons before deciding to borrow or rent a boat. But really, how cool would it be for your guests to see your groom pulling up in a speed boat and jumping out to say 'I Do'. Ladies, if you are thinking it would be an great wedding transportation idea for you as well, just think about what a speed boat would do to your wedding day hair!
---
4

Bicycle for Two...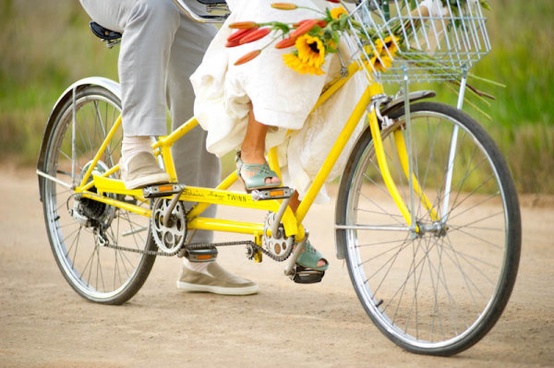 Photo Credit: Lindsay B Photographyvia Style Me Pretty
How adorable is this photo of a bride and groom on a bicycle built for two! If you don't have too far to go from your ceremony location to your reception, I'm thinking down the street or within the same parking location, a bicycle for two is a romantic wedding transportation idea that makes for sweet photo ops. If this type of bike isn't something you would invest in, consider renting one instead of buying.
---
5

Double Decker Bus...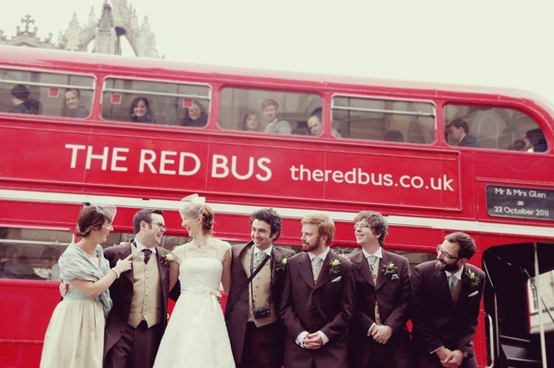 Photo Credit: Christopher Currievia Love My Dress
What's cooler than a yellow school bus, how about a double decker bus! I'm pretty sure you could fit your entire wedding party and guests in this bus and perhaps give them a tour around town as well! As you can see this one is from theredbus.co.ukand travels around Edinburgh and 40 miles within the area. What I love about this double decker bus company is how they put your name and wedding date in the message board on the outside of the bus. I'm sure there are some Harry Potter fans who would just love this wedding transportation idea!
---
6

Vintage VW Bus...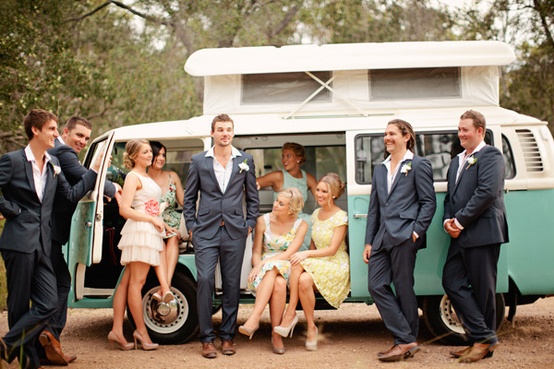 Photo Credit: Marina Locke Photographyvia Style Me Pretty
You're probably thinking that this is an inspiration photo shoot, but guess again because this is a real wedding! You have to head on over to Style Me Prettyto hear the amazing details from the bride herself, this vintage VW bus was restored by her uncle just in time for the big day and she wore mint converse to match her awesome wedding transportation! Note, only the bridal party is featured in this photo. Did you know these VW buses are campers too?!
---
7

Badass Motorcycle...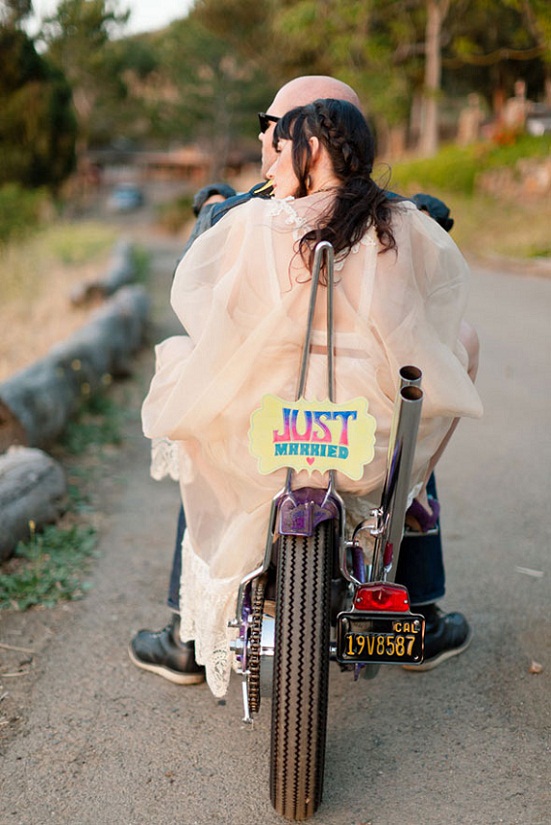 Photo Credit: Erin Hearts Courtvia The Loveliest Day
Are you a badass couple looking for an offbeat way to drive off into the sunset at the end of your wedding day? Well what other wedding transportation idea could be more kickass than a motorcycle! I just love that on the back of this awesome bike there is a really cute "Just Married" sign that helps complete this badass wedding transportation photo! If you're thinking this is the perfect idea for your big day, for those who aren't aware, in the states you must have a motorcycle license as well as a driver's license.
From a bicycle built for two to a speed boat on the lake, there are wedding transportation ideas fit for every wedding day location and every wedding budget. Who knows, perhaps you are thinking totally out of the box and your idea of wedding transportation isn't even on this list! Some even forgo the whole creative wedding transportation idea and just take their own car to the ceremony and reception, which works just as well. Always remember to do what feels like you on your wedding day, even when it comes to wedding transportation.
---
Comments
Popular
Related
Recent