When you are thinking of bohemian chic wedding ideas, just imagine what Stevie Nicks' wedding day would look like. Bohemian chic weddings are full of whimsical details, flowing dresses, layered and chunky jewelry, wild flowers and feathers, and a bride and groom whose look is relaxed and effortless. Check out these 10 Bohemian Chic Wedding Ideas for your gypsy inspired big day...
---
1

Bohemian Chic Wedding Invitation...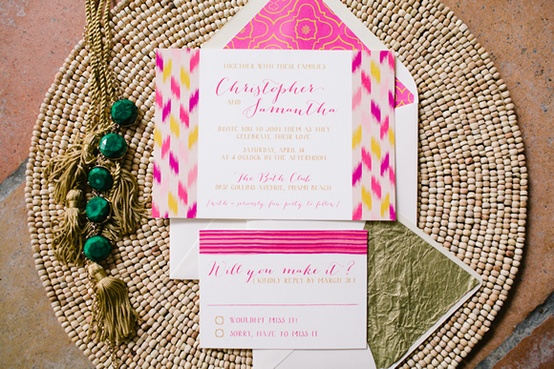 Photo Credit: Make Merry Events
Stevie Nicks' wedding invitations would probably feature deeper tones than this bohemian chic wedding invitation, but that doesn't mean you can't put a modern twist on your details. I love the way the designs that border the invitation look like feathers and are on trend with the neon obsession that has exploded onto fashion and wedding runways alike.
2

Bohemian Chic Wedding Dress...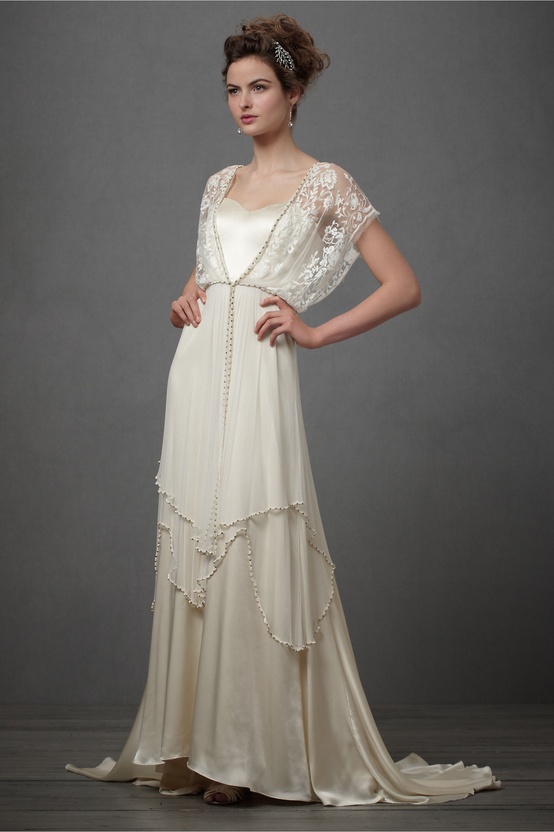 Photo Credit: BHLDN
Is this not the perfect dress for a bohemian princess bride! The off the shoulder sleeves, the layers on the bottom, the relaxed but chic look of the dress, it all shouts "wear me during your bohemian chic wedding!"...does it not! If you are a bride looking for a unique, one of a kind, effortless dress let this bohemian gown from BHLDNinspire you and the rest of the details for your big day.
---
3

Bohemian Chic Groom...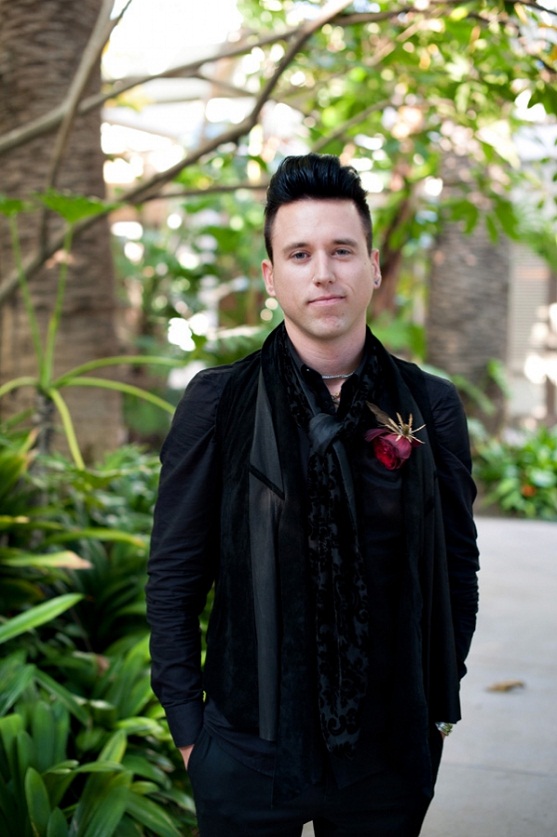 Photo Credit: True Bliss Photographyvia Ruffled Blog
What do I love more than a Stevie Nicks inspired bride...a bohemian chic groom! Does he not remind you of Johnny Depp or the likes of Tom Petty, Steven Tyler, or Jimi Hendrix? He's a little bit rock n' roll and a little bit bohemian chic with his dark attire and velvet vest and scarf. If you love his look, and how could you not, stop by Ruffled Blogto see more of this gorgeous gypsy/bohemian wedding and read about the bride's inspiration and how she walked down the aisle to Stevie Nicks "Landslide".
---
4

Bohemian Chic Wedding Hairstyle...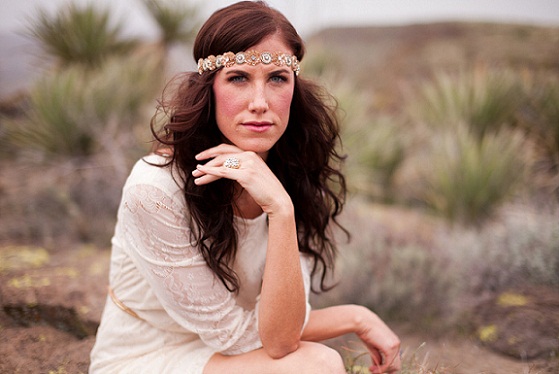 Photo Credit: Jason & Anna Photographyvia Every Last Detail Blog
Now that you have the perfect bohemian chic wedding dress, you'll need a boho hairstyle to complete your look from head to toe. Just think hippie, indie chic with loose waves, a headband to wear across your forehead, and a few feathers or wildflowers to make your hairstyle bohemian chic wedding ready. You can find this headband and similar ones at Anthropologie.
---
5

Bohemian Chic Wedding Jewelry...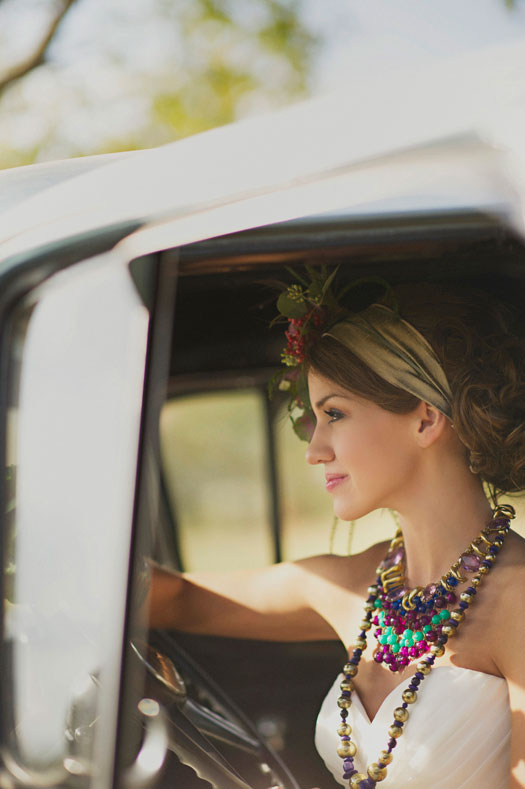 Photo Credit: Melissa McCrotty Photographyvia Luxe Mountain Weddings
What's a bohemian chic wedding without layers of chunky jewelry for the bride! Not only does she have funky chic jewelry, but a gorgeous floral headwrap to add to the bohemian bridal look as well. Her vintage jewels are from an antique shop, which I'm sure you can find in your hometown too or order something similar online from places like Etsy. I can also picture this boho bride with layers of lockets, and jewel toned crystals along with feather earrings. Are you thinking of wearing chunky jewelry on your big day?
---
6

Bohemian Chic Wedding Bouquet...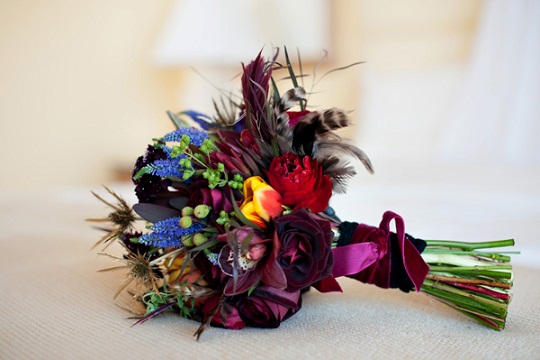 Photo Credit: True Bliss Photographyvia Ruffled Blog
To match your jewel tones and your groom's dark velvet attire, carry a bohemian chic wedding bouquet of black magic roses mixed in with other rich tones. I love the way the texture of the feathers and other rustic elements add to the boho chic look of this beautiful bouquet. What are some other flowers you think of when you picture your bohemian chic wedding day?
---
7

Bohemian Chic Bridesmaids...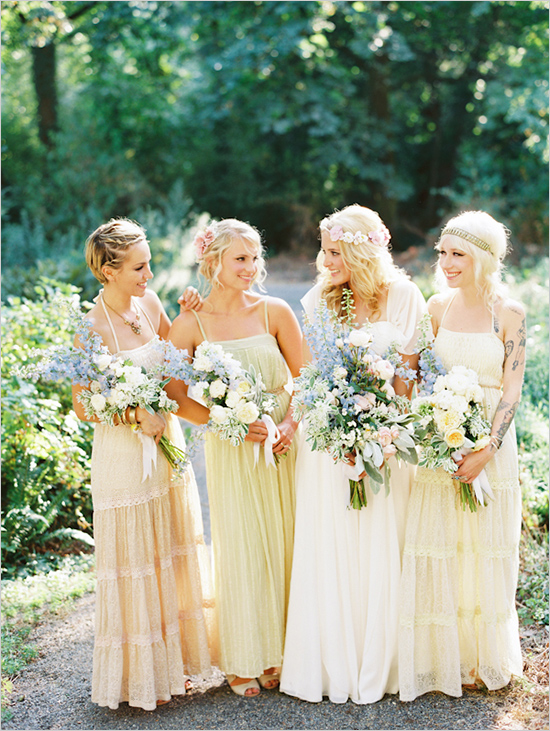 Photo Credit: Erich McVey Photographyvia Wedding Chicks
I bet you think this is a styled wedding shoot, but believe it or not this is a real wedding and one with a gorgeous bride and bridesmaids! Would you also believe that these stunning bohemian chic dresses are from Forever 21! The maid of honor hand-dyed them and made the belts herself, wow what an amazing friend to have as a maid of honor! I just love the hippie chic look of them and would love to have a dress like this to wear all summer long!
---
8

Bohemian Chic Wedding Ceremony...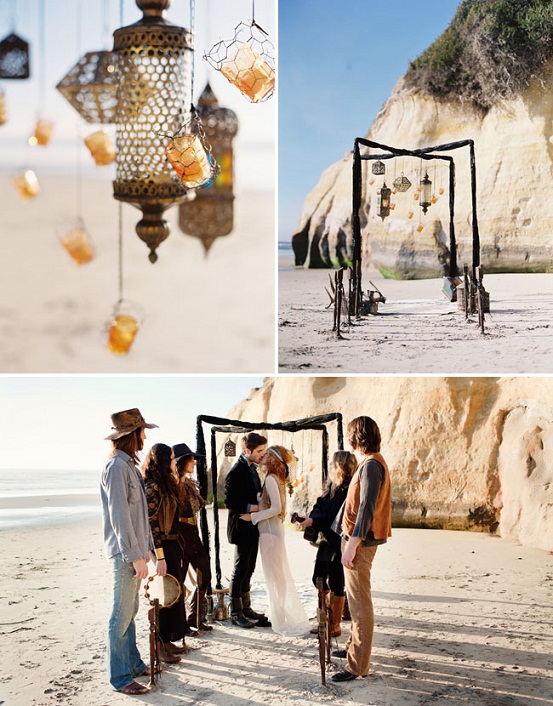 Photo Credit: Katie Neal Photovia Green Wedding Shoes
Now that you and your bridal party are dressed and layered in your bohemian chic attire, you need to start thinking about what your boho ceremony will look like. Is this not the most perfect hippie/boho looking bridal party; I love their hats, bell bottoms, and long hair! Lanterns are a big bohemian chic wedding detail and would look lovely hanging from your altar along with strands of jewel toned ribbons or feathers. What details are in your bohemian chic ceremony?
---
9

Bohemian Chic Wedding Reception...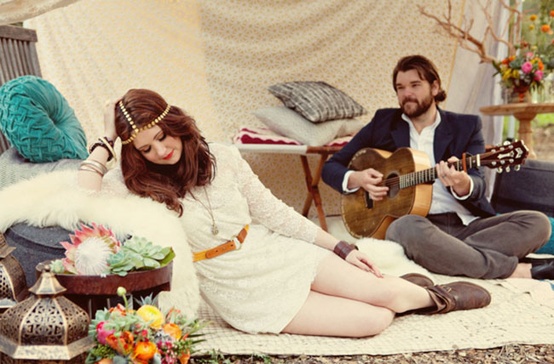 Photo Credit: Katelin Wallace Photographyvia Green Wedding Shoes
For your bohemian chic wedding reception remember that being boho is all about being relaxed and not putting too much effort into the details. Don't go out and buy big lounge chairs and expensive fabrics for your bohemian reception, ask around and check out thrift stores for vintage pieces that will fit right in with your look. Find someone who knows how to play acoustic guitar or just ask your boho groom and groomsmen to bring their instruments so you can gather everyone around the fire pit for a night your guests will never forget.
---
10

Bohemian Chic Wedding Decor...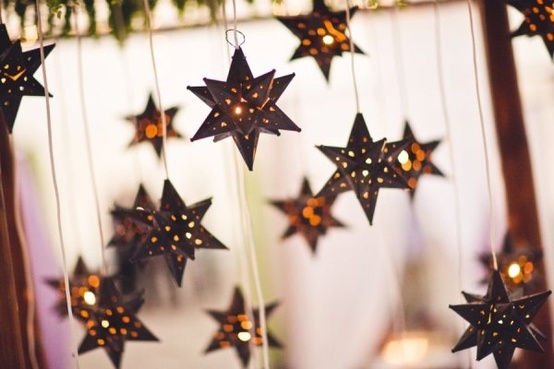 Photo Credit: Jeff Newsomvia Style Me Pretty
As I mentioned before, lanterns are a big trend for bohemian chic weddings. So take the boho decor from ceremony to reception with these rustic star lanterns and hang them over the reception tables, as a backdrop for a photo booth, or hanging over your dance floor. Rustic or jewel toned lanterns will also look boho chic on your reception tables mixed in with your floral centerpieces.
Bohemian chic wedding ideas aren't cookie cutter, there is no guide line to follow. If you like bright colors for your boho wedding, then go for it! Or perhaps you want a wedding dress that has more of a mermaid style but still want the bohemian wedding look with chunky jewelry and a floral headband, that doesn't mean you won't still be a boho bride. You can combine all of these ideas for your bohemian chic wedding day or you can pick a few details that speak to you and have the feel you're going for. It's your boho day, make it what you will.
---
Popular
Related
Recent