Movies can inspire a plethora of ideas from details in fashion and music to books and television. So why not take those ideas and use them to inspire your big day; from the details in your gown to your wedding cake. Here are 7 Great Movie Inspired Wedding Themes, which one is your favorite...
---
1

The Hunger Games Inspired Wedding...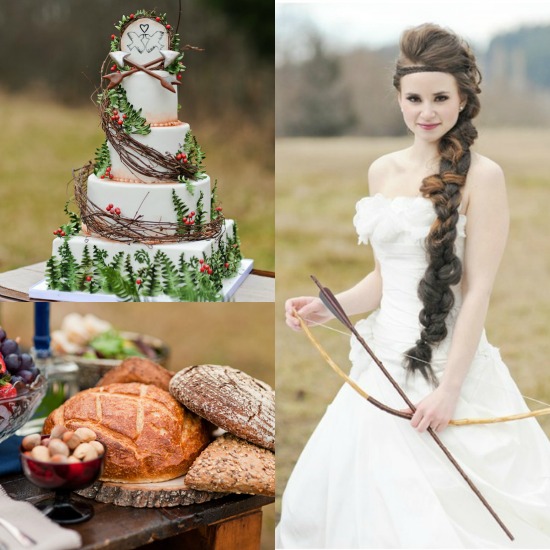 Photo Credit: Courtney Clarke via Wedding Chicks
If you are a fan of The Hunger Games and have read all three books then like me you are probably dreaming about Katniss' wedding gown. No one mentions what her wedding day looked like, so we can only imagine the details; like a gorgeous braided bridal hairstyle, a woodland theme cake, and of course plenty of bread during the reception. In District 12 making a fire in your new home and toasting a piece of bread is a wedding tradition that every newlywed couple takes part in.
---
2

Harry Potter Inspired Wedding...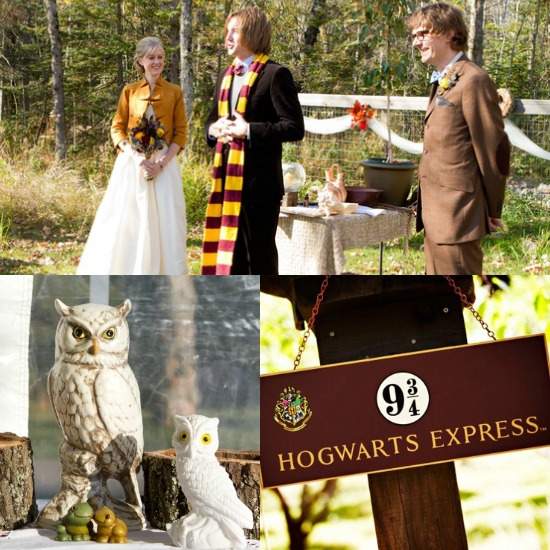 Photo Credit: Bridal Guide
The Harry Potter movies may no longer be in theaters, but the magic of Hogwarts will always live on. If you're planning a wedding and are a potter fanatic consider a movie inspired wedding that features owls, wands, and Gryffindor colors as part of your decor. How much fun would it be to name your tables after the houses in Hogwarts and sit all the people you dislike at the Syltherin table!
---
3

Twilight Inspired Wedding...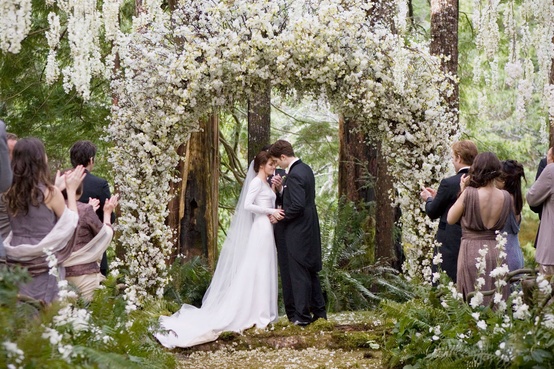 Photo Credit: Bridal Guide
What better wedding inspiration from Twilight: Breaking Dawn is there other than the actual wedding of Edward and Bella! The woodland theme during the ceremony was pure magic with the cascading floral altar under the Wisteria trees. Oh, and I can't forget to mention Bella's dress, which was just breathtaking. Who wouldn't want a movie inspired wedding day like this one!
---
4

The Wizard of Oz Inspired Wedding...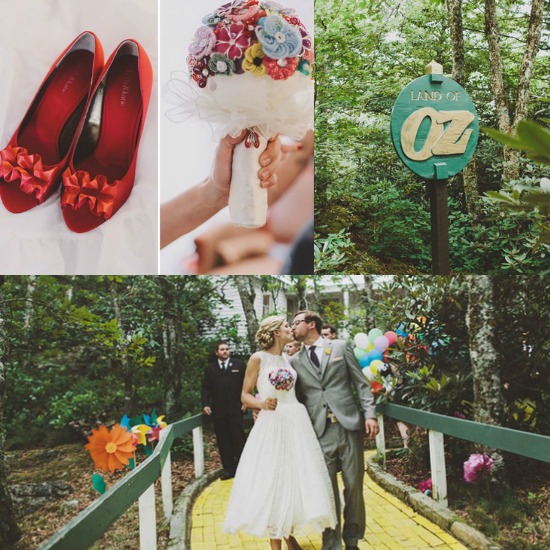 Photo Credit: Green Wedding Shoes
Did you know there's a theme park called The Land of Oz...no, me either! Nowadays it's only open for private parties and such, but back in the 1970s it was a working park with rides, tigers, lions, and bears, oh my! What a wonderful and playful venue this would be for your Wizard of Oz movie inspired wedding, don't forget your ruby red slippers.
---
5

Tangled Inspired Wedding...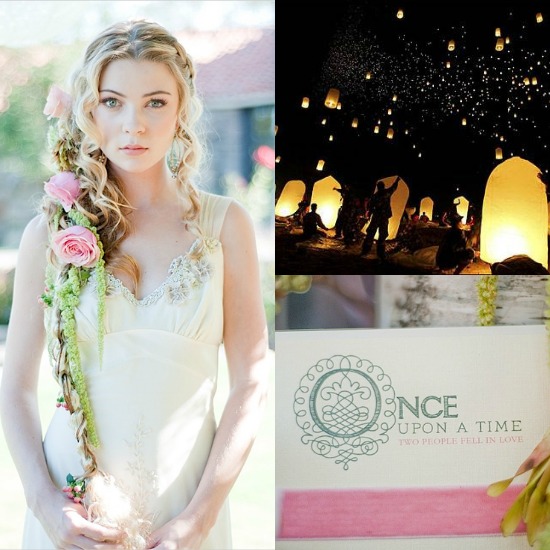 Photo Credit: (Bride & Invitation) Wedding Chicks (Lanterns) Weddingo
There are many Disney movie inspired wedding themes you could plan, narrowing it down to your favorite princess or even just the details within the movie will be the hard part. One thing that has always inspired me from Tangled is the look and feel of the floating lantern scene. The flowers in Rapunzel's long blonde hair are another detail I've always loved too, how gorgeous would this look on your garden wedding day as you walk down the aisle! What Disney movie will inspire your big day?
---
6

Up Inspired Wedding...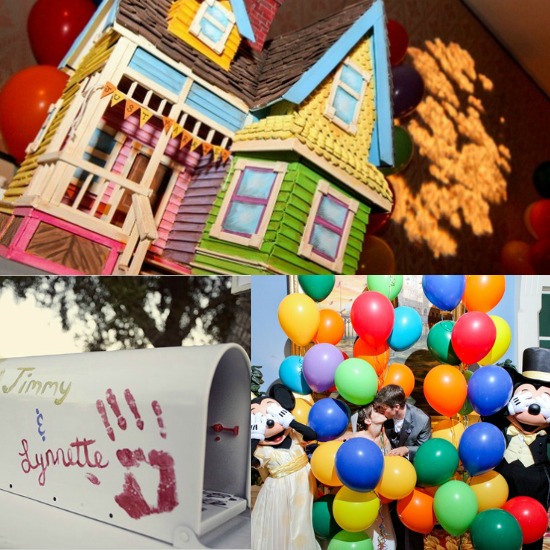 Photo Credit: Bridal Guide
The love story of Carl & Ellie at the beginning of UP has filled pinterest and wedding gawker with movie inspired wedding ideas like this adorable replica mailbox, which is perfect for the cards from your guests! I love the idea of a wedding cake designed to look like the UP house as well, this one was an actual miniature house that was built by the couple's best friend.
7

Alice in Wonderland Inspired Wedding...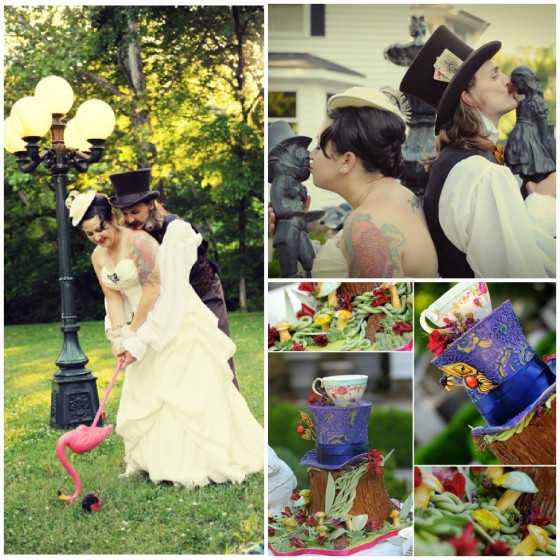 Photo Credit: The Bride Link
Alice in Wonderland may not be everyone's cup of tea for a movie inspired wedding. However, if you are looking for a whimsical day filled with mad hatters, tea cup centerpieces, and a one of a kind woodland wedding cake, then this is the theme for you! I love this offbeat couple; their wedding attire and details seem so in sync with their personalities.
There are plenty of movie inspired wedding themes that aren't mentioned on my list, but these are just a few of my favorites. I love the idea of a braided bridal hairstyle for a movie inspired wedding theme from The Hunger Games. Or perhaps a tea party reception for a movie inspired wedding theme from Alice in Wonderland. What movie would you choose to inspire your big day?
---
Comments
Popular
Related
Recent