Whether you have traveled throughout your relationship or you have future plans to see the world, a travel themed wedding is a cute and quirky way to show your love for being a globetrotter. From favors to table names, here are 7 Ways to Plan a Travel Themed Wedding...
---
1

Travel Theme Wedding Bouquet...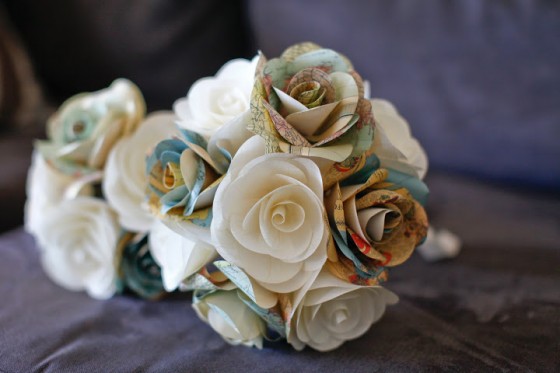 Photo Credit: Wire & Paper
Would you believe this stunning bouquet is made from paper! I love the idea of using a map for half of the paper roses for a travel themed wedding, you could use a map of your hometown or even a map of your honeymoon destination.
---
2

Travel Theme save the Date...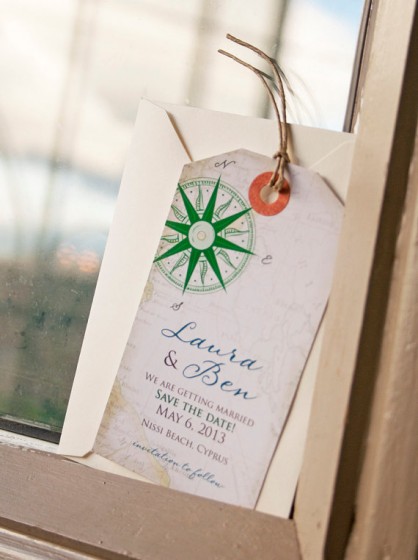 Photo Credit: Mavora Etsy Shop
There are many creative ideas you could choose from for a travel themed wedding save the date. However, when I saw these adorable little luggage tag save the dates with the sharp looking compass I just had to share them. They are chic but simple and give your guests a hint to your theme.
3

Travel Theme Wedding Centerpiece...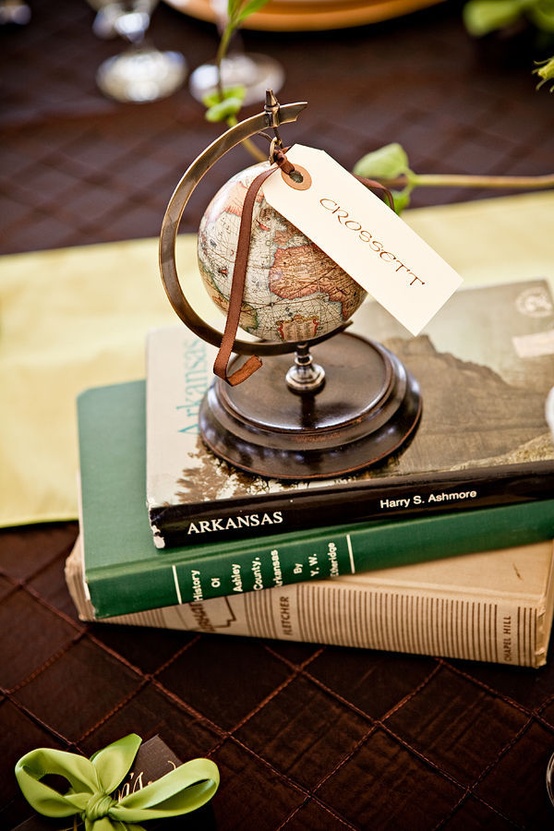 Photo Credit: Style Me Pretty
I love everything about this travel themed wedding centerpiece, isn't it adorable! You have the table name on the luggage tag, travel books that go with the name, and a mini little world globe to top it off, who needs flowers when you have this.
---
4

Travel Theme Wedding Table Names...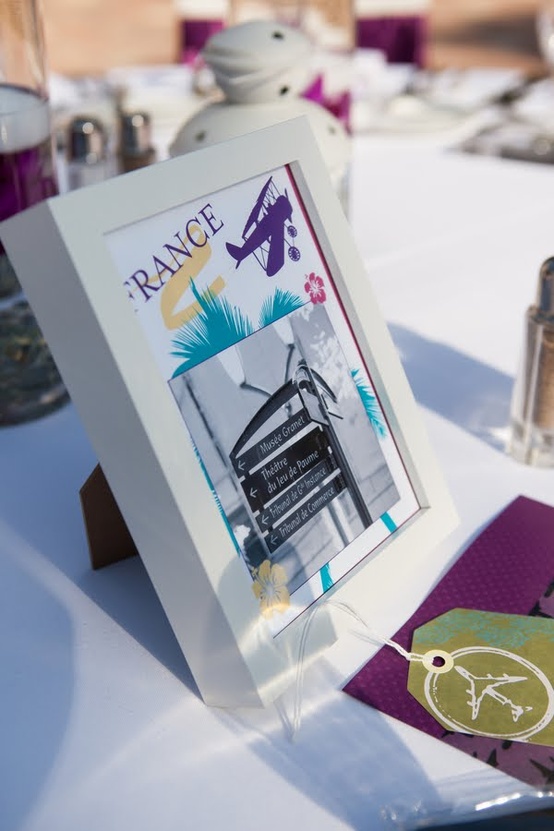 Photo Credit: Things Festive
I've always loved the idea of naming your wedding tables instead of using numbers, especially when you have a cute travel themed wedding. You can name your tables after places you'll visit on your honeymoon, like France...oh la la, or perhaps little places you've been to throughout your relationship.
---
5

Travel Theme Seating Chart...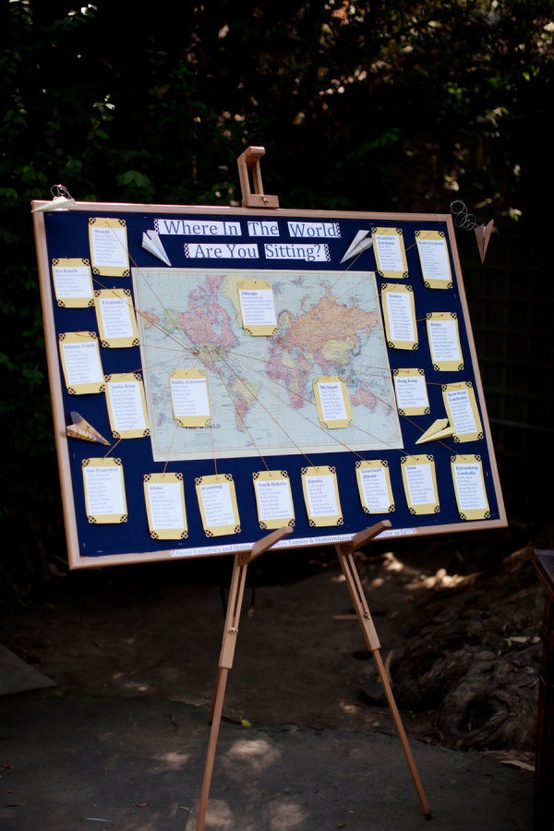 Photo Credit:Style Me Pretty
Now that you have your travel themed table names you'll need a travel theme seating chart that's just as cool! I love the title of this seating chart, "Where in the World Are You Sitting?". It's fun and will give your guests something to talk about during cocktail hour.
---
6

Travel Theme Groom's Cake...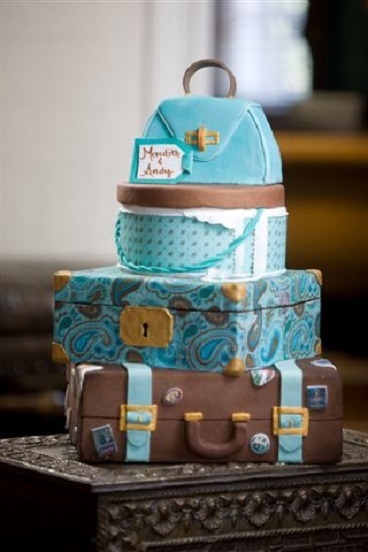 Photo Credit: Weddings Magazine
Can you believe this luggage set is a cake! I love the different sizes, shapes, and designs on each bag, it really makes the cake come to life. I bet a groom's cake like this will be the talk of your travel themed wedding for years to come.
---
7

Travel Theme Place Setting...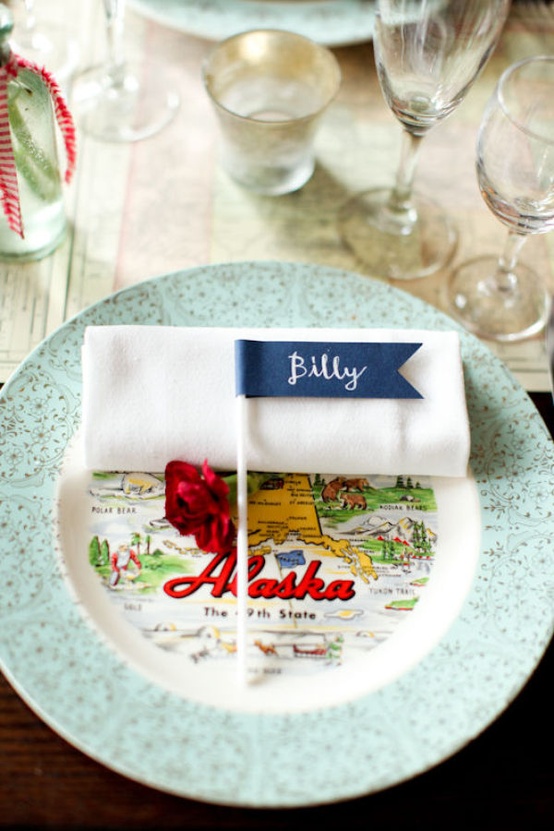 Photo Credit: Style Me Pretty
Did you ever think you would see a place setting idea for your travel themed wedding! How cute would it be to carry your theme all the way through to the plates your guests are dining on. Check out your local thrift or vintage stores to find plates like these and you just might get lucky.
---
8

Travel Theme Wedding Favors...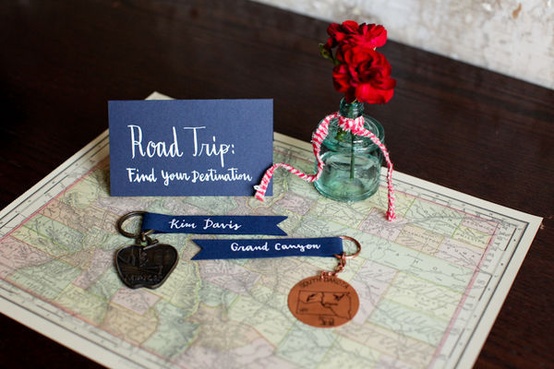 Photo Credit: Style Me Pretty
Send your guests home with a little memento to remember your travel themed wedding like these state or city key chains. You can also use them as place cards and put their name on the one side of the tag attached to the keychain and the state on the other!
You don't have to use all of these ideas for your travel themed wedding, but rather use them as inspiration to start your planning process. A travel themed wedding can work for any venue and looks great with any wedding colors. What ideas did you use for your travel themed wedding?
---
Comments
Popular
Related
Recent