I've had the wonderful opportunity of working with Ajalon Printing & Designbefore and I am happy to share with you more of their beautiful work from Guest Blogger Katie Nealonwho blogs for **Ajalon. **
"Destination weddings are the perfect opportunity to plan a wedding invitation unlike anything you've ever seen before. Letting your location guide your invitation design will do wonders to get guests excited about your upcoming day--or week! Pick a motif related to your destination location, and work it into your wedding stationery..." Here are eight different destination locations with amazing motifs, just to get you started.
---
1

Cape Cod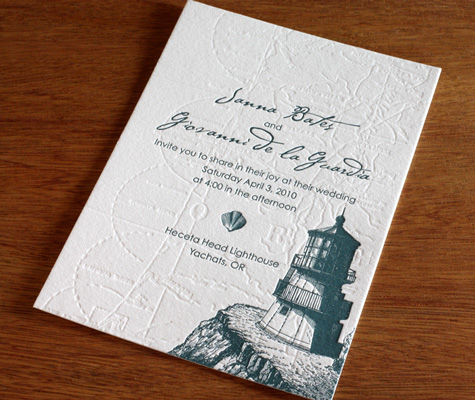 If you are planning a seaside ceremony, I can think of nothing better than a light house motif to guide your guests to your celebration. Nautical embellishments in the blind impression really make our Cape Cod destination wedding invitationa sight to see.
---
2

Key West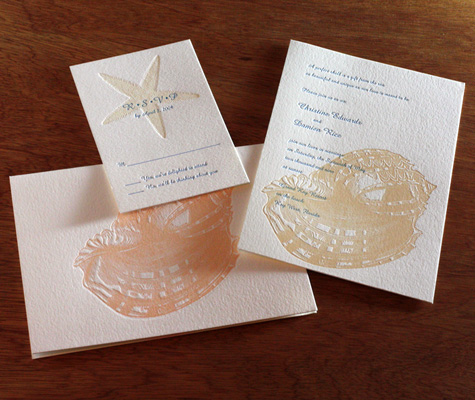 Tropical wedding ceremonies in places like Key West need a refreshing invitation design to accompany them! Letterpress printed seashell and starfishmotifs will make it hard for guests to turn down your destination wedding invitation.
---
3

Sonoma County Vineyard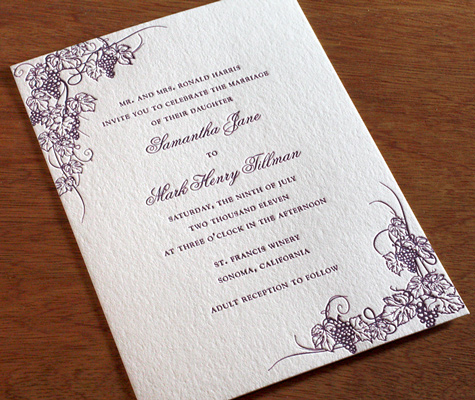 Are you planning a rustic Wine Country wedding in 2011? Whimsical grape vinesare perfect for radiating your growing love. What a clever destination, and a lovely invitation!
---
4

England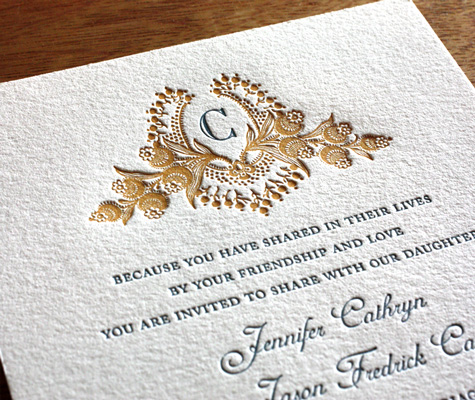 If you're traveling to England to have your own Royal Wedding, consider a more formal design. Monograms are fit for royalty, and can be customized to fit your name and taste.
---
5

Mexico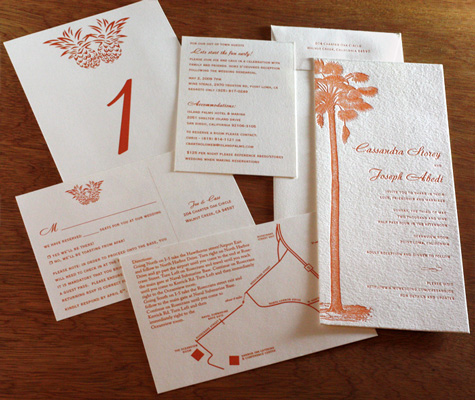 Tropical palms work wonders to get guests excited about destination wedding celebrations in places like Mexico. Not to mention, the tall trees look especially stunning on tea length paper! Aren't these gorgeous?
---
6

South Beach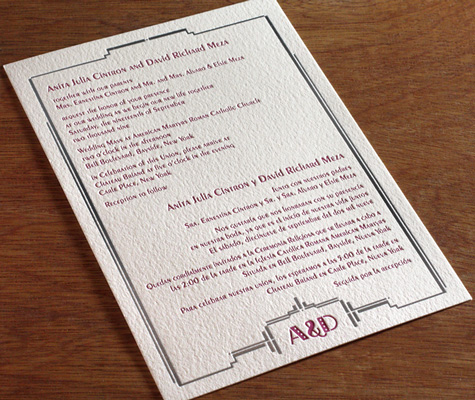 Custom fonts are a great way to have fun with your letterpress destination wedding invitation design. Destination locations with art deco architecture, like South Beach, look great with fun fonts and set the tone for your modern affair.
---
7

Japan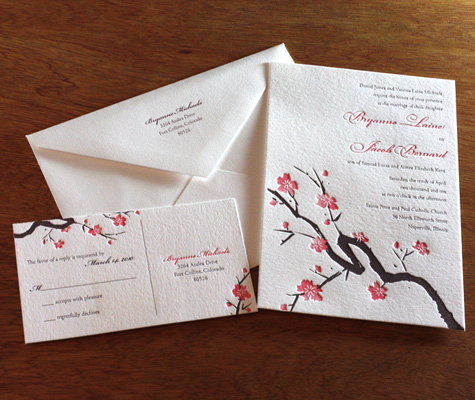 If you are heading to Japan for your spring destination wedding, cherry blossoms are an excellent motif to utilize within your invitation design. The beautiful nature of this native flora will attract guests from every continent. This would also work beautifully for a spring wedding in Washington D.C.
---
7

India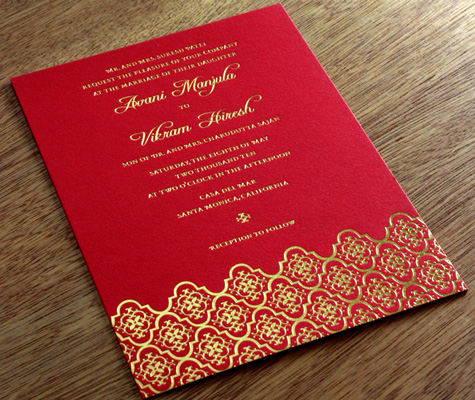 Indian wedding celebrations are a big hit in 2011, and the invitationsthat come with them are truly stunning. Think about using shiny gold foil within your Indian wedding card! It will really get guests excited about your upcoming destination celebration.
Where are you heading for your 2011 destination wedding, and what motif will you use?
Thank you Katie for giving us a special insight on these beautiful designs that can be inspired by a bride and groom's destination wedding. Order a sample from Ajalonto see their lovely details up close... also check out their monthly special.
Top Photo Source: adoreamorephotography.com
More
---
Comments
Popular
Recent