What else would be next after talking about fall wedding colors other than fall wedding flowers! Just like combining colors, there are so many beautiful floral options that are great to mix together for one striking wedding bouquet. Roses, calla lilies, protea, ranunculus, sunflowers, and dahlias can be set together for one lovely look, whether it's in the bride's flowers or in the reception centerpieces. Bring the spirit and warmth of Autumn into your wedding plans with these 7 Beautiful Fall Wedding Flower Ideas...
---
7

Succulents, Ranunculus & Roses: Perfect Mix for Fall Wedding Flowers...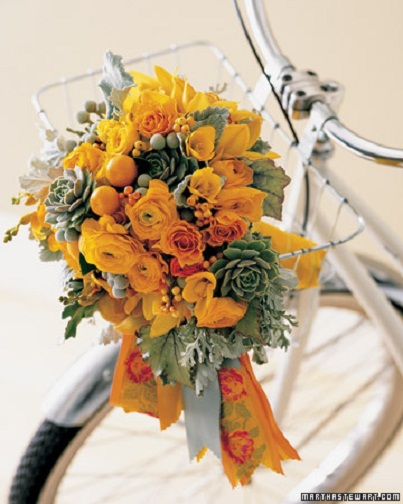 Photo: MarthaStewartWeddings
As I mentioned in the Fall Wedding Colorspost, for fall weddings it's great to see elements and textures of nature brought into the details. This is the same when it comes to your fall wedding flowers; **combine **leaves, succulents, berries and foilage with your orange ranunculus, roses, and freesia for a striking look that will grab everyone's attention as you walk down the aisle. In this fall bouquet there are even adorable little clementines mixed in!
---
6

Roses & Dahlias: Lovely Fall Wedding Flowers...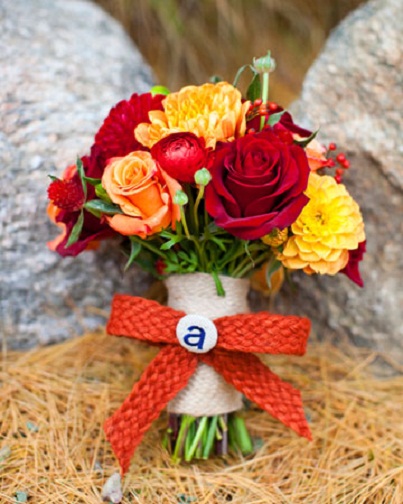 Photo: MarthaStewartWeddings
Your fall wedding flowers don't have to be big and bold with lots of texture, they can also be sweet and simple like this darling rose and dahlia bouquet. There are a few berries and ranunculus as well that help to complete this adorable fall bouquet along with it's cute little personalized bow and button. Sometimes it's the little things that matter the most!
---
5

Hocus Pocus Roses: Magical Fall Wedding Flowers...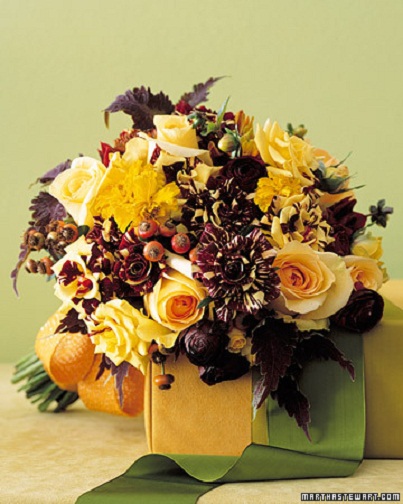 Photo: MarthaStewartWeddings
How amazing are these Hocus Pocus roses, I have never seen such a magical flower like this before! The combination of the colors in this one flower set the details for the rest of the bouquetand your fall wedding flowers for your ceremony and reception. Yellow and orange roses, marigolds, and burgundy ranunculus make up the rest of this striking bouquet.
---
4

Abutilon & Dutch Roses: Pretty Fall Wedding Flowers...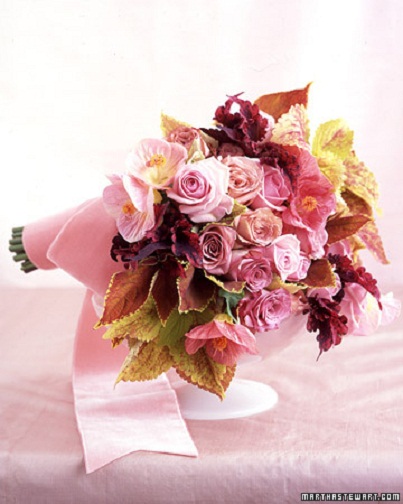 Photo: MarthaStewartWeddings
Although fall is made up of dark tones you can still brighten up your big day with pink** fall wedding flowers** by adding leaves and other dark foilage to balance out the pop of color. Dutch dusty pink roses and abutilon flowers are beautiful for every season and will surprise your guests and compliment your gownin the fall.
Continue Reading...
---
3

Calla Lilies & Dusty Miller: Chic Fall Wedding Flowers...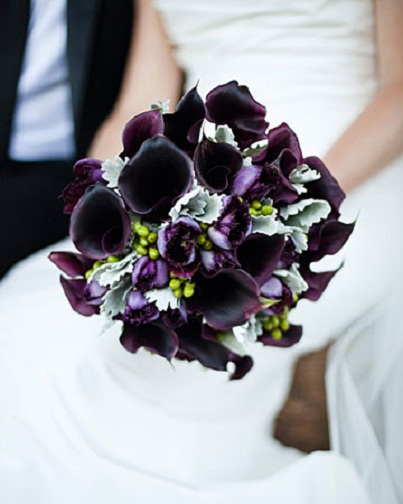 Photo: MarthaStewartWeddings
Calla Lilies became my favorite flower, besides hydrangeas, when we were planning our wedding. They bloom in such beautiful tones like these deep eggplant calla lilies that are so chic for** fall wedding flowers**. I also love the burnt orange, yellow, and pink hues they come in as well. Mix in some green berries, dusty miller, and fringed purple tulips to break up the deep colorof the calla lilies.
---
2

Sunflowers: Beautiful Fall Wedding Flowers...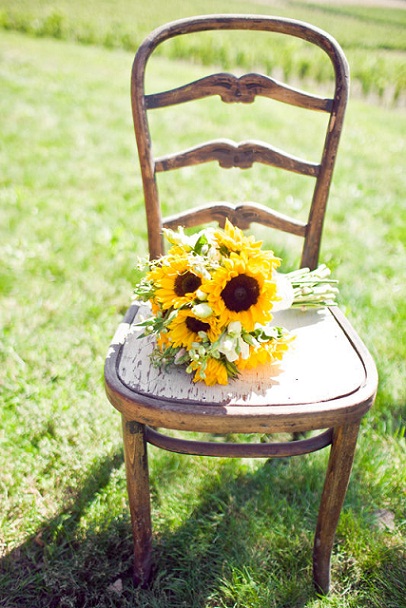 Photo: Ellie Grovervia StyleMePretty, Florals: Fleur Essence
Sunflowers are another great flower that has perfect colors for fall weddings. The chocolate brown center pulls in the warmth of fall and the beautiful yellow petals shine as bright as the sun and the yellow leaves on the fall trees. There are no right and wrong** fall wedding flowers** or ideas, this is your day and you can go simple with just sunflower detailsthroughout or you can combine sunflowers, roses, and calla lilies for your centerpieces and have just a simple sunflower bouquet. We are here to inspire not to discourage.
1

A Burst of Autum: Gorgeous Fall Wedding Flowers...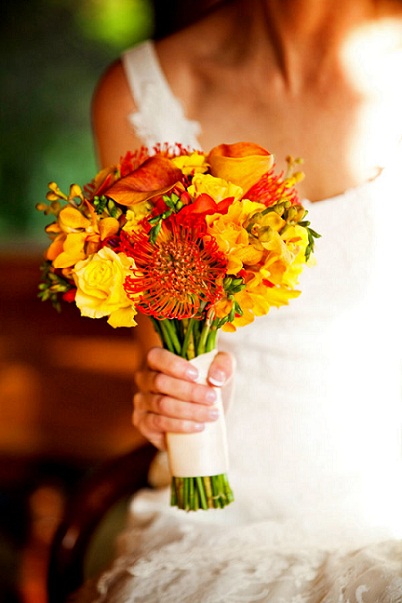 Photo:Evrim Icozvia StyleMePretty, Florals: Vibrant Table
The colors and combination of fall wedding flowers in this gorgeous bouquet are my favorite. The protea flowers are stunning, I love seeing them in arrangements, along with the burnt orange calla lilies,** yellow roses**, ranunculus, berries, and other fall flowers in this bride's bouquet. This just speaks fall and makes me wish it were here all year round!
Fall Wedding Flowers can be bright and full of color or they can be deep and full of warmth. Whether it is the orange pumpkins of fall that inspire you or the yellow and red leaves that catch your eye, no matter what season it is weddings are meant to be what you see and feel. As the crisp air chills us all down and the apple cider warms our hearts, the** beautiful fall wedding flowers **that you carry will inspire the next bride-to-be as she plans her own big day.
What fall wedding flowers will we see on your special day?
---
Comments
Popular
Related
Recent