This Friday, June 10th 2011, is a very special day for a very special friend. Hilljo fromDaisy to Sunflowerwill be walking down the aisle and saying 'I Do'!!! We are so excited for Hillary and just want to wish her and her husband-to-be the most romantic day ever. They are planning a beautiful wedding day filled with sunflowers, garden elements, and adorable bunny rabbits including many DIY projects. To help celebrate this wonderful occasion here are 6 **decor ideas **featuring **sunflowers **to inspire your wedding day the way sunflowers have inspired Hillary and her very soon to be husband...
---
6

Inviting Sunflowers...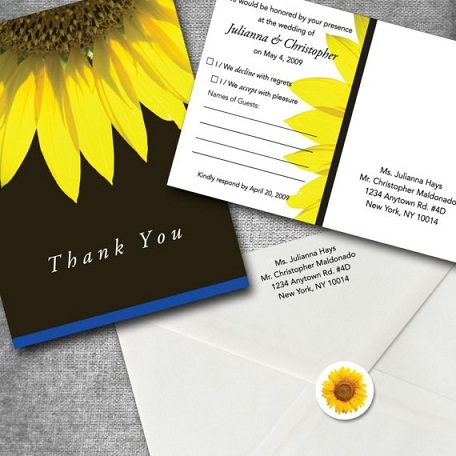 Photo: Etsy.com/shop/MoncherDesigns
This beautiful sunflower invitation **set includes thank you cards, RSVPs, invitations, envelopes, and pretty sunflower seals. I love when the invitations give the guests an idea of what they can expect during the wedding day, whether it be a backyard wedding, a day on the beach, or black tie event. Hillary's invitations were a wonderful DIY project with **butterflies **on her entire set to go along with her **garden theme.
---
5

Sunny Flower Girl...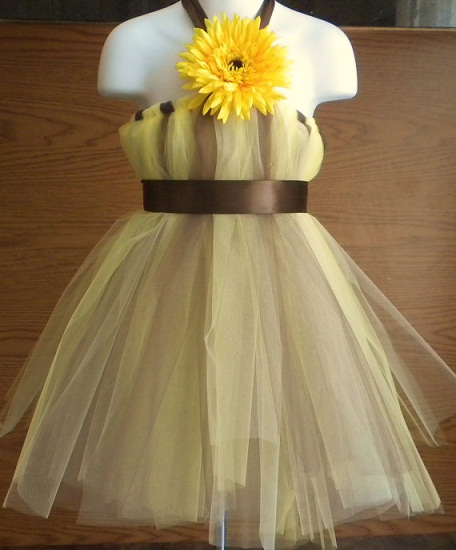 Photo: Etsy.com/shop/Tallulahandbelle
How adorable would this little sunflower dress **be for a **flower girl **walking down the aisle throwing yellow petals right before the bride comes. I'm not sure what Hillary's flower girls will be wearing, but this dress would look beautiful with the DIY flower baskets **she made for them! I love these dresses made entirely out of tulle. With this purchase you even get a little matching teddy bear to give as a gift to your flower girl!
4

Glowing Flowers...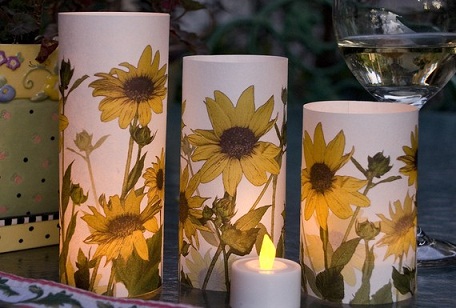 Photo: Etsy.com/shop/LeafMotif
I have never seen anything like these **sunflower candle holders **before and I just love the idea for all wedding themes. These are called Kandle Wrapzand they stick to any candle holder and look great with electric candles inside. I can picture these lined down the aisle at Hillary's wedding with her big sunflowers or on her tables with the amazing DIY painted mason jars her mother-in-law put together!
---
3

Sunflower Accessories...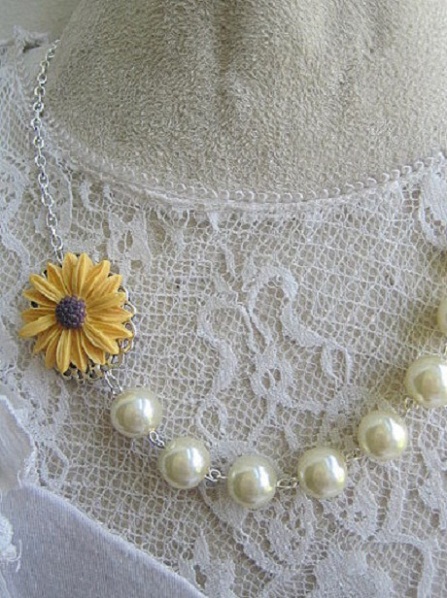 Photo: Etsy.com/shop/BuySomeLove
Classy, Unique, and Offbeat. I love that this **sunflower necklace **has a mixture of styles all in one look. The pearls make it great for any wedding, even if you want to go with a more formal and traditional look. But the sunflower gives it that unique look that would pull your **garden theme **together. I can see Hillary wearing a fun necklace like this one.
---
2

Growing Love...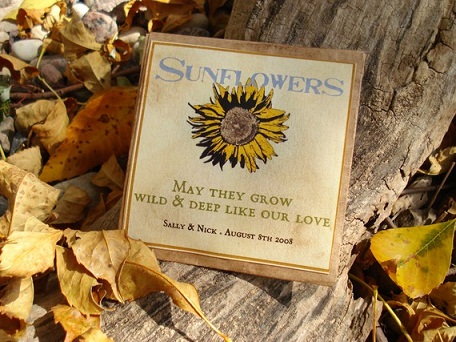 Photo: Etsy.com/shop/BackyardWedding
Everyone loves your sunflower theme and feels like they are in a garden **filled with love, romance, and magic. What would be better than sending your guests home with that same feeling. These sunflower seed packets would make for great **favors **placed at each seat or you could throw them in the gift bags at your **bridal shower.
---
1

Floral Headband...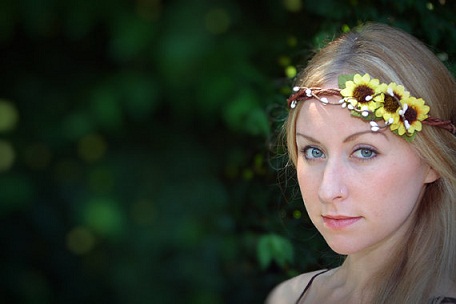 Photo: Etsy.com/shop/HeadCasebyG
I am so excited to see Hillary's DIY** birdcage sunflower veil **with her wedding dress, she really did a beautiful job and should think about putting together her own Etsy shop! This lovely **sunflower headband **would be a great piece for her to wear for the reception, I love the three sunflowers and the hippie, garden-fairy style, perfect for Hillary!
Congrats to Hillary and Shawn, we're so excited and happy for you!
More
---
Comments
Popular
Recent