Other than writing these articles and being a busy mom and truck driver's wife and secretary, I also dabble in photography a bit. It's my dream to be a great photographer one of these days. In the meantime, I'll snap some pictures here and there and share with you all what I learn via these articles! And just because you're vowing to love each other till death parts you, doesn't mean that you can't have fun, does it? Though solemn the vows may be, the celebration should shine through in your photos! Here are some ideas to discuss with your photographer before you tie the knot!
---
1

Let's Jump!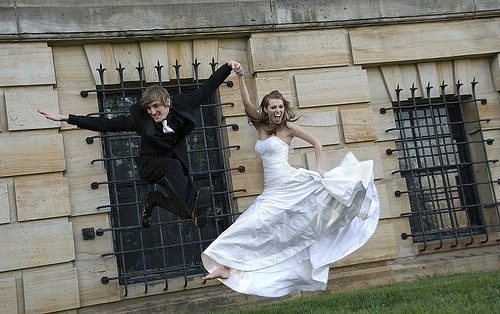 Photo Credit: kim.taylor.
Jump for joy as you get your pictures made! Have your photographer take some shots of you and the new hubby jumping together, and a few of the wedding party too! These shots, when done right, can be absolutely awesome!
2

You're Mine Now!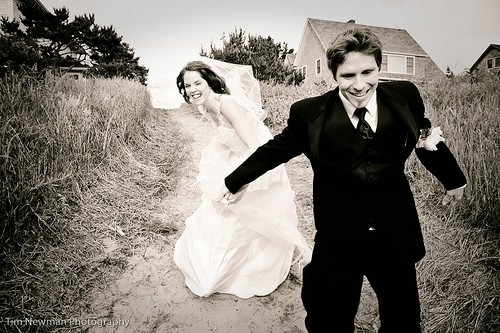 Photo Credit: T-N-P-
It's a classic! The groom attempting a getaway, only to have the bride hanging on to his coat! You simply must have one of these taken!
---
3

Hitchhikers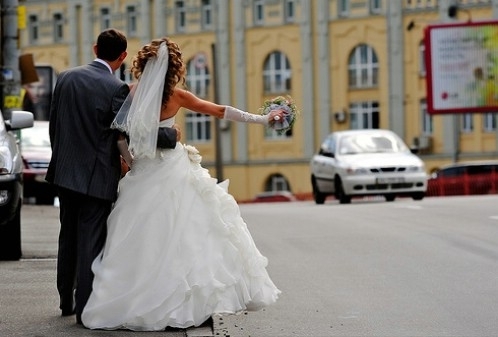 Photo Credit: episa
This is a cute shot for the couple who likes something a bit different. This pose looks best if the groom is thumbing it while the bride holds an old suitcase. Antique the picture a bit, and it's perfect!
---
4

Swinging!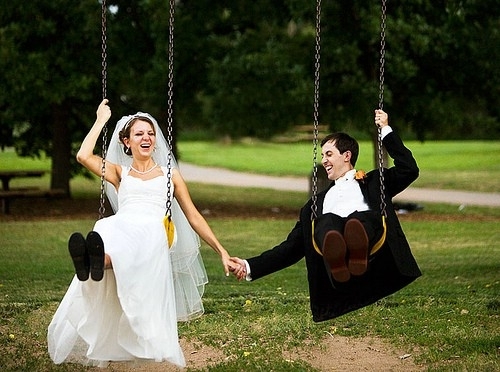 Photo Credit: hollypacione
If you're outside and in or around a park, this is a great fun portrait. Variations of this pose go from both bride and groom swinging together to one of them pushing the other. Hint: you will get a more romantic pose if groom is pushing bride, while bride pushing grooms comes out a bit more comical!
---
5

All Feet!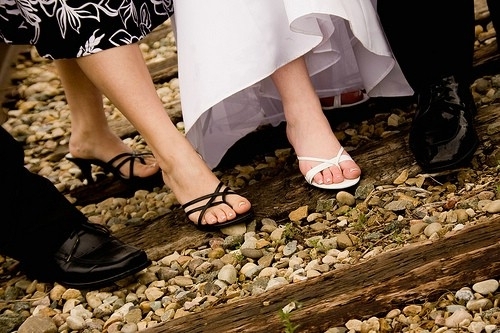 Photo Credit: Danica G
Here's a cute way to show off all the girl's pretty toes. I couldn't find a picture of it, but my favorite variation to this pose is where the bride and her maids line up, turn their bouquets down toward their feet, and the photographer captures from the hands down. Super cute!
---
6

Twirls!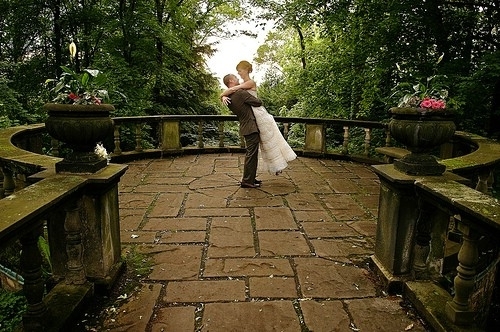 Photo Credit: Corey Ann
If you're wedding dress if full and pretty, show it off! Have the photographer capture photos of you spinning in your dress, and then some, as pictured, of your sweetie spinning you in his arms!
---
7

Smile! You're on Candid Camera!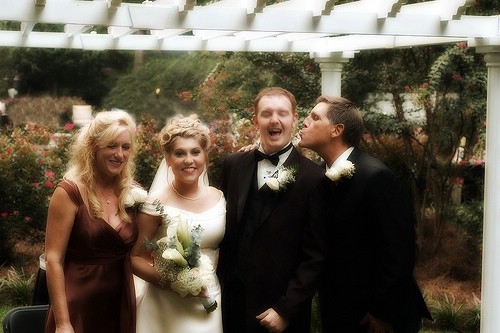 Photo Credit: Odelay79
Many times, it's the candid shots like this that make your wedding photography! Those moments, when captured in a photo, will make you laugh as you think, "What were they thinking?!?!?" Make sure your hired photographer is a "wedding photo-journalist" rather than just a wedding photographer. You want someone that will document your entire day, and not just the posed memories!
I'm a romantic girl who loves to have fun! This kind of stuff is right up my alley! Do you have any fun pose ideas to add?
Top Photo Credit: Ryan Smith Photography
---
Popular
Related
Recent