Ever since I met her as Ms. Swan on WeddingBeeI was just in awe of her true beauty, her strength, love, and passion for everything. I am always so thankful for everyone I meet in life and Terri, now at Try Anything Once, gives that feeling right back. Come on a journey to Bali with her and her husband and experience the honeymoon of a lifetime....
"My honeymoon to Bali with my husband was the right combination of sun, beach and culture that we both wanted. While it takes quite awhile to get to Bali from the Northeast coast of the U.S., what you'll find in Bali are more than enough fun things to do to satisfy any kind of interest. Here are five things that I loved about our trip there":
Table of contents:
1

The Price...

While it takes an outlay of money to get there (flights are not cheap), Balireally can be and affordable honeymoon destination. It's not unheard of to pay about $100 for a beautifully decorated hotel room with Balinese hand crafted furniture and exotic flowers (Check out Ubud, Bali's Alma Shanti). Also if you are into trying new cuisines, you can eat economically at small Balinese warungs(local restaurants). The food is delicious (more on that below)!
2

The Culture...

Bale Kambug (Floating Pavilion) of Taman Gili at Semarapura, Bali

If there is one reason that we flew all the way to Bali, it was to experience its culture. Starting with its own special form of Hinduism, the Balinese weave their religion and arts into all aspects of life on the island. For example, the Balinese incorporate beautiful local fruit and flowers in the intricate offerings left to the gods at entrances to homes or businesses.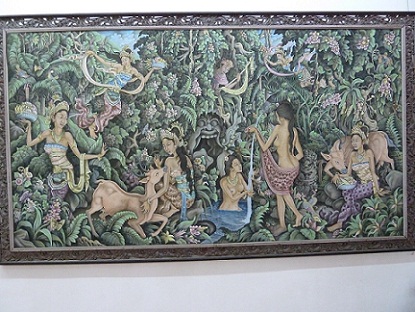 A piece of tradtional Balinese art at the Neka Art Museum
Much of the** artistic life** of the island is focused around Ubud right in the island's center (the name may also be familiar as the place where Elizabeth Gilbertspent several months while writing her book, Eat, Pray, Love). You will find stone statues, woodcarvings or** colorful paintings** for sale in stalls in Ubud's central market. Make a short visit to the Neka Art Museum, the island's best venue for learning about the wide variety of traditional and modern Balinese art. If you prefer the performing arts, check out a traditional Balinese dance performance atPura Saraswati(Saraswati Temple) in Ubud or the Barong Dance, a ritual dance symbolizing the fight between good and evil.
3

The Food...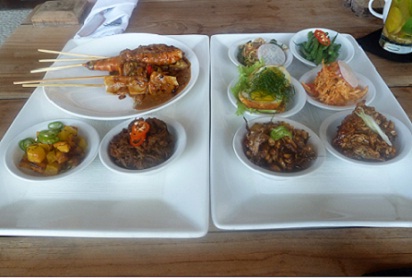 A Balinese rijstaffel, a meal consisting of small dishes of various meats and veggies with rice.
Bali has a wide range of dining options from small local warungs serving local specialties like crispy duck, roasted pork and sate as well as high end restaurants offering European and Asian cuisines in often trendy settings. If you have a chance, go to Babi">http://www.com/bar-restaurant/966">Babi Guling Ibu Oka, a well-known local warung serving wonderful roast pig or try nasi goreng, Balinese fried rice.
4

Scenery...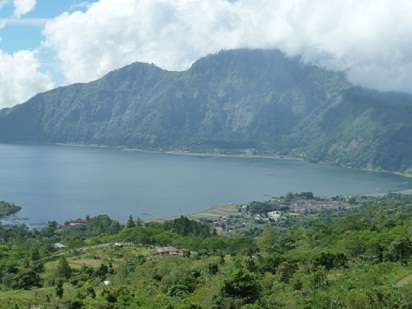 Lake Batur, Kintamini, Bali
Bali is just plain beautiful. The scenery can be rather dramatic in parts of the island given the fact that there are green mountains and even an active volcano, Mount Batur. There are white sand beaches and parts of the island resemble a tropical rain forest. For a good mix, stay at one of beach areas in Bali (Kuta, Legian, Seminyak, Nusa Dua and Amed are the most popular with honeymooners) and an inland area like Ubud or Bedugul.
5

Activities...

For those who love to be spend time in the ocean, scuba diving is a popular way of spending time in Bali. Bali is a major teaching center and many visitors come here to appreciate its gorgeous** coral reefs** and to perfect their scuba technique. If the ocean, isn't your thing, try whitewater rafting. One of our favorite activities was getting extremely affordable massages and spa treatments ($30 total for the TWO of us for massages and a special body scrub). We didn't get around to the many yoga classes we could have attended at our hotels or in many of Bali's spas.

Bali was really a** once in a lifetime trip** for us, and we appreciated the wide range of things we could do all while having a relaxing stay and experiencing a new culture. Definitely consider it for your honeymoon!

Please rate this article