It still may be summer for another month, but fall weddings are being planned and all of the last minute details are starting to come together for those getting married this year. When we first got engaged we were thinking of planning a fall wedding, we loved the thought of the warm colors of the trees, the rich color palette for our bridesmaids and groomsmen, and the whimsical decor that would include pumpkins, hay, and pine cones. However, our Fall wedding was pushed back to the Spring of the following year and everything from the colors to the decor changed. Here are 6 great ideas I would have loved for a** Whimsical Fall Wedding **that may just inspire your own...
---
6

Caramel Apple Favors...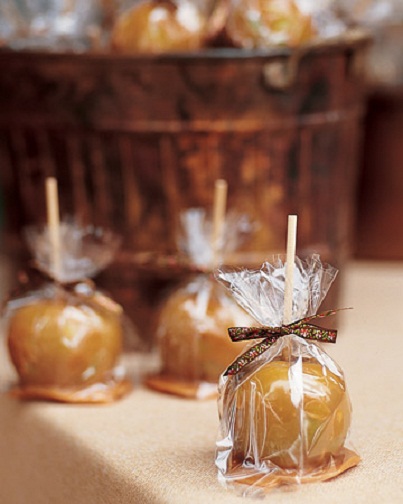 Photo: MarthaStewartWeddings
There are so many fall foodswe love that bring back that cozy feeling during the start of the crisp, chilly season like caramel apples, kettle corn, pumpkin pie, and even toasted marshmellows. Send your guests home with this warm feeling and they will remember your whimsical fall wedding as they bite into theircaramel apple favorsor while they are sitting by the fire enjoying their s'mores favor kityou sent them home with.
---
5

Pumpkin Soup...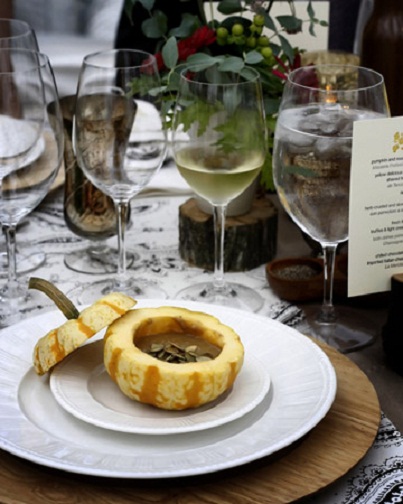 Photo: Cybelle Codishvia MarthaStewartWeddings
How adorable is this little pumpkin filled with roasted chestnut soup, topped with toasted pumpkin seeds! What a creative idea to plan for a fall wedding; not only will you warm your guests bodies with** hot soup **but you will also warm their hearts with this whimsical idea!
---
4

Personalized Pumpkin Decor...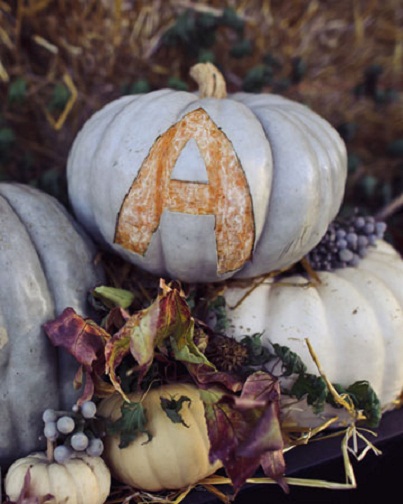 Photo: Vantage PicturesviaMarthaStewartWeddings
Pumpkins are such a big part of fall; we fill our homes with them, cook with them, and carve cute little faces in them for Halloween. Instead of just decorating yourfall weddingwith orange pumpkins, why not find** jarrahdale pumpkins** that are a light blue color and carve your inititals or wedding date into them for a more classy yet whimsical look.
Continue Reading...
---
3

Hayride Wedding Entrance...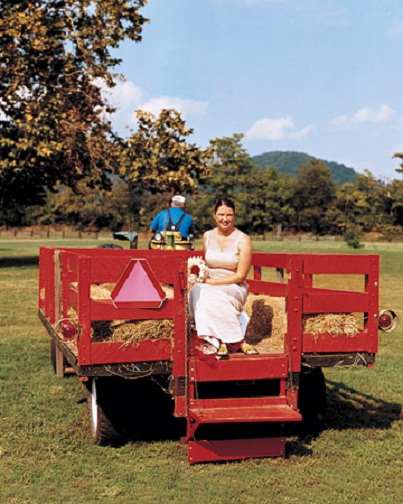 Photo: MarthaStewartWeddings
What can be more whimsical at your** fall wedding** than arriving at your ceremony in a wagon hayride! If you are planning for a wedding down on the farm why not go all out with your fall theme as you take fun photos with your groom and bridal party in a wagon full of hay. Put on your cowboy boots, ten gallon hats, and shout yea-haw for a good old time you'll never forget!
---
2

Cozy Fall Accessories...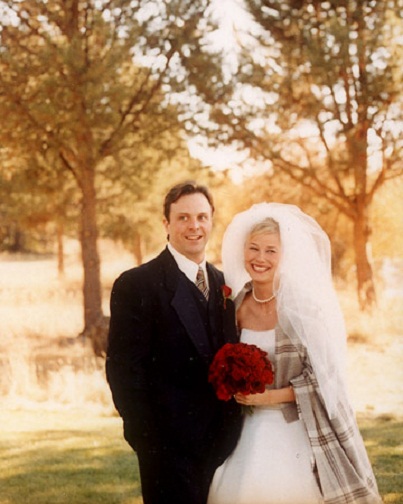 Photo: MarthaStewartWeddings
I love how cozy this lovely bride and groom look on their fall wedding day. With the trees in the background, the rich red bouquet, and the warmthrow blanketthey are ready to show everyone how a fall wedding is done right! Who would have thought a plaid throw blanket would be just the right accessoryto make this wedding photo picture perfect!
---
1

Whimsical Lantern Table Numbers...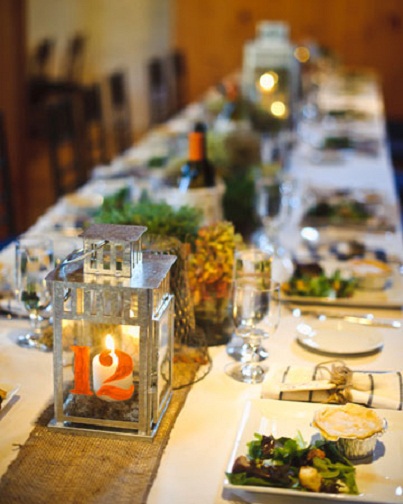 Photo: Vantage Picturesvia MarthaStewartWeddings
I have seen a few of these whimsical lanterns around in some shops and really can't want to get some for our home and our new deck that was just built. When I saw this idea for fall weddings I knew I had to include it in the post, especially since these lanterns were also used as table numbers! There are so many creative ideas out there for table numbersand this has to be one of my favorites so far!
When planning your whimsical fall wedding think of rich colors like deep reds, plum purples, dark greens, mustard yellows, chocolate browns, and pumpkin orange. Include ideas that speak to you and your sweetheart; maybe you want more apples instead of pumpkins or a horse drawn carriage instead of a tractor pulled wagon. Always remember to stay true to your own personalities whether it be totally offbeat or classy and simple.
Top Photo: Vantage Picturesvia MarthaStewartWeddings
---
Comments
Popular
Related
Recent