Earlier this afternoon I introduced you to this spunky, fun coupleduring their engagement shoot in NYC, and now you will fall even more in love with them! Sometimes our friends and family members don't understand our wedding ideas, but then they realize they understand who we are and they know it will all come together. When these sweethearts wanted a low-key, backyard wedding they took their ideas and kept going....
More Smiles & Laughter...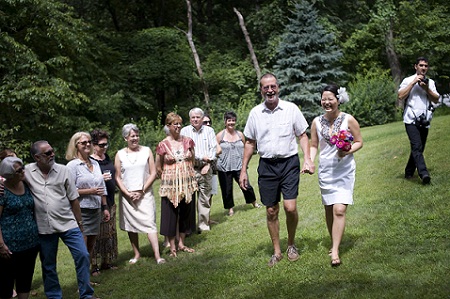 I love that they had their sweet low-key wedding right in their family's backyard. Home is where the heart is and where your family grows. I couldn't think of a more beautiful setting than this lovely woodsy landscape for this delightful couple.
Do You Take This Woman...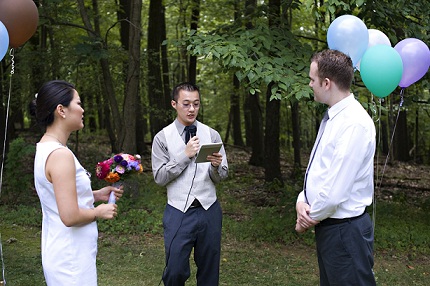 A few words from the wonderful bride...
" (We) were extremely low-key about the whole event. My parents were not but eventually the event was exactly what everyone wanted—simple and full of friends."
Do You Take This Man...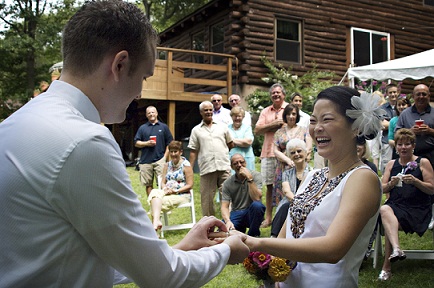 Doesn't her smile and giddiness just make you wish you were there for their intimate wedding! Check out the amazing house in the background, it's a log cabin!
Sealed with a Kiss....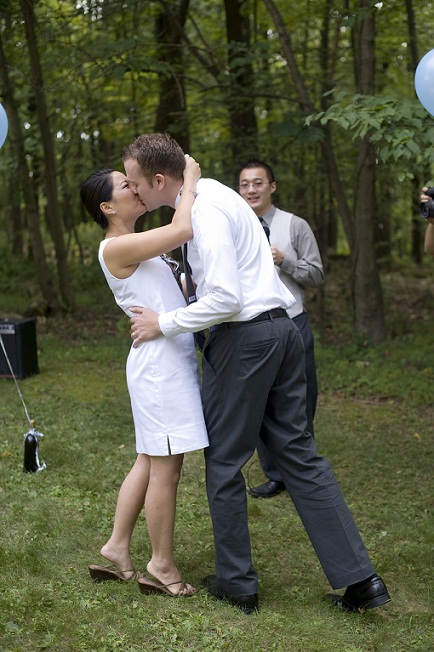 "The dress was purchased from Nordstrom. I thought the dress was too casual and did not want to get chastised or have suggestions made by a stranger so when the cashier asked what the dress was for, I told her it was for a picnic. I also had a nightmare just maybe weeks before that I forgot to buy a dress (because I had yet to do so)! My excuse is that I was out of the country for two months. But I feel that the dress was just what I was looking for and I knew it would be easy to wear again in the future."
The Bridal Party...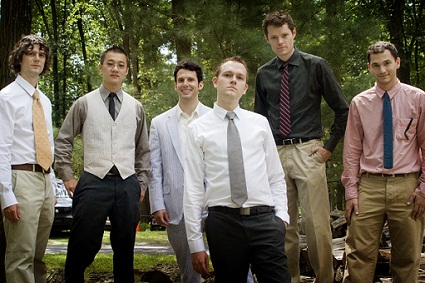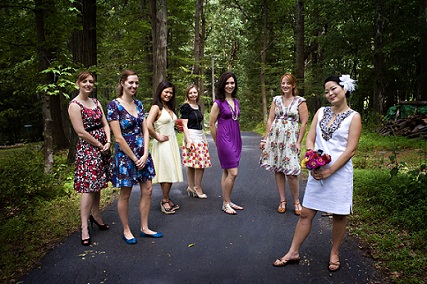 Love the casual look of the bridal party!
" (We) really wanted a casual celebration. It was a little difficult to get there but everyone was happy. Even though I used to want a potluck I knew the one thing I wanted to invest in was great photography. Kristin and Steven, from Photomuse, were amazing and provided lovely memories."
Continue on to more happiness...
It's the little things...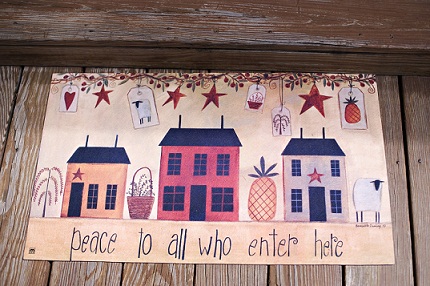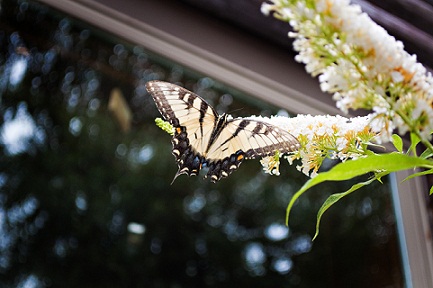 "The location was my home. I'd always imagined that if I were to get married and have a celebration it would be at my family home. I used to picture it as a potluck but quickly realized that might be inconvenient and potentially disastrous..."
Let them Eat Cake & Food...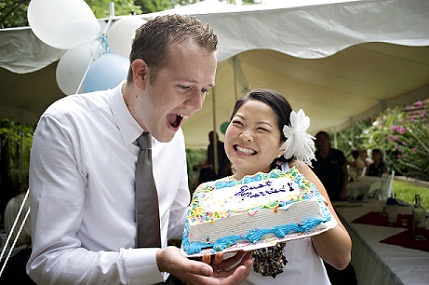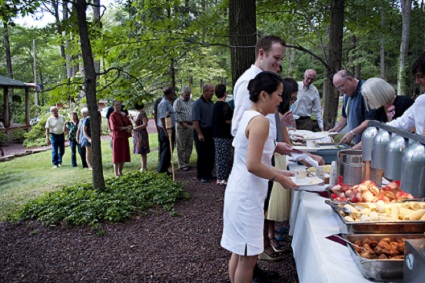 "... So our caterers were Flynn's on the Hill, a local company that was familiar to me growing up. We decided upon a clam bake and the food was fantastic and followed the casual spirit of everything."
Fresh Flowers...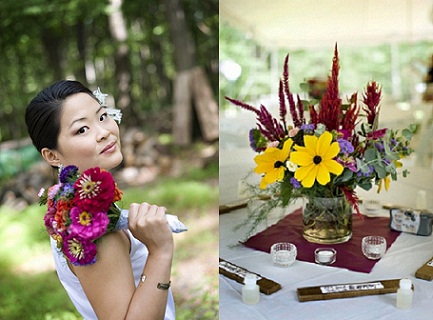 "The flowers were from Traugers, a farmers market. My mom placed a request early in the season since they farm most of their products on location. The day before the event, my mom and I drove down there and it was such a scenic drive. We'd purchased some vases from a craft store ahead and then I gathered all of my nearby friends. It was quite fun!"
Let the Games Begin...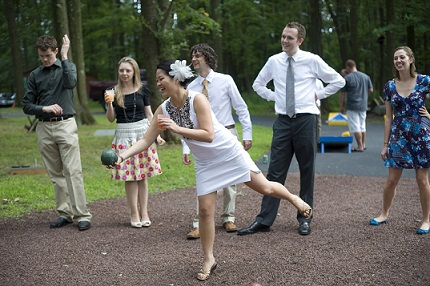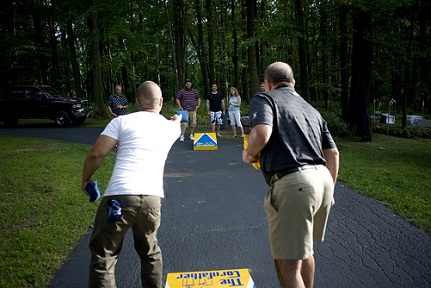 What a fun reception! It just feels like summertime when you share good times with friends playing games in the backyard and that's the feeling this low-key couple wanted. It looks like they have fun filled memories to cherish for a lifetime.
Continue to see their love and spunk...
A Gorgeous Bride...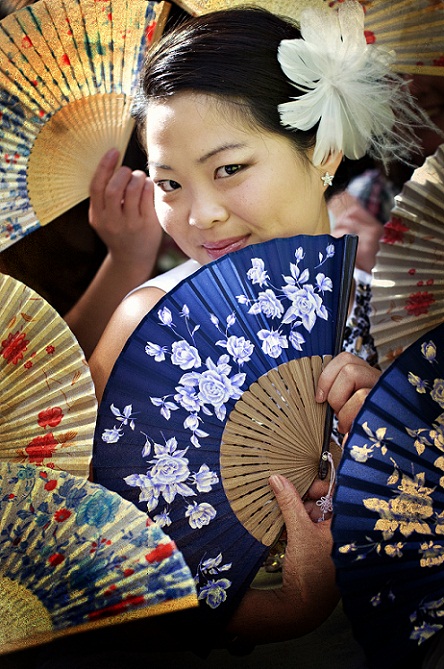 How much do you love this photo! She's just an adorable and stunning bride. Do those words fit together? Well just look at her; shes cute, full of spirit, and has a gorgeous smile, oh and those beautiful eyes just capture your heart; so yes these words go together to describe this lovely lady!
A Beautiful Couple...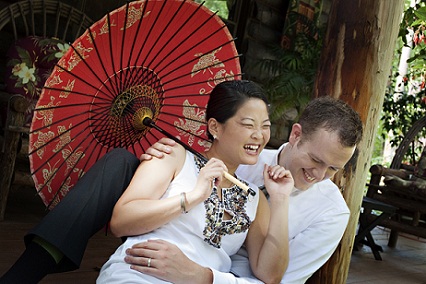 There are even more words to describe this warm-hearted, silly, low-key couple! You can feel the love and passion they share; in every photo of the beautiful newlyweds they are either smiling, laughing, or looking into each others eyes while holding one another. Now that's true love!
Loved by Everyone...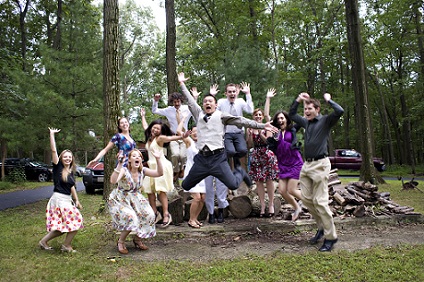 All of their friends and family seem to agree with how amazing they are! They just make you want to jump up and down and yell hip, hip, hooray! Let's shout and scream for love.
Especially Loved by Each Other...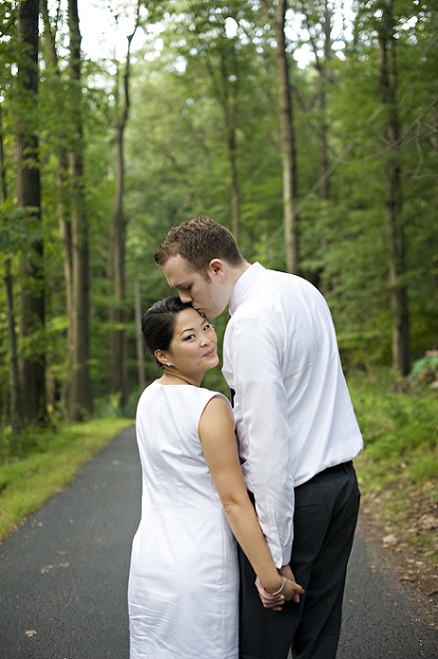 One of my favorite photos...and they lived happily ever after! Congrats to this awesome couple, may you inspire others as you have inspired me!
Special Thanks to Kristin and Steven from Photomuse