Last year weddings were all about the photobooth, mustaches, food trucks, candy bars, and feeling like a princess. So what's in store for 2012 Wedding Trends and what details should you plan for your own wedding day? If you are a trend follower and want your bridesmaids to walk down the aisle in the color of the year, your centerpieces to be a big hit, and your dress to be the talk of the town than follow along with Invitations by Dawn as they give us a 2012 Wedding Trend Preview...
Wedding Trendsetters for 2012...


Photo Credit
When you're planning a wedding what's the first thing you do?? Search the web for the hottest trends and great ideas, before you start to get stressed out over the thought of finding the right information on a ton of different sites let us help! We took the liberty of gathering some top statistics from different wedding industries to give you a condensed trend forcast! *Sigh of relief* Check out our infographic! Want a copy for your wedding planning inspiration board? Right click on the image and choose "Save as."
We found it really interesting (and really convenient!) that brides want it all to happen in the same location. We're sure guests will love the fact that they don't have to find the ceremony location, find a place to park, get into the ceremony and then do it all over again to get to the reception location. Hotels, convention centers, parks and gardens (with indoor options in case of rain), homes, and large churches are the best locations for all-in-one-place weddings.
Continue Reading...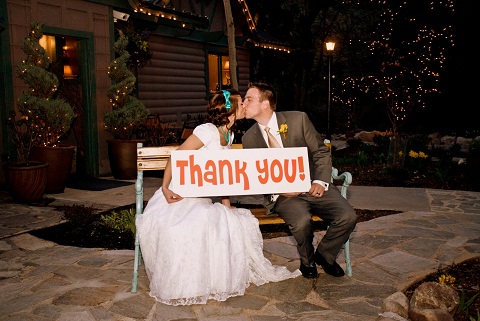 Photo Credit
The venue is something you should get squared away early in your planning process. Most of the best, hippest, and hottest venues book more than a year in advance, so if you have your heart set on a certain date in a certain place, book it early!
Where you hold your wedding should reflect your personalities and set the tone for your whole celebration. Indoors, outdoors, or out of town — each location holds its own appeal and creates its own mood. The venue will determine your wedding style, which will then determine everything else:
• the wedding invitationsyou send (beach themefor a destination wedding, black and whitefor a ritzy hotel location…you get the picture)
• colors (bright floral-tones for a garden venue, earth tones for a wedding in the woods, etc.)
• even the shoes you wear! (Manolo pumps at a chic city club, binged-out flip flops for a wedding at the shore)
One amazing trend that was huge in 2011 and isn't losing any steam at all is the rustic wedding theme. Weddings in barns with elegant touches, outdoor celebrations with rustic elements added in, country-style weddings with rustic flair (read our post about rustic country weddings here) we can't wait to see where the trend goes in 2012.
All Women Stalk Weddingsis also excited to hear that rustic weddingsare still going strong for 2012 wedding trends as well and we love that the Pantone Color of the Yearis Tangerine Tango, can you just imagine a tangerine and aqua wedding like the inspiration in the top photo! Are you following any of these wedding trends for your big day? We would love to hear if your wedding cake will be of traditional size, how many people are on the guest list, and if your checking out sites like Invitations by Dawn, The Knot, and Bridesto find inspiration, favors, dress ideas, or 2012 wedding trend details.