I am so happy to share the unique story of this beautiful UK wedding from Kiss the Frog x Photography. I contacted Andrea about posting one of her real weddings and she sent me the most lovely photos from Hester and Phil's hat themed wedding.
---
7

Getting Ready...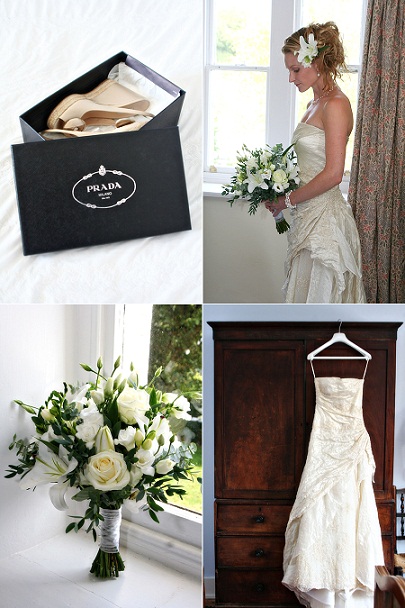 I just love the grouping of these four beautiful photos; all about the bride! Her whimsical gown, her lovely bouquet, her gorgeous shoes, and a beautiful bridal portrait. Makes me want to look at my wedding photos all over again! See the name on her shoe box? Yes it says Prada, what a lucky gal!
---
6

The Guests...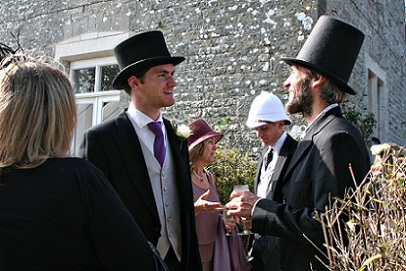 What a fun and unique wedding. All of the guests were asked to wear hats of their choosing. I love that every guest in this photo is wearing a different hat!
A word from Andrea at Kiss the Frog x:
"There is an old tradition in the UK of ladies wearing hats to a wedding, which not many people do anymore. In the past a woman always wore a hat to church. As most weddings used to be performed in a church then women would wear their best hat on this special occasion too."
5

Beautiful Details...

Are you in love with this adorable wedding yet? Check out the amazing hat wall in the top right, what a great idea to go with their theme! I love all of the details and every kissing photo of the bride and groom, they are so in love and you can feel it.
---
4

Looking through the Hats...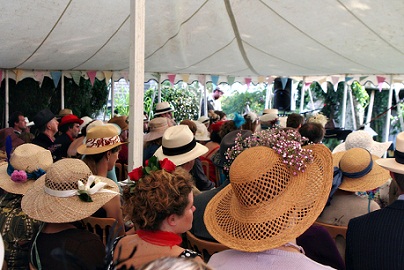 From Andrea:
"For this wedding the bride chose 'hats' as the theme of her wedding, but on this occasion she requested that both men and women wore a hat completely of their own choice....
---
3

Kiss the Bride...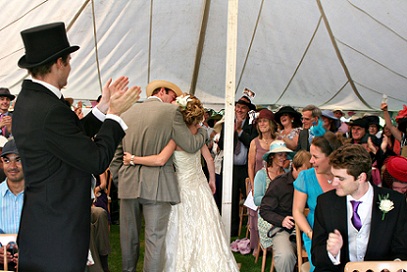 "Their wedding day was a little different too. They had a private civil ceremony in the morning, followed by a swim and picnic at their favourite beach. Their marriage was then blessed by the bride's father at their family home. The father is a minister at the local church."
---
2

The Lovely Couple...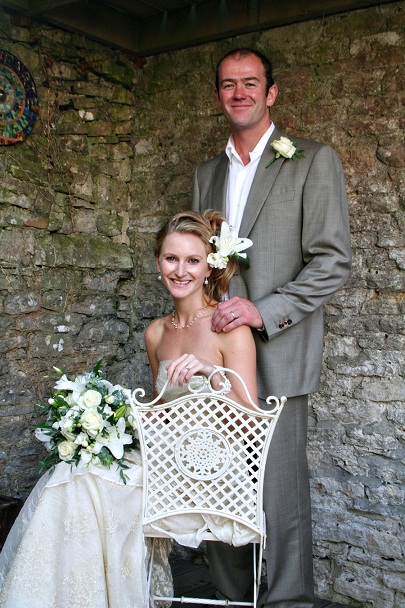 A sweet couple you want to get to know. Her hair flower is so perfect that there was no need for a veil. I love his** grey suit** and open collared shirt, no tie needed either! Congratulations Hester and Phil!
---
1

A Hat Celebration...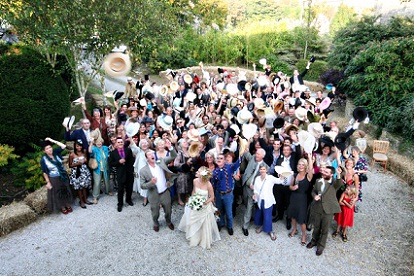 A great photo and a great way to end a hat themed wedding! Are you and your sweetheart planning a themed wedding?
Special Thanks to Andrea @Kiss the Frog x Photography
---
Comments
Popular
Related
Recent