New Year's Eve is one of the best times of the year for a party so what better day to celebrate your wedding! Ring in the New Year with these 5 ideas for your amazing New Year's Eve Wedding!
---
5

Champagne Toast....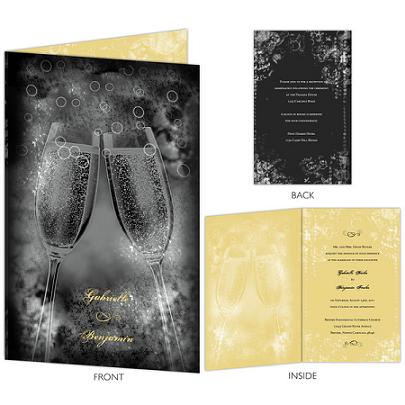 Photo: MagnetStreet.com
Kissing at Midnight, Party Hats, and Champagne Toast are all a big part of New Year's Eve. Let your guests know how you will be ringing in the new year with this bubbly champagne toast wedding invitation. Surprise them as sparkly confetti falls out of the envelope!** How will you be celebrating New Year's Eve 2011?**
---
4

Time is Ticking....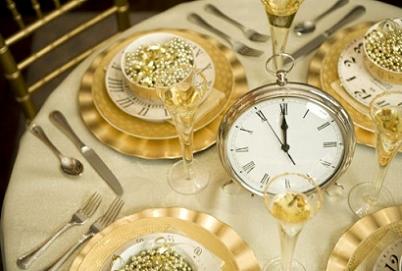 Photo: Elizabethannedesigns.com
Some New Year's Eve parties can be pretty crazy and wild, but party in style and class for your NYE wedding with a beautiful table setting and centerpiece like this one. I love the metallic colors; perfect for winter and new years weddings. The vintage clock centerpieceis such a creative ideathat I have yet to see. Your guests will always remember how they had the** time of their lives** at your wedding! **Do your centerpieces match your wedding theme? **
3

Guestbook That Captures Time...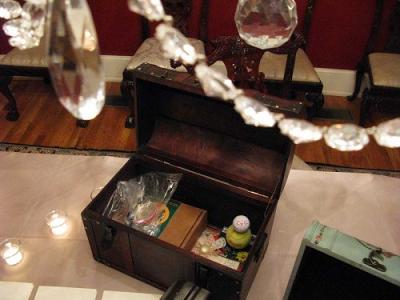 Photo: Elizabethannedesigns.com
Remember the year and the moments you've shared with your friends, family and** each other** with this amazing time capsule guest book. For her 10 year wedding anniversary Ami Elizabeth at ElizabethAnneDesignscelebrated with a vow renewal and came up with this unique time capsule guest book idea. Ask your guests to bring a small item or token of who they were ****this year. It could be a charm, an earring, a button, a beer bottle cap, or anything they can think of. Then in a book or on a DIY notecard have your guests write about the item they put in the time capsule, what their new year's resolution is, their favorite memory of the lovely couple, and their prediction for the next 5 years or so. What have your consider for your unique guestbook?
---
2

Making an Exit...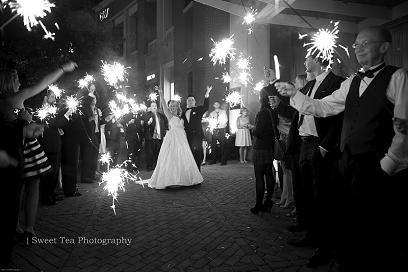 Photo: SweetTeaPhotographybylisamarie.blogspot.com
You may not know how to set up a fireworks display for your New Year's Eve wedding, but you can set up your own show as your guests light these fun sparklersfor your grand exit! What would a New Year's Eve celebration be without a sparkling show! Bring out the noisemakers, party horns, and confetti wedding poppers to make it a true end of the year wedding! **Are your guests doing anything special for your grand exit? **
---
1

The Perfect Gown...

Photo: SimplyEverythingWedding.com

Many women look for the perfect dress for that amazing New Year's Eve party each year, so just think about what a bride must go through looking for the perfect New Year's Eve wedding dress! Sparkle, satin, classic, and fun; I think I may have found the** perfect New Year's dress** in this gorgeous Maggie Sottero**pocket ballgown**! Forget about the grand sparklers exit, make a grand entrance down the aisle in this beautiful wedding gown. Have you found the wedding dress you've been dreaming of?

Top Photo: Weddingaces.com
More
---
Popular
Recent