When you are stuck for great ideas for your wedding, think of your favorite flower and create a theme around it that will let your personality shine. It can be as simple and sweet as a** daisy themed wedding** or as magnificent and grand as a protea themed wedding. From your invitation to your wedding cake and every detail in between; you can cover as much or as little as you like when planning a wedding centered around a theme, but with a daisy theme wedding or any theme for that matter, less is always more. Get creative with these 7 Sweet Ideas for a Daisy Theme Wedding on your big day...
---
7

Daisy Theme Wedding Cake...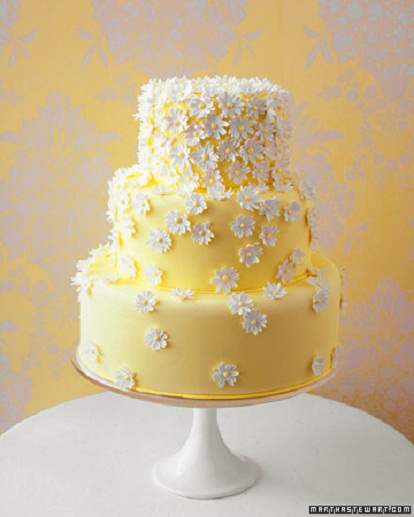 Photo: MarthaStewartWeddings
Your cakeis a big part of your wedding day so why not dress it up to show off your daisy theme like this magnificent yellow and white sugar -paste, cascading design. The yellow color of the cake helps the white daisies pop and keeps to the theme of the delicate flower. This look is sweet and romantic; although there are a lot of daisies covering the top tier of the wedding cake, it is not too over done or gaudy.
---
6

Daisy Theme Wedding Invitation...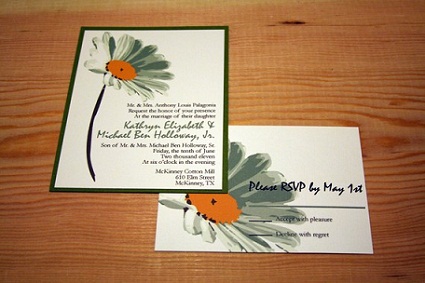 Photo: Etsy/LoveBirdPaper
Start planning your daisy themed wedding details as soon as you say "Yes" with a bold daisy invitation and matching RSVP cards like this set from Etsy shop LoveBird Paper. When you send out your invitationsit's nice to give your guests a feel for what your big day will be about. With this lovely single daisy on your invitation your family and friends will get a hint of what your wedding flowers are and will be excited to see the rest of the daisy details!
5

Daisy Theme Wedding Flower Girl...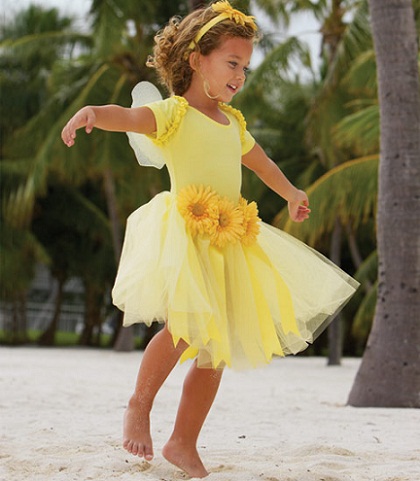 Photo: Chasing-Fireflies
How adorable is this little girl in her gerbera daisy tutu! What I love about a daisy themed wedding is the idea of mixing different variations of the daisy together like blue, pink, or orange gerbera daisies with the common white and yellow daisy to make for a more interesting palette. Your sweet flower girlcan throw blue and orange gerbera daisies along with the common daisy to bring a pop of color down the aisle before the bride makes her appearance.
---
4

Daisy Theme Wedding Favor...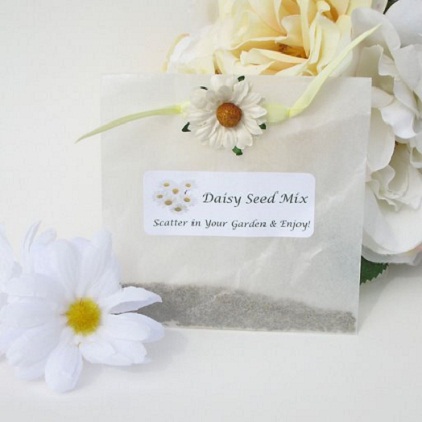 Photo: Daisy-Days
How sweet would it be to visit your family and friends after your wedding and see little daisies from your wedding blooming in their gardens! Spread the love of your favorite flower as you give out daisy seed packets for your** daisy themed wedding favors**. This would also make a great favorfor your daisy theme bridal shower!
Continue Reading...
---
3

Daisy Theme Place Card Holder...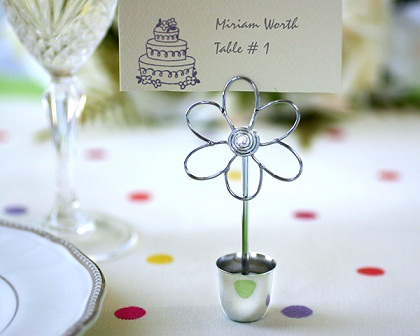 Photo: TrulyWeddingFavors
All of the details of your daisy themed wedding don't have to be in the form of an actual flower. Your daisies can be silver, wood, glass, or any creative idea you can think of. I love this little silver daisy place card holder that still lets the idea of your themeshine but doesn't overbear your wedding with too many daisy details.
---
2

Daisy Theme Wedding Centerpiece...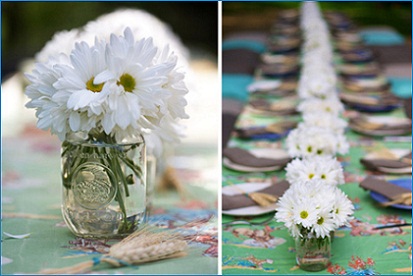 Photo: HWTM
Mason jarsand daisies, what's not to love about this centerpiece idea for your** daisy themed wedding**! This idea is actually from a baby shower on Hostess with the Mostess, but if the idea inspires you, no matter what kind of party it's from, don't be afraid to use it on your wedding day! It's sweet, simple, and carries out your theme with a chic touch!
---
1

Daisy Theme Wedding Cake Topper...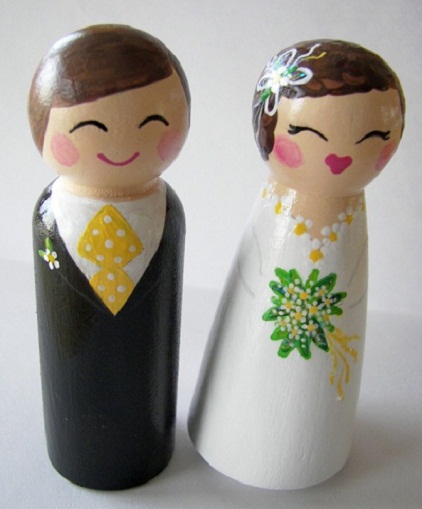 Photo:Etsy/HandpaintedLoveBoxes
Are they not the most adorable bride and groom cake topperyou have ever seen! They would be the perfect match for your** daisy theme wedding** cake! If you take a close look you can see that the bride is carrying a daisy bouquet and the groom has a daisy boutonniere! Their smiles and eyes are just so sweet.
Whether it's white and yellow common daisies, blue and orange gerbera daisies or another favorite flower that you center your wedding theme around, you can't go wrong with details that make you happy. Even if you just love the thought of a few simple daisy details, you can still feel like you have a daisy themed wedding, it doesn't have to be from head to heel to call it a theme! And now that I see all of these beautiful details of a daisy themed wedding, I want someone to let me help them plan one since my wedding has been planned and over with for a year now!
What are your sweet ideas for a daisy themed wedding?
---
Comments
Popular
Related
Recent