As soon as I saw this emotional wedding on Scobey PhotographyI knew I wanted to be a part of it and share it with my readers. You can feel the love Keith and Hattie share; it grabs you and pulls you in. Enjoy their amazing journey down the aisle and get your tissues ready for tears full of happiness...
---
12

Getting Ready...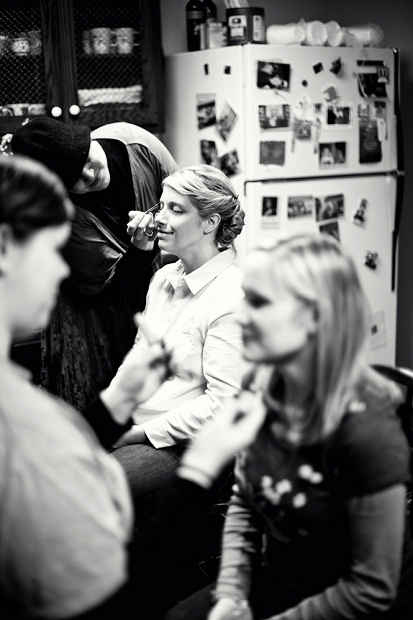 Hattie and her bridesmaids got ready at her parents' house in Marietta, Georgia while her groom got ready at the DoubleTree Hotel. I just love this shot of the bride and her ladies getting their makeup done in her parent's kitchen, it has a personal and touching feel to it. Hattie's stunning hair was done at the** La Belle Salon. **
---
11

Beautiful Photography...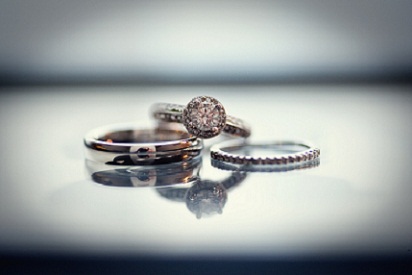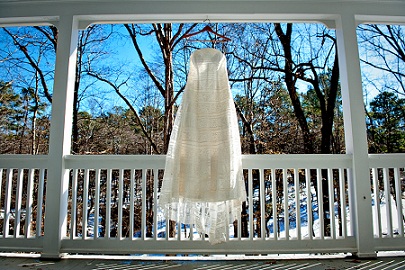 Ring and gown shots are great photos to have; I love to see the creative way photographers hang the gown and display the rings. It may not have been snowing, but with this lovely shot of Hattie's Maggie Sotterogown she will always remember the beautiful winter day they got married on. The shot of Hattie and Keith's stunning rings is simple but speaks volumes. There is no need for props when you have a beautiful reflection and white background.
10

Details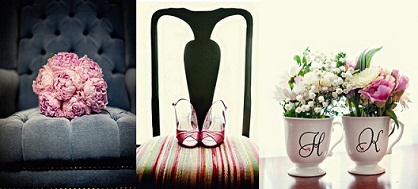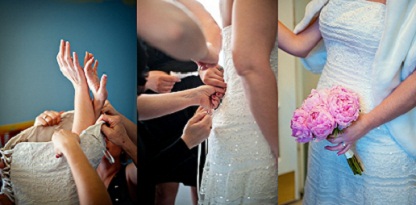 Sometimes it's the little details and moments that mean the most to us. I wish I had a few more shots like these photos of Hattie's bridesmaids and mom helping her put her beautiful lace **gown on. I love the one of her hands sticking out of her gown and all of the hands of her friends and family members; these are the hands that are filled with **love and support. How much do you love her pink shoes on the striped chair, her beautiful pink peony bouquet, and their monogrammed mugs! Details, oh so lovely details!
---
9

Here Come the Tears...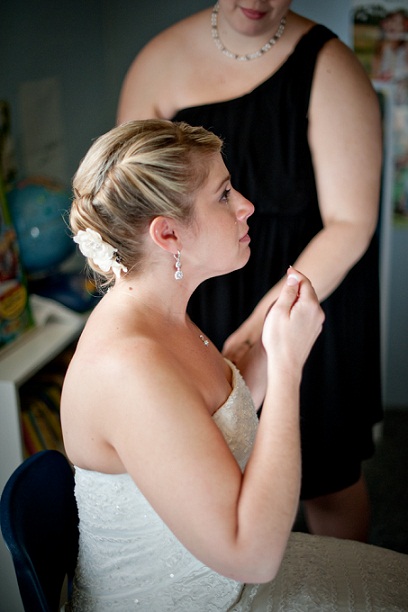 No ugly crying face here! Hattie looks like an angel and I'm jealous! This is the most precious photo. I remember looking at my photos and seeing my ugly crying face, why couldn't I look as beautiful as this!
---
8

Here Comes the Bride...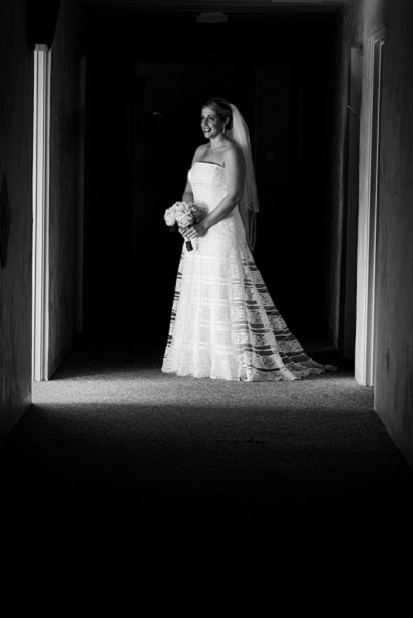 Ashley and Graham at Scobey Photographytake really amazing wedding photos. I am just in awe of the perfect lighting in this black and white **photo of the bride. I love the way the light captures every detail and every lace panel of her Maggie Sottero dress. It's a **perfect photo meant to be in B&W.
---
7

The Flower Girls...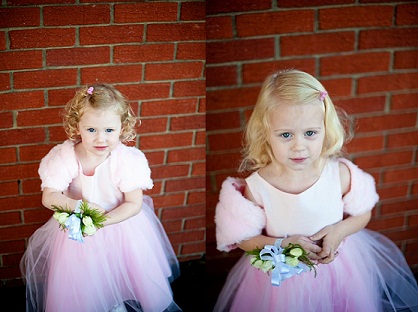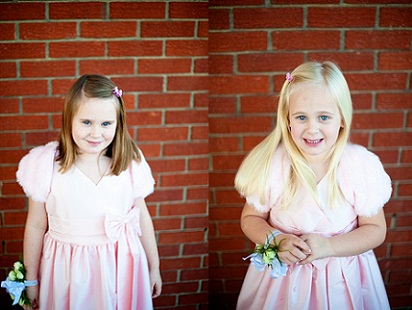 Hattie and Keith both come from a family of six; two brothers and one sister for Keith and three sisters for Hattie. Just on the bride's side alone there are 13 nieces and nephews! Could you imagine having to choose between them all for your flower girls and ring bearers. Between the two big families four little girls shined along with the beautiful bride. They look so proud and so adorable in their pink dresses and pink shawls!
---
6

Father of the Bride...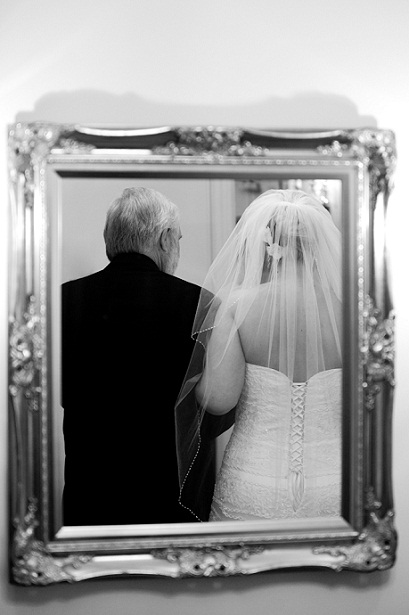 Is this not the most amazing photo! As Hattie's dad was getting ready to walk her down the aisle the photographersaw this great shot and knew it would be a wonderful memory for the bride and her father. There is a moment that you share with your dad before he walks you down to your new journey and this photo captures that moment and more.
---
5

Walking down the Aisle...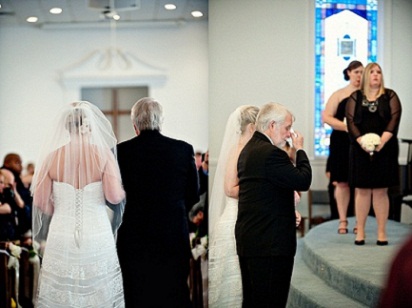 More** touching moments** that make me love Hattie and Keith's wedding even more. When we're little girls we look up to our fathers, they are tough and strong and rarely do we see them cry. I hope all photographers are able to watch for that moment to see if the** father of the bride** sheds tears full of happiness like Hattie's father did.
---
4

You May Now Kiss...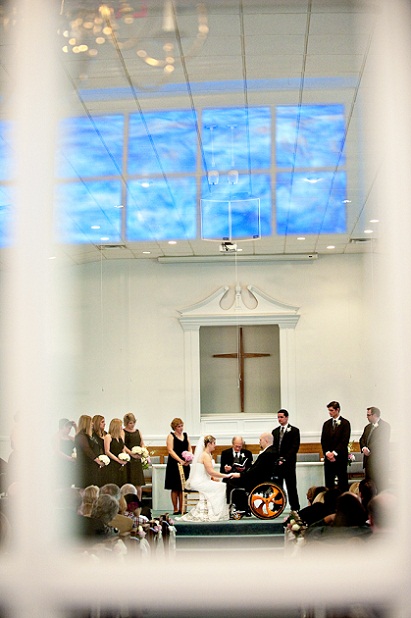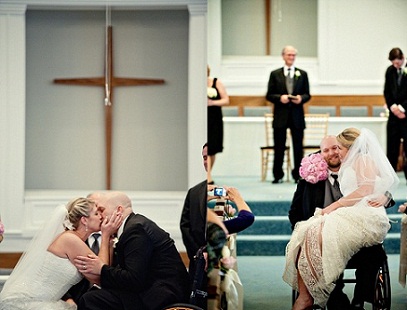 Words from the Bride:
"Keith and I were 'matched' on eharmony:). We were matched on December 10, 2009 and corresponded through the site and through email. Meeting through a site like that kind of sets the tone for great communication, good questions and a lot of long emails and conversations. We first spoke on the phone on January 11th and right around the corner came February 13th, the first day we actually laid eyes on each other"
---
3

Love is in the Air...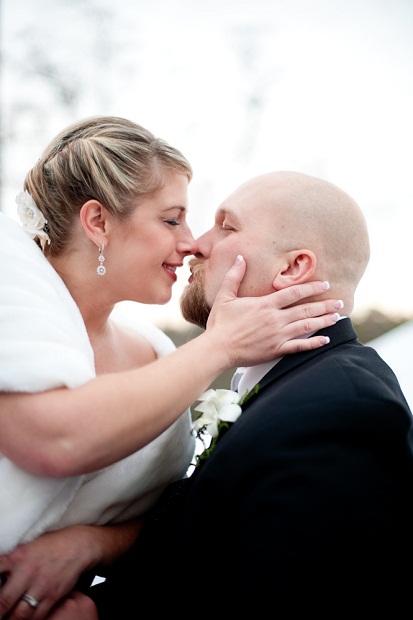 And they lived happily ever after! I just adore this photo of Hattie and Keith. It's real, pure, loving, magical, and precious. After they were married at the beautiful Atlanta Street Baptist they headed over to their reception at theIvy Hall at Roswell Mill to share an amazing night with their friends and family members.
---
2

Dance with Me...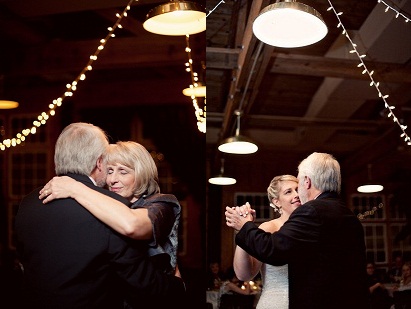 Hattie's parents are so inspiring. This photo of her mom and dad dancing reminds me of the loving photo above of Keith and Hattie. You can see the pure,** true love** they share, and it's something you want for your own marriage.
---
1

Glowing Smiles...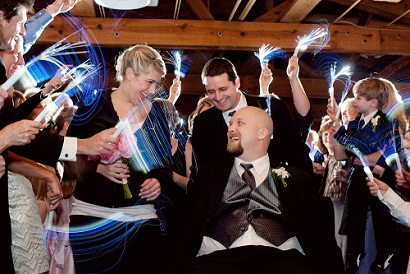 How much do you love Keith and Hattie's smiles and the way they are looking at each other in this fun send-off photo. Everyone around them is waving their glowing wands and in the middle of all the excitement is the bride and groom, where they belong!
Special thanks to Photographers Ashley and Graham @ Scobey Photography
Bride's Gown: Maggie Sottero/ Flowers: Country Designs/ Cake: Cakes on the Corner/ Bride's Hair: La Belle Salon/ Event Coordinator: April Bloomer/ Band: Tommie Macon and the gentlemen of Jazz / Ceremony: Atlanta Street Baptist/ Reception: Ivy Hall at Roswell Mill
---
Popular
Related
Recent