There are still so many people I would like to get to know more about in the wedding industry, but when the ladies ofUtterly Engagedand Ever Oursteamed together for a cause we all felt struck by, I knew I wanted to help spread the word no matter how well I knew them. For Japan With Lovewas put together from the heart and keeps going strong. Bloggers across the world have united together to raise awareness of the help Japan needs and these three amazing women were the start of it all...
---
1

How Did the Three of You Come Together for This Cause?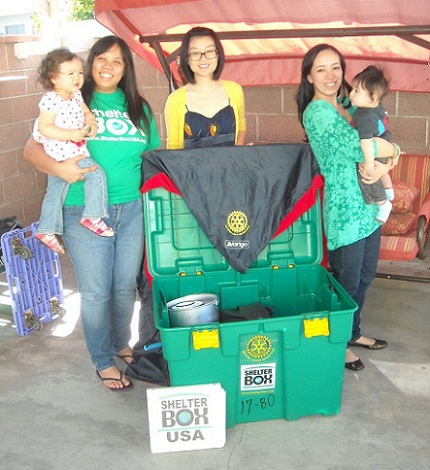 "Each of us have been extremely supportive of what we do. Utterly Engagedis an online wedding magazine and Ever Oursis a wedding blog..."
---
2

Do You Have Family or Friends That Live in Japan?

"None of us have family or friends in Japan. But we do know friends that have family or friends that have been affected by the disaster. It's extremely hard for us to see them going through this, so For Japan With Love was the best way we knew how."
Trendinig Stories
More Stories ...
3

Why Was Shelter Box the Organization You Wanted to Give the Money to?

"Just what ShelterBoxdoes for countries in trouble is amazing. After a natural disaster such as this, survivors are in dire need of shelter and basic daily living needs. ShelterBox provides just that for them. They help take away the worry of a survivor that they are without warmth, food, water, and more."
---
4

How Will You Keep This Cause Going and Remind Others That Japan Still Needs Help and Make Sure No One Forgets?

"We have launched a phase two. Japan is going to need a lot of help for many days to come so we felt this was a great solution to continue to send help. In addition, so many were so inspired by our efforts that they decided to create their own event to raise money. We felt this was a great way to support their relief efforts. For example, an amazing group of San Francisco wedding professionals and bloggers, gathered and contacted us to create a live event in support of our fundraising drive. Here are additional information about the event. Of course we'll be there to support them! We are so flattered and honored.
---
5

How Much Money Have You Raised?

"We have raised $66,733! We're still in shock!"
---
6

Were You Looking for a Goal to Reach?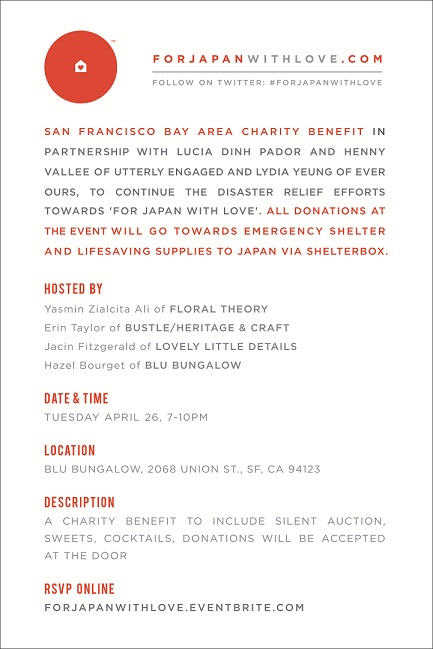 "Originally our goal was $5,500. As you can see, it's so far beyond that. We can't thank everyone enough who has been involved, donating, and spreading the word. It's truly been such an amazing experience to see so many huge hearts come together to give."
Special Thanks to Lucia & Henny from Utterly Engagedand Lydia from Ever-Ours
Jacin of Lovely Little Details, Yasmin Zialcita of Floral Theory, Erin Taylor of Bustle, and Hazel Bourget of Blu Bungalow will be hosting the For Japan with Love San Francisco Benefit Event
---
Comments
Popular
Related
Recent