I saw a stunning bouquet of anemones **onMartha Stewart Weddingsand thought what an elegant flower for an all **black and white wedding day. When I started searching I realized that this idea had been thought of before, but you can never have enough ideas when planning your big day. Plus it looks like 2012 is the year of the black and white wedding gown! Here are 5 ways you can plan a chic black and white wedding...
5

Bride & Groom...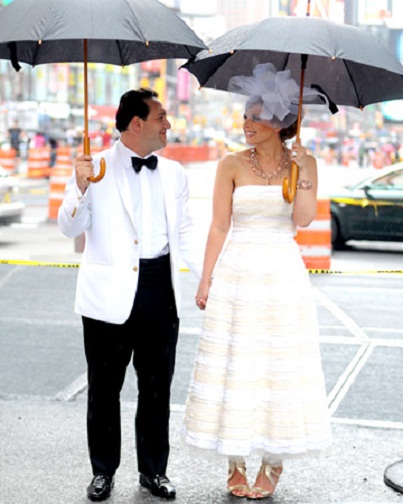 Photo: Linda Wallace via Martha Stewart Weddings
Are they not the most adorable couple you have ever seen and just so perfect for my** black and white wedding post! From her gorgeous gown and his custom black and white tuxto their matching black umbrellas and her unique headpiece by Oscar de la Renta, they just scream of **city chic. This beautiful bride had the great idea of getting a short dress by Fendiknowing they would be running around the city for photos. Always consider your location when you first go dress shopping, no matter what you think you really want.
4

Bridesmaids...

Why settle with one color of either **black or white **when you can combine those colors together for a trendy black and white bridesmaiddress they'll love! This beautiful **floral print dress **from Zapposis one I can see many girls wearing again to bridal showers, baby showers, and summer parties. Not only is this a great **color palette **for your wedding but a great color combination that will never go out of style.
3

Accessories...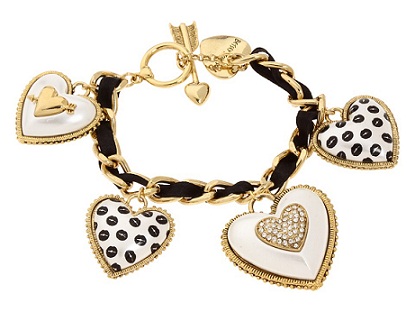 Photo: Betsey Johnsonvia Zappos
Don't just stop at your bridesmaids and flowers when combining these** chic colors **together. Show off your style with fun accessorieslike this black and white **charm bracelet **by Betsey Johnson. I love the little kisses on the heart charms; what a great way to show off your girly side !
Continue Reading...
2

Black & White Favors...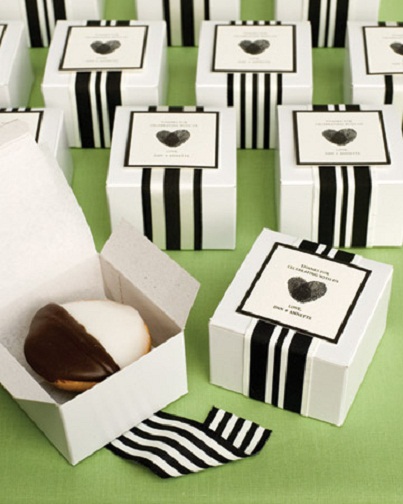 Photo: MarthaStewartWeddings, Cookie: WilliamGreenbergDessert, Thumbprint Heart Label:AnnetteBerryDesign
You only get one wedding day and one chance to really go all out and celebrate the way you really want to. So why not go from head to toe, bouquetto bridesmaids, cake to** cookie favors in black and white; with these two colors you can never have too much. If you are in the NYC area or would like to have some delivered, try William Greenberg's**black and white cookies, said to be number one in NY! How sweet is the matching ribbon and heart thumbprint label, which was designed by the brideherself!
1

Cake & Candy...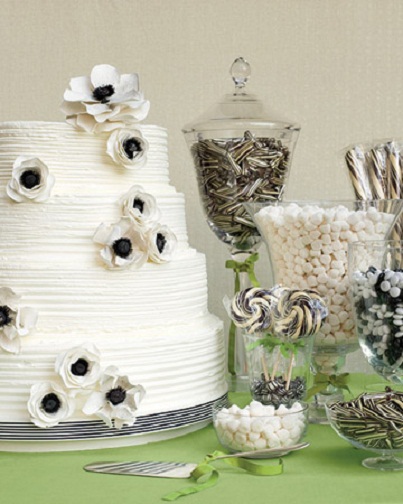 Photo: MarthaStewartWeddings, Cake: Fortunato Brothers, Sugar Anemones: SugarFlowerShop
How amazing are the details of these black and white sugar anemones **on this beautiful wedding cake, can you believe they aren't real! I love the simplicity of the all white cake with just a few anemone flowers scattered here and there, sometimes it's the little details that make a big impact. Along with the cakethe couple from this wedding also had a matching **black and white candy bar, what's not to love!
Are you planning a black and white themed wedding?