There are so many ideas you can create for your** engagement shoot** with props, locations, attire, and even pets! But sometimes the best idea is to just bring yourselves; bring your romantic, quirky, unique personalities and the rest will come together naturally. All the reason why I fell in love with this shoot from TinyWater Photography!
---
6

Snuggling on the Beach...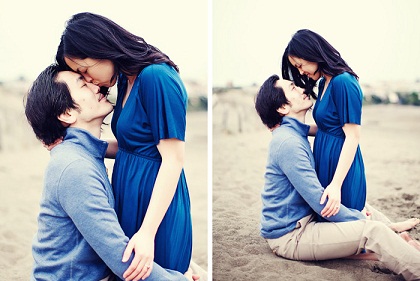 Photo: TinyWaterPhotography
Megan and Kelvin were in San Francisco visiting family members and decided to take this oppurtunity to take some amazing photos at Baker Beachfor their engagement session. Caroline from TinyWater knew that this was the perfect place for this quirky but romantic couple who had lived in the bay area but have since moved to New York.
---
5

Jumping for Joy...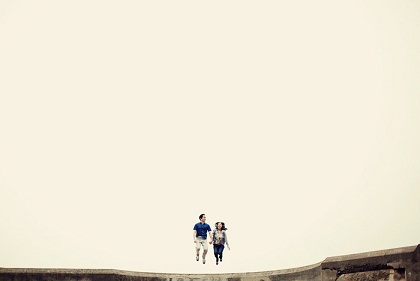 Photo: TinyWaterPhotography
Sometimes you may need to warm up at the idea of** taking photos** and taking them with someone you may not know. Dance around,** jump in the air**, and just wiggle around to get those nervous jitters out of your system! They may have serious jobs, Kelvin's a neuroscience researcher and Megan's a soon to be family doctor, but they sure know how to shake it out and** jump for joy**!
Trendinig Stories
More Stories ...
4

Being Silly...


Photo: TinyWaterPhotography
I love these sets of photos and how the photographers at TinyWater displayed them on their blog like a photobooth film strip. In the first set Kelvin is showing off his** martial arts skills**! How much do you love the second set here with their adorable funny faces! Be silly like them and get out of your comfort zone when taking your** engagement pictures**. Funny is always better than stuffy!
---
3

Just Chillin'...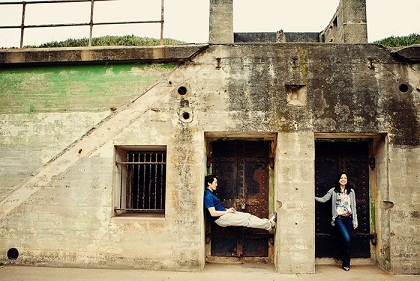 Photo: TinyWaterPhotography
Explore your neighborhood or maybe suggest a** favorite spot** from your first date to your photographer for your shoot. If you're not sure where to go let your photographer know what you're thinking for theme or details. I love seeing architectural shots like this one, sometimes all you need is a** cool spot** with a doorway!
---
2

Go Climb a Tree...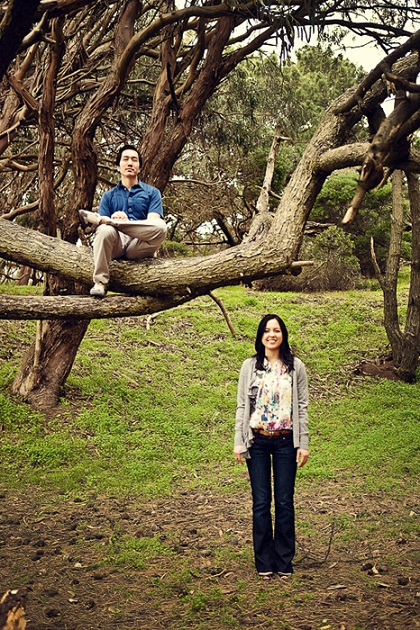 Photo: TinyWaterPhotography
How amazing is Baker Beach, again so perfect for Megan and Kelvin who love the outdoors. Theres a beach, a grove full of trees, and so many elements that are great for couples who just want to relax, **take photos and **sit in a tree! There is no need to dress up in costume, bring props, or figure things out when you have a gorgeous location like this one.
---
1

Peace & Love...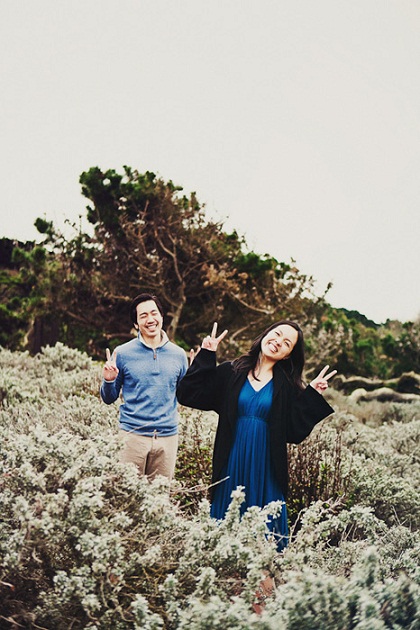 Photo: TinyWaterPhotography
When there is love, beautiful smiles, and couples like these two you know the photographer and the bride and groom are going to have an amazing time! Congratulations to Megan and Kelvin, we can't wait to see photos of your June 11th wedding at theAcademy of Sciences.
Special Thanks to Caroline @ TinyWaterPhotography!
---
Popular
Related
Recent