It's hot outside and the sun is bright and bold just like these 6 beautiful ways to color your wedding yellow. If you want to shade yourself from the **summer sun **but still want that golden glow decorate your wedding with bright ideas like these...
---
6

Sun Kissed Bridesmaids...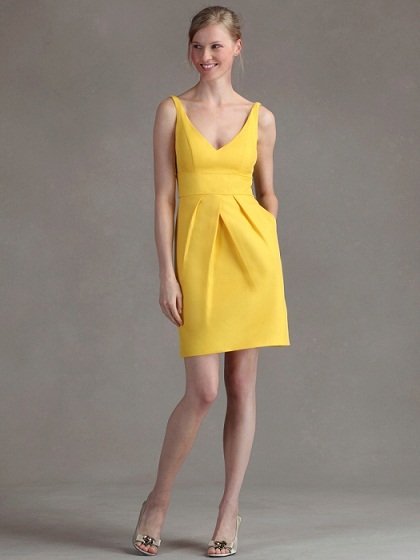 Photo: Fashionablebridevia JennyYoo
Jenny Yoo is becoming my favorite designer for bridesmaid dresses. Like this lovely yellow dress, they are simple and sweet but make such a brilliant statement. And who doesn't love a dress with pockets!
---
5

Yellow Accessories...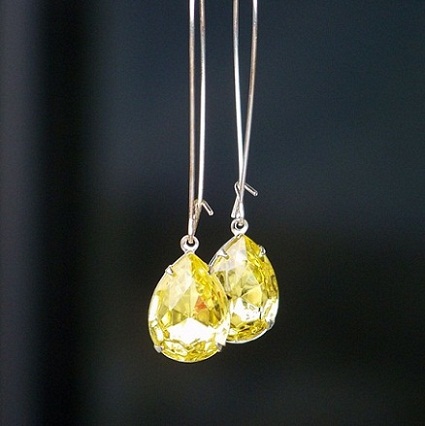 Photo: Etsy.com/shop/HappyMaxDesigns
With a yellow sash around your waist, yellow heels on your feet, and these gorgeous lemon crystal earrings **you'll be glowing like the sun from head to toe. Let your wonderful personality shine as you show off your love for **bright colors **and **bold accessories.
4

Love Birds...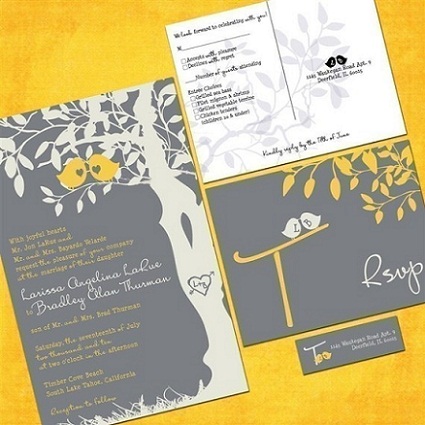 Photo: Etsy.com/shop/InvitingMoments
When you have a colorful theme you don't need to go all out with every little detail covered in yellow. I love the contrasting gray color of this love bird invitation, it compliments the yellow and is a great way to show the two colors of your wedding.
---
3

Daisy Wedding Cake...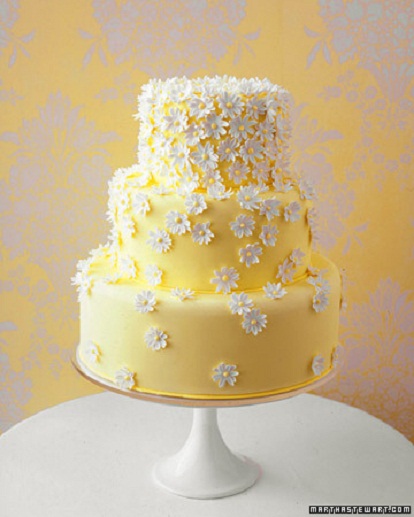 Photo: MarthaStewartWeddings
How adorable is this** yellow wedding cake **decorated with little white and yellow daisies! **Flowers **and **cake **are a lovely way to bring together your yellow theme; whether it's daisies on your lemon cake, sunflowers in your centerpieces, or calla lilies in your bouquet. You could mix these ideas together or stick to one yellow flower to hold your theme together from ceremony to reception.
---
2

Signature Drink...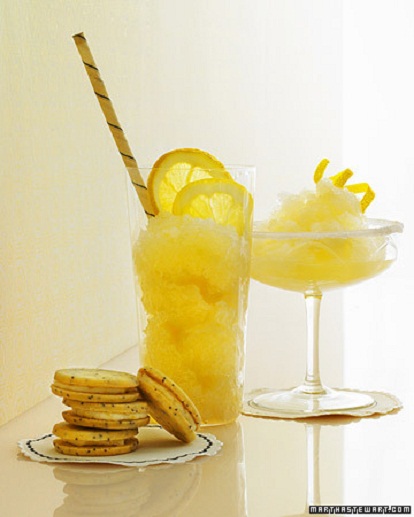 Photo: MarthaStewartWeddings
Maybe you don't want a yellow cake or flowers, but there is another bright and bold decor item that can bring that fun, summer feeling to your wedding day.Do you know what I'm thinking of....**lemons**! Lemons in your signature Frozen Ginger Lemon Drop drink, lemon slices in your centerpieces, and lemon cookies for your favors.
---
1

Yellow Diamonds...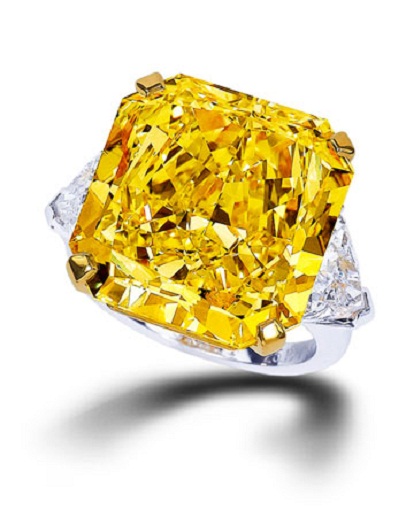 Photo: MarthaStewartWeddingsvia Graff
Colorful engagement rings **are starting to catch on since we have all seen celebs like Princess Kate Middleton'sblue gem and J.Lo's pink ringfrom Ben a few years back. So why not sparkle and shine with your own colorful ring like this stunning yellow diamond **from Graff.
Are you celebrating your wedding day with bright yellow and gold colors?
More
---
Comments
Popular
Recent