I love featuring real brides because no one can compare themselves to the girl in the wedding magazine modeling the size two wedding gown. Real Brides have shape, curves, and a real woman's body. Catch your eye on these 5 Beautiful Brides to find the perfect wedding gown for your big day...
---
5

Old Hollywood Glam...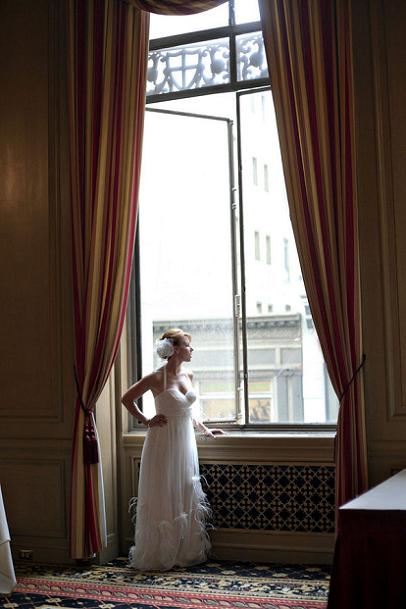 Photo: StyleMePretty.com
** Gown**: WTOOfrom Novella Bridal
No my dears this is not a photo of a glamourous runway model, this is a gorgeous real bride! This bride just so happens to be rocking her ruffled feather gown as she poses like an old Hollywood actress. She knows how to work the camera and her body. Don't be afraid to show off who you really are, give your guests an eye catching glam look!
4

A Real Bride & Her Real Ladies...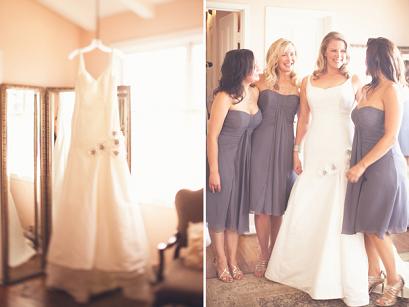 Photo: GreyLikesWeddings.com
** Gown**: PriscillaofBoston
Gowns and brides come in all shapes and sizes, not every bride wears a strapless gown any more. I love that straps don't take away from the beauty of the gown and don't take away the lovely bridal look. This stunning bride looks radiant in her Priscilla of Boston gown, but she also looks confident and comfortable. Try on gowns that suit you and make you feel good, don't let anyone tell you otherwise.
---
3

A Sweet Bride & Her Groom...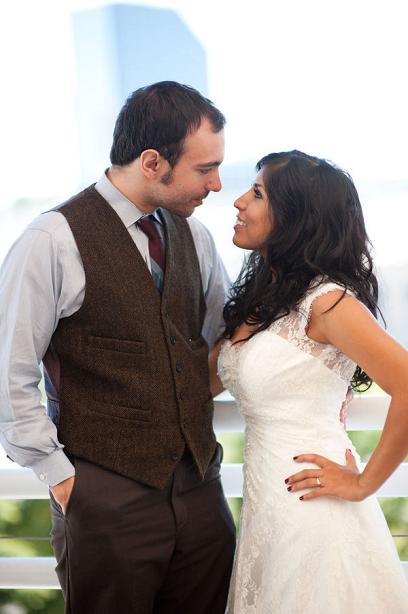 Photo: StyleMePretty.com
Gown: Casablanca
Be yourself, let your hair flow, paint your nails, and walk proudly down the aisle like this beautiful bride. I love that her nails are painted red to match her vibrant personality and probably her wedding colors! How amazing does she look in her lace Casablanca gown? They are too adorable together; she has definitely caught his eye!
---
2

An Enchanted Wedding...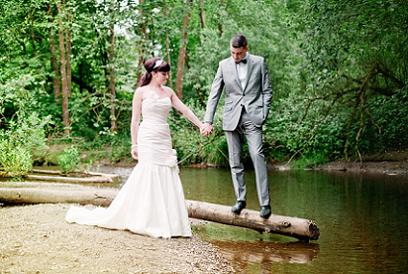 Photo: 100LayerCake.com
** Gown**: Val Stefani
Like they always say, "Wear the gown, don't let the gown wear you". This enchanting bride is doing just that, and doing it well! Every inch of this magnificent gown is hugging all the right curves and flowing in all the right spots. Knowing the silhouettes of bridal gowns will help you shop for the perfect gown that will perfectly fit your beautiful body shape. Have you found the right gown that will accentuate your body?
---
1

Charming and Delightful...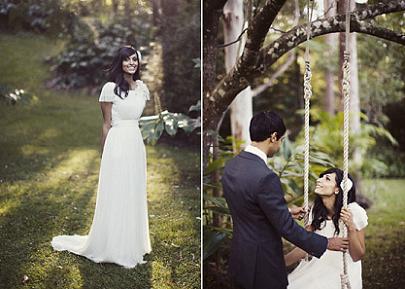 Photo:100layercake.com
** Gown**: George Wu
Being a bride can be easy if we don't let ourselves stress over every detail, but that's easier said than done! A bridal gown like the charming dress this elegant bride is wearing makes a statement by being simple yet delightful. If you're a bride who doesn't likes ruffles, a long train, or mountains of fabric than you don't need to be. Let the simple things in life shine on your wedding day!
**Are you an amazing real bride? Share your story with us! **
Top Photo: StyleMePretty.com
---
Comments
Popular
Related
Recent