Every bride, whether she is petite, tall, plus size, or pear-shaped, deserves to find the** perfect gown**. If you would love to show off those curves, create some curves, or hide what you don't always like. Continue reading to find out about the 6 wedding dresses for every bride's beautiful body. All brides should experience that, "This is the One" moment!
---
6

A-Line: Most Figure Flattering...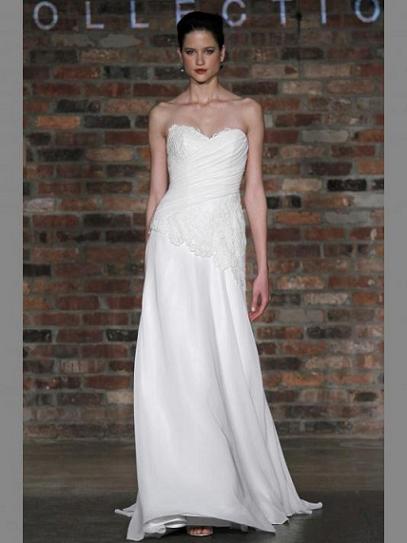 Photo: Fashionablebride.com
As a former bride-2-be there were many gowns I loved in the bridal magazines but when it came to trying those gowns on, that were showcased on size two models, I wasn't too happy with the result. My Allure gown was a beautiful lace A-line that flattered me where I wanted and didn't hug me too tight in places I wanted to hide. If you're uncertain about your body shape try on a few A-line gowns like this Priscilla of Bostonand it may just be the one you say yes to!
---
5

Ball Gowns: for the Princess with Hips...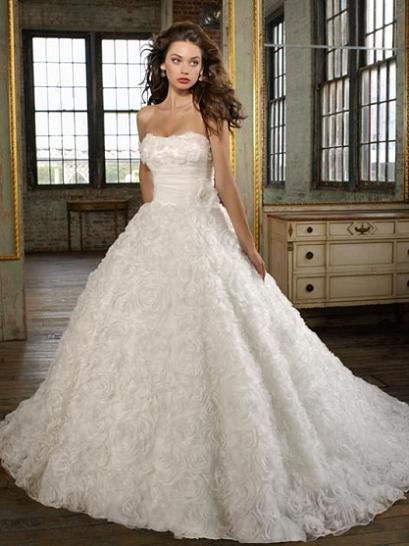 Photo: Fashionablebride.com
Ballgowns like this stunning Mori Lee floral organza are the perfect gown for your dream come true princess wedding. The full skirt helps to hide those hips and thighs we're not always so happy about. Feel beautiful without having to change who you are and say yes to this style! Are you dancing on your wedding day in a ballgown?
---
4

Mermaid: Work That Body...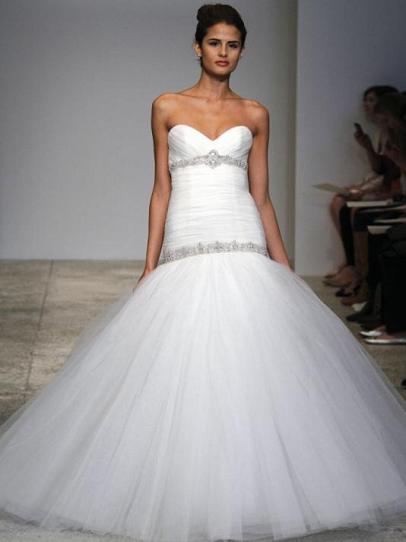 Photo: Fashionablebride.com
We should all be proud of our bodies and beautiful curves and in this remarkable Kenneth Pool mermaid gown you will be as proud as a butterfly! Rock that body in this fit to flare style and let no one tell you what dress you should wear. Just make sure you **love **it and the rest will follow! Are you a fierce bride wearing a mermaid wedding dress?
---
3

Sheath: for the Tall or Petite...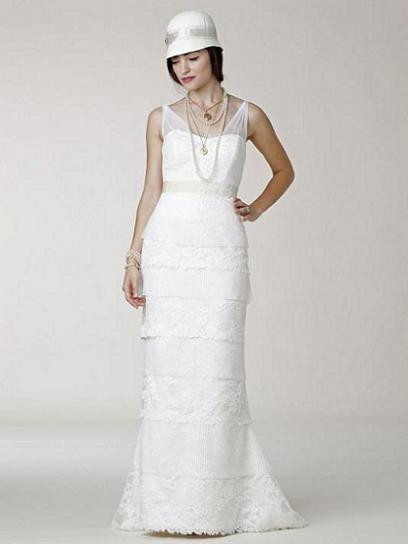 Photo: Fashionablebride.com
What you see is what you get in a Sheath gown like this lovely lace Amy Kuschel layered wedding dress. I love the 20's inspired look. Sheath gowns don't hide anything nor do they help to create any curves like mermaid gowns. Tall and petite brides should consider trying them on. Are you a sheath bride-2-be?
---
2

Sleeved Gowns: for the Modest Bride...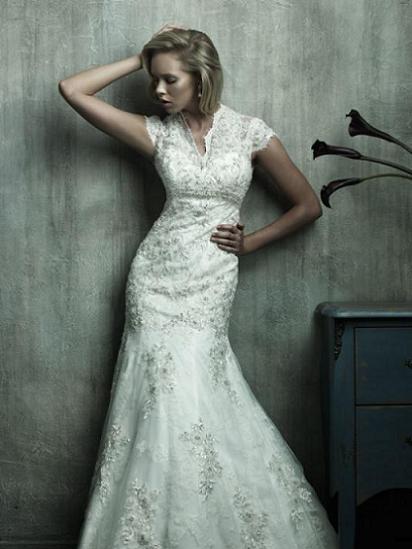 Photo: Fashionablebride.com
In the 80s sleeved gowns were poofy and not very flattering. But now we have classy, timeless sleeved gowns that would make any 1980s bride jealous! Some brides aren't too pleased with their arms or just want to be a bit more modest than a strapless gown. Wear a dramatic cap-sleeved gown like this Allure Couture** **v-neck and all the single guests will be wishing they were marrying a classy lady like you!
---
1

The Little White Dress...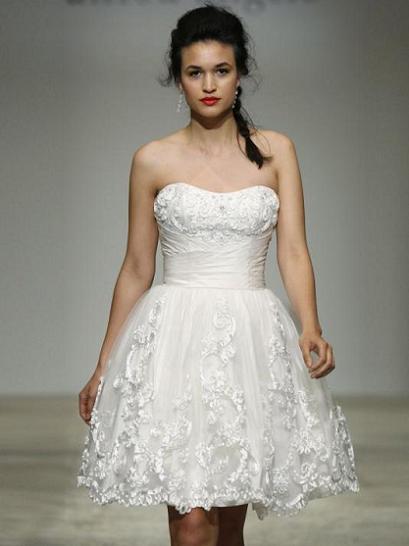 Photo: Fashionablebride.com
Be playful in the Spring and Summer in this adorable Alfred Angelo short wedding gown. Are you a daring** bride** and love to be different? Find the** right silhouette that flatters your beautiful body** and dance all the way down the aisle as your short dress **twirls in the breeze with you. I love the **details in the net overlay. **Will you wearing a short wedding gown this Summer? **
**Tell us about your bridal gown shopping experience, how did you find "the one"? **
Top Image: GreenWeddingShoes.com
More
---
Popular
Recent