If you love weddings and celebrities then you may have heard the wonderful news about the recent engagement of Prince William and Kate Middleton. Millions, perhaps billions of people all over the world will find out in April 2011 if Kate will be wearing one of these 7 Designer Bridal Gowns, take a guess at the one you think she'll be wearing...
---
4

Gowns Made for a Princess...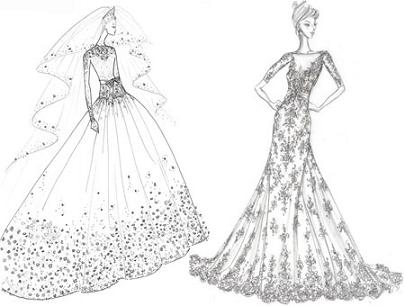 Photo: Brides.com
Left: Melissa Sweet, Right: Priscilla of Boston
I love the endless romance that flows from these two stunning gowns. The Melissa Sweet ballgown reminds me of a traditional princess gownbut has a magical glow to it that would perfectly match Kate's glowing smile! Priscilla of Boston **designers know how to complement a woman's body with the lovely **lace gown on the right. How beautifully it would show off the young Princess, but still make her look like a Royal bride.
---
3

One Day a Queen...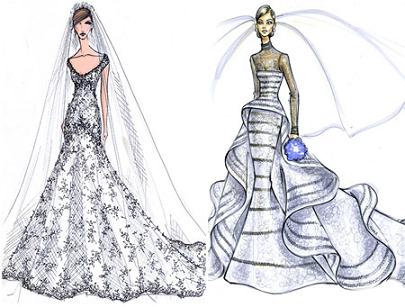 Photo: Brides.com
Left: Amsale, Right: Angel Sanchez
A cathedral veil just speaks Queen and one day Kate shall be just that. So when Amsale paired their remarkable cap-sleeved gown **with a **flowing veil they knew they would be onQueen Elizabeth's good side, but what about Kate's? On the other hand sometimes young Royal heirs like to be daring, and Angel Sanchez has given this bride-to-be a wonderful creative dress for that option! **Do you think Kate would be bold and daring? **
2

One Very Stylish Bride...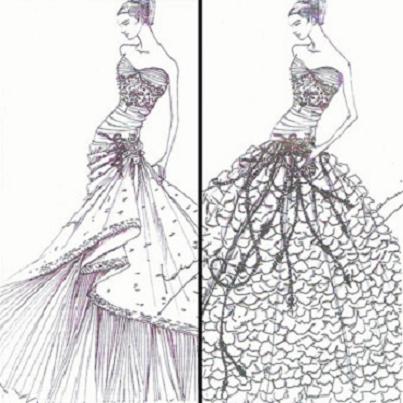 Photo: Brides.com
DesignerRani Totmanwanted to give Kate two options with one beautiful bodice. Both skirts remind me of the very stylish young lady Kate is, she would love both and maybe she'll wear both! The first amazing skirt has a silk satin inlay with an overskirt that is covered with sparkling Swarovski crystals. For the second skirt the bride would dance in a fun ruched silk organza with a long cathedral train, **one that **Princess Diana would love. I'm sure she is very proud of her son and soon to bedaughter-in-law. **What dress would Diana choose for Kate?**** **
---
1

One Very Happy Bride...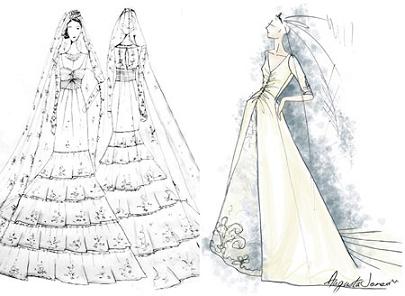 Photo: Brides.com
Left: Temperley London, Right: Augusta Jones
Maybe Kate would like to change her very trendy, fun look for something a bit more non-traditional and sweet for herbig day. I love the embroidered ruffles on the Temperley London skirt, it's something very different but still very young and classy. Augusta Jones' gown for the bride has a astonishing 12 foot train with a hemline that would be similar to the details of Prince William's Coat of Arms, now they definitely may steal the heart of the soon to be Mrs. with that adorable idea!
**Do you have a favorite? I know I do! **
Top Image: Fashionrollcall.com
---
Comments
Popular
Related
Recent