If you're planning a beach or garden wedding, chances are, you don't want to wear a formal, traditional wedding gown — you'll want something much more fun, flirty, and casual! There are so many options, from tea-length gowns to garden-party frocks… and I've gathered a sweet selection here for your convenience. Here are several wedding dress alternatives, all less than $200 each!
1

Swan Cloud Dress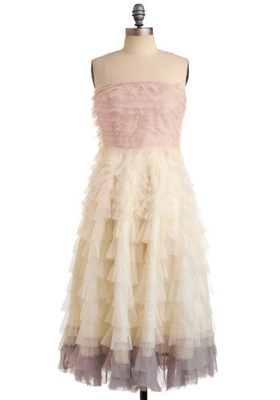 Price: $199.99 at modcloth.com
Choose from the softest blush pink or the lushest light blue, either way, this dress is a confection of fluffy sweetness, a pastel-hued dream come true! It's made of tiers and tiers of light-weight frilly chiffon, pink or blue on top, cream in between, and dove grey at the hem. What a romantic alternative to a wedding dress! Pair with a pearly choker and vintage silver peep-toes to complete your wedding day ensemble.
2

A Time for Toasts Dress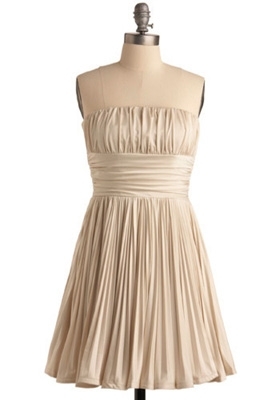 Price: $139.99 at modcloth.com
Whether you're dashing off to the courthouse for a quick ceremony, or you're walking along a tropical beach hand-in-hand with your husband-to-be, this dress is an ideal alternative to a traditional wedding gown. It's short, so it won't drag in the sand, but the layers of tiny pleats and pin-tucks make it dressy enough that it's still suitable for the most important day of your life. So pretty!
3

Bunch of Fun Dress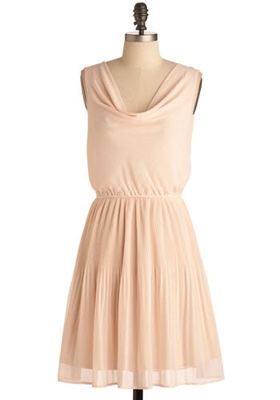 Price: $57.99 at modcloth.com
If you long to look like a classic Greek goddess on your wedding day, try this draped pale pink confection rather than a typical white wedding gown. The pale pink is ultra-flattering for every complexion, and the pleated skirt and semi-sheer bodice are gorgeous and sexy, but still formal enough for your wedding.
4

Latte Heart Dress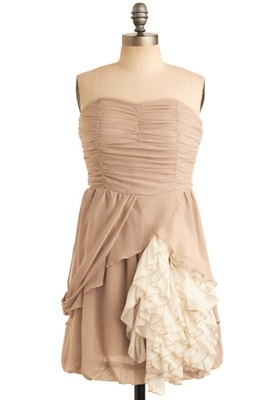 Price: $57.99 at modcloth.com
You met your husband-to-be at your favorite coffee shop, so why not celebrate that momentous occasion on your special day by wearing this latte-hued frock to exchange your vows? It's darling and romantic, with a flattering ruched bodice and layers of sheer, frilly ruffles… note the whipped-cream detail at the waist… so pretty!
5

Gild-ty Pleasure Dress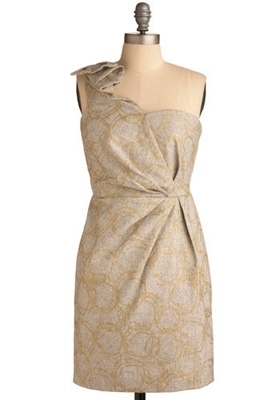 Price: $89.99 at modcloth.com
There's something so stately about this dress, with its grey and gold brocade fabric and elegant one-shoulder styling. Pair with gold pumps and an armload of matching bracelets, and wear your hair in a loose up-do for your own wedding day glam.
6

Lace Adulation Dress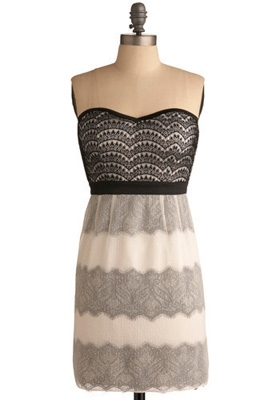 Price: $94.99 at modcloth.com
Your grandmother may warn you that wearing black on your wedding day is a fashion faux pas, but she's just being overly cautious, for this black and white lace-trimmed dress is perfect for your special day! Pair with glossy black sandals and deep red lips for a stunning, chic wedding day look.
7

One with Nature Dress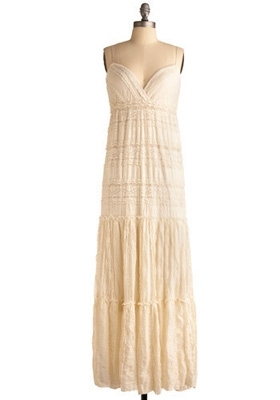 Price: $104.99 at modcloth.com
While you definitely don't want to wear a traditional wedding dress, you still want to look like a bride, so this is the dress for you! It's long and lean, like most maxi dresses, with adjustable straps and a lace layer over the cotton under-dress, stunning and romantic at the same time. Pair with wedge sandals and a sunhat for a look he'll never forget.
With so many gorgeous wedding dress alternatives to choose from, you're going to want to wear more than one! How about the Lace Adulation dress for the ceremony, then the Bunch of Fun for the reception? Which of these alternatives to a wedding dress do you like best, and why? Please share!