I have always been inspired by **lace wedding gowns **and knew when I got engaged in 2008 that my wedding dress would be made of lace. So today I am very excited to share with you the new **MidSummer Bride Collection **from Amy-Jo Tatum Bridal, also known asBride Chic. These stunning dresses are full of lace, tulle, and beautiful details; maybe one of them will be the "One" for your big day...
Finding Inspiration...
"My design career started some twenty years back when I did a three-year stint as a bridal fabrics buyer. After that I opened Bridal Alternatives, a custom design studio, and ever since I have been working with brides who want that extraordinary one-of-a-kind dress on their wedding day. My best work has stemmed from translating the trends of fashion history into contemporary bridal fashion. Based on my esteem for Hollywood chic and fine-tuned dressmaking skills, a design philosophy evolved that has to do with seeing fabrics drape well and mold to the skin like sculpture. 'A wedding gown should be comfortable and beautifully lined so the woman wears it like a second skin . . . the whole component moving with her as if it is part of her body'."
Valerie...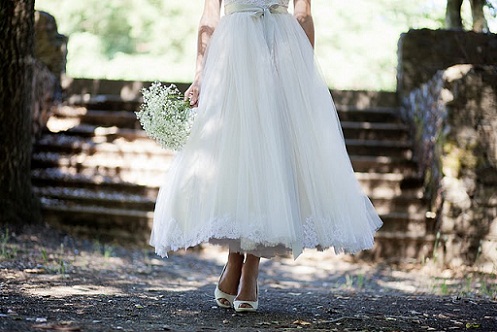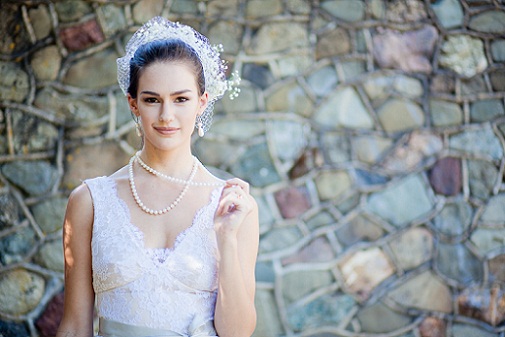 "Tulle and lace were the inspirations for** Midsummer Bride**, this year's capsule collection from my Dioresque line. From the purest whites to tea-dyed tulles, these full silhouettes have layers and yards of skirt proffering an ultra-femme silhouette. The bodices are adorned in lace motifs, some shirred and pleated in tulle."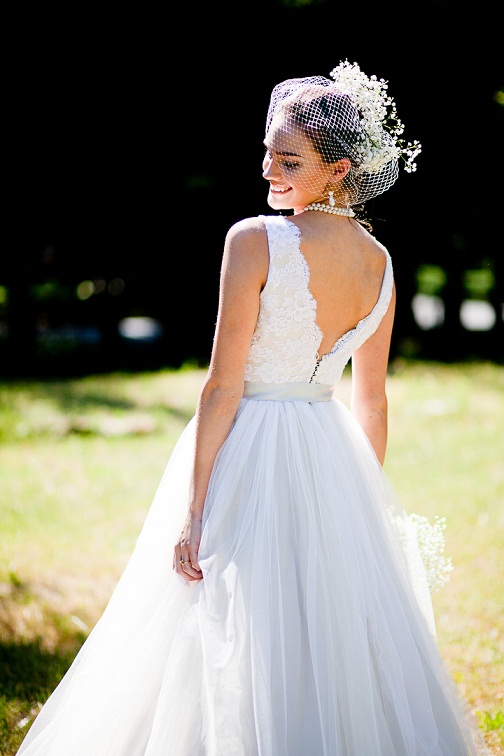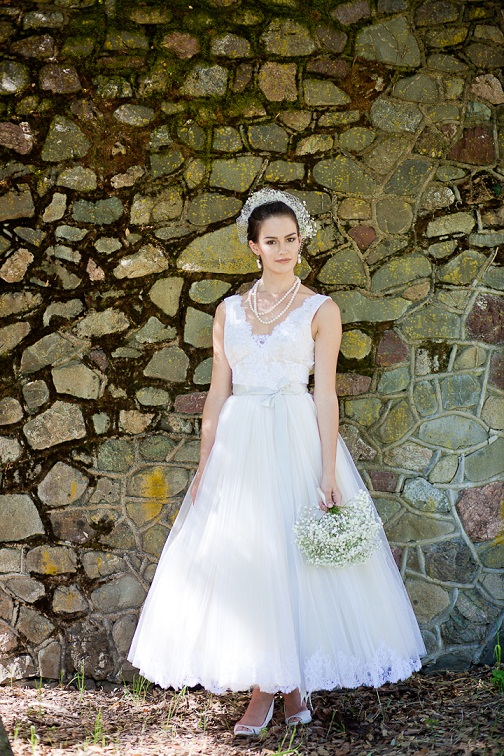 "The **Valerie **dress has 5 layers of tulle skirt over a rose beige China silk lining. There is a chantilly lace bodice with a scalloped border on the neckline and skirt. The deep V back is accented by a row of silk shantung buttons. It also features a gray satin tie belt. A simple veil was put together with sprigs of Baby Breath and French netting."
**Continue Reading to see the Madelyn dress... **
Madelyn...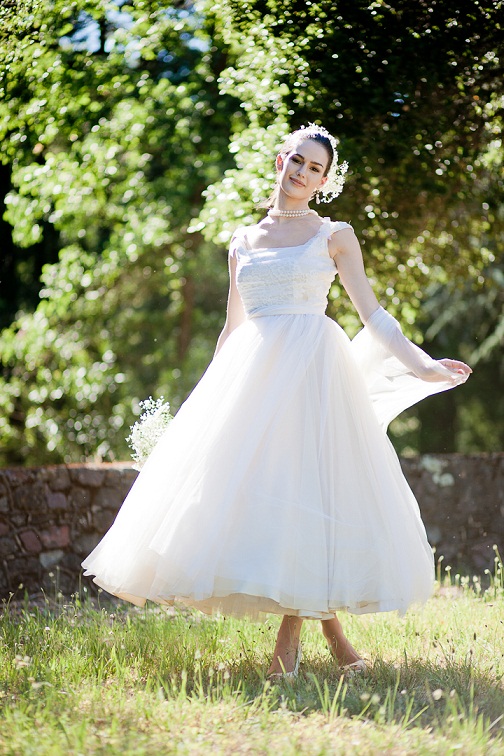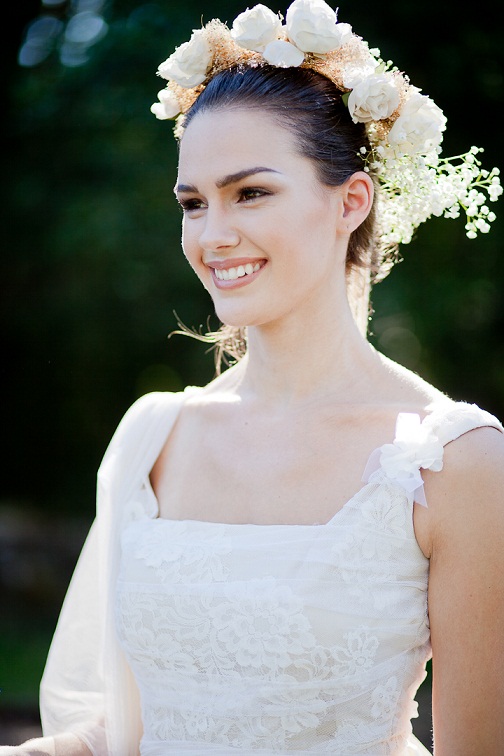 "The **Madelyn dress **has 7 layers of a tea-dyed tulle skirt with a bodice of chantilly lace motifs under shirred tulle and pleats. A matching tulle shawl and tie-belt at featured as well."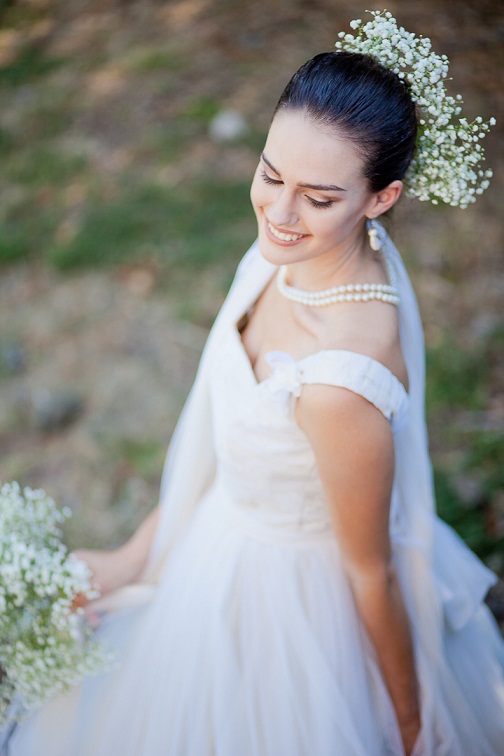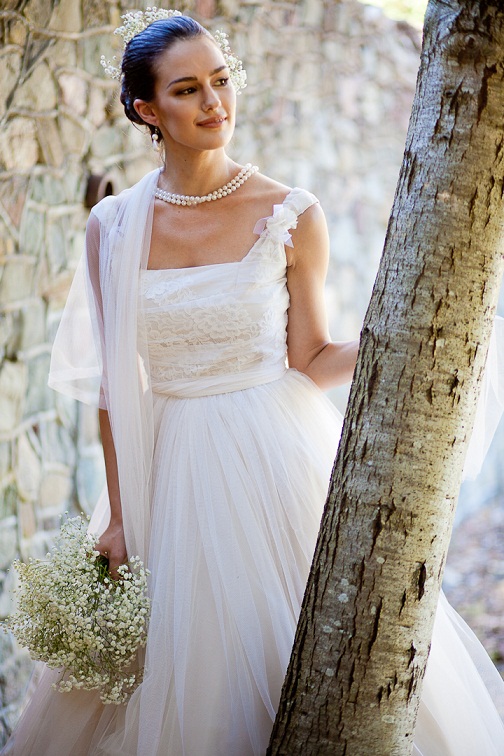 Amy-Jo's collection is just so dreamy and romantic. They remind me of a fairytale that would include a princess, her prince charming, fairies, twinkling lights, and singing animals! Her gowns are perfect for any beautiful bride-to-be and cost between $1950 to $2300, which is very reasonable for handmade beauties like these.
Continue Reading to see the Tatanya dress...
Tatanya...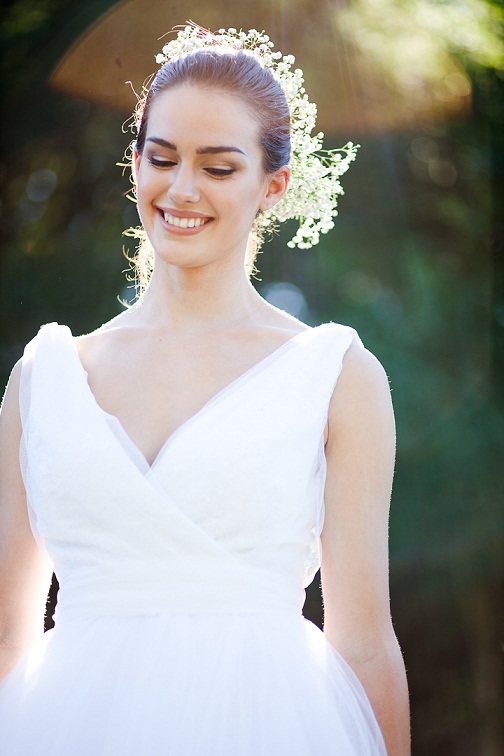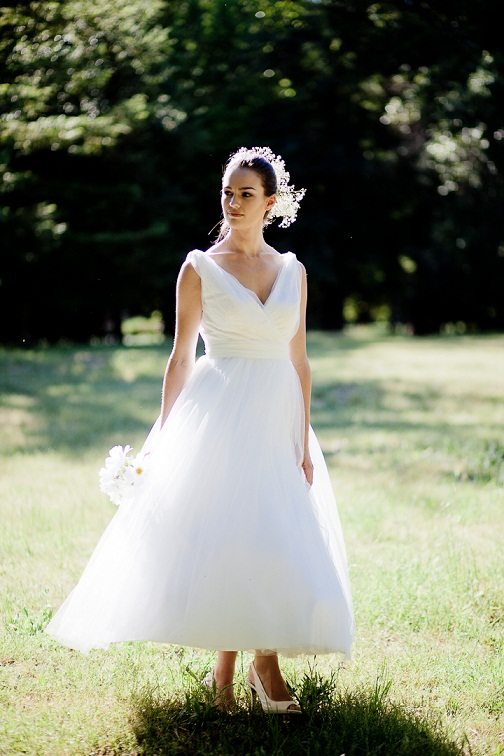 "The Tatanya is an all over tulle dress with a surplice front and V-neck. There is a white lace cut out underneath shirring on the bodice. It is available with a matching tulle belt or a black and white polka dot and stripe one."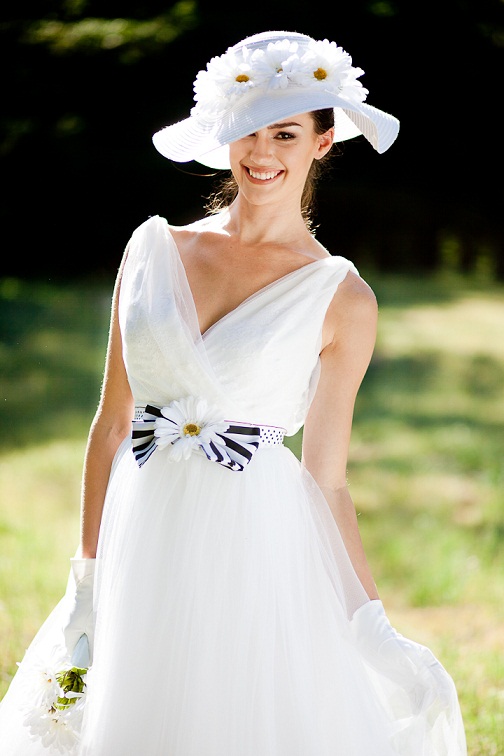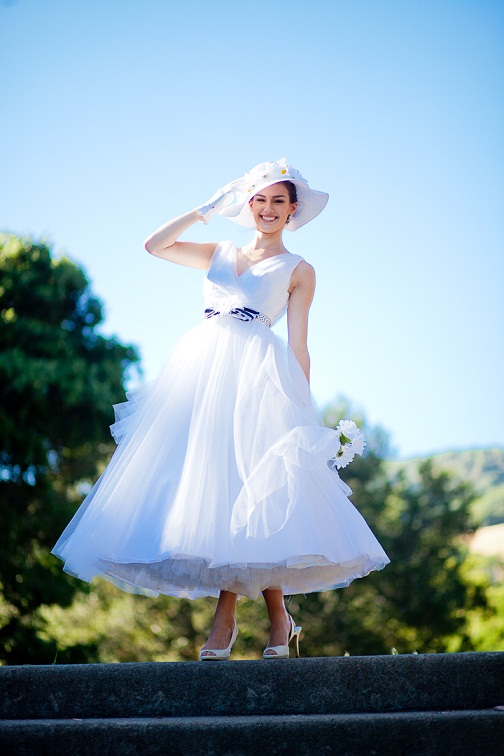 I love the hat, gloves, and polka dot belt with the striped floral belt. It just brings an altogether different look to the Tatanya dress; much more playful and lighthearted. Would you wear a hat and gloves with your gown on your wedding day?
Continue Reading to see the Beatrix dress...
Beatrix...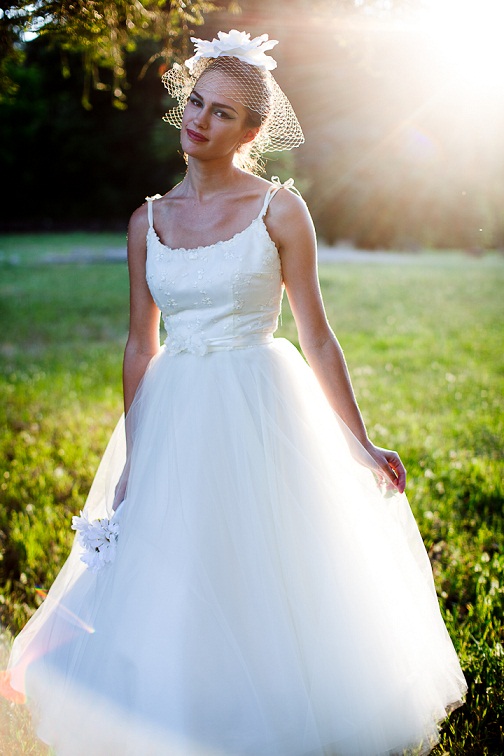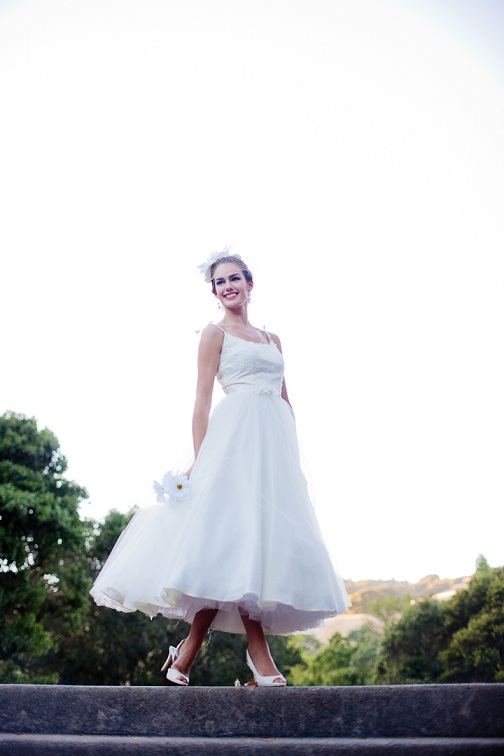 "The Beatrix is seven layers of ivory tulle skirt with an embroidered organza bodice cinched by a white silk satin tie belt."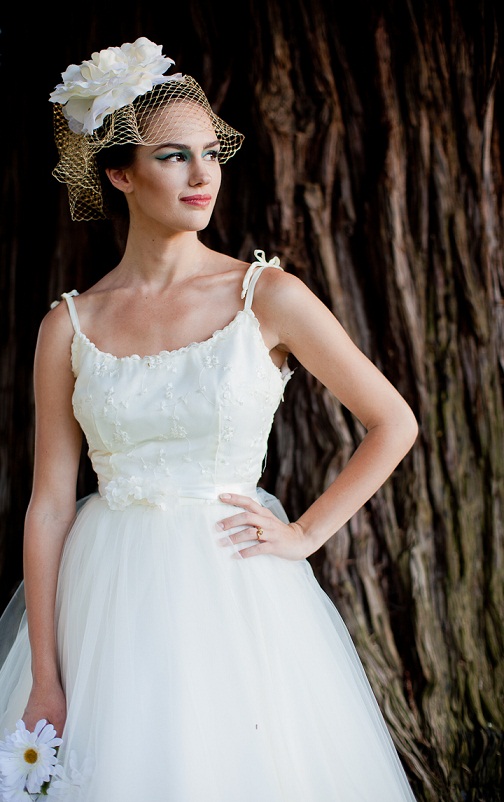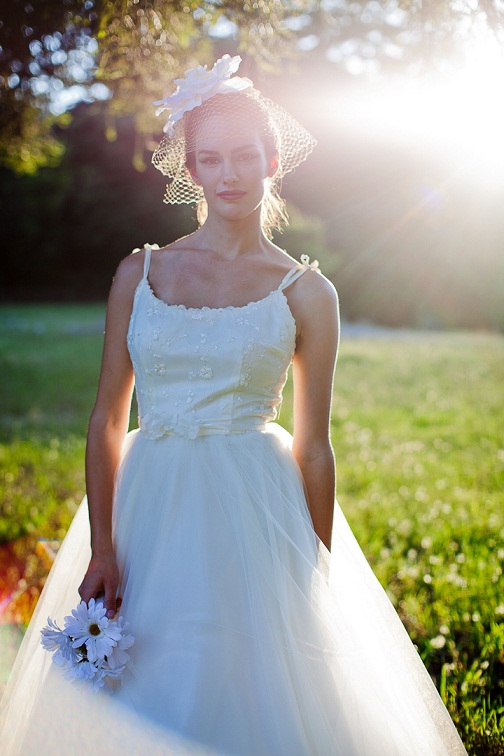 I love all of these gorgeous photos, the way the sunlight hits the gowns and the model's beautiful features. All photos were taken by Dominic Colacchioand all gowns were modeled by Nicole D of Stars of Model Management. Makeup was done by Cherese Burnley of Beautify and as if you didn't know all gowns and headpieces are by Amy-Jo Tatum Bride.
Continue Reading to see the Aurora dress...
Aurora...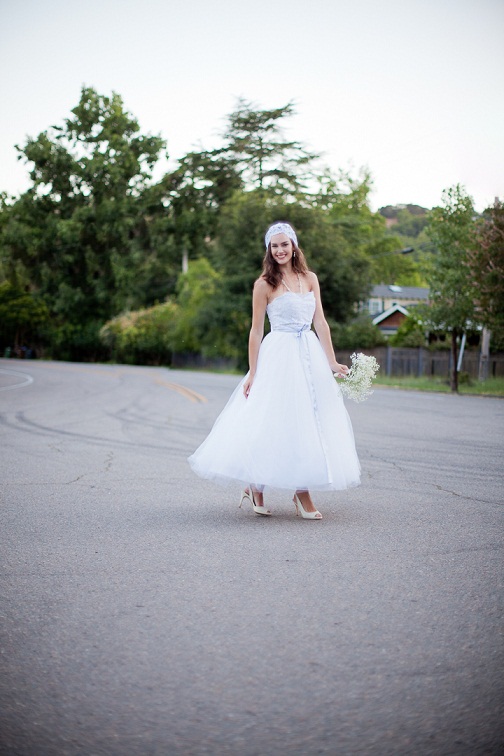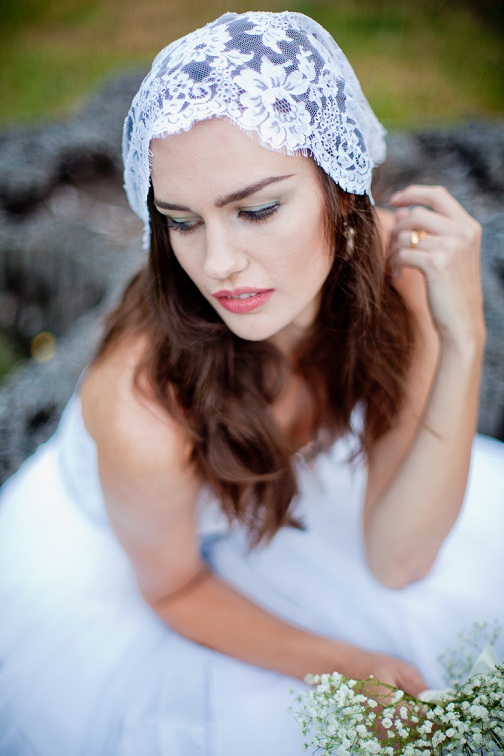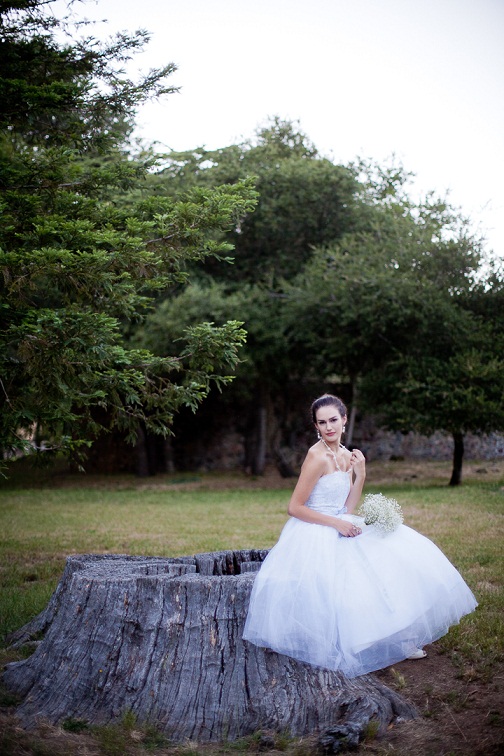 "The **Aurora dress' **bodice is white chantilly lace over blue silk satin. Layers and yards of white tulle skirt. The veil treatment is a chantilly lace border."
Thank you to Amy-Jo for giving us this beautiful look inside your world of stunning lace wedding gowns. We know there are many brides out there who are overjoyed as much as we are with your MidSummer Bride Collection.
Which gown is your favorite?
CREDITS
**Photography **by Dominic Colacchio
**Gowns and headpieces **by Amy-Jo Tatum Bride
**Makeup **by Cherese Burnley of Beautify
Model: Nicole D of Stars Model Management