On a Say Yes to the Dressepisode I was watching yesterday there was a glamorous bridelooking for a second wedding dress that out sparkled her first gown that cost $17,000! With her first gown's bodice being custom-made with swarovski crystals, the Kleinfeldbridal team told her she probably needed another customized gown since she didn't like the ones she tried on with them. Whether your budget is unlimited like hers or more DIY like many brides here are 4 sparkly wedding gowns that will keep your style shining all night long...
---
4

Pnina Tornai...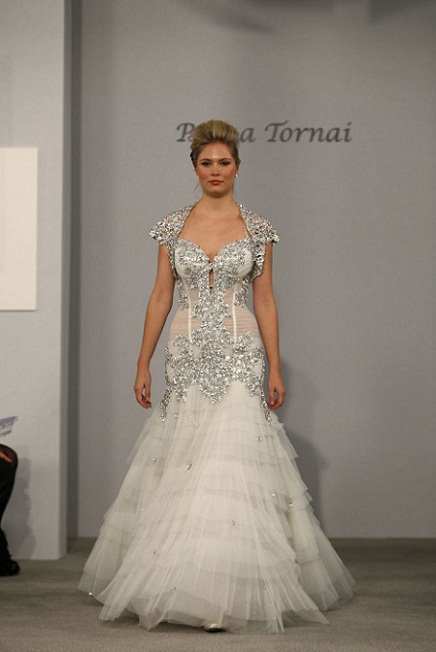 Photo: Kleinfeld Bridalvia FashionableBride
If you've seen Say Yes to the Dressthan you know how fabulous Pnina Tornaigowns are; you also know how extravagant these dresses are. The crystals, the sheer bodice, the hugging silhouettes, and head to toe details in one's opinion can either be amazing or tacky! If you're a one of a kind bride who likes to shine and sparkle, a Pnina Tornai gown like this $10,000 plus dress is a style you should try on.
---
3

Demetrios Bride...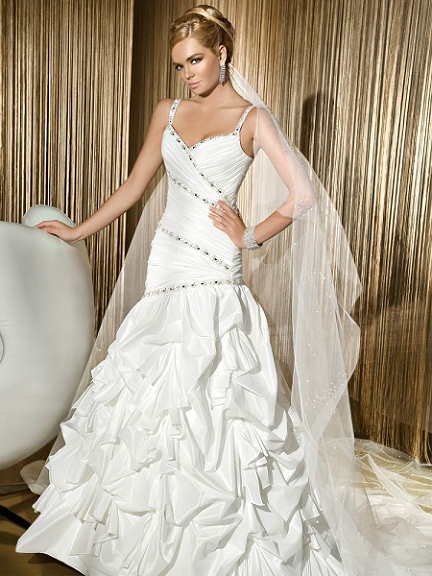 Photo: DemetriosBridevia FashionableBride
Perhaps your a bride-2-be looking for a dress with a little less bling than the Pnina. You like sparkles but want something more chic and low-key. I'm not a big fan of a bodice full of beading either, and I think this beautiful Demetriosgown is made with just the perfect amount of beading. I love the way the beads go across the bodice; it's a unique design that will sure catch the eye of your groom and guests!
Trendinig Stories
More Stories ...
2

Ines Di Santo...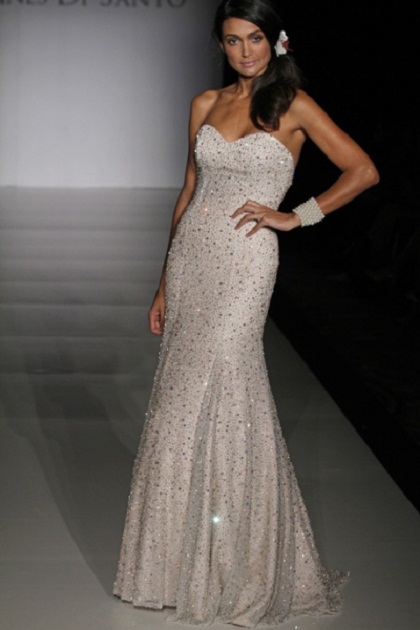 Photo: Ines Di Santovia FashionableBride
I'm not certain about the price tag of this sparkling Ines Di Santowedding gown, but I would bet it's pretty high being that the entire gown is covered in stunning multicolored Swarovski crystals. I wonder if this amazing dress would have suited the bride fromSay Yes to the Dress!
---
1

Alfred Angelo...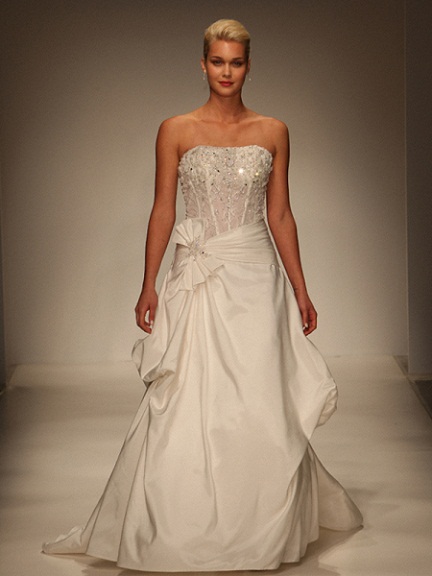 Photo: Alfred Angelovia FashionableBride
So you love crystals, beading, and sparkles that will make you shine all night long, but you aren't sure if a gown like that fits into your budget. Well say hello to this gorgeous Alfred Angelowedding dress full of rhinestones, beading, crystals, and sequins that will make your groom's jaw drop...and not because of the price tag! This show stopping gown costs under $1400, now that's a dress I can love!
Will your dress sparkle and shine on your wedding day?
---
Comments
Popular
Related
Recent