Floral bouquets may become a thing of the past for brides who love to make a statement or want to show off their quirky personalities. With a fun **button and brooch **bouquet or a sparkling pinecone bouquet perfect for your walk down winter wonderland, all the single ladies will be sure to line up for the bouquet toss! To walk down the aisle in style check out these 6**** amazing wedding bouquets that will last forever...
---
6

A Simple and Chic DIY Bouquet...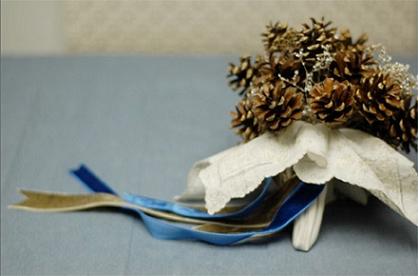 ** Photo**: OnceWed.com
The snow is falling, the lights are twinkling, and**winter weddings** are rocking. If you're a bride still worrying about your winter wedding details this simple yet elegant pinecone bouquet is a stress free DIY project you can tackle. I love the soft and romantic feel the beautiful lace handkerchiefadds to the rustic look of the pinecones. Are you walking down the aisle with an amazing DIY bouquet like this one?
---
5

Buttons & Pretty Paper...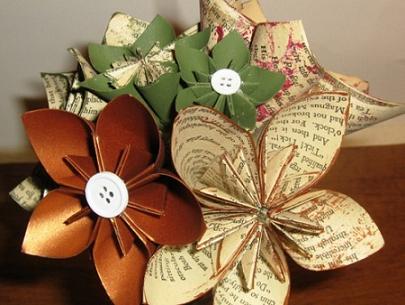 ** Photo**: Etsy.com/shop/danamazing
** Price**: $35.00
No water needed for these beautiful origami paper flowers. Made from recycled books for any bride going green who would like to cut down on the wasteful details of her big day. Or maybe you are an avid reader and would love to see your favorite book magically turned into a stunning flower for your wedding bouquet! I love the little buttons on the colored paper flowers. What green details are incorporated into your wedding day?
4

Butterfly Kisses...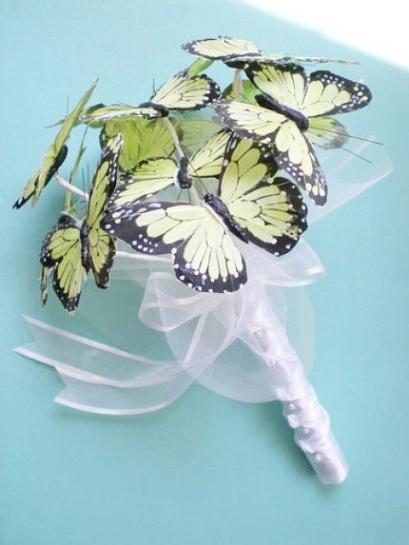 ** Photo**: Etsy.com/shop/gardenleafdesign
** Price**: $45.00
Though we may be looking at snow outside our windows, many of you recently engaged brides are planning Spring and Summer weddings. Add the perfect touch of Spring to your upcoming wedding with these whimsical butterflies floating in your bouquet. Butterflies have always been a big trend for weddings; on cakes, centerpieces, favors, and invitations. With this fun bouquet you can follow the butterfly trend but on your own offbeat path! Will your bouquet be trendy and quirky?
---
3

One of a Kind...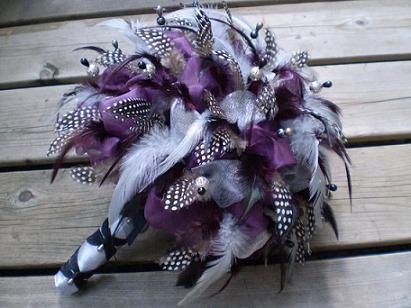 Photo: Etsy.com/shop/Ardesign
** Price**: $165.00
Be your one of a kind, unique self with this one of a kind feather bouquet that will remind your guests why they love your awesome personality so much! Though this bouquet is made with guinea, silver, and purple feathers you can contact Ardesign to customize your bouquet to match your wedding colors perfectly. The price for this piece also includes a matching feather boutonniere for your handsome one of a kind husband to be! Are you excited about a unique detail you have in your wedding, please **share with us! **
---
2

Hand Painted Perfection...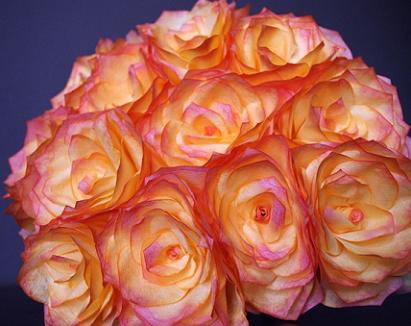 ** Photo**: Etsy.com/shop/perfectlypaper
** Price**: $95.00
Amaze everyone with this stunning hand painted paper bouquet when you tell them you're not carrying real roses! I couldn't believe it myself when I saw these magnificent photos that I was looking at paper flowers. Check out the Perfectly Paper blog to see the fascinating process the artist goes through when she personally hand paints and creates each flower and bouquet. **Are you creating something special for your wedding? **
---
1

Vintage Memories...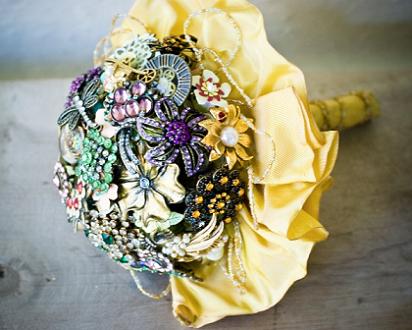 ** Photo**: fancypantsweddings.com
Traditions and memories are a big part of many weddings. Memories of our grandparents or loved ones we may have lost and traditions that have been passed down for generations. Keep those traditions and memories alive with brooches you may have collected from your grandma through the years in a wonderful vintage brooch bouquet. Thanks to Judy over at Fancypantsweddings you won't have to spend a ton of money on a brooch bouquet, you can make your own! For my own wedding I pinned a few of my grandmother's brooches to the stem of my bouquet, but now I wonder if I could have made a beautiful bouquet like this one! **Do you have any vintage brooches that will be a part of your special day? **
**Share with us the details of the unique bouquet that will be created for your wedding day! **
**Top Image: **Rocknrollbride.com
---
Comments
Popular
Related
Recent