There are so many styles of wedding bands to choose from, some brides like to match their engagement rings while others like to get a matching set with their grooms. Be inspired by these 5 unique wedding band sets **to find the **ring that is right for you.
---
5

Match Your Personality...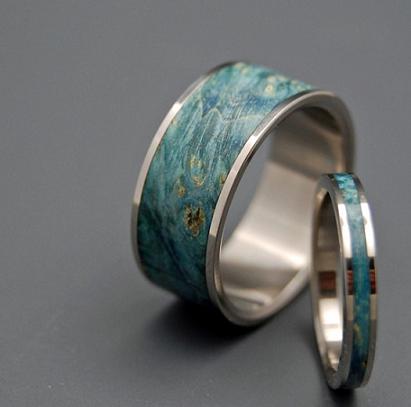 Photo: Etsy.com/shop/MinterandRichterDes
Price: $325.00
Bold, daring, and different. Set yourselves apart as a** unique couple** with these beautiful ocean blue wedding bands. The metal is made from durable Titanium, which can not be resized after it's set. The gorgeous blue stone is made from stained blue boxelder wood. I wonder if more brides will be wearing titanium bands instead of diamonds in the future! Do you wear a matching wedding band set?
---
4

Match Your Favorite Color...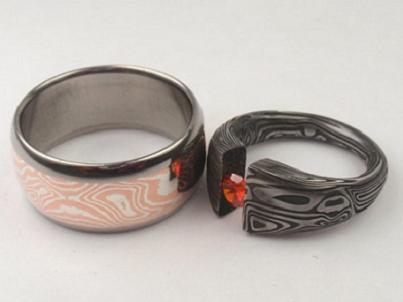 Photo: Etsy.com/shop/jewelrybyjohan
Price: $666.00
Everyone will notice you and yourwedding bands with these stunning Mokume-gane Titanium and Damascus Steel rings. Mokume-gane is the beautiful wood-grain like pattern inlay on both the band and ring with the orange CZ. I love how the orange CZ sits open in the middle of the ring.** Are you looking for a wedding band that matches your favorite color? **
---
3

Match Your Life...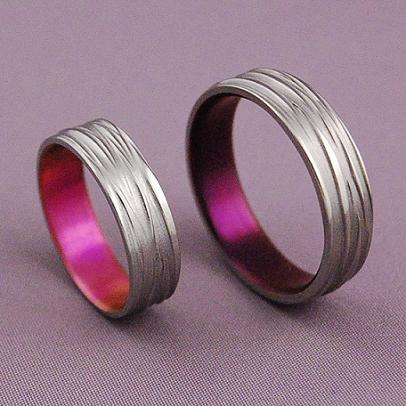 Photo: Etsy.com/shop/RomasBanaitis
Price: $90.00
Maybe you're not a bride and groom but two brides **or **two grooms and would like a wedding band set **that speaks of your lifestyle. You are a **one of a kind couple who deserves a one of a kind ring to celebrate your commitment to each other. These beautiful bandsare made from Titanium and feature a unique woven textured **and **bright color of your choice. **Have you found the perfect ring for your commitment ceremony? **
---
2

Match Your Love for the Outdoors...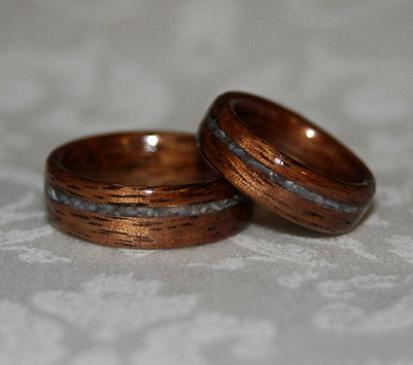 Photo: Etsy.com/shopMnMWoodWorks
Price: $220.00
Share your love for the outdoors together with your wood wedding bandsthat will match your rustic wedding perfectly. Hold on to who you really are and what you love with these remarkable Koa wood bands with a stone inlay of your choice. Some girls love more than just diamonds! **Are you a fan of wood wedding bands? **
---
1

Match Your Wedding Bands...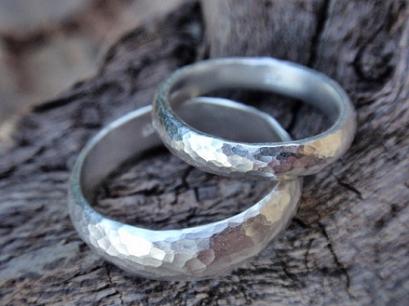 Photo: Etsy.com/shop/Preciousjd
Price: $85.00
These beautiful bands are simple yet unique in their own way just like the couple wearing them. The sterling silver is handmade and hammered to create the gorgeous texture seen on the rings. I love bands that are modern and creative but not too flashy. Are these the bands you've been searching for?
What does your wedding band look like?
Top Photo: Inspiredbythis.com
---
Popular
Related
Recent