Unique Engagement Rings are a great way to go. I know some brides like traditional rings, and that's completely cool! There are some gorgeous traditional settings out there. However, I've always been a fan of unique engagement rings that don't necessarily match up to the norm. They might be original in color, shape, or setting, but they're rings you don't usually see every day. Here are some of my favorite unique engagement rings – let's see what you think!
---
1

Star Sapphire Engagement Ring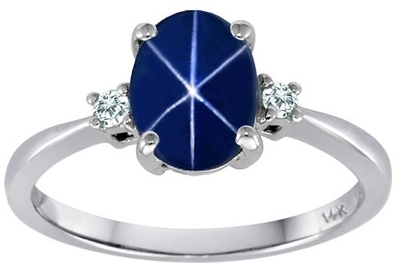 Price: $259.99 at amazon.com
A lot of women love unique engagement rings that contain sapphires, and I agree, they're gorgeous. I think this ring is ideal for anyone who loves both sapphires and stargazing. Star sapphires are so pretty, and I love the way this one is bracketed with delicate diamonds. They lend a feminine touch.
---
2

Jean Schlumberger Two Bees Ring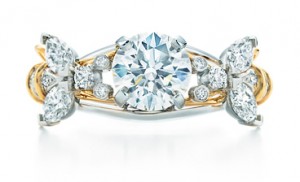 Price: $86,500 at tiffany.com
All right, I didn't promise all of these rings would be exactly affordable! You know I had to include something from Tiffany's, though – and this really is stunning. It really tells a story – and according to the Tiffany's site, bees are actually symbols denoting royalty, so this is really a ring fit for a queen!
Trendinig Stories
More Stories ...
3

Art Deco Black Diamond Ring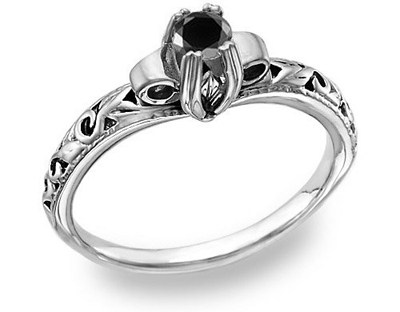 Price: $575.00 at amazon.com
Now, some of my very favorite unique engagement rings focus on black diamonds. I adore black diamonds! My very favorite is a gorgeous vintage piece (show me yours, stalkers, and I'll show you mine!), but I love this one as well. The Art Deco styling is so chic! It's not ostentatious, but it's definitely original.
---
4

Yellow Diamond Ring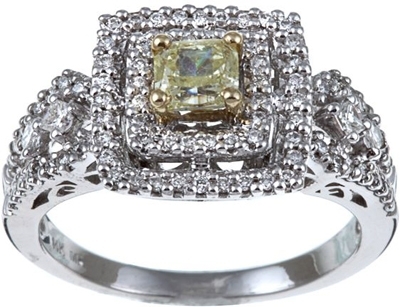 Price: $1,259.99 at overstock.com
Yellow diamonds are extraordinarily popular now – the problem being that it gets hard to find a really unique yellow diamond setting. I think this one is really one-of-a-kind, though. The layering of all those white diamonds just does it for me!
---
5

Blush Diamond Ring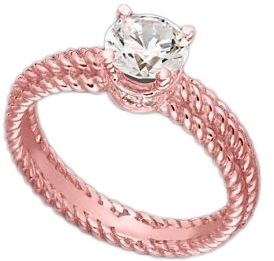 Price: $3,149.00 at macys.com
To me, some of the prettiest unique diamond rings use rose gold. I don't think I've ever seen a prettier band, which is the main reason I chose this one. It all look so pink! I love the design on the band, as well – it complements, but doesn't war with, that gorgeous ¾ ct. diamond.
---
6

Mystic Topaz Engagement Ring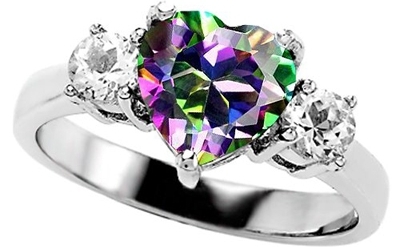 Price: $159.99 at amazon.com
There's no reason why you can't have an engagement ring with a gemstone. If you're not fond of hearts, no worries – you can find mystic topaz rings in different shapes. I just love all those colors! The stone is so iridescent, it's gorgeous!
---
7

White and Black Diamond Engagement Ring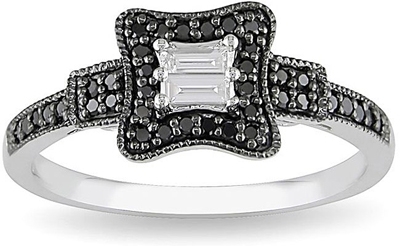 Price: $253.99 at overstock.com
All right, so I had to slip another black diamond in here. This one simply proves that you can find plenty of simple, elegant unique engagement rings, too. You don't need to have a lot of huge stones for a gorgeous ring. This one is sleek and simple, yet entirely left of the middle.
Unique engagement rings are an excellent choice for girls – or for guys – who prefer something one-of-a-kind. Of course, it all depends on the way you define "unique." Basically, look for unique engagement rings that fit your personal style. You might not like white diamonds, and that's totally cool. There are so many different options out there! Why don't you send some links or pictures to your favorite unique engagement rings?
Top Image Source: weheartit.com
---
Popular
Related
Recent