Bridal Jewelry Sets are THE best way to make sure your earrings will match your necklace and your jewelry in general will match your dress and other accessories! After all, with so many things that need to be planned and done to perfection, every bride needs to have a little break, even if it involves choosing bridal jewelry only. When you decide to opt for one of many fabulous bridal jewelry sets available, you don't have to stress, mix and search because you get everything you'll need to look like a princess already matched! Now, isn't that convenient? Absolutely! But wait until you see these pieces I've found online – you'll really go crazy about bridal jewelry sets, I'm positively sure of that!
---
1

Golden Rhapsody Bridal Set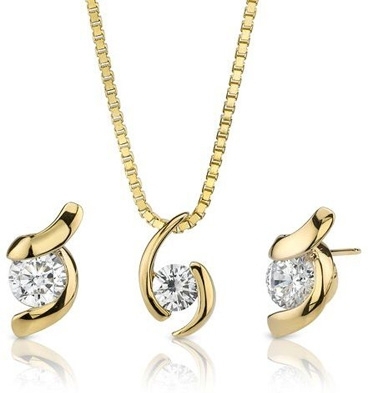 Price: $49.99 at amazon.com
This is, without any doubt one of my favorite bridal jewelry sets! Simple but glam, elegant but kind of modern – absolutely the perfect choice and I would so totally wear it for my wedding! Silver as the base metal, 14 carat gold plating and three sparkly CZ diamonds sure make this set a good buy you'll get to enjoy long after the wedding day!
2

Bridal Set with Swarovski Crystals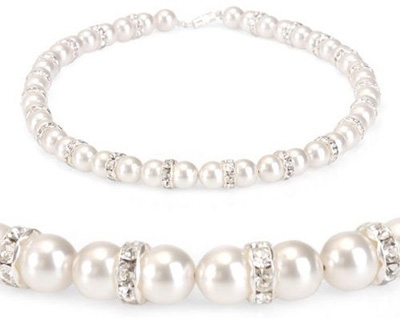 Price: $69.99 at amazon.com
If you love pearls and feel like all of the bridal jewelry sets you've seen so far were too simple for your classy, traditional wedding, definitely check this one out! The focal point of this set is the elegant, Swarovski crystallized necklace which I must admit looks best when worn with these simple (but matching) earrings.
---
3

Freshwater Pearl Set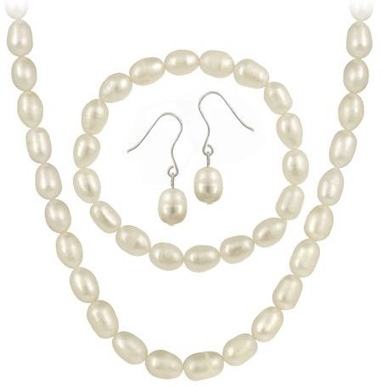 Price: $12.99 at amazon.com
Less can be more and I'm sure there are a lot of brides out there on a mission to find a simple, vintage-like jewelry set made from natural pearls! Am I right? A friend of mine paced up and down Athens for days until she finally found a similar set (which she paid a waaay too much, by the way) and I'm sure she would go nuts for this one. And the price…well that's just fantastic!
---
4

Filigree and Crystals Bib Necklace and Earrings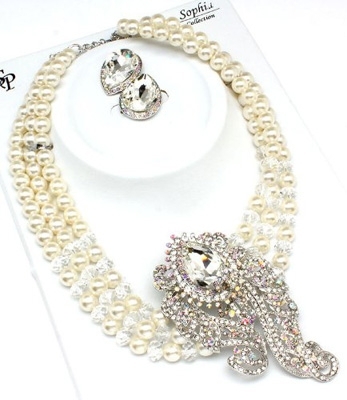 Price: $47.88 at amazon.com
Your bridal attire should include a strong piece or two- something that makes it really pop, something that makes it unique and classy! Don't you think so? Well, if you've chosen a simple wedding dress (you go girl, I'm not a huge fan of beads or crystals either), think about completing your look with statement jewelry. A set such as this one is absolutely ideal because you'll literally have the best of both worlds – you can wear your simple wedding dress and look super stylish!
---
5

Sterling Silver Set with Amethysts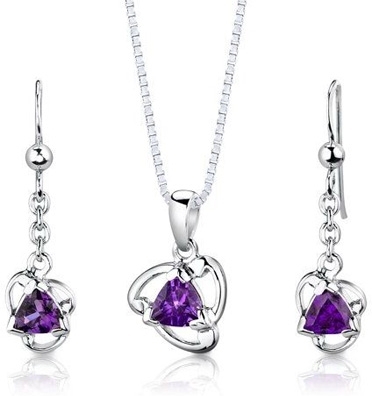 Price: $34.99 at amazon.com
Back to those elegant, classic bridal jewelry sets most brides decide to wear on their wedding day! And, while we're at them, do check out this interesting combination of shiny sterling silver and amethysts! What a great way to introduce some color to your bridal attire! Complete your look by tying a purple satin ribbon around your waist (Vera Wang style) and don't forget to order a matching bridal bouquet!
---
6

Red Bib Necklace and Earrings Set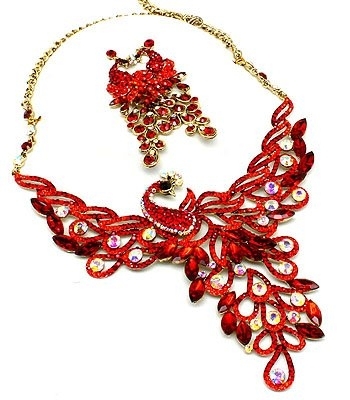 Price: $79.99 at amazon.com
If you thought bib necklaces or other statement pieces don't make great wedding jewelry, now would be the perfect time to change your mind! Sure, they won't match every wedding dress or every color theme and they certainly can't be every bride's favorite, but I know a couple of ladies whose bridal style went from "who's the bride, anyways?" to "whoa, forget the aisle, this girl needs a runway!" all thanks to these amazing bridal jewelry sets!
---
7

Swarovski Crystals and Faux Pearls Set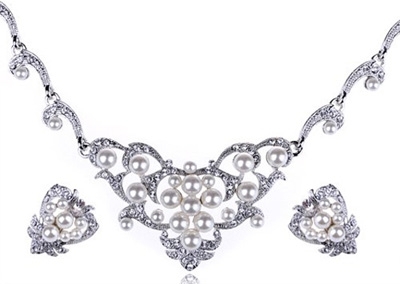 Price: $40.99 at amazon.com
Ornate, delicate, romantic and absolutely perfect for just any bride! You see, when it comes to these classic pieces, you don't really need to go like, "Hm… will this be too much/too plain for my beach/garden/city hall/church/luxurious wedding! You will, however, need to make important decisions regarding the style of your jewelry set and, if you like classic bridal jewelry and prefer shinier, more elaborate pieces, you'll certainly love this one.
---
8

Brown & Gold Bridal Set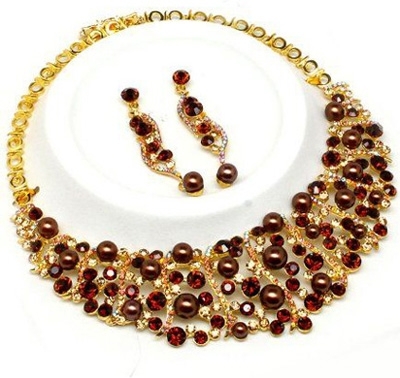 Price: $44.16 at amazon.com
This post on fab bridal jewelry sets wouldn't be complete without a cool idea for the brides who don't want to wear a snow white wedding dress and matching, typically bridal shoes! So, here it is ladies, a stylish, eye-catching bib necklace and a pair of earrings that would go great with all those off while, beige and natural tones you're trying to choose between at the moment.
How do you like these bridal jewelry sets and what do you think of bridal jewelry sets in general? I love them and, although my in-laws have really invested a lot of time and effort into finding a truly magnificent one for me, I think I'll get myself another one, just in case I have a last minute change of heart.
Top Image Source: weheartit.com
---
Popular
Related
Recent