Some brides are traditional and like to wear jewerly that blends in with their wedding gowns; they don't want pieces that are going to stand out and make a louder statement then their dresses. However, there are also brides who like to go bright **and **bold **with their **bridal jewelry. Whether it's because they are offbeat, quirky, or just like to wear colorful accessories, it's who they are and on their **wedding day **it should be no different. If you're that colorful lady then these 6 **necklaces **might grab your attention and that of all your guests!
---
6

Something Blue...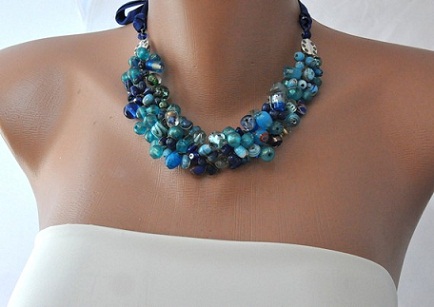 Price: $65.00 @ Etsy.com/shop/Kirevi8
If you're looking for your **something blue **to be something bold as well this gorgeous **glass bead necklace **is the perfect accessory. I love how it ties in the back with blue satin ribbon. A necklace like this one would also look great on your bridesmaids.
---
5

Garden Bride...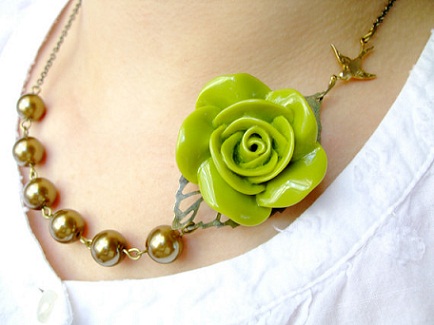 Price: $32.00 @ Etsy.com/shop/RachelleD
As you walk through the **garden **in your flowy lace gown carrying your bouquet of white peonies and green orchids, this **olive green rose necklace **will catch everyone's eye when they think, "What a perfect match to her bouquet!". Little hints of your **wedding colors **throughout your bridal jewelry is a great way to pull your theme together.
---
4

Beach Bride...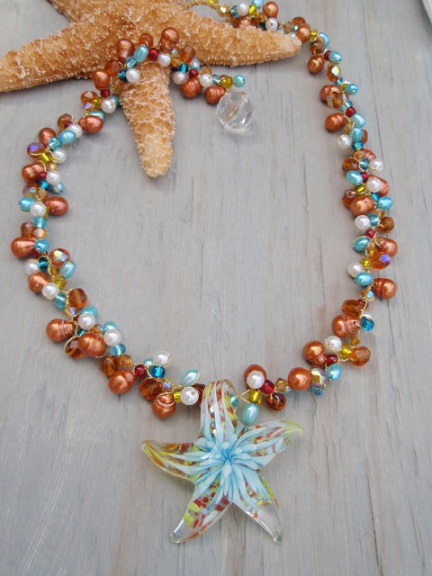 Price: $85.00 @ Etsy.com/shop/SlashKnots
Speaking of theme, wouldn't this be a lovely statement piece for a beach bride! I love the striking colors and design inside the glass starfish; stunning colors that would look amazing against the colors of the sand and sea. I wonder if my beach bride sister will wear a necklace like this?
---
3

Cute as a Button...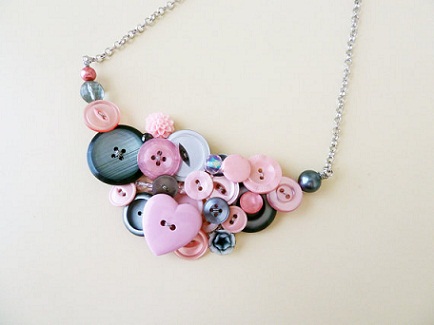 Price: $38.00 @ Etsy.com/shop/MadewithButtons
This adorable **button necklace **would look great with yourDIY button bouquetthat you put together yourself! I can also see the flower girl wearing a cute necklace like this one while carrying her basket that is also covered in buttons.
---
2

Bright & Bold...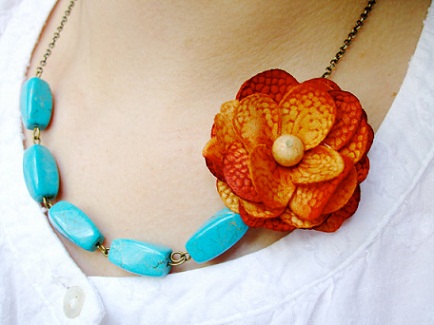 Price: $32.00 @ Etsy.com/shop/RachelleD
I love the contrasting colors of this beautiful,** bold necklace**. I can see a bride who is planning a blue and red wedding wearing a **bright floral necklace **like this one. The flower just grabs your attention and shouldn't everything about a bride grab you!
---
1

Pretty in Pink & Yellow...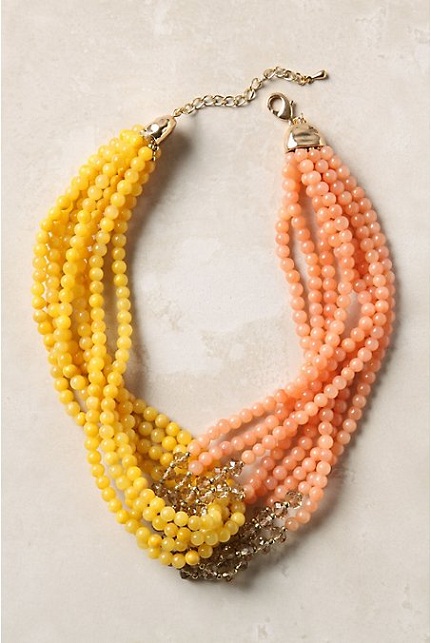 Price: $38.00 @ Anthropologie
The sweet pale tones of this pretty** beaded necklace **are lovely for a Spring or Summer bride who is wearing a yellow flower in her hair and carrying pink roses down the aisle. Doesn't this just remind you of the beautiful colors in peach or strawberry sorbet!
Have you found a bright and bold necklace to wear on your wedding day?
---
Comments
Popular
Related
Recent