I've always loved Monique Lhuillier'sbridal designs, have you seen her amazing floral details this year! She also has a gorgeous ready to wear line as well, which has inspired me to think about ready to wear looks for the bride. Maybe you want to explore outside the wedding gown box, if so check out these 5 Ready to Wear Looks for the bride from Monique Lhuillier....
---
5

A Bride Has to Shine...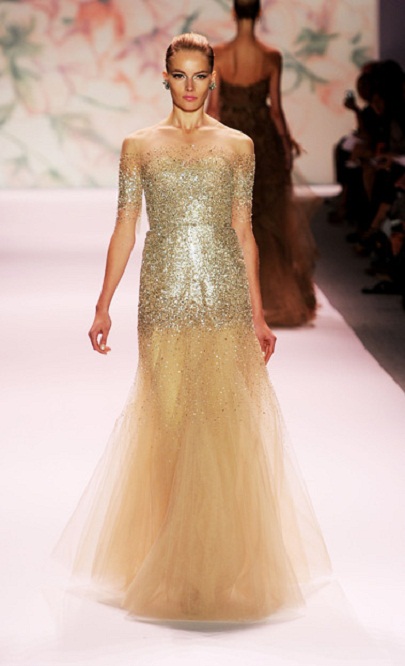 Price: $7500+
If you're one of those brides who wants to go all out in the** glitz and glamour** and has a big budget for your gown try on this stardust embroidered ready to wear dress from Monique Lhuillier.I can see a bride with a Hollywood Glam theme strutting down the aisle in this amazing dress. Can you believe it's from her ready to wear line!
4

For the Courthouse Bride...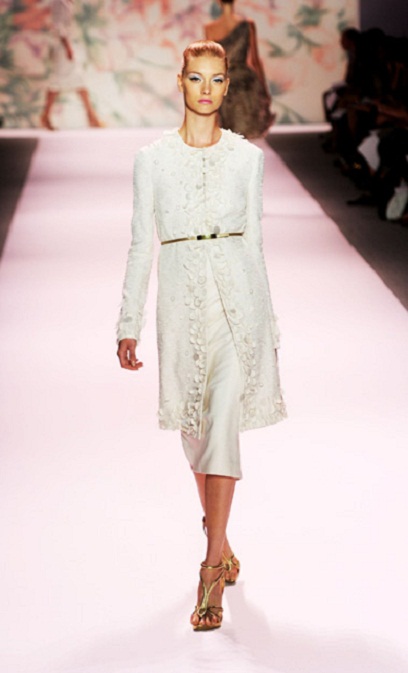 Coat: $2500-$5000 Dress: under $2500
Many couples get married at the courthouse and don't really know what to wear. Should they dress up in full wedding attire with a big wedding gown and fancy tux or maybe they should go with a more** casual style**? I love this ready to wear coat and cocktail dress for a courthouse wedding, it's simple and casual but still chic and bridal. Whatever your style is for the courthouse, go with your heart and stay true to you.
---
3

For the Offbeat Bride...

Price: $5000-$7500

I can see this bride walking through a beautiful cherry blossom **garden with bridesmaids in **honeysuckle pink dresses. She knows how to turn heads with her offbeat personality and style and thats why she loves this ready to wear organza one shoulder ball gown from Monique Lhuillier. Be creative, be offbeat, and be you!
---
2

Short & Sweet...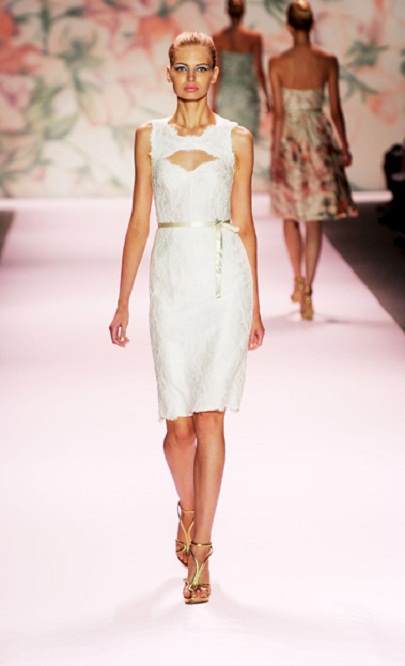 Price: $2500-$5000
Lace, short, and a sweetheart neckline, what's not to love! This would be a fabulous dress for your reception after you change from your ceremony ball gown. Slip into something you can dance in all night long into the hours of your after party with this ready to wear dress.
---
1

Dramatic Bride...

Price: $2500-$5000

This bride is dramatic, she wants the big peony bouquet, chandeliers, tall vases at every table, and a bridal party dressed in** formal wear**. Her guests better not show up in anything less than a suit and dresses! I love the dramatic bust line and the print on the bottom of the gown, stunning.

Have you transformed a ready to wear look into a bridal gown for your wedding day?

Photos: MBFashionWeek
---
Comments
Popular
Related
Recent