It's beginning to look a lot like Christmas and the holiday season. This is the time of year to cozy up with your loved one and start celebrating those winter weddings. Gather the logs, invite some friends over and enjoy these 5 Cozy Winter Weddings to Heat up your Fire...
---
5

Winter Booties...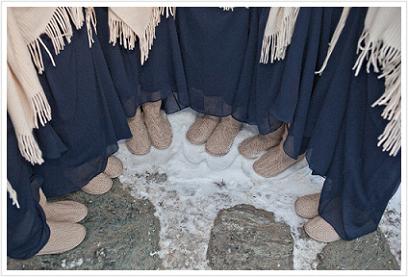 Photo: VTVows.com
Baby it's cold outside...and your bridesmaids don't want to wear heels! How cute and cozy are these bridesmaids in their winter boots! Let your ladies' feet stay warm during your winter wedding as they venture outside in the cold winter weather. Can you picture how cold they must have been in the snow in their bridesmaid dresses! Will you and your favorite girls walk down the aisle in snow boots?
---
4

Snowy Military Wedding...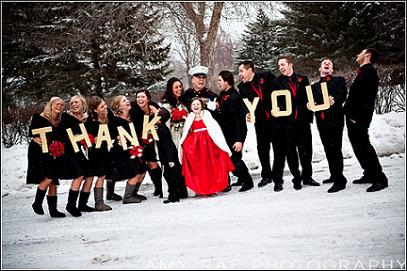 Photo: EveryLastDetailblog.com
Snow, Celebrating, and Red Details...definitely a winter wedding! My favorite detail is the adorable flower girl in her gorgeous **red dress...she almost steals the show from the bride! But, no one could steal the show from this loving bride and groom, who had to move up their wedding date because the military **groom was being deployed. With the love and support from family and friends, this newlywed couple will always have fond memories of their snowy winter wedding. Are you planning a military wedding that will make your country proud?
3

A Wrapped up Bride...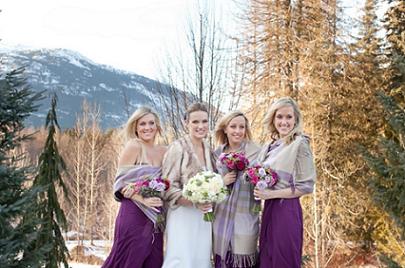 Photo:TheSassyBride.net
Some brides and grooms like to give each other gifts on their wedding day, so listen up winter grooms! Your bride needs to stay warm this winter as she takes those stunning snowy photos, but she also needs to stay styling like this beautiful bride wearing a very classy faux fur bolero. She will love an accessory that will keep her cozy but still look bridal in. What gift will you surprise your bride with?
---
2

Snuggle Together...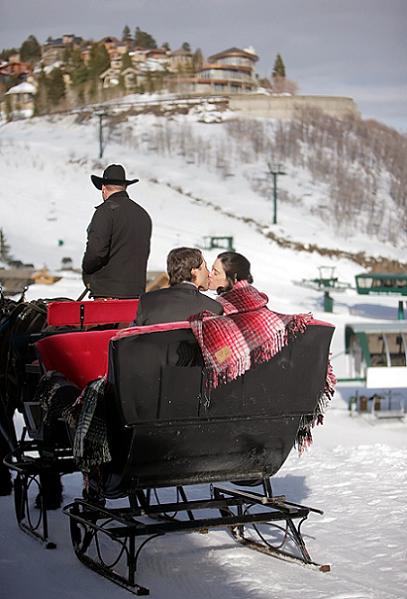 Photo: StyleMePretty.com
Is it just me or are** winter weddings just so romantic! When it's cold outside we love to snuggle up with our loved ones to stay warm. For your wedding, stay cozy and warm together in a beautifulsleigh ridelike the one this couple hitched a ride in for their Utah winter themed wedding**. She loves to ski and he loves to snowboard, so what better season to plan a wonderful wedding for! **Will you build a theme around winter for your wedding? **
---
1

Ski down the Mountain...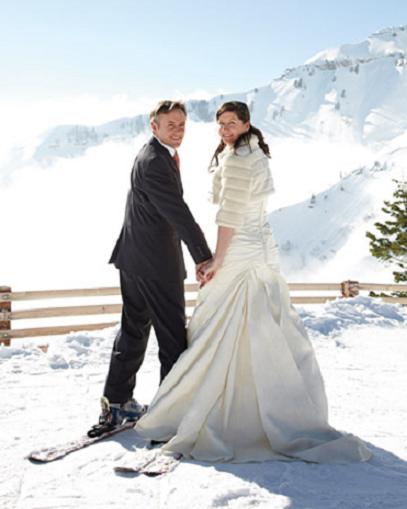 Photo: MarthaStewartWeddings.com
Just look at how breathtaking this wedding portrait is with the amazing snowy mountains for a backdrop. Not only did this couple tie the knot at a ski lodge, they also went skiing, rode the chair lift, and had a really cool pair of skis guest book for all their family and friends to sign! Make your wedding day an adventure you can share together with your guests; a day full of fascinating details everyone will remember. How will your adventure wedding be different from this one?
**Are you planning an unforgettable winter wedding? **
**** Top Image: VTVows.com
---
Popular
Related
Recent