It's almost the 4th of July, Idenpendence Day, and that means bbq's in the backyard, swimming in the pool, walking on the boardwalk, and enjoying the **fireworks **in the night sky. I love fireworks and they are one of my favorite things to enjoy during the summer. That's why I am so happy to bring to you this beautiful and **romantic wedding **from Damien Smith Photography, who captured amazing photos of the bride and groom and their magical day.
From California to Ohio...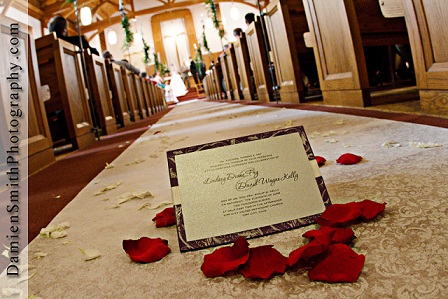 "Lindsey and David are super awesome!!! They flew my team and I in from Los Angeles, California to cover their wedding which was in Tipp City, Ohio. It has to be one of the coolest weddings I've covered! They even had fireworks during their reception!!!"
Love Ever Lasting...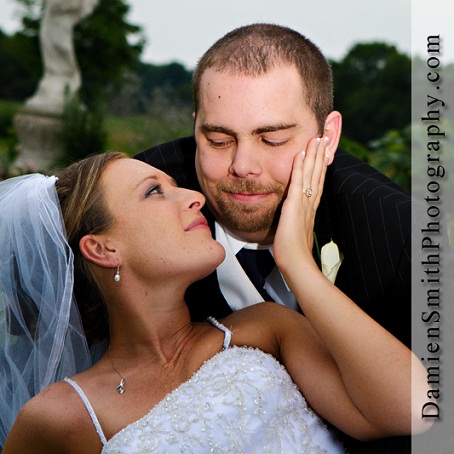 When you look at photos of a wedding you see all of the obvious details, like the brides stunning gown, the flowers, the groom's handsome tux, but you always wonder how they met **and who they really are. Well I can see, especially in this romantic photo **that Lindsey and David have a love that will last a lifetime. And from DamienI found out that they met through Lindsey's co-worker that was dating David's friend, who have now been married for four years! A wedding photo is more than just what meets the eye, it's a love story to be passed down for generations.
What about the Details...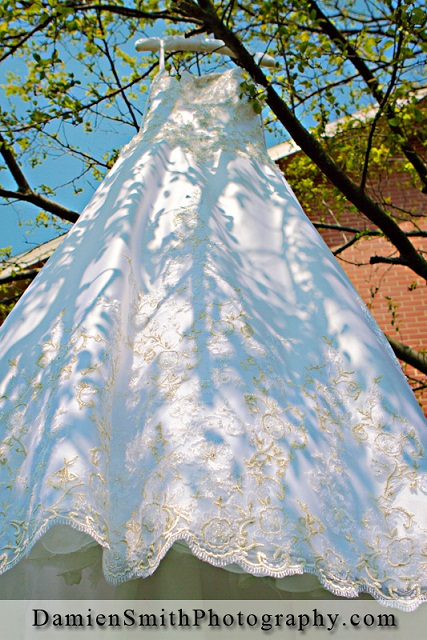 How much do you love this stunning** dress shot**! Sometimes we look to see how creative a photographer **can get with the wedding rings, but my favorite creative shots are of the **wedding gown, and to see how far the bride will let the photographer go! Lindsey's dress is from Emmy's Bridalin Minster, Ohio and David's tux is from Men's Wearhouse. The romantic couple said their 'I Dos' at Tipp City United Methodist Churchand held the best wedding reception at Cooper's Farm Catering & Banquet Hall.
Continue Reading to see the FireWorks!
Picture Perfect Day...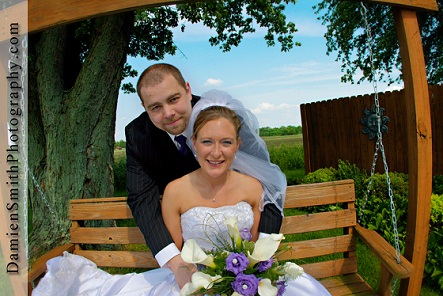 Damienand his crew shot amazing photos of a picture perfect day****. From your first glance at this shot you may only see the good looking groom, the gorgeous bride, and her beautiful wedding bouquet. But if you take a closer look you can see why the photographer positioned the sweet couple in the photo this way, though without the picture perfect blue sky they still look adorable and so much in love!
Happily Ever After...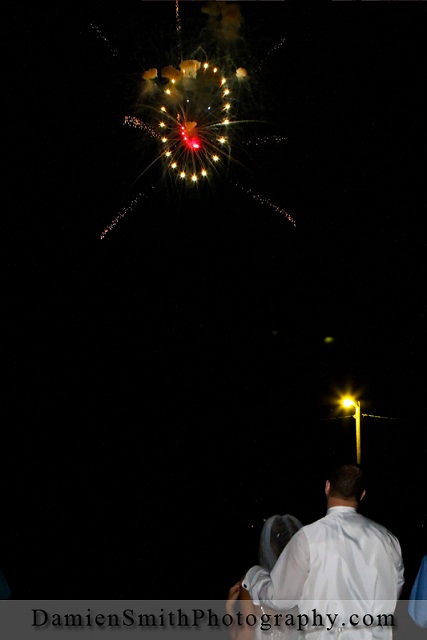 A perfect ending to a perfect day! If our wedding day turned into a wedding night I would have loved to see fireworks **just as Lindsey and David did, though the first kiss from my new husband brought sparks on its own! But a **firework show on your wedding night just puts the **magic **of your day at a whole new level! I can just imagine how the newlyweds felt as they were standing there together enjoying their first firework display as husband and wife. The fireworks were a gift from the bride's father from "Rozzi Fireworks" in Cinncinati, OH.
A big Congratulations to **Lindsey and David **and a very big Thank You to Damien Smith Photography!