I loved our wedding cake so much that I wanted to save it forever! Wedding cakes **can be anything we imagine. Some are so stunning they should be showcased at the The Museum of Modern Art! Here are **6 Amazing Wedding Cakes that just look too Pretty to Eat...
---
6

Perfect for a Winter Wedding...

**
**

**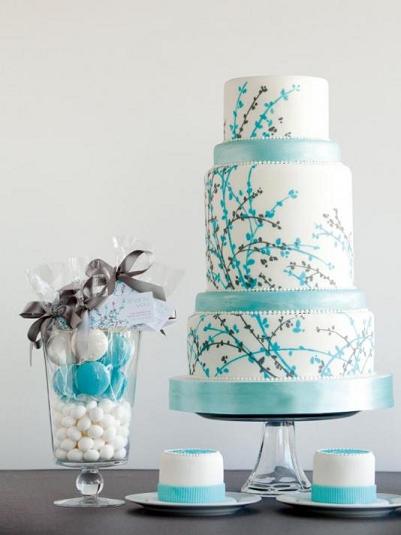 **
Photo: Fashionablebride.com
Cake: Bobbette & Belle
Classy, simple, and pretty...and I'm sure it's tasty too! Sometimes it's the simple things in life that take our breath away. For your winter wedding impress your guests with this fabulous white and blue cake. Add a personal touch with a cute snowflake cake topperor kissing couple. H****ave you found your cake design yet?
5

Pretty in Pink and Teal...

**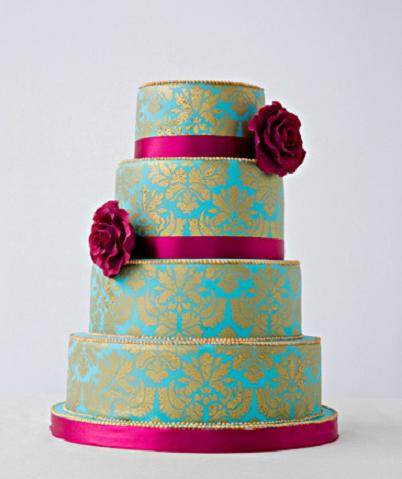 **
Photo: BobbetteandBelle.com
Cake: Bobbette & Belle
Too Pretty to eat or touch! I love the colors and the damask pattern on each layer. This is a wonderful cake if you're looking to match your damask wedding invitationsor wedding colors. This cake can be created in other colors as well, just contact Bobbette & Bellefor all your cake questions! Does your cake match any of your other wedding details?
---
4

Tropical Paradise...

**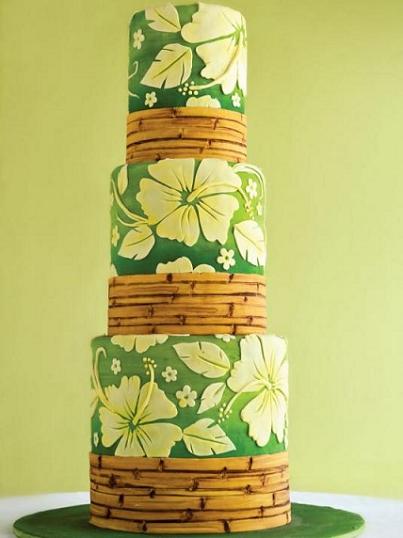 **
Photo: Fashionablebride.com
Cake: Cakelava
Take your guests on a trip to Hawaii with this tropical beauty. Made with fondantto make things a little easier for the cake designers at CakeLava, which just happens to be located on the beautiful island of Oahu. Use this pretty cake**** inspiration for your baker and bring your summer luau wedding to life. **Are you planning a themed wedding? **
---
3

Lovely Little Details...

**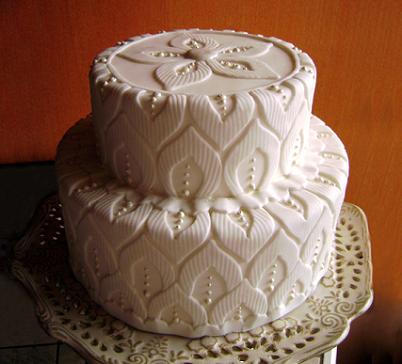 **
Photo: LoveStreetCakes.com
Cake: Love Street Cakes
I love sweet, delicate details that are thoughtful and planned out from the baker to make a special cake for the bride and groom. Remarkable details like the one on this cake make me think of the bride's gownand how amazing cake bakers can match little pieces of lace or flowers from her gown onto the cake. Works of art in every little bite! Will your wedding cake match your beautiful gown?
---
2

Roses Are Red...

**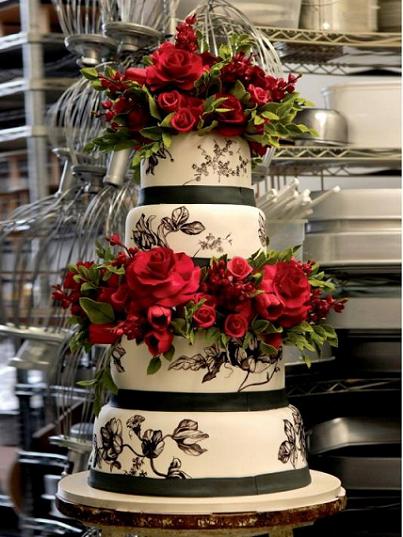 **
Photo: Fashionablebride.com
Cake: Sylvia Weinstock Cakes
Flowers can be very important details for some brides and grooms and whether you have real flowers on your cake or your baker can create edible flowers they make for a stunning result. This pretty cake has gorgeous hand painted and sugar flowers, making the entire cake very edible! Sylvia Weinstock, who created this cake, has made fabulous cakes for celebrities like P.Diddy and J.Lo. Will you have a celebrity baker make a cake for you?
---
1

Hand-painted Beauty...

**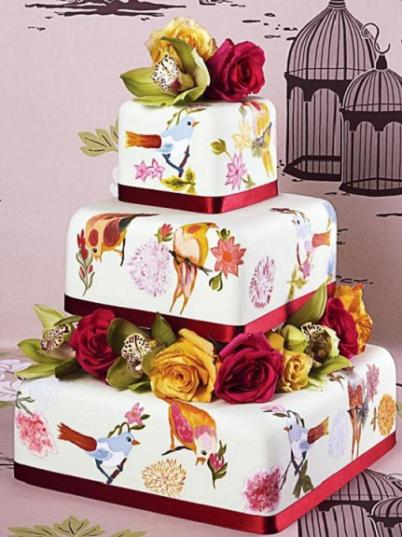 **
Photo: Fashionablebride.com
Cake: Little Venice Cake Company
This is a true work of art and a cake too pretty to cut into! There are no words to say how brilliant the hand-painted birds are. The bakers at Little Venice Cake Companywere inspired by the designs of Alexander McQueen and Matthew Williams. Birds are a very popular wedding theme including bird cake toppers, bird invitations, and bird cage centerpieces. Your wedding will be complete when you top your bird theme off with this amazing too pretty to eat cake!
**What does your wedding cake look like? **
Top Image: GreenWeddingShoes.com
**
**
---
Popular
Related
Recent