After getting a very warm response from the Jars of Lovepost (thank you Jacin) I got the idea to start a series of posts about wonderful individuals and groups in the wedding industry. I may not have the time or money to help or volunteer at the moment but I can spread the word to others about how we can all help in one way or another. Rachel Smith is another amazing woman (who is getting married this year!) who cares deep from within her heart and wants you to care too...
Just b. Cause...
I'm so thrilled to be able to write for All Women Stalk today. As a future bride-to-be myself (o.m.g. I'm getting married in less than 80 days!), I have quickly fallen in love with this site.
In December of 2010, I had just graduated college. Unemployed, waiting to start law school, and living with my parents until my upcoming wedding, I found myself feeling pretty useless. With a background in professional writing and web design, I searched for jobs in the field...to no avail. My background of volunteering led me to seek for volunteer opportunities in my area. One day it dawned on me that I could combine the two--design and charitable work. In January of 2011, I launched just b.CAUSE. Shortly after, I started offering cause-worthy design servicesand got involved with micro-volunteering onSparked.com.
The idea behind just b.CAUSE is simple: everybody can do good. My blog strives to help nonprofit organizations establish an effective volunteer base while also helping everyday people find ways to get involved. Let's face it--most of us are extremely busy. With the economy in the shape it is, we're focused on working and trying to get by. Finding time to volunteer is usually at the bottom of our priority list. However, I truly believe all of us--even the busiest person--can take small steps to do good. One of the easiest ways, I realized, is to take something a lot of bloggers do (get blog makeovers) and turn it into social good.
That's why all of the design services I offer support the charity of the blogger's choosing. I took myself out as middleman, so the emphasis is on *you* taking the time to research a charity, make the choice to donate, and see the rewards of your giving. Also, by taking me out as middle man, more of the blogger's donation goes straight to charity. If I were to have the blogger pay me, only to have me turn around and donate to a charity, some of the money would be lost through, say, PayPal transactions. Instead, you directly donate to the charity...the charity YOU pick.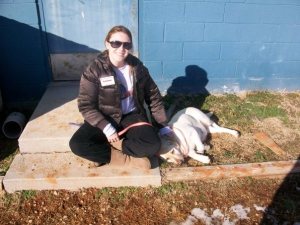 (Volunteering at her local dog shelter)
I saw an opportunity to turn something normal into something cause-worthy and did it. That's me. But what can you do?
Many of you are in the wedding industry or are planning a wedding.Learn how you can give back while planning a wedding. Take one day a week to post an idea for your readers about how they can give back. Weddings tend to get a bad rap for being selfish and money-hungry. Let's change that. If you plant an idea in your reader's head and encourage them to spread the word, imagine how many people we can reach!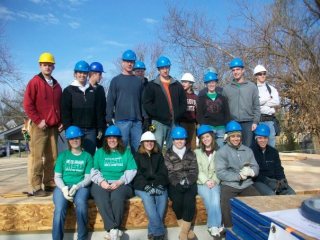 (Volunteering for Habitat for Humanity)
You're all extremely creative people. Think outside the box. What product can you find that brides-to-be can buy that will support charity? What DIY project helps save costs? Could you encourage that money saved to then be directed to a charity? What can brides-to-be do to cut waste and improve the environment?
Finally, if you work in the wedding industry, I strongly encourage you to look intoWish Upon a Weddingand see if you could help grant a couple facing terminal illness a wedding of their dreams.
Remember, everyone can be great because everyone can serve. -MLK Jr.