Today I want to start a new series on the wedding blog featuring vendors **and their product. When couples first get engaged they are excited, happy, and thrilled at the thought of getting **married. But when they finally sit down to start **planning **things can start to get a little hectic and fustrating. Where do you start? My advice is to start from within yourselves and let your personality shine and with a little help from wedding blogs, magazines, friends, and family, you can start to narrow your ideas down to what you really like...
Personalized Wedding Stamps...
**From those **@ WeddingStamps.us....
"Many couples spend lots of time and attention to make sure their wedding invites reflect their upcoming wedding ceremony as well as their individual identities. Lots of money and energy go into shopping for and buying the perfect invitations. But at the last minute
before the invitations are mailed they head to the post office and put a standard stamp on the outside of their priceless invites. What many of them don't know is that you can also add charm and personality to the outside of the envelope too!
Custom postageis continuing to grow in popularity for wedding invites, save the date cards, RSVPs and even thank you cards for wedding gifts. Custom postage stamps allow you to choose the appearance and dimensions of the postage stamp used on your invites. This gives couples a great way to theme the stamps on the outside of their envelope with the appearance and color of the invitation inside. Here are a few of the thousands of designs to choose from (you can even make your own):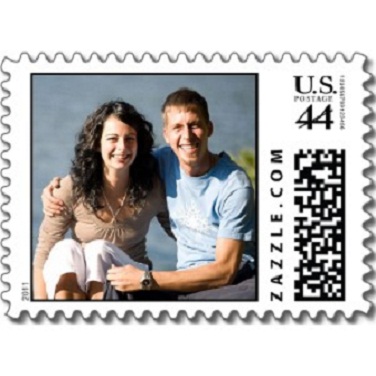 Continue reading...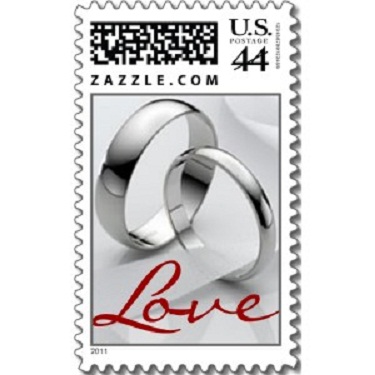 "Before you choose to buy personalized postage for your invites here are some suggestions to remember:
• Know the exact postage price needed. Take a fully addressed, completely assembled invitation to your nearest post office. They will tell you what face-value stamp you need depending on the weight and size of your invitation (the most common sizes require $0.64 or $0.84 cent postage stamps.). The last thing you want is to see your invitations returned to you due to insufficient postage.
• Custom postage stamps are available for all first-class rates. This is important because the post office only has a limited collection of designs available for each rate. Custom stamp designs can be created for any of the first-class rates including stamps for postcards (which are handy for save the dates & RSVP cards). In short—you can use any design your wedding mail no matter what size, shape or weight you are mailing.
• Hand cancelling isn't required with custom postage. Custom wedding postage uses a special technology so your letters aren't postmarked. This ensures your wedding invitations arrive looking as beautiful as the moment you mailed them.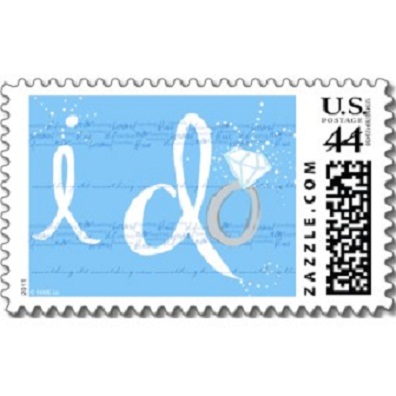 For more details about custom postage visit WeddingStamps.US where you can browse thousands of stamp designs, find current postage prices, read frequently asked questions and a enter a weekly giveaway for free stamps."
Special thanks to Ben Steed @ Infinite Publishing
Please rate this article