There are so many holidays throughout the year that would make for a festive theme for any wedding. From Christmas to Valentine's Day, the decor that surrounds these holidays are perfect for making your big day a big bash. Check out these 7 Festive Holiday Themes for Your Wedding and tell us your favorite...
---
1

Christmas Holiday Theme Wedding...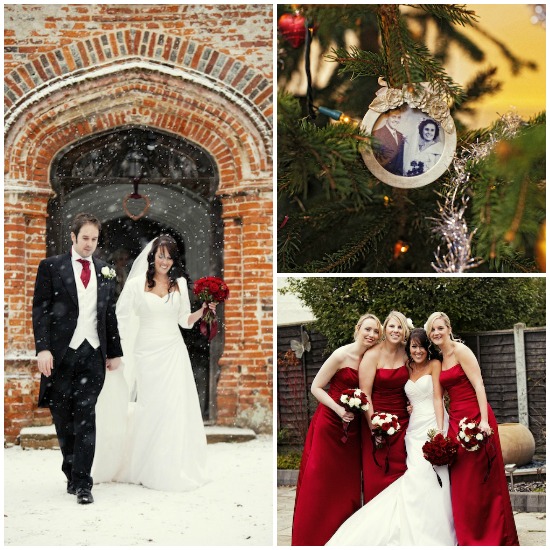 Photo Credit: Craig & Katie via Whimsical Wonderland Weddings
How magical is this Christmas themed wedding; it started snowing when the bride and groom walked out of the church after saying 'I Do'! Winter** holiday themes for weddings** are so easy to plan for because most venues are already decorated with festive garlands, florals, and even Christmas trees! Add your own holiday decor with family ornaments to hang on the tree or to put with your centerpieces. Bridesmaids in red are the perfect color to match the expected decor colors of your venue, but silver or gold would be just as festive. Are you celebrating Christmas with a wedding this year?
---
2

New Year's Eve Holiday Theme Wedding...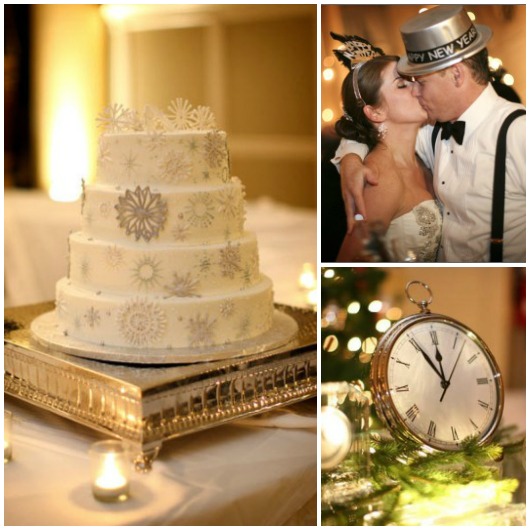 Photo Credit:Elizabeth Anne Designs
Everyone celebrates New Year's Eve no matter their religion or ethnic background, so why not celebrate this world wide party with a holiday theme wedding! I love the idea of using vintage clocks for centerpieces and handing out party hats and noise makers to all of your guests. Within your New Year's Eve big day you can also use winter decor like silver snowflakes and gold tinsel to match your wedding colors.
---
3

Mardi Gras Holiday Theme Wedding...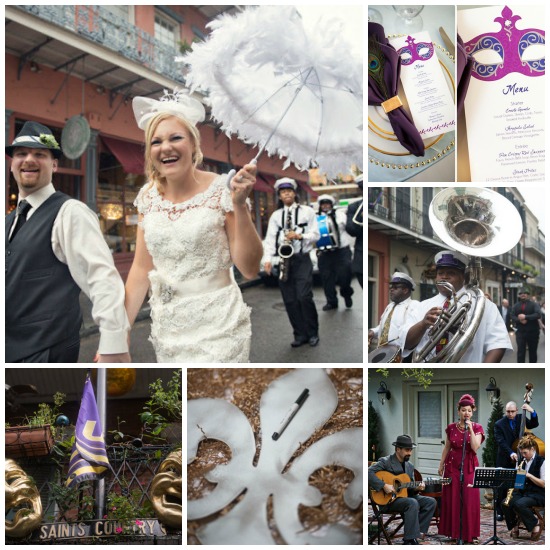 Photo Credit: Carla Ten Eyck via Style Me Pretty, (top right) Brenda's Wedding Blog
Mardi Gras is a big celebration in New Orleans and is known else where as Fat Tuesday. It is a festive holiday of eating fattening foods before Lent and Ash Wednesday. So whether you are a foodie, have roots in New Orleans, or just want a big, musical celebration, a Mardi Gras holiday theme wedding is a one of a kind party that will end up in the streets and last all night long.
---
4

Valentine's Day Holiday Theme Wedding...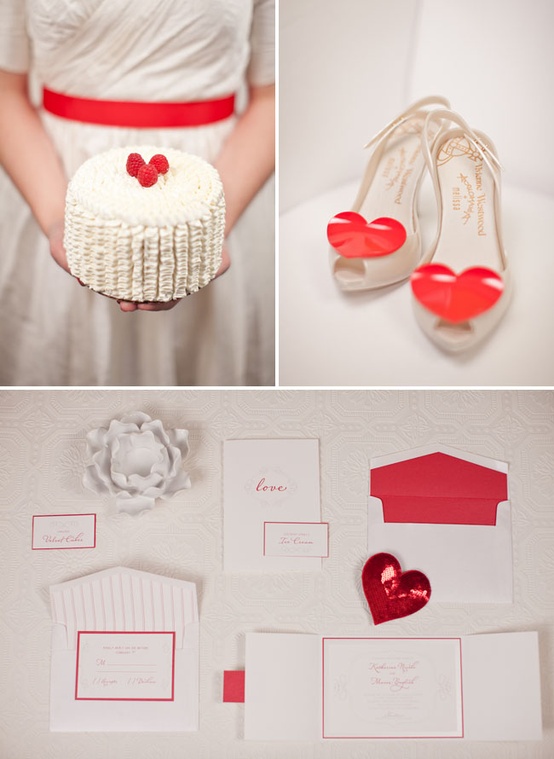 Photo Credit: Gabriel Ryan via Green Wedding Shoes
What better day to celebrate love other than Valentine's Day! I love these adorable heart shoes, they are fromVivienne Westwood, and are the perfect heel for a love day holiday theme wedding! You don't have to go overboard if you are planning a Valentine's Day celebration, a few hearts here and there, a red bouquet and bridesmaids in red will be just the right amount of cuteness to show your guests how much you love this holiday.
---
5

Cinco De Mayo Holiday Theme Wedding...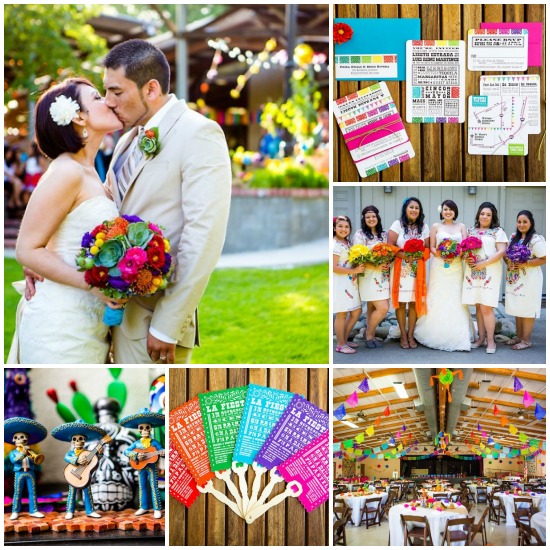 Photo Credit: The Goodness via Ruffled Blog
Cinco de Mayo is a Mexican-American celebration that marks when Mexico won the battle in the French-Mexican War. A Cinco de Mayo holiday theme wedding is a great way to commemorate your heritage with traditional Mexican food, decor, and colorful flowers and invitations. I adore these festive bridesmaids dresses, they would be lovely to wear after the wedding as well!
---
6

4th of July Holiday Theme Wedding...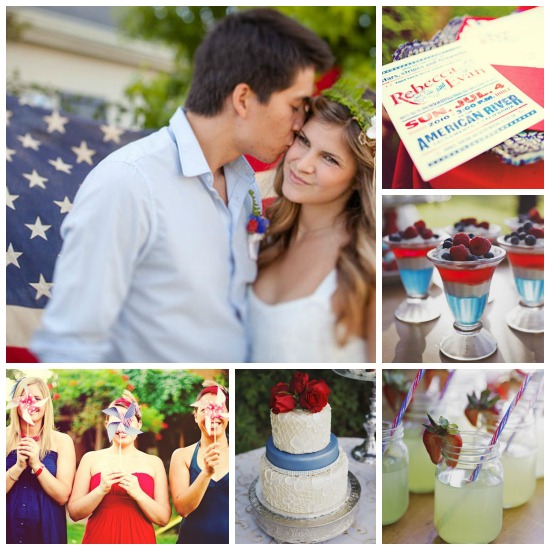 Photo Credit: (Center photo)Green Wedding Shoes, (all other photos) Style Me Pretty
Celebrate the Independence of America with a** holiday theme wedding** on the 4th of July with colors of red, white, and blue. I love the idea of bridesmaids in red and blue dresses and holding pinwheel bouquets as they walk down the aisle. Independence Day is a great holiday theme to plan a backyard or picnic wedding with matching food and decor like mason jar cocktails and jello parfaits!
7

Halloween Holiday Theme Wedding...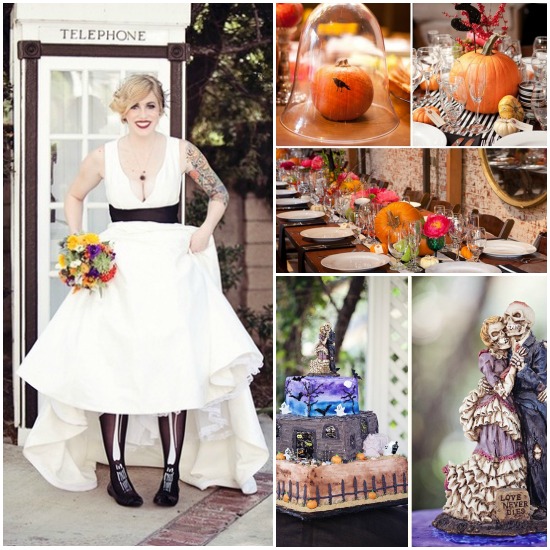 Photo Credit: (bride & cake) PaperMoonWeddings, (Pumpkin Decor) Green Wedding Shoes
How amazing and badass are the skeleton stockings the bride is wearing! She is the perfect bride for a Halloween holiday theme wedding, which is what she celebrated on her big day. Not only is she wearing a kickass dress and accessories, the spooky cake is hers too! You could go spooky chic or you could go more fall theme with pumpkins and other seasonal decor for your festive celebration, either way it will be a day to remember.
Theses are only just a handful of holiday themes for your wedding, there are plenty more that are celebrated from Hanukkah and Kwanzaa, to Easter and Passover. Whatever festive holiday traditions you celebrate with your family and friends, they can be easily turned into a holiday theme for your wedding. Celebrate love, laughter, and happily ever after! What holiday themes would you plan your wedding around?
---
Popular
Related
Recent