Traditionally, a wedding cake is topped with an elegant bride, dressed in white, standing beside her tux-clad groom, but for those of us looking to show our silly side, there are several quirky wedding cake toppers out there! Show your personality, highlight your hobbies and interests and elicit a giggle from your wedding guests when they see you have chosen one of these more quirky wedding cake toppers. They are a fun way to stray slightly from tradition and add a little touch of you!
1

Zombies Lovers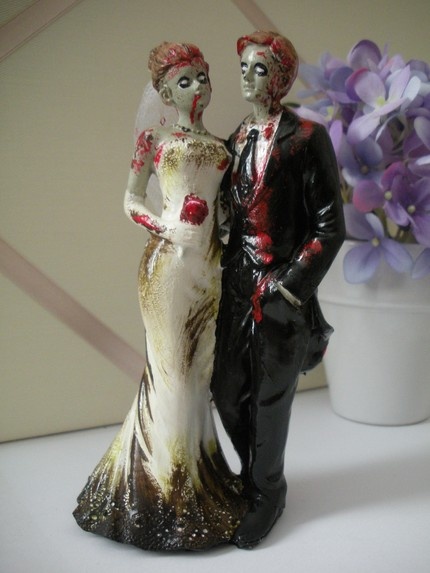 Quirky wedding cake toppers can be a great addition to a theme wedding. Halloween weddings are insanely fun and there are a number of different cake toppers to choose from. Zombies have been a pretty big trend in recent years, so there are several variations of zombie couples, posed mid-stagger, you can set atop your wedding cake. Even if you aren't having a themed wedding, feel free to show your love for zombie movies with this interesting cake topper!
2

Gamers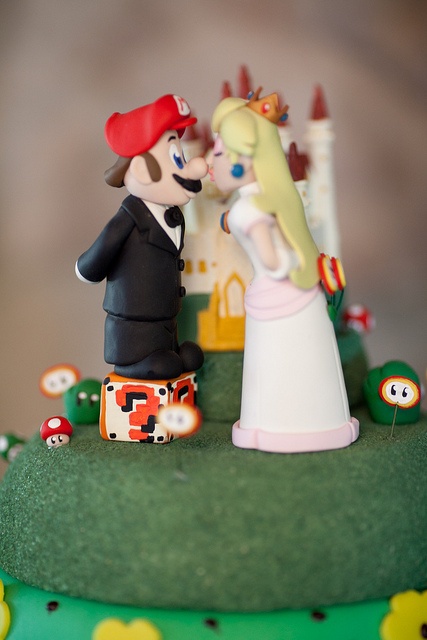 If you grew up playing Super Mario Bros, this is one of the quirky cake toppers I know you'll love! Mario and Princess Peach are an iconic couple, let them represent you on your wedding day, perched upon your cake for all to see. You can alternatively get Luigi and Princess Daisy. If you are a couple of gamers, there are several other video game couples available as toppers, I think these types of cake decorations are an entertaining way to show a mutual love of gaming at your celebration.
3

Sports Enthusiasts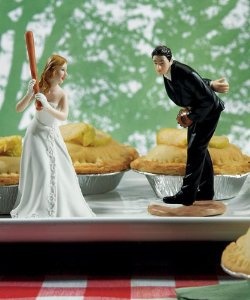 Do you and your partner LOVE sports? Show it, by having a sporty couple as a cake topper! If you search thoroughly, you are bound to find one with your sport of choice. I have seen several types of sport toppers; some have the bride and groom in their chic wedding attire, playing the chosen game, while others feature the pair in team jerseys. Either way it's a fun, light-hearted way to express a shared love of sports!
4

Happily Ever after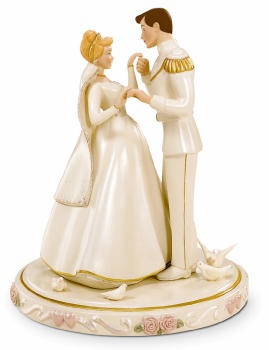 Every girl feels like a Disney princess on her wedding day. Dressed in a ball gown, with a glimmering tiara resting on your head, and your love story becoming a reality, how could you not feel like fairy tale royalty? Top your cake with an enchanted couple that represents how you feel on your magical day.
5

Tech Junkies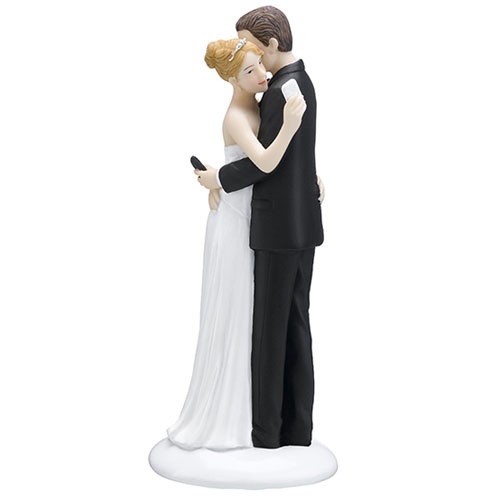 This one is obviously a little tongue-in-cheek. It is fairly common nowadays for "spending time together" to mean sitting in the same room, immersed in separate technological devices. I know my husband and I are fully guilty of this. We tend to spend hours "together" with me writing on my laptop and him gaming on his, with a movie playing in the background that neither of us are paying attention to. This is one funny way to show you are both avid tech junkies. It is sure to draw a good humored laugh from your crowd of guests.
6

Musically Inclined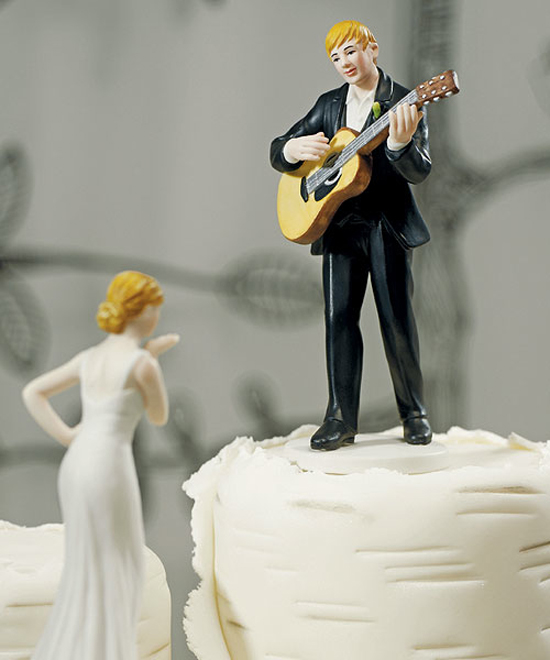 If one or both of you are musically inclined, choose a cake topper that illustrates your love of music with the pair playing their individual instruments or one serenading the other. Music, itself, is very romantic; it adds the perfect atmosphere to any setting. If you are lucky enough to possess musical talent, highlight it on your wedding cake for a personalized touch!
7

Star Wars Geeks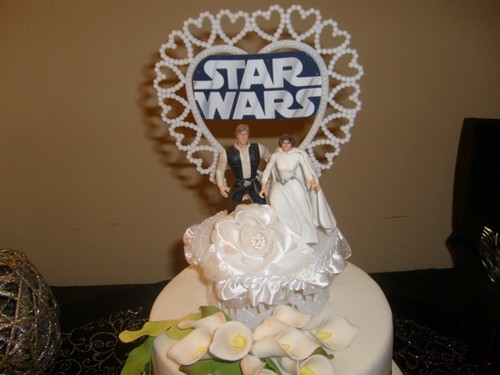 This is a photo of my wedding cake. I am actually not a fan of Star Wars, but my husband loves the movies. He let me have virtually everything I wanted when it came to our wedding, so I wanted to thank him by surprising him with something I knew he'd love. I managed to keep it a secret until our wedding day and when he saw it, his eyes lit up and he said doing that was better than any other present I could have given him. For Star Wars fans, this is a great cake topper. There are several variations of it, using different characters, with the same white lace heart as the backdrop, so you can display whichever characters hold the most meaning to you!
Whether you decide to adorn your cake with the quintessential graceful couple or take a more personalized approach, just remember, it should be a representation of you and your new spouse. Weddings are a time of fun and joy, so don't be afraid to express who you are. What quirky wedding cake toppers have caught your eye?