As same sex marriage becomes legalized in a growing number of states, same sex wedding toppers are becoming more widely available. There still isn't as wide of a variety as there should be, but they are getting a little easier to find. These same sex wedding cake toppers vary from classically elegant to perfectly personalized. Hopefully this list will help you find what you are looking for!
---
1

Classy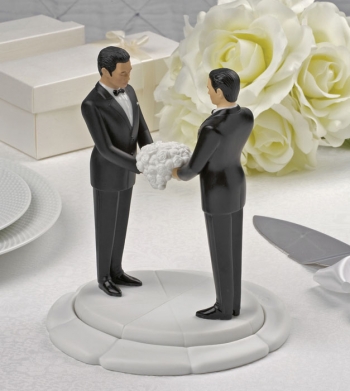 Available at: weddingcollectibles.com
This is easily one of the classiest same sex wedding toppers. The men are dressed in the classic black tuxedos, looking dapper and debonair. They hold between them a white bouquet and stand on a lovely decorative pedestal. You can order these two handsome men in any ethnicity, which allows you to completely personalize the look!
---
2

Romantic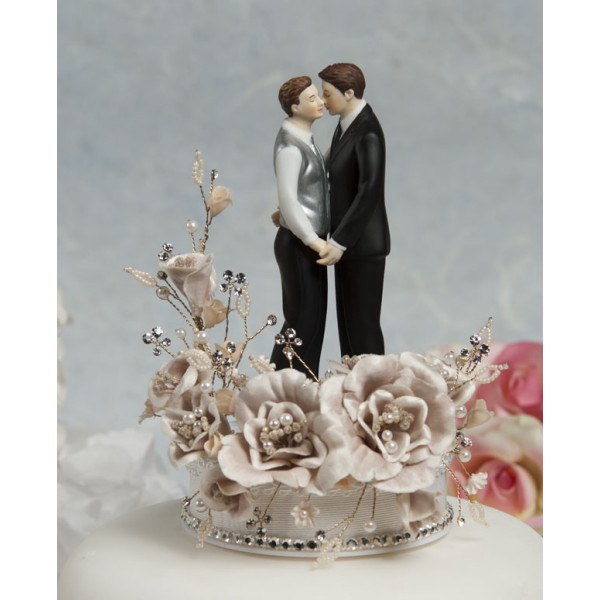 Available at: weddingcollectibles.com
This cake topper is incredibly romantic! These two men are posed in an embrace, holding hands, a moment before a sweet kiss. They are dressed to impress, but are wearing different outfits. The base is made of a lovely trail of flowers, the colors of which are customizable. Allow your cake to be topped with figures who express your love and affection for each other.
---
3

Simplicity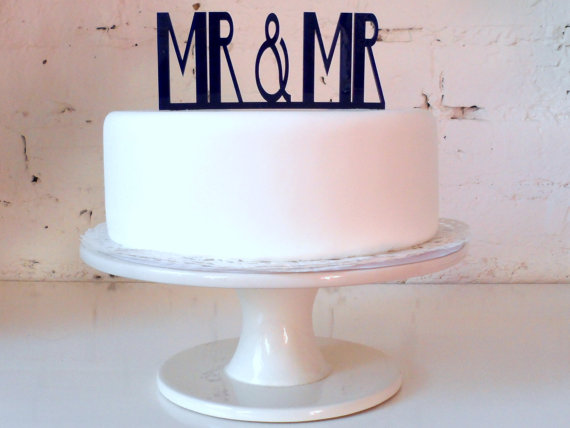 Available at: etsy.com
If you are looking for a simple, clean cut and attractive topper for your cake, look no further! This Mr. & Mr. laser cut acrylic decoration is available in several different colors and is perfect if you don't want to use the more commonly used figurines. Perhaps the best part about this unique cake topper is that it isn't specifically wedding oriented so you can use it as sentimental decor around your house after your special ceremony! Don't worry ladies, this wonderful Etsy shop features Mrs. & Mrs. as well!
---
4

Elegant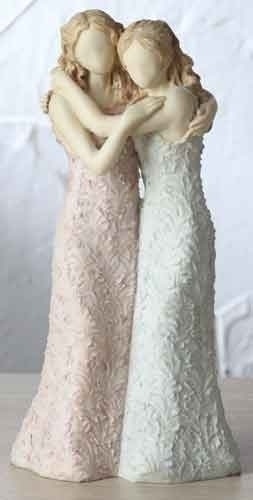 Available at: weddingcollectibles.com
I think this wedding cake topper is absolutely lovely. Both women are featured in gorgeous dresses with their arms wrapped tightly around each other. This is a beautiful way to symbolize your love on your wedding day. For those of you who may be Willow Tree Figurine collectors, there are a few "sisters" statues that could quite easily be used as a topper. Look around, be creative, and keep it fun!
---
5

Sweet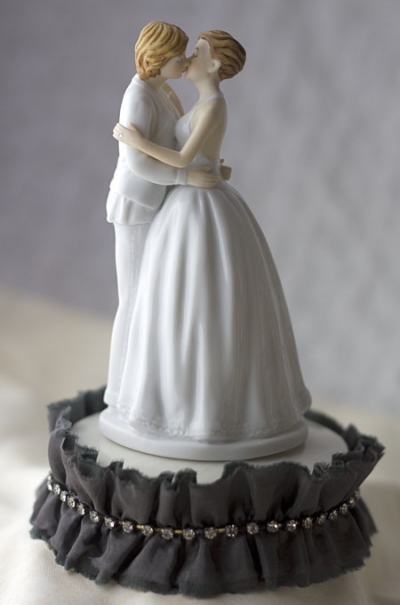 Available at: myweddingfavorsetc.com
This graceful couple is dressed all in white and perched upon a pedestal that is surrounded by softly colored silk with Swarovski rhinestone embellishments. They are posed sharing a sweet kiss. This twosome is available with the fabric in three hues as well as other bases which feature flowers and pearls.
---
6

Perfection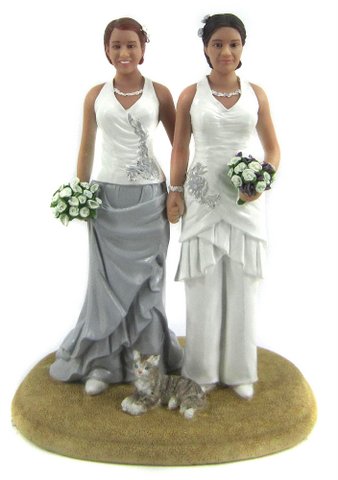 Available at: shop.gayweddings.com
This is perhaps the most expensive cake topper I have ever seen, but it is also the most detailed. You get to choose everything from details of the dresses, to hair color and style as well as eye color. You also get to pick the positioning of the brides as well as their height ratio. This costs a little more than $400, so I almost didn't even include it my list because that seems excessive, but after reviewing all of the incredible detail that goes into hand making each one, I figured I ought to put it on here. Spending some extra money to have your cake toppers look just like you seems pretty worth it for your once in a lifetime event!
---
7

Personalized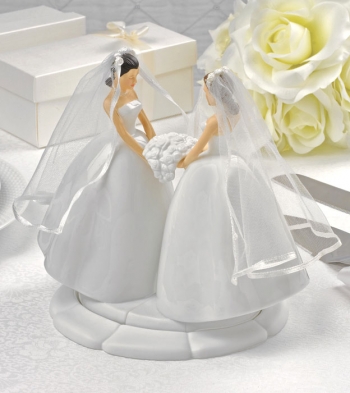 Available at: weddingcollectibles.com
Personally, I think this one is stunning. I highly recommend checking out Ty Wilson's Interchangeable Wedding cake figures. They have brides and grooms in every ethnicity on their own half-base. You connect two half-bases of your choice together and make the perfect pair that represents you and the love of your life! These are perfect for all types of relationships, same sex, straight, and interracial; regardless of sexual orientation or skin color you will be able to find exactly what you need!
Hopefully, as more and more people come to accept same sex marriage, the decor and accessories will be revamped and there will be an equal selection to choose from. My goal here was to help couples to find cake toppers that represent them without looking as if two brides or two grooms were taken from separate toppers and merely positioned next to each other. All of these same sex wedding toppers are constructed specifically for LGBT couples, so the pair was made for each other, just like you and your soon-to-be spouse! Do you have any other suggestions on where to shop for cake toppers?
More
Comments
Popular
Recent