What are your favorite crazy wedding ideas? If you're looking for something unusual or quirky about your big day, you've probably already looked into a whole variety of themes and schemes that will make your day stand out. Don't fret if you haven't found a big enough theme yet; check out these awesome, crazy wedding ideas instead!
---
1

Under the Sea…

Underwater weddings have gotten more popular recently, and it's no real surprise why. What's more unique than swapping vows and rings under the water? Like most crazy wedding ideas, this does take some planning. You'll need a special dress, if you want a wedding dress, or it may not be savable afterwards. You'll also need an experienced photographer who has waterproof equipment, and bridesmaids who won't mind getting wet!
---
2

On the Slopes…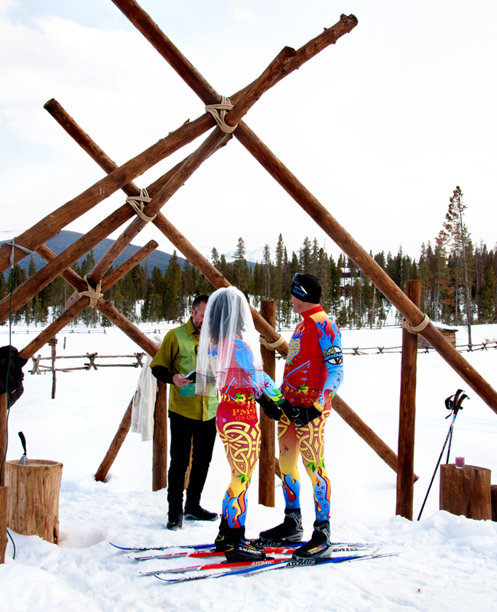 If you love skiing, how about exchanging vows on the slopes? Some ski resorts are legally allowed to marry people, and you can wed among some amazing scenery. You can even ski to and from your wedding! I love the snazzy matching ski suits here, and there are some great bridal-inspired ski outfits too…this looks like so much fun!
---
3

Up, up and Away…

Love being in the sky? How about tying the knot in a gorgeous hot air balloon? There is an amazing selection of balloons on offer, including some specially designed for weddings, and you can even pick a place to be married over. The only downside is the lack of space: most balloons can only hold a photographer and officiant, other than the couple, which means your guests will have to wait on the ground.
---
4

In the Forest…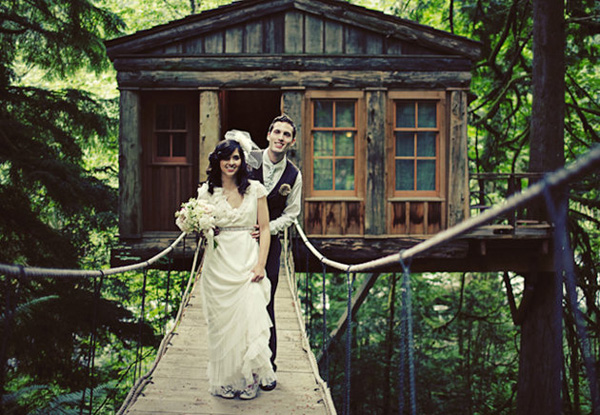 One of my favorite ever weddings took place in a beautiful tree house in Seattle. I mean, just look at that striking wooden house, and the beautiful footbridge! There's plenty of room for family and friends, and a forest themed wedding is unique and fun…I love this idea!
---
5

Underground…

Love the underground, or a massive Lord of the Rings fan? Yep, you guessed it – you can now get married in a cave. Ash Cave, located in the Hocking Hills, Ohio, is one such cave, and it's in the middle of a forest. Getting married there at sunrise has been hugely popular, and produces amazing pictures!
---
6

Somewhere Crazy…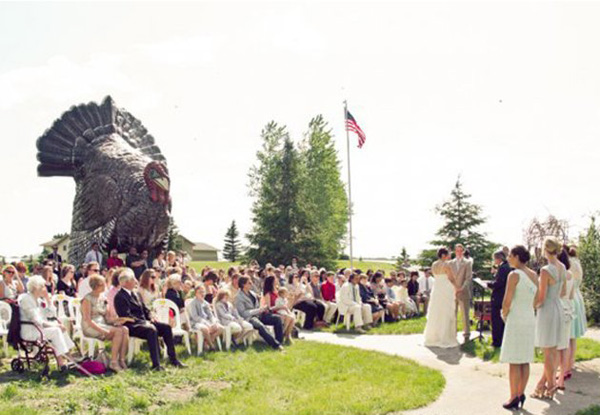 I love this wedding…the couple decided to tie the knot in front of the world's largest turkey statue, as a nod to the place that they first met. The guests lined up in front of the statue for the actual vows, before swapping into a beautiful gazebo for the reception, all watched over by that huge bird. It's a great way to add a touch of personality, and romantic history, into your day.
---
7

Zero Gravity…

Okay, so you can't yet get married in space, but this is still one of the most amazing crazy wedding ideas. Taking your vows on a zero gravity flight is sure to be memorable for everyone on board, and you can capture some amazing pictures…It's a great idea for an adventurous couple! Just make sure the wedding party and photographer have strong stomachs.

Other crazy wedding ideas have quickly become normal. The first couple to marry during a bungee jump seemed crazy a few years ago, but now thousands of couples have done the same thing, and it's much more normal. Hold onto your hats: zero G and waterproof wedding clothes may soon be the norm! Got a crazy wedding idea? I'd love to hear it!
More
---
Comments
Popular
Recent