I have a soft spot for all things feather themed; why you ask? Well it just so happens that my maiden name is, believe it or not, Feather! So I'm thrilled that feathers are becoming a big trend in all things wedding and I'm pretty sure that 2013 will be the year of the Feather Themed Wedding. Are you excited as I am, well then continue reading for 10 Clever Ideas for Your Feather Themed Wedding...
---
1

Feather Themed Wedding Dress...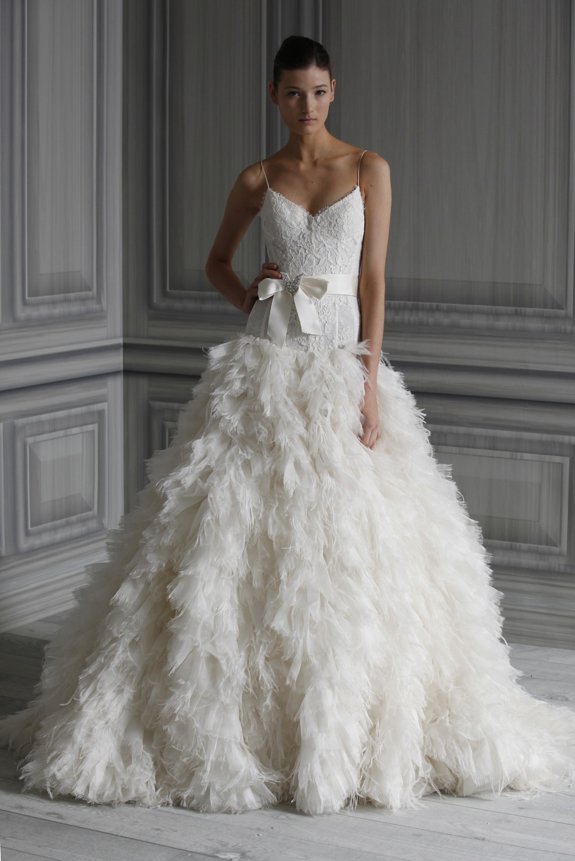 Photo Credit: One Wed
Is this not a show stopping gown! Monique Lhuillier is one of my favorite bridal designers, she knows how to mix sexy chic and sophistication into one look without going over the top on the sexy and adds the right amount of class without the dress looking too stuffy or boring. This is the perfect gown for a feather themed wedding with it's skirt full of what else...feathers! I love the bow on the lace bodice, it's that touch of class combined with a touch of sexy that I was referring to!
---
2

Feather Themed Wedding Invitation...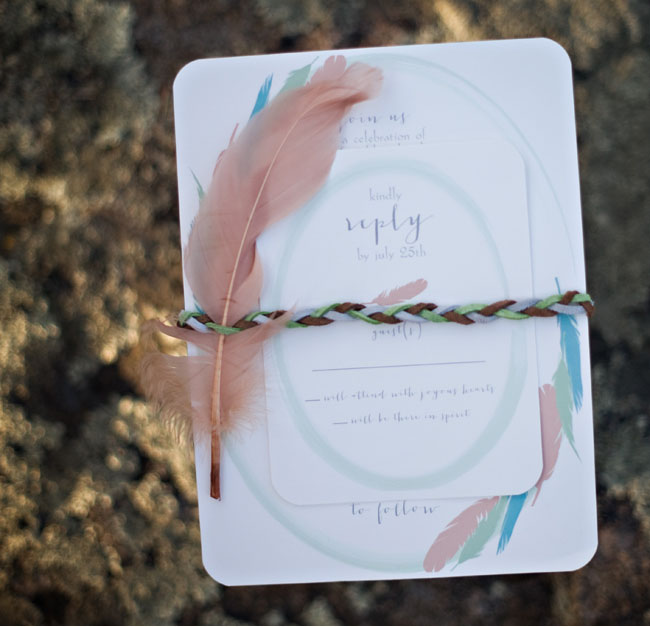 Photo Credit: Green Wedding Shoes
Feathers can inspire many styles and don't have to stand alone in a feather themed wedding. This beautiful feather invitation was created for a bohemian inspired wedding photo shoot full of wild flowers, grain, and feathers in the bouquet, a flowy dress and headpiece, and little tee-pees on the place settings. Feathers are a magical detail that can complete a relaxed bohemian theme or give an elegant ball room a whimsical touch. Add them to any theme when you are looking for that last minute, easy DIY project to help pull your look together.
---
3

Feather Themed Wedding Aisle...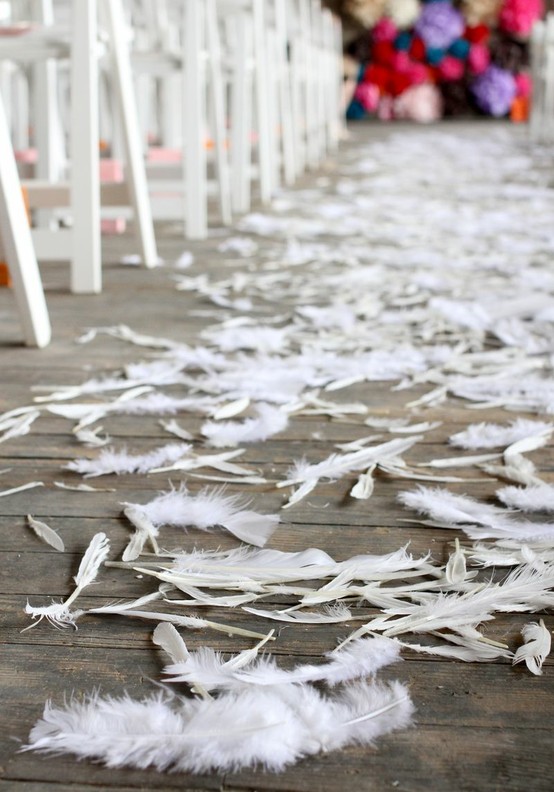 Photo Credit: A Beautiful Mess
This feather themed wedding idea would have been perfect for our big day! What I love even more than the white feathers sprinkled along the aisle is that when the flower girls came walking down they tossed colorful feathers on top of the white ones! Head on over to A Beautiful Mess blog to see the rest of this gorgeous wedding day, which was titled, "Birds of a Feather Flock Together"...love!
---
4

Feather Themed Wedding DIY Accessories...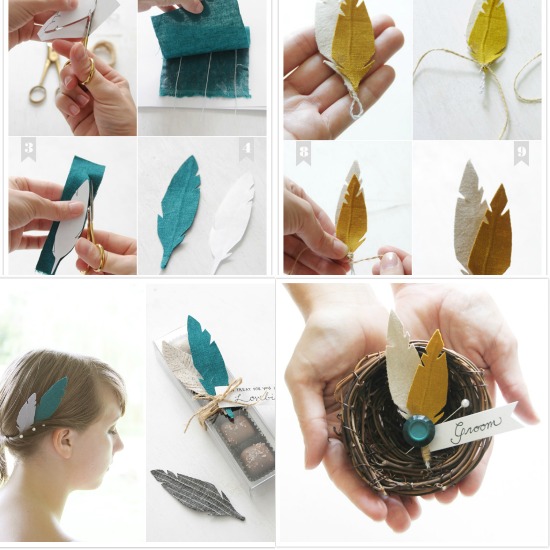 Photo Credit: 100 Layer Cake
When you are pretty good at DIY projects and have an idea for your feather wedding theme, go all out and make little details that will wow and impress your guests. Why buy feathers when you can make your own using just a few simple items. I love the idea of attaching these fabric feathers to your favors so guests can take them home and enjoy them in their own way.
---
5

Feather Themed Wedding Jewelry...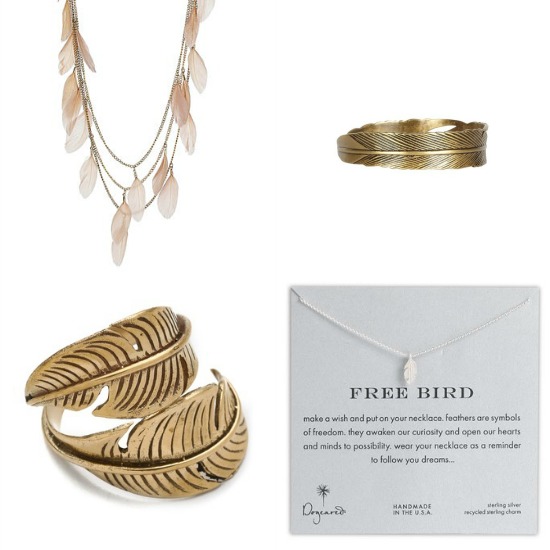 Photo Credit: (Top Left)Dorothy Perkins (Top Right) All Saints (Bottom Left) ShopBop (Bottom Right) Nordstorm
What's a** feather themed wedding** without feather themed accessories for the bride and her bridesmaids! Depending on your feather theme; whether it's boho chic, black tie elegance, or country rustic, search for the jewelry that will complement your look and ensemble. I love the adorable little "free bird" feather charm from Nordstorm and the gorgeous antique feather bracelet from All Saints, two pieces I would love to add to my collection!
---
6

Feather Theme Wedding Boutonniere...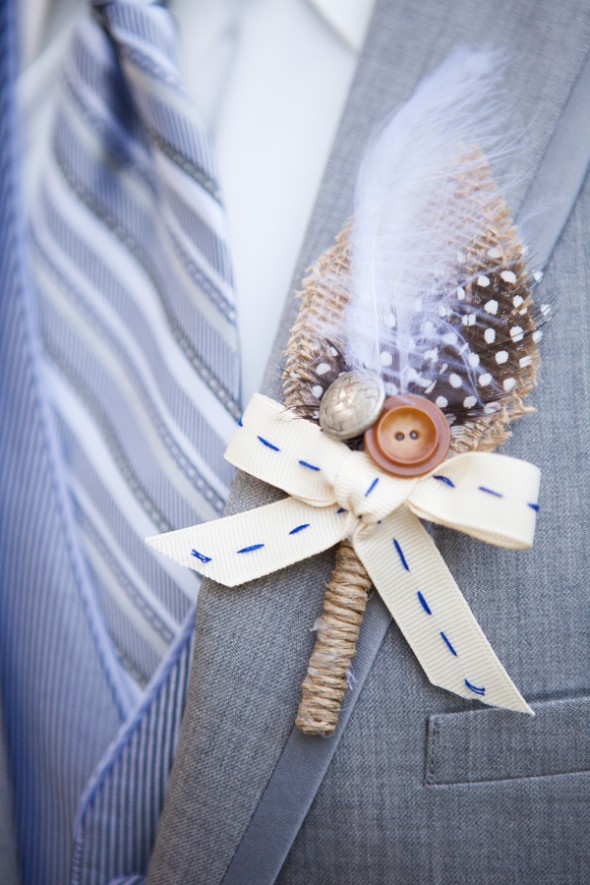 Photo Credit: Rustic Wedding Chic
I love the combination of textures and colors in this** feather themed wedding** boutonniere. Feathers come in all shapes, sizes, and colors; you can match them to your wedding colors and bridesmaids dresses, go for a peacock feather look, a white room feather theme, or combine them all together for a one of a kind style that is all your own. What color are the feathers in your big day?
---
7

Feather Themed Wedding Escort Cards...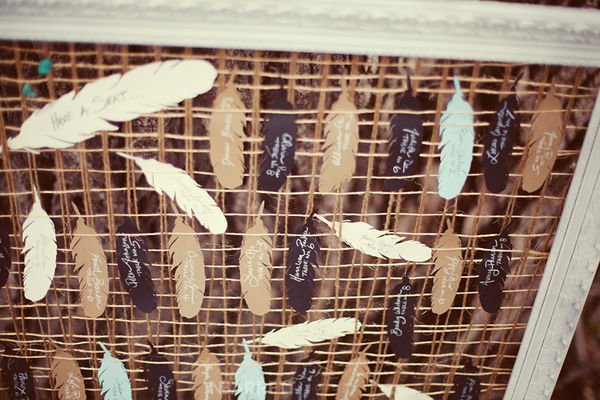 Photo Credit: Style Me Pretty
This is one of my favorite ideas for a feather themed wedding, just look at how adorable these escort cards are! Also, if you take the DIY idea from earlier and make these with fabric, your guests will have a lovely personalized feather to take home with them. Do you not want to make this for your home and write little quotes on them or something!
---
8

Feather Themed Wedding Reception...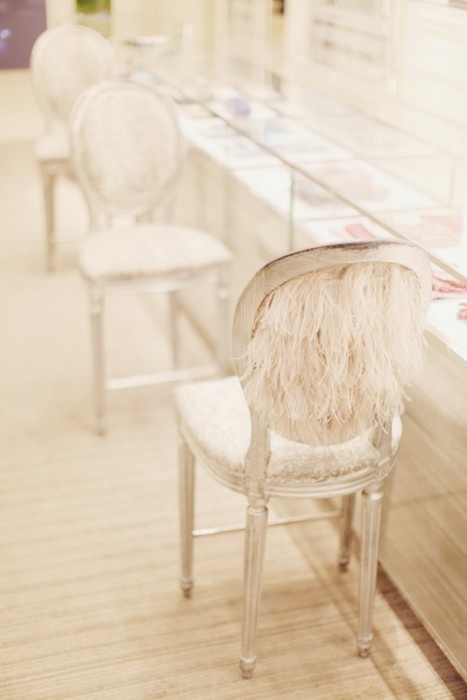 Photo Credit: The Glitter Guide Tumblr
With the Monique Lhuillier gown, feathers sprinkled along your ceremony aisle, and this chair for your reception tables, your** feather themed wedding** will be a stunning masterpiece from top to bottom. These chairs were seen at a Christian Dior store, but with the right amount of feathers, bridesmaids, and patience I'm sure this look could be replicated for your big day.
---
9

Feather Themed Wedding DIY Napkin...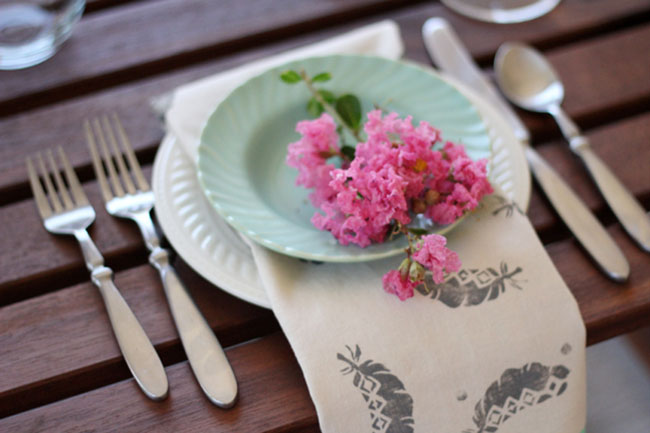 Photo Credit: Green Wedding Shoes
Another DIY for your feather themed wedding that I have fallen in love with! This DIY features a hand carved stamp that will turn a plain fabric napkin into a chic feather print that is fitting for your theme. If you aren't sure about carving your own feather stamp, I'm sure you can find one at craft stores like Hobby Lobby, Michaels, or A.C. Moore.
---
10

Feather Themed Wedding Farewell...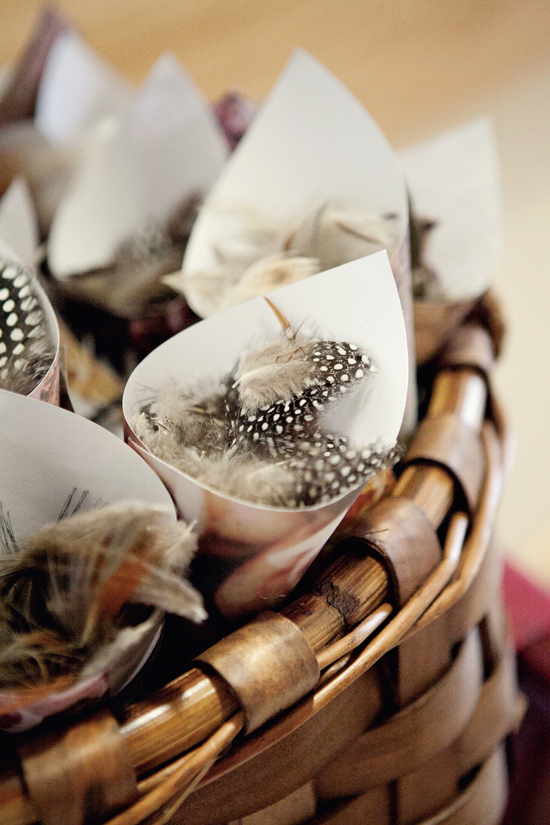 Photo Credit: Weddingbells
Complete your** feather themed wedding** with a feather farewell at the end of your big day! I wish there was a photo of the guests throwing these gorgeous feathers as the bride and groom ran off together, how magical that must have looked.
As with any theme, you can go all out and detail your feather themed wedding day from start to finish with these fluffy accessories. Or you can give little hints and combine your feather themed wedding with other details like woodland animals or rustic chic details for a farm wedding. What items on my feather themed wedding list are your favorite?
More
---
Comments
Popular
Recent