Chevron print has become the hottest trend of 2012 in fashion and in weddings. A chevron themed wedding can be simple with hinted details or it can be outrageous and wild with head to toe, ceiling to floor zig-zag print. It's a chic style that can flow with any theme or color palette. Don't let prints scare you, check out these 7 Chic Ideas for a Chevron Themed Wedding and embrace the trend...
---
1

Chevron Themed Wedding Invitation...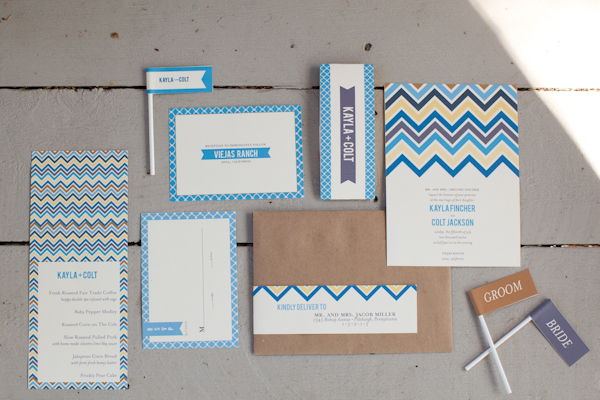 Photo Credit: Wedding Chicks
If you are really inspired by this print for your** chevron themed wedding**, go all out with a chevron print invitation suite. Put this fun zig-zag print on your invitations, your reply cards, envelopes, and even on your menus! What I love about chevron print is how you can match them to your wedding colors and combine them with contrasting colors for a bold look.
---
2

Chevron Themed Wedding Attire...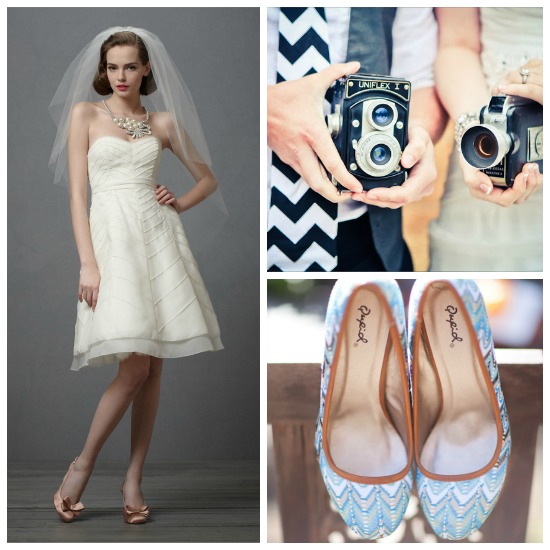 Photo Credit: (left) BHLDN, (top right) Frosted Petticoat Blog, (bottom right) Wedding Chicks
Who knew there was a wedding dress with a chevron print on it, along with shoes and a tie for your groom! I'm in love with these shoes, they look like they sparkle too. I love the idea of a matching bride and groom for a chevron themed wedding, it doesn't get any cuter than that!
3

Chevron Themed Wedding Ceremony...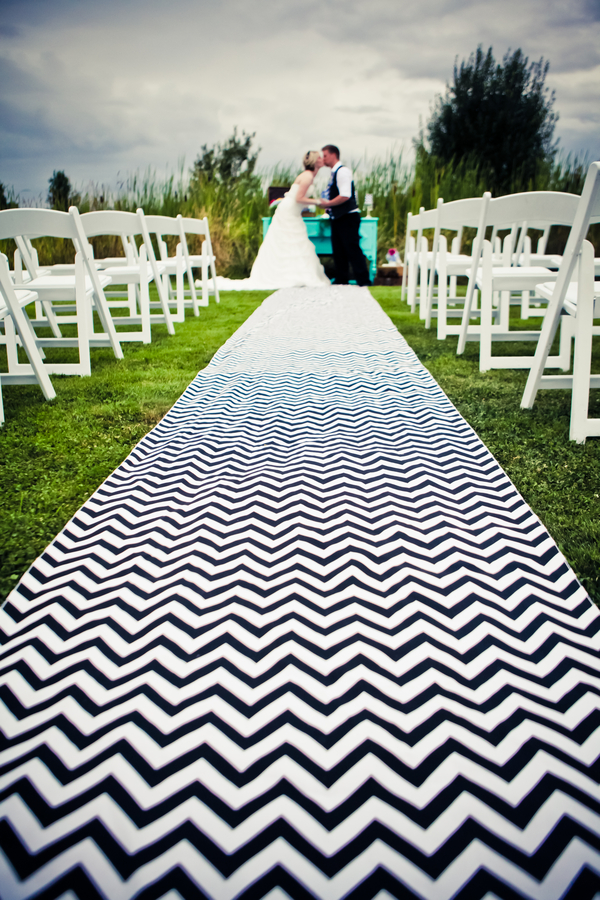 Photo Credit: Frosted Petticoat Blog
I'm pretty sure you can find any detail you are looking for in chevron print for your big day, from dresses and ties to shoes and aisle runners! You may not be this crazy for a** chevron themed wedding**, but throughout my list you will find inspiration for a few things to use so you can dazzle your wedding with this zig-zag print.
---
4

Chevron Themed Wedding Bouquet...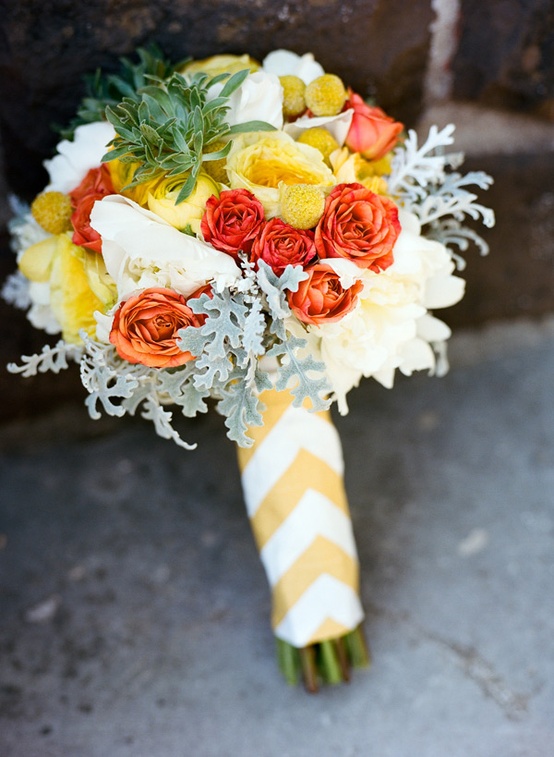 Photo Credit: I Love SW Mag
I love the idea of tying in your bouquet to your chevron themed wedding with a printed fabric sleeve to cover the stems. You can also tie in the colors of the chevron print to match a bright color in your bouquet. Do you think a chevron printed dress, aisle runner, and bouquet would be too much of a good thing?!
---
5

Chevron Themed Wedding Reception...
Photo Credit: (Left) Clayton Austin(Top Right) My Sweet and Saucy (Bottom Right) ElizabethAnneDesigns
If you are a fan of this print but don't want an overall chevron themed wedding, think about simple details like a table runner for your reception. How much do you love the sparkling chevron table runner, who said this print couldn't be expensive looking! Again, love that chevron print comes in so many colors to match perfectly with your wedding day.
---
6

Chevron Themed Wedding Food...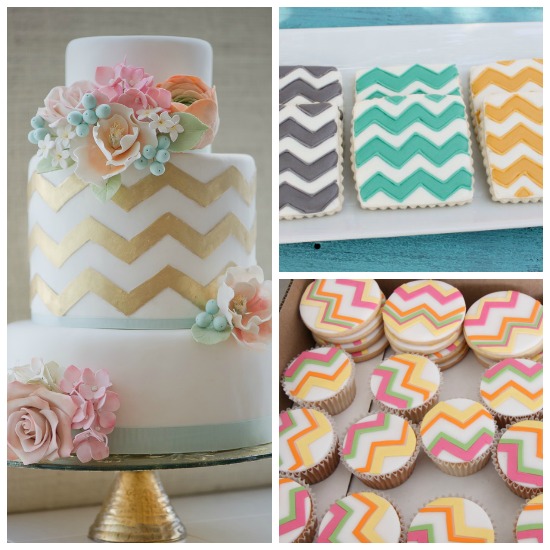 Photo Credit: Erica O' Brien Cake Design, (top right)Sweet Sugarbelle, (bottom right)Amy Atlas
Yep, chevron printed food! How stunning is this cake, I just want to stare at it all day long! The soft colors of the flowers with the pop of gold chevron lines is a beautiful combination that will amaze your guests and complement your chevron themed wedding. Stop on bySweet Sugarbelle to learn how to make your own chevron print cookies; wouldn't they be a sweet favor to send your family and friends home with.
---
7

Chevron Themed Wedding Favor...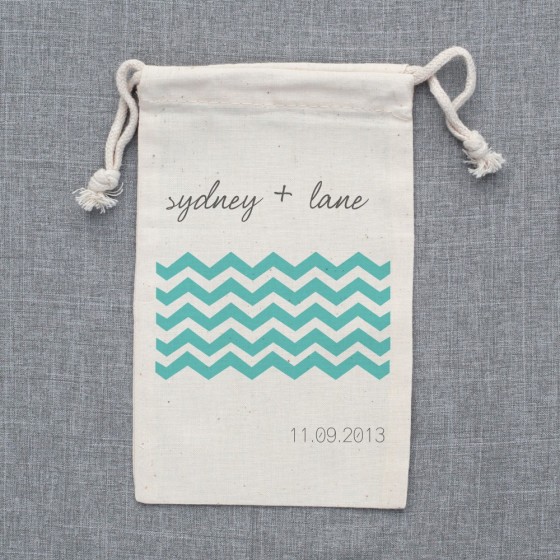 Photo Credit: Wedding Chicks
Speaking of chevron wedding favors, how adorable is this chevron print favor bag from the Wedding Chicks shop! I would love to have a cute, little bag like this with our names and wedding date on it as well as a print that matched our wedding theme. Your guests will love the idea of being able to eat the cookie inside and then getting to take home this chevron memento to use again!
Are you obsessed with this print, then perhaps a** chevron themed wedding** is just your style! A chevron themed wedding can work for many styles, whether it's a garden wedding in the park, an upscale hotel reception, or a country chic farm wedding. What details are your favorite, would you plan a chevron theme wedding or just have a few items here and there?
---
Comments
Popular
Related
Recent