Within the last few years chalkboard paint has become a trend in everything from home and office decor to weddings and events. Since you may have seen repetitive chalkboard ideas, I wanted to make certain that these ideas for your wedding were fresh and inspiring. I bet these 8 Fun Chalkboard Wedding Ideas will be new to you and your guests...
---
1

Chalkboard Wedding Invitation...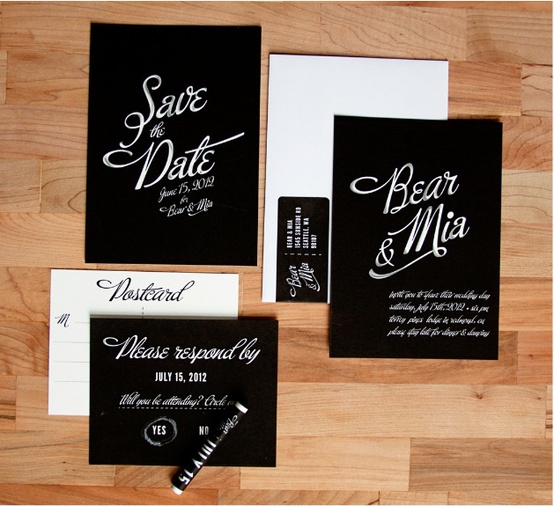 Photo Credit: Ello There
Source: This Charming Wedding
It may not actually be a "**chalkboard**" invitation so much as it is chalkboard paint inspired. However, there is a little piece of personalized chalk you can include to send to your guests so they can circle "yes" for their reply! How amazing are the chalkboard like details in the font, there is even a save the date and matching address labels you can order to compliment your unique invitation suite.
---
2

Chalkboard Wedding Aisle Runner...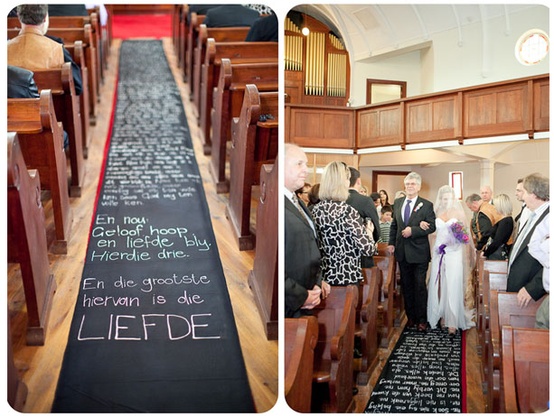 Photo Credit: Lizelle Lotter
Source: Bridal Musings
Speaking of new chalkboard ideas, how amazing is this stunning wedding aisle! Who knew there were so many creative ideas out there for making things look like they are chalkboard paint without actually using it! This beautiful bride used black fabric and white material paint to write 1 Corinthians 13 in Afrikaans dialect to get the effect and look of a chalkboard.
---
3

Chalkboard Wedding Altar...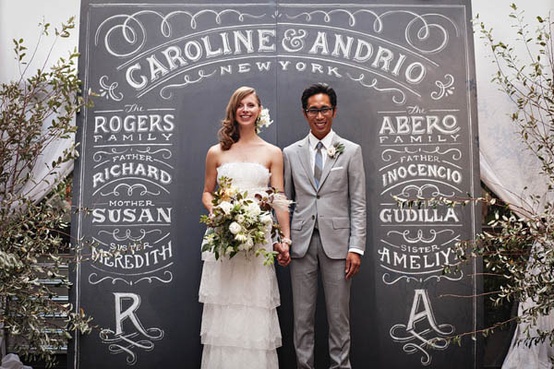 Photo Credit: Photo JJ
Source: Style Me Pretty
Okay so you may have seen this idea floating around once or twice on pinterest, but I just couldn't leave out this remarkable wedding **chalkboard idea. **This gorgeous ceremony backdrop is one of my all time favorite chalkboard paint ideas, and it wasn't until today when I really looked closely at the calligraphy that I realized how both families were being honored on each side of the chalkboard! The chalk artist, Dana Tanamachi, is a friend of the couple and was featured on O magazine!
---
4

Chalkboard Wedding Table Number...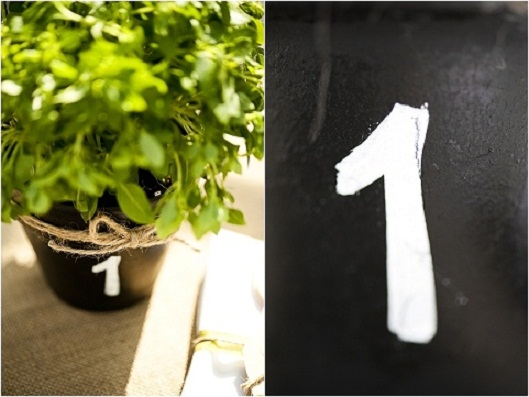 Photo Credit: B.Loved Weddings
So simple, yet so rustic chic! This lovely chalkboard idea can double as your table number and centerpiece for your rustic or garden theme wedding and perhaps you can even send your guests home with these for your wedding favors. Did you know there was such a thing called a chalkboard pen, you can use it to get a cleaner effect instead of using a piece of chalk.
---
5

Chalkboard Wedding Placemat...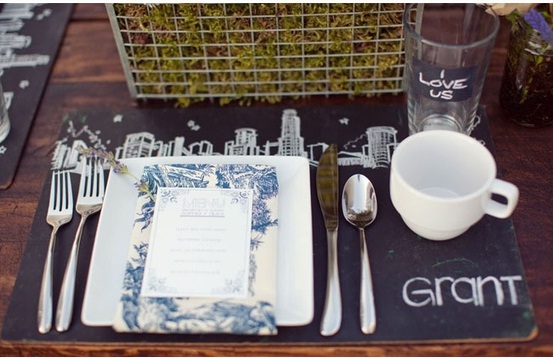 Photo Credit: Birds of a Feather Photo
Source: Green Wedding Shoes
What a great idea to use chalkboard paint on your wedding placemats. You can either send your guests home with them, as it does have their names on it, or you can ask them to write little messages of love and advice and read them as you are sitting at home the day after. I know how much the little kids at your wedding will love this chalkboard idea, no need to bring games for them, just a piece of chalk!
---
6

Chalkboard Wedding Dessert Table...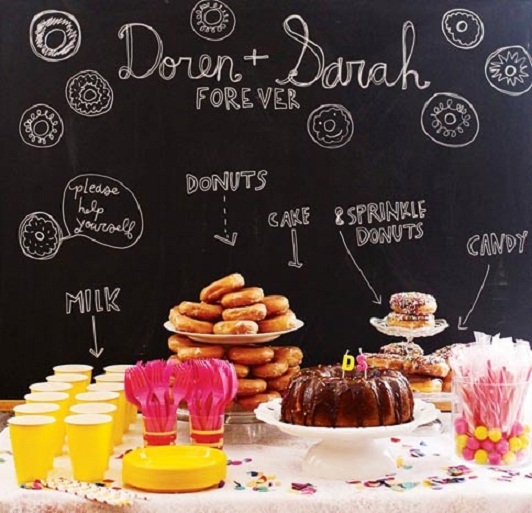 Photo Credit: A Beautiful Mess
Source: Oh Lovely Day
As if your dessert table full of donuts, cakes, and other sweets couldn't get any cuter, now you can add an adorable chalkboard backdrop to draw little signs and funny food pictures! I recommend using a big piece of wood to do this and not the wall in your venue, unless you own the venue that is! You can also invite your guests to have fun with this chalkboard idea and draw or write on the backdrop as well and after the sweets are done you can move the table and use the backdrop for a photo booth!
7

Chalkboard Wedding Cupcake Topper...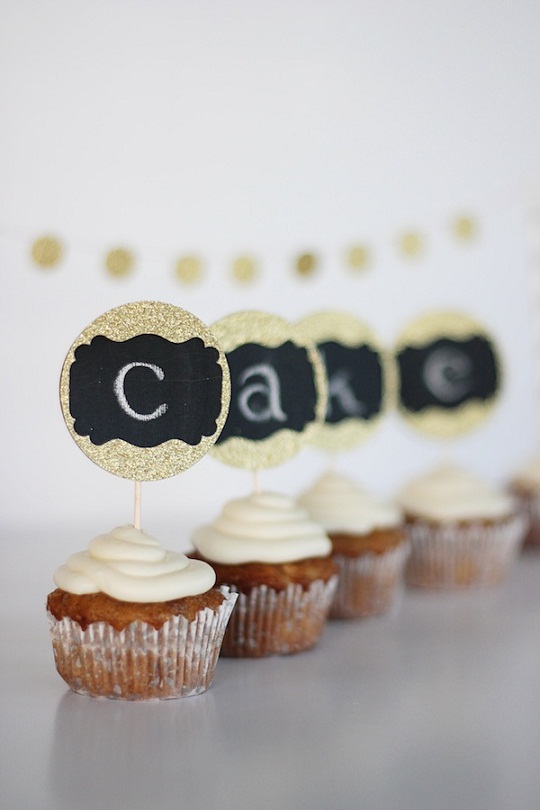 Photo Credit: Two Delighted
So not only do you get to make your cupcakes look even more charming with this chalkboard idea, but you get to enjoy a tasty treat after your guests have seen your DIY craftiness! What I love about using chalkboard paint and creating new ideas with it, is that most of them can be created in a few simple steps. Check out Two Delightedfor this wonderful DIY chalkboard sign and for the recipe of these sweet little cupcakes.
---
8

Chalkboard Wedding Favor...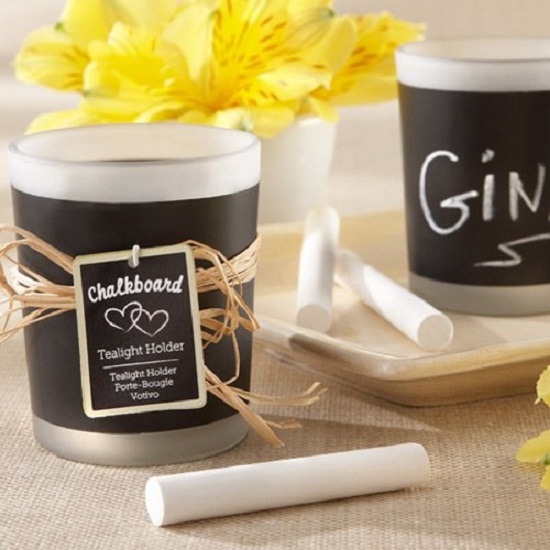 Photo Credit: Beau-Coup
Why not let your guests have some chalkboard paint fun too when you send them home with these sweet little chalkboard tealight wedding favors. You can also write their names and table numbers on them to use as your escort cards, how simple is that chalkboard idea for your big day!
Chalkboard ideas don't have to get complicated or overwhelming, as you can see from my list all of these chalkboard ideas are simple yet chic. You can make a big statement with your chalkboard ideas when you use it as your ceremony backdrop or as the placemats on the reception tables. Chalkboard ideas are meant to be fun and creative like a dessert table backdrop with cute drawings or a little DIY sign for your cupcakes. But they can also be meaningful when you use them as your aisle runner with loving words written on it. Have you used chalkboard ideas for your wedding, are you thinking about using them and like one of these ideas?
---
Comments
Popular
Related
Recent