October is hot for baseball, fans are on the edge of their seats cheering on their favorite teams in Postseason waiting to see if they make it to the World Series. If you are a baseball fanatic and engaged, you might be thinking about how to throw a baseball theme wedding. Whether it's on an actual baseball field or you are just looking for baseball details, we have** 8 Ways to Plan a Baseball Theme Wedding** for you to consider...
---
1

Baseball Theme Wedding save the Date...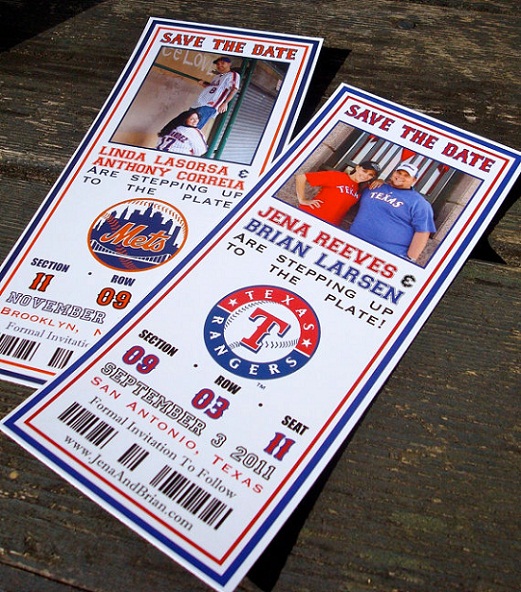 Photo Credit: Fresh Paper Studios
I love the idea of sending a Save the Date that looks like an actual ticket to a baseball game. These save the dates are a great way to show love for your team and to give your guests a little detail about your baseball theme wedding. Can you imagine your grandma getting these in the mail, I bet she will call you up asking how you got your face on a baseball game ticket! Save the dates like these will also make a great memento for you and your guests to remember your big day by.
---
2

Baseball Theme Wedding Ceremony...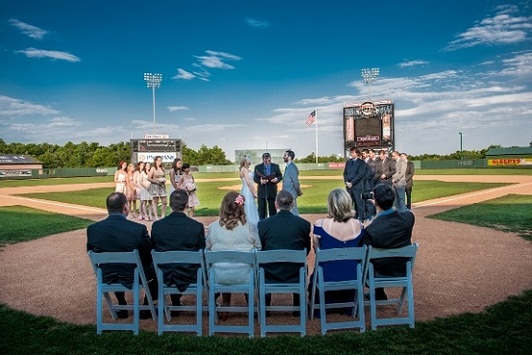 Photo Credit: Barnyard Photographyvia Capitol Romance
How cool would it be to get married on a baseball diamond! This kickass baseball theme wedding ceremony took place at Ripken Stadium, where the minor league Aberdeen IronBirds play. If you are looking for a baseball stadium venue to have your ceremony and reception at, consider a minor league or small town field where the cost will be a lot less than if you held it at a major league field like Yankee Stadium.
Trendinig Stories
More Stories ...
3

Baseball Theme Wedding Cake Topper...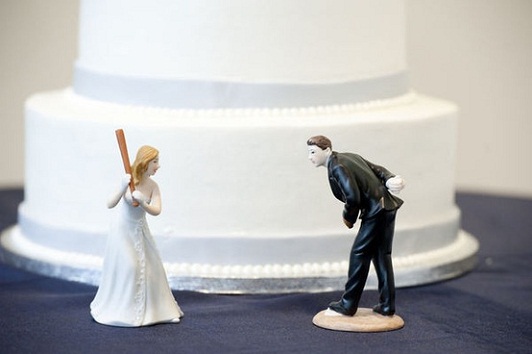 Photo Credit: Meghann Gregory Photographyvia Style Me Pretty
How much fun is this baseball theme wedding cake topper! This is the perfect way to top off your theme and a great way to match your baseball groom's cake. Your groom may be a bit more of a baseball fanatic than you are, but why not get a cake topper that will melt his heart and make your guests smile. If you are just looking for a few baseball decor details and don't want to go overboard with the theme, this would be a great way to do so.
---
4

Baseball Theme Groom's Cake...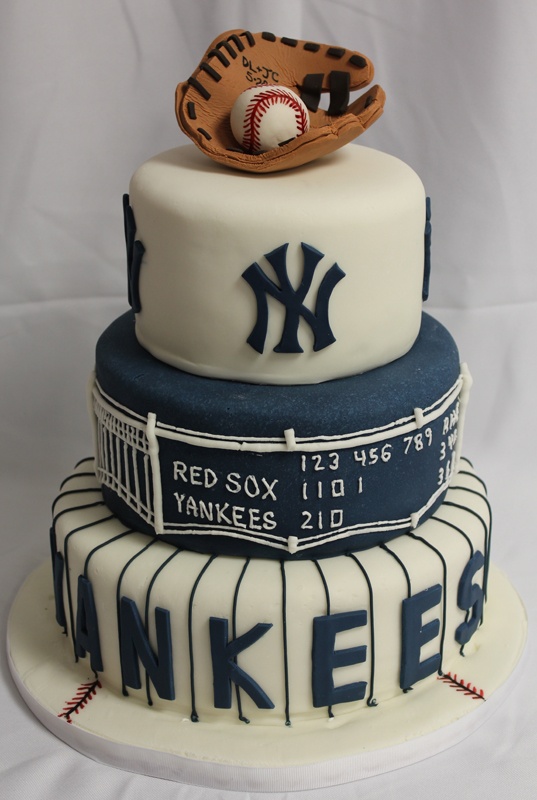 Photo Credit: Oakleaf Cakes
Speaking of Groom's cake, is this not an amazing baseball theme wedding cake! This Yankees cake would be a wonderful surprise for your groom or even for your bride if she is the one who loves them more, I know one lady in particular who would love this cake! We love football more than baseball in my house, so on our wedding day I surprised my husband with a Steelers groom cake and he was speechless, so if you are thinking about it for your partner-to-be, don't hesitate just go for it!
---
5

Baseball Theme Wedding Cuff Links...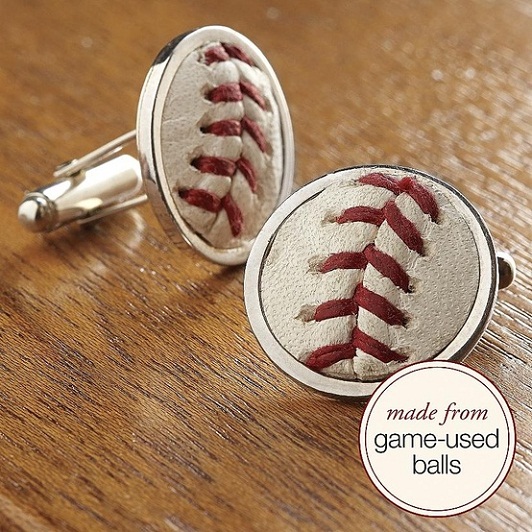 Photo Credit: RedEnvelope
Yes you read that right, these baseball cuff links are made from actual game-used balls! Each baseball cuff link looks similar, but on the back there is a stamp for the team that the ball came from, so if you are a Boston Red Sox or a Phillies fan you can order your team's ball for your cuff links. This is a one of a kind gift for your baseball loving hubby-to-be and one that all of your guests will be amazed by. Forget the groom's cake for your **baseball theme wedding, **surprise him with these instead!
---
6

Baseball Theme Wedding Guestbook...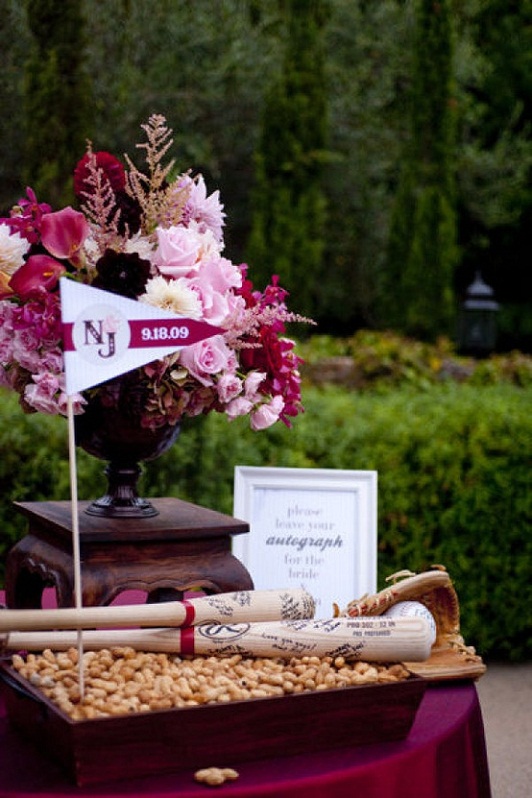 Photo Credit: Schnack Studiosvia Style Me Pretty
I love finding unique guestbook ideas like this one, no one wants a guestbook that's just going to sit there and collect dust over the years because no one looks at it. These will be a big hit (no pun intended!) at your baseball theme wedding and will have guests begging to sign your baseball bat guestbook instead of forgetting about it like most guestbooks. It will also look pretty badass hanging up in your house underneath your wedding photos.
---
7

Baseball Theme Wedding Escort Cards...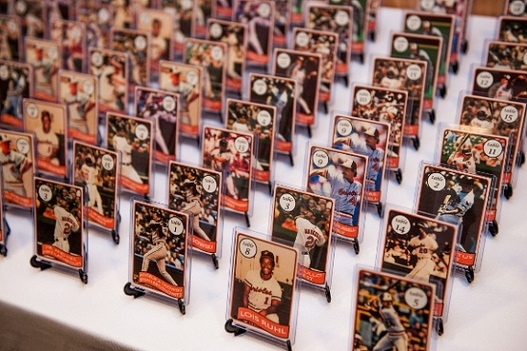 Photo Credit: Barnyard Photographyvia Capitol Romance
Not only do these vintage baseball cards serve as escort cards, but they also double as a personalized wedding favor for your guests! What I love most about these escort cards is that the groom DIY'ed them himself for his baseball theme wedding, how adorable is that! You could even go a step further, and perhaps he did this too, and call your guests to see who their all-time favorite baseball player is. Is this not one of the coolest escort card ideas you've seen?
---
8

Baseball Theme Wedding Photo Booth...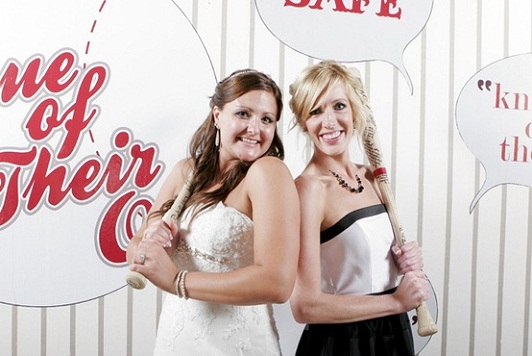 Photo Credit: Schnack Studiosvia Style Me Pretty
End your baseball theme wedding day with a creative and fun photo booth backdrop that reads, "Play Ball", "Safe", and "Knock it Outta the Park", and provide your guests with baseball props to get into character with. Make it a theme they will remember and one that really brings your love of baseball to life. Go big or go home!
A baseball theme wedding is one to have fun with whether you go all out or just give nod to your favorite sport with little details here and there. If you're thinking about planning a baseball theme wedding, but are a little worried about what your guests might say or maybe it's just your mother's opinion you're worried about...well don't worry, it's your big day and it should be the way you and your groom dreamed it would be. Be the tomboy you've always been and show everyone how chic, yet playful a baseball theme wedding can be!
---
Comments
Popular
Related
Recent