Who doesn't love cake, right? However, today I have something other than wedding cake for you, I have interesting tasty treats that I think you will love just has much! If you are looking for something fun, quirky, and unique for your sweets table that will catch everyone's eye think outside the box when it's time to pick a wedding cake. Take a look at these 7 Interesting Non-Cake Wedding Cake Ideas and tell us which one you love the most...
---
1

Rice Krispie Treat Wedding Cake...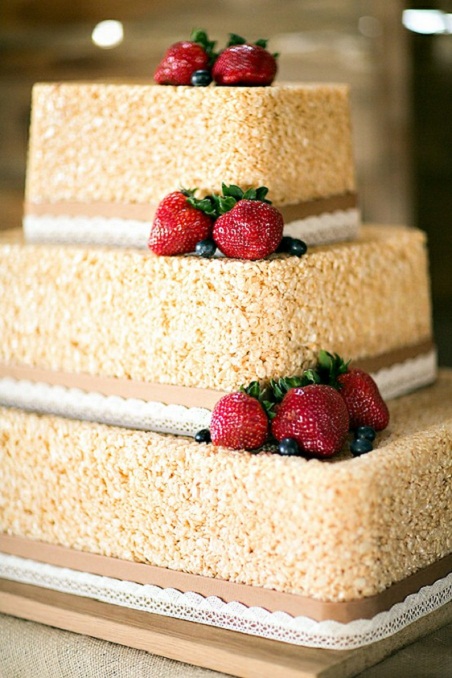 Photo Credit: Kina Wicksvia Ruffled Blog
Rice Krispies bring back memories of baking in the kitchen with my mom and sisters and laughing about getting so sticky with all of the marshmallow. Why not bring those fun childhood moments into your wedding day and surprise your guests with a three tier rice krispie mold that looks just like a cake! If you have little guests at your wedding this non-cake wedding cake will be one they will want to take home with them!
2

Welsh Cakes...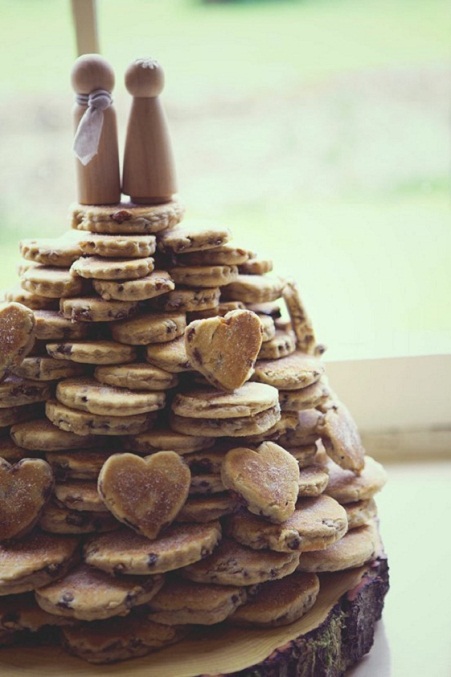 Photo Credit: Devlin Photos via Chic Vintage Brides
How adorable is this heart tower of welsh cakes and cake topper! Welsh cakes are very popular, well with those of Welsh heritage, and are often enjoyed during tea time. They are similar to a scone, but instead of being baked in the oven they are made on an iron griddle. If you are looking for a unique non-cake wedding cake idea try this recipeat home first to see if you love them enough to create a heart tower just like this one.
---
3

Homemade Pie...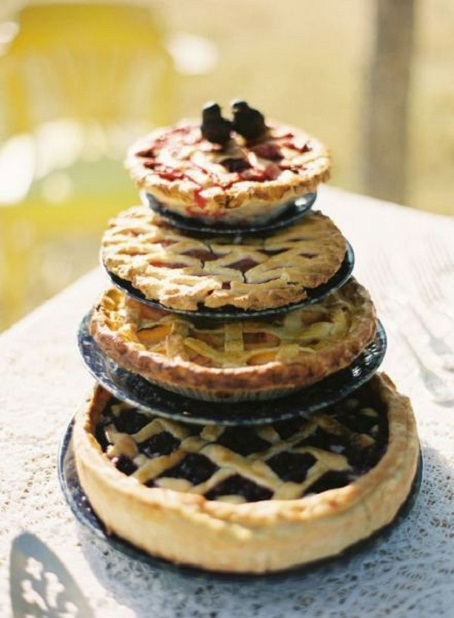 Photo Credit: Jose Villavia Style Me Pretty
Who doesn't love grandma's homemade pie! This is a wonderful non-cake wedding cake idea for rustic, country, and backyard weddings. Your homemade pie will fit in perfectly among your DIY mason jar centerpieces, cowgirl boots, and haystacks. Pie gives you a down home, comforting feeling that makes your soul feel good, so don't stop at just having pie for your big day dessert, send your guests home with somepie popsthat will keep that warm feeling going all night long.
---
4

Macaron Tower...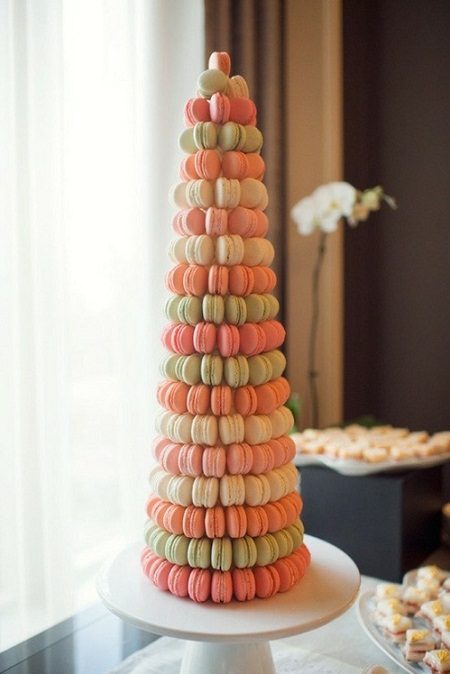 Photo Credit: Julia Franzosa Photography via Style Me Pretty
If you have fallen in love with this delightful french sweet treat just as much as I have, than this non-cake wedding cake tower of macarons is perfect for your wedding day. This one is actually on the sweets table at bridal shower, but who says you can't have it as your non-cake wedding cake too! What I love about this idea is how you can incorporate the colors of the macarons to match the colors of your big day!
---
5

Donut Stand...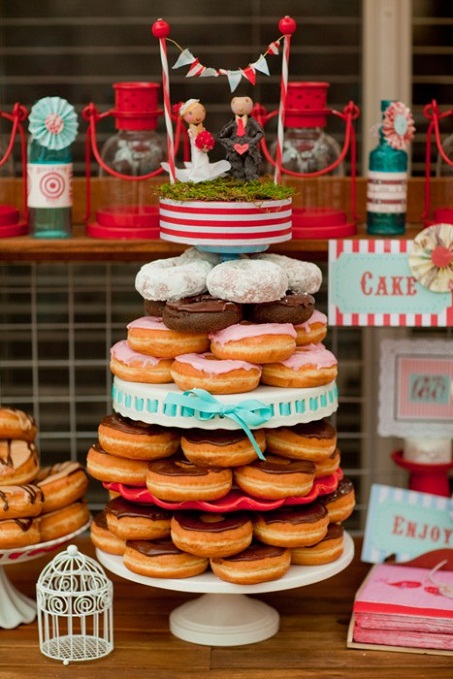 Photo Credit: Elyse Hall Photography via Style Me Pretty
Donuts have become very popular at night time weddings for a midnight snack among other goodies. But why wait until midnight if you are a donut foodie; pile them on a cake stand like this one for a quirky non-cake wedding cake that everyone will be craving. Don't forget the coffee!
---
6

Cake Pop Stand...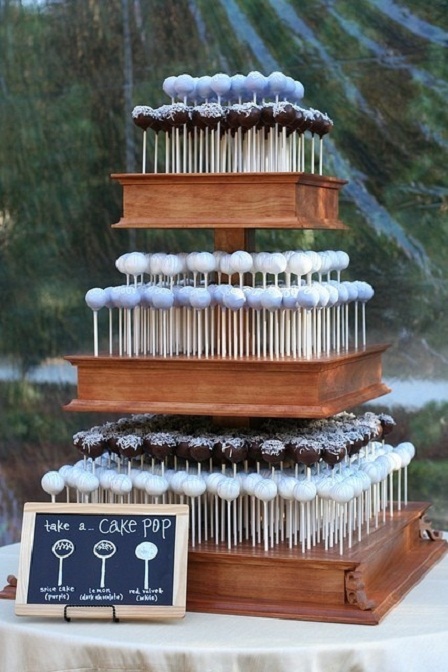 Photo Credit: Sweet Lauren Cakesvia Chic Vintage Brides
Who needs an entire cake when you can have cake pops! This trend has been seen at weddings, bridal and baby showers, and even at celebrity parties. Cake pops make it easy to take your cake and go, you could even grab one of these fun sticks and head to the dance floor! I love seeing how creative vendors get when putting together stands for non-cake wedding cake, how amazing is this cake pop stand!
---
7

Croquembouche...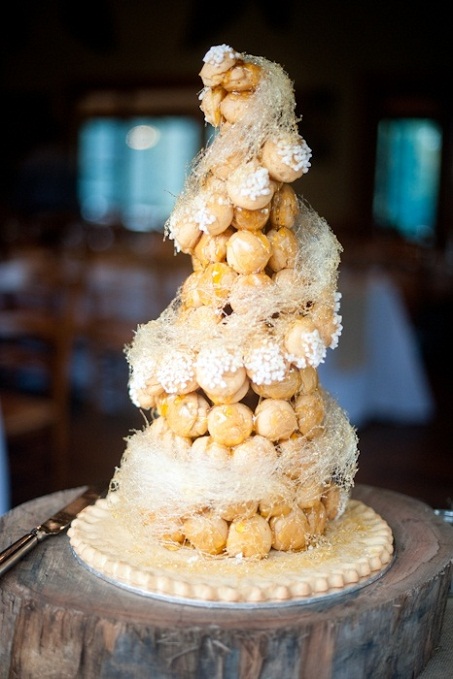 Photo Credit: Tealily Photography via Ruffled Blog
Croquembouche, just like the macaron, is a french dessert that is trending in the states. It's basically a tower of cream puffs drizzled with caramel or spun sugar, and can be decorated with almonds, fondant cut-outs, or even chocolate. This beautiful treat is a creative idea for a non-cake wedding cake and would look very festive for a Christmas or a winter holiday themed wedding.
Whether you want to replace your wedding cake with these non-cake alternatives or you want to add them along side of it, remember to be quirky and make everyone remember your wedding for all of the amazing details including your non-cake wedding cake! If it's a cookie non-cake wedding cake that you want, go for it and don't worry about what everyone will think when you don't have the traditional wedding cake. This day is about you and your spouse, choose details that speak of who you are and what you like.
Love
was incredible. I'm planning to do cupcake towers ...
---
Comments
Popular
Related
Recent