As I was pinning apple decor wedding ideas I was swooning over all of the gorgeous photos from apple centerpieces to apple bouquets. Yes that's right, apples set in the middle of a floral bouquet, wait until you see how stunning it is! I'm falling in love and wish I could plan our wedding all over again. Are you planning an Autumn wedding for next year or looking for last minute details for this season, check out these 10 Apple Decor Wedding Ideas for Fall...
---
1

Apple Decor Wedding Invitation...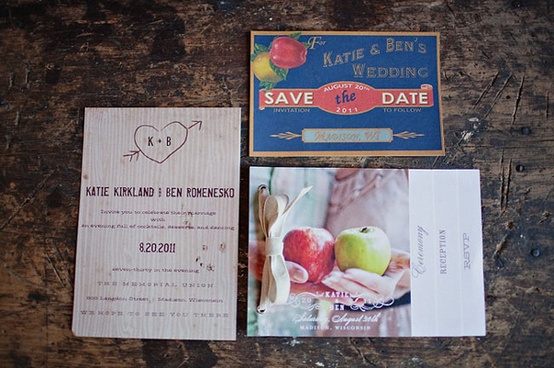 Photo Credit: Anda Marievia Green Wedding Shoes
If you are planning an apple decor wedding theme why not give your guests a little preview in the design of your save the dates and invitations. What a fun idea for a wedding located on an apple orchard, which is where this sweet couple held their big day celebration. I love how their wedding invitation included a photo from their engagement session of them holding a red and green apple together!
2

Apple Decor Wedding Bouquet...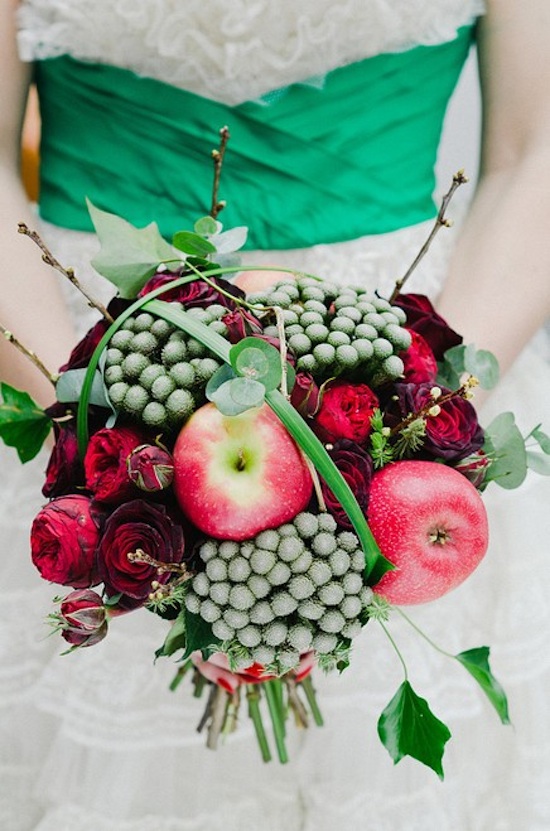 Photo Credit: Babb Photovia Brenda's Wedding Blog
Did I not tell you how breathtaking this apple bouquet was! It just grabs your attention and wows you with every detail. I love how one apple is turned upside down but doesn't look out of place in this one of a kind bouquet. The colors and texture flow so well together, especially with the pop of green on the bride's wedding gown sash. It's just the right amount of creativity in a wedding bouquet without going overboard, it says apple decor wedding theme in a classy but not gaudy way.
---
3

Apple Decor Wedding Aisle...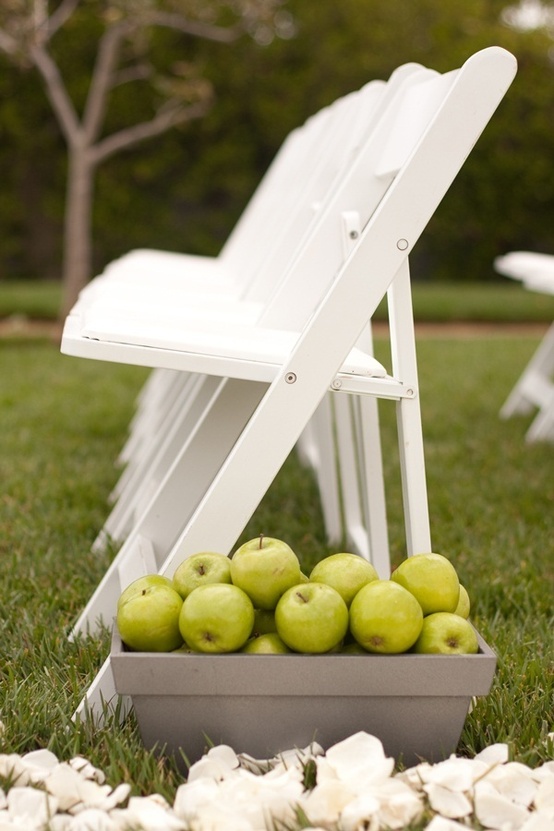 Photo Credit: Julie Mikosvia Style Me Pretty
How much fun is this **apple decor wedding **idea of lining your aisle with little planters of your favorite fruit to keep your theme flowing from ceremony to reception! For fall weddings I can also picture this planter filled with pumpkins or other seasonal gourds. I love the variety of colors you can find with apples and how you can either mix and match them or use just one along with other decor items to coordinate with your wedding colors. Would you pick a green apple for fall or more reds and yellows to match the changing of the leaves?
---
4

Apple Decor Wedding Place Cards...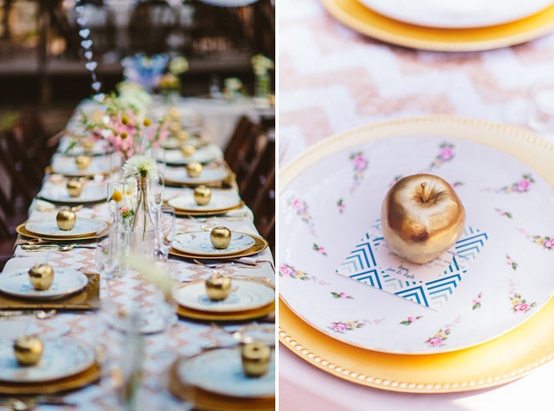 Photo Credit: Paige Lowe Photographyvia Green Wedding Shoes
Gold and metallic spray has become very popular for all things wedding decor from gold mason jarsto golden toy animals. If this trend has caught your eye and you are looking for apple decor wedding ideas for your fall wedding, you may want to consider using plastic apples instead of real ones to spray paint. I love the idea of using apples as place cards and spraying them gold to match your dinnerware. It's a chic look that you can put together on any budget.
---
5

Apple Decor Wedding Chairs...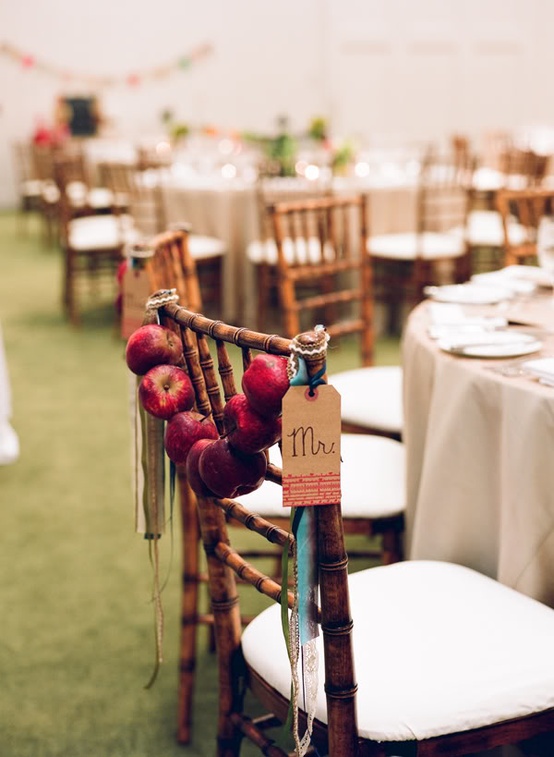 Photo Credit: Meg Smithvia Snippet & Ink
Have you ever seen something so adorable tied to the back of a chair! Who would have ever thought when they were looking for **apple decor wedding **ideas to string a bunch of apples together for a unique garland for the back of their wedding seats! The bride and groom from this sweet wedding met in elementary school and had pencil place cards, school grades for the table names, and apples to represent a school theme from ceremony to reception.
---
6

Apple Decor Wedding Centerpieces...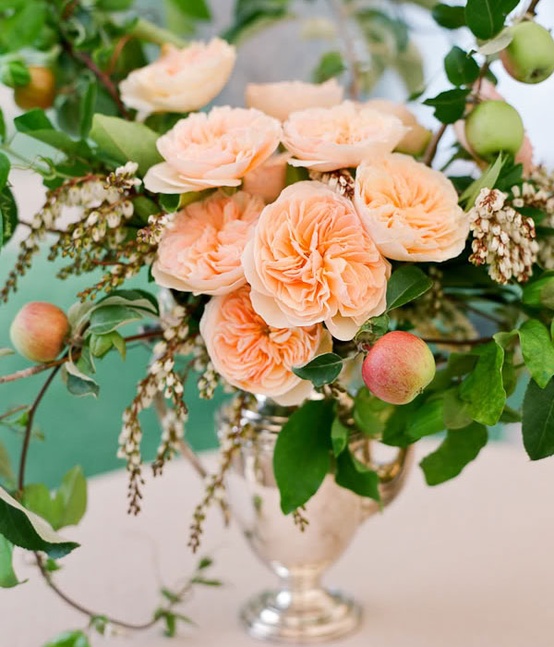 Photo Credit: Lisa Lefkowitzvia Snippet & Ink
When playing around with apple decor wedding ideas, look for ways to combine different textures together as seen in this gorgeous bouquet of soft garden roses and branches of red and green apples. I love how the apples still make a statement within this bouquet but don't take center stage to overtake the beauty of the roses. Sometimes less is more when using fruit and other unexpected wedding decor items. It could still be an apple theme wedding or it could be a wedding that has just included apples as one of the many items showcased in the decor.
---
7

Apple Decor Wedding Candles...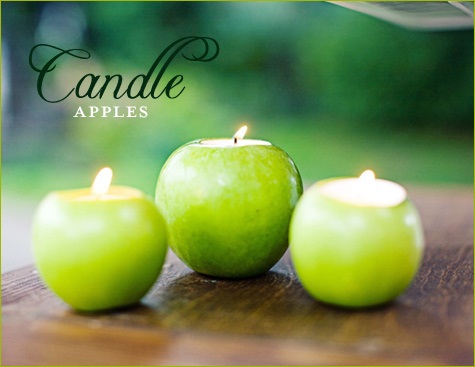 Photo Credit: Meg Perottivia HWTM
DIY apple candles are the next big thing, just you wait and see! I have seen this apple decor wedding idea all over pinterest and knew it had to be included in my round up. This is a simple and sweet idea, yet it makes such a big impact and will have your guests smiling in amazement. I bet when you visit some of your guests after using this idea in your wedding decor you will see their homes filled with apple candles! Did you know there's even a toolyou can buy to easily core out the little spot in the center for the candle!
---
8

Apple Decor Wedding Bar...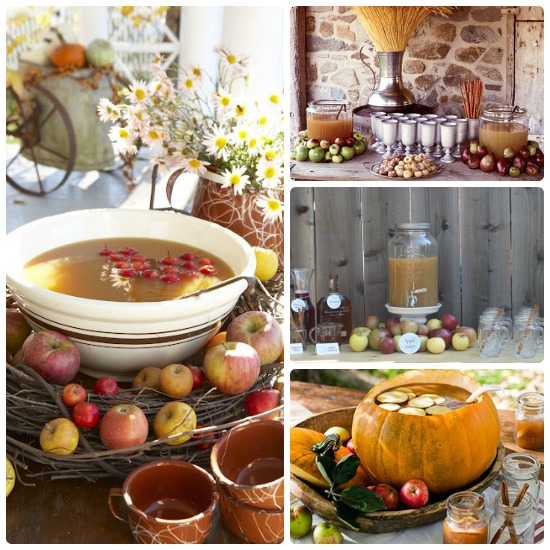 Photo Credit: (Left) Your Cozy Home, (Top Right) Valley&Co (Middle Right) Cake Events Blog (Bottom Right) BHG
Not only is this apple decor wedding idea perfect for your fall big day, but it also makes a wonderful display for fall holidays like Thanksgiving or Harvest. An apple cider bar is a great idea for any fall wedding since it's kid friendly and you won't have to worry about people drinking too much! I love the thought of carving out a pumpkin to use as the punch bowl for the cider, what a clever idea.
---
9

Apple Decor Wedding Cupcakes...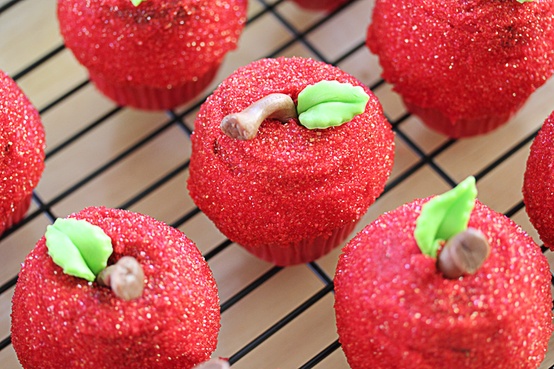 Photo Credit: Crazy Beautiful Cakes
Oh My Goodness, how adorable are these cupcakes!! So these were made with teachers in mind, but they are too cute to pass up for your apple decor wedding. Would you believe that the stems in the apple core are made from mini tootsie rolls! This recipe doesn't include making this amazing cupcake taste like apple, just how you can make one look like an apple. So head on over to delishto find out how you can make them taste just as good as they look!
---
10

Apple Decor Wedding Favor...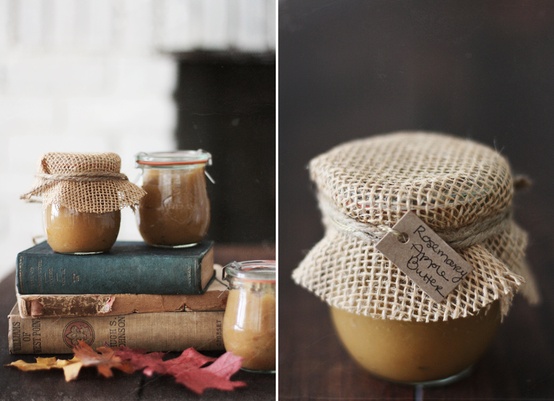 Photo Credit: Roost Blog
There are many tasty apple decor wedding favors you can send your guests home with like mini apple pies, homemade apple cider mix, or even mini salted caramel apples. But I just couldn't resist including this little jar as the star for your wedding favor ideas! I love apple butter and it always gives me that warm, homemade, down on the farm feeling, so why not send your guests home with those good vibes after they are done swooning over all of your gorgeous apple decor wedding ideas.
Apple wedding decor ideas are not just for fall, but they do mix in nicely with other fall decor items like pumpkins, acorns, and the colorful scenery of fall landscapes. Your apple wedding decor can be the leading details in your big day or they can be the little details that still make big statements. Even if it's just the garland on the back of your chair in a school themed wedding or the golden apple place cards that help complete your gold and pink decor, your apple wedding decor will be noticed and loved by everyone celebrating your big day.
---
Comments
Popular
Related
Recent